Indulge in the best ever peach cobbler! Sweet, juicy peaches baked to perfection in a golden crust – a delightful treat to satisfy your dessert cravings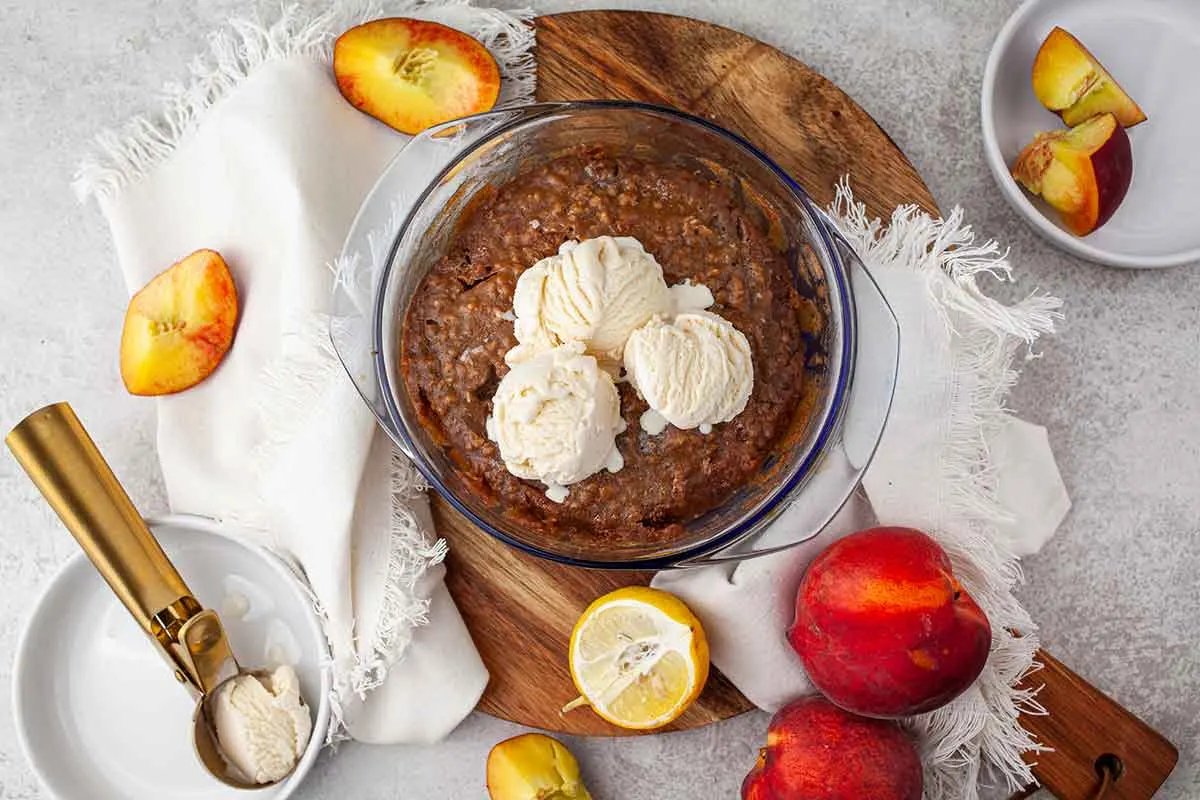 I have a wonderful peach in the garden, it is an old variety that makes small, reddish, but extremely sweet peaches! I often use it in desserts and especially jams (will post my amazing peach jam recipe soon!). These days I had a craving for a peach cobbler with ice cream, but unfortunately my peaches won't ripen until the end of July, so until then I quickly bought some peaches to make this recipe, which as simple as it is, it surprises you with its texture and taste.
If you learn the basic cobbler recipe, you can vary it with other fruits or flavors. It is super simple and quick and you can use it every time you have a craving for something sweet and easy to make. I hope the tips below help you make the best peach cobbler every time!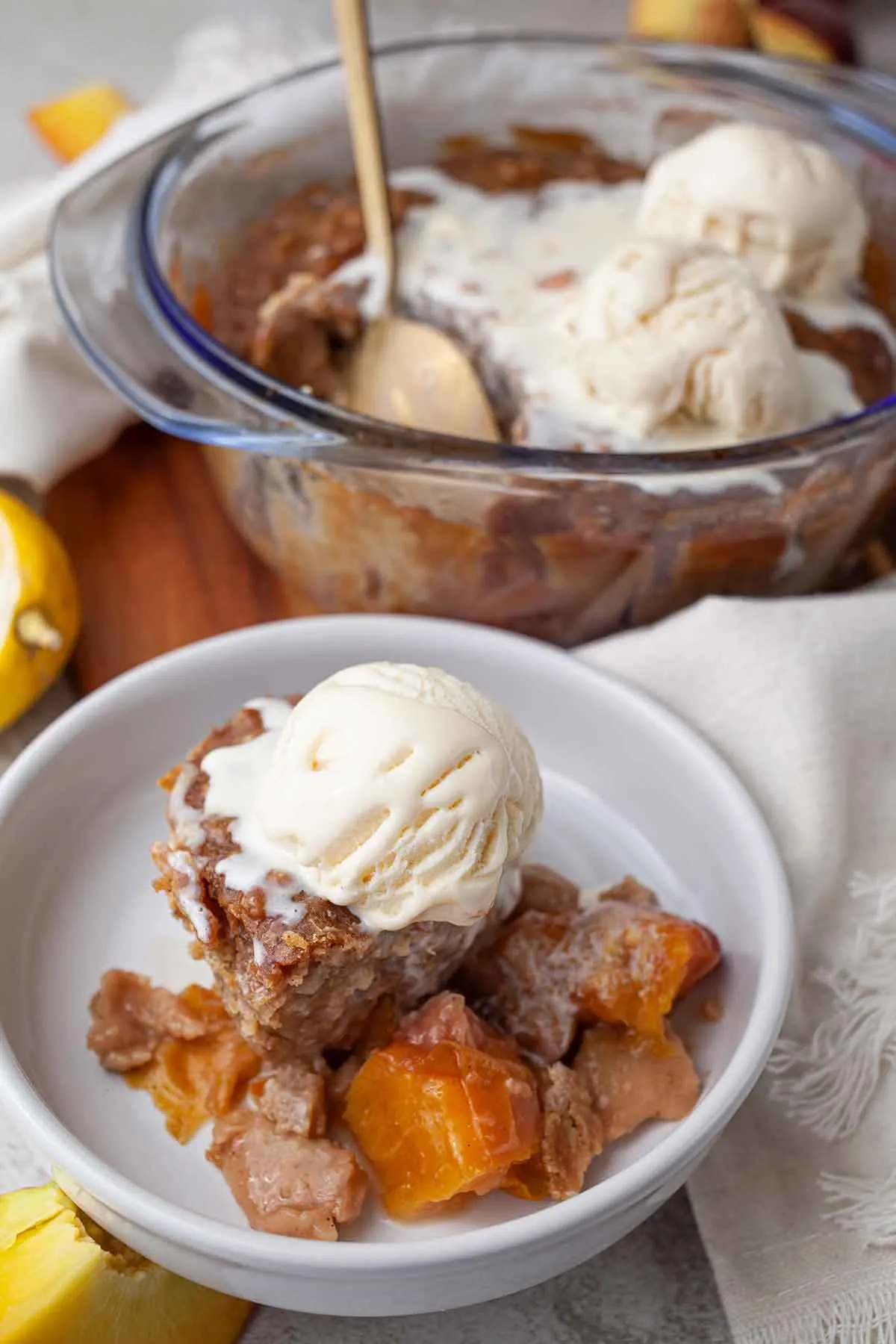 The origins of the cobbler recipe
The cobbler dessert has an interesting history and has its origins in the United States of America, being a traditional American dessert that dates back to the 19th century. The name "cobbler" comes from the English word "cobble," which means "to assemble quickly" or "to throw at random," referring to the simple and quick way of preparing this dessert.
It is said that the cobbler recipe appeared during the westward expansion of the United States, when European colonists brought their own dessert recipes and adapted to local ingredients. In rural areas, especially the southern part of the United States, cobbler became popular due to the fact that it was easy to prepare, using ingredients available in their households, such as fresh fruit and flour.
Over time, the cobbler recipe has evolved, varying from region to region and from family to family. In general, the cobbler consists of a layer of fruit on top of which a dough is added, which during baking softens in the juice of the fruit, creating a pleasant texture and a delicious taste.
Today, there are a variety of cobbler recipes that include different fruits such as peaches, pears, apples, cherries, blueberries, raspberries or apricots. These simple and tasty desserts continue to be loved in kitchens all over the world and are often associated with flavors and family traditions.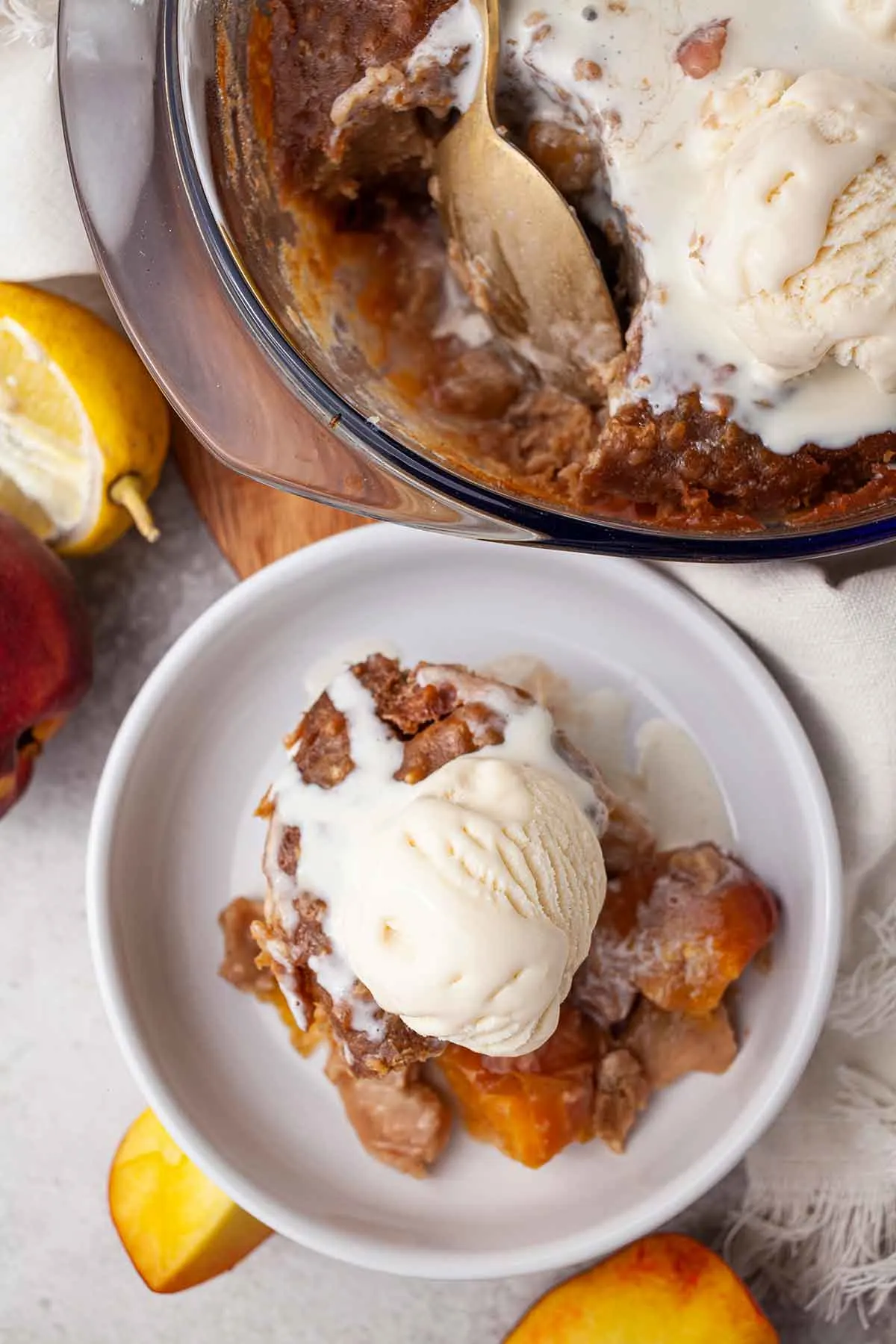 Variations of the peach cobbler recipe
If you want to try a new and delicious version of the Peach Cobbler, I recommend you try other fruits you like, such as apricots, cherries, raspberries, blueberries or fresh or frozen blackberries. You have the opportunity to add a different note of sweetness and interesting flavors to satisfy your taste buds.
If you need a gluten-free option, you can choose gluten-free flour, such as almond, rice, tapioca or corn flour. There are many special options for gluten-free baking, so that you can get a tasty and fluffy dough.
If you want a vegan cobbler option, I encourage you to replace the butter with vegan versions or with solidified coconut oil. You can also use nut, almond or coconut milk instead of regular milk, and for binding the dough, you can opt for flax 'eggs' or chia 'eggs'.
As you try these changes, keep in mind that you may need to adjust the proportions or cooking depending on the ingredients used. But enjoy the creative process in the kitchen and enjoy the personalized versions of this classic dessert! A culinary experience full of surprises and flavors awaits you!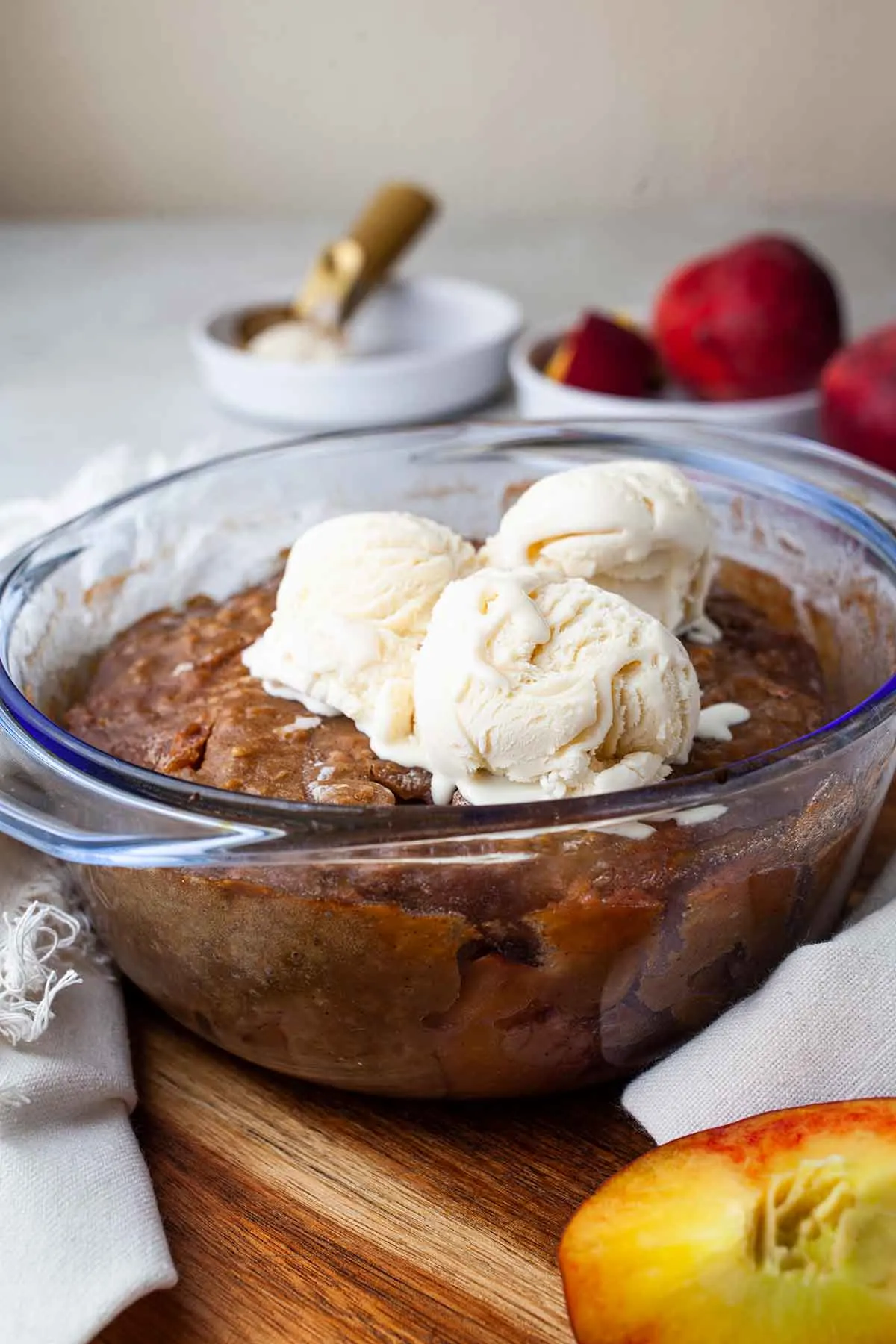 Tips for the best peach cobbler
If you want to prepare the recipe correctly and turn it into an unforgettable experience, here are some useful tips:
Choose fresh and ripe fruits: For a delicious cobbler, choose fresh and ripe fruits, to obtain their natural aroma and sweetness. Peaches, apples, cherries or blueberries are great options, but you can play with different fruit combinations.
Make sure the dough is fluffy: To get a fluffy and soft dough, mix the ingredients carefully and avoid mixing too much, so as not to get a hard dough. The dough must be thick, but easy to spread.
Don't forget the spices: Add a touch of flavor to the cobbler with a little cinnamon, vanilla or nutmeg, depending on your preferences. These spices will complement the aroma of the fruits and offer you a truly delicious dessert.
Test the level of sweetness: Try to maintain a perfect balance between sweetness and fruit flavors. Always taste the fruit before adding sugar and adjust the amount of sugar depending on how sweet the fruit is.
Bake until it turns golden: Carefully follow the baking time mentioned in the recipe, but make sure that the cobbler turns nicely golden on top. A slightly crunchy and caramelized layer will be the secret of a perfect cobbler.
Serve it warm: It is best to enjoy the cobbler fresh from the oven, warm and aromatic, with vanilla ice cream or whipped cream. You will surely delight your guests and family with this delicious dessert.
Experiment with flavors: Be creative and add a splash of vanilla or rum liqueur to the fruit syrup or incorporate nuts or almond flakes into the dough for extra crunch.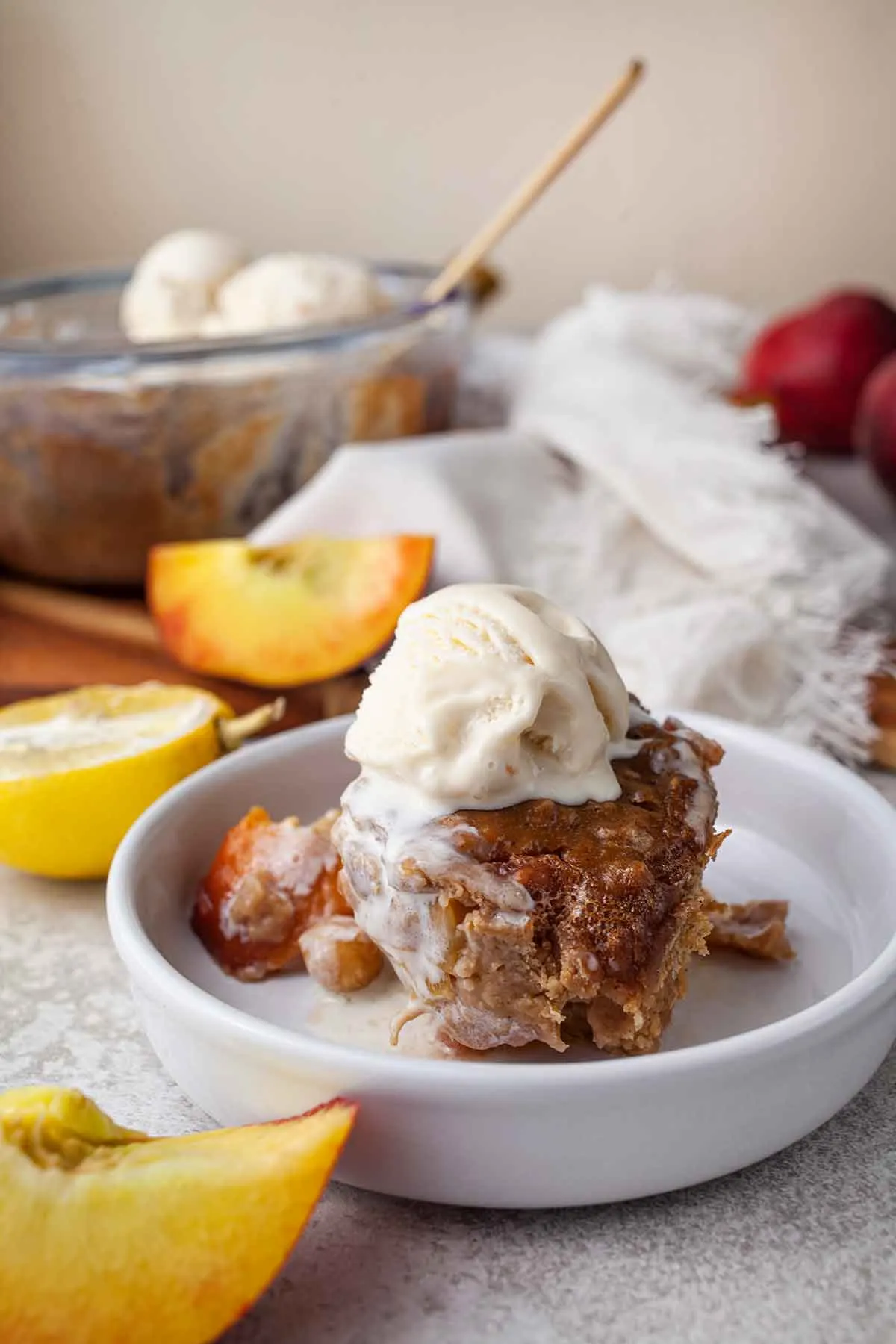 How to make the best peach cobbler recipe
Yield: 6-8
Best Ever Peach Cobbler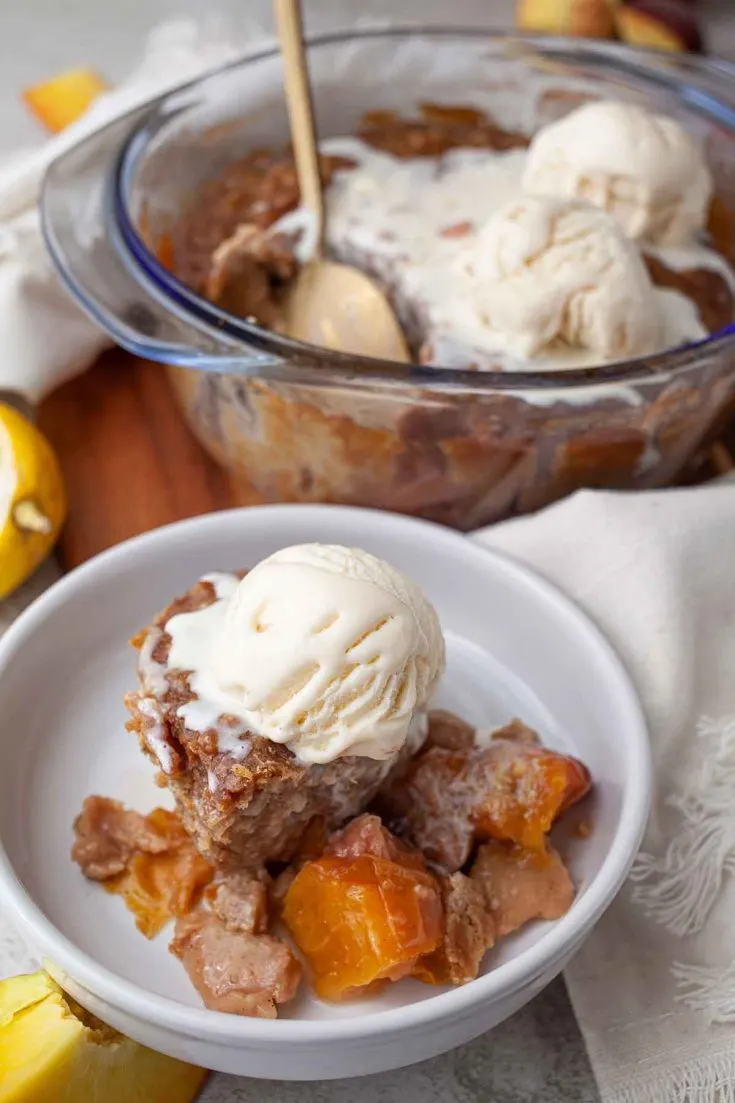 Indulge in the best ever peach cobbler! Sweet, juicy peaches baked to perfection in a golden crust - a delightful treat to satisfy your dessert cravings
Ingredients
4 peaches, cut into cubes
¼ cup water
1 teaspoon vanilla extract
1 ½ cups coconut sugar or brown sugar
1 cup all-purpose flour
1 teaspoon baking powder
¼ teaspoon salt
2 tablespoons oatmeal
1 cup milk
2 tablespoons melted butter
1 cup vanilla ice cream, for serving
Instructions
Heat the oven to 180°C (356F).
Put the peaches, water, vanilla, and ½ cup of sugar in a saucepan over medium heat. Mix and cook for 6-8 minutes. When the sugar is dissolved and the peaches are soft, turn off the heat and let the mixture cool a little.
In a bowl, add the flour, baking powder, salt, oat flakes, milk, and the rest of the sugar. Mix until you get a creamy consistency.
In a baking pan, add the melted butter, then arrange the peaches without the accumulated liquid on top of the butter. Pour the soft dough over the entire surface to cover the peaches.
Put in the oven and cook for 35-40 minutes, until the cobbler turns golden.
Serve warm, with vanilla ice cream or whipped cream.
Nutrition Information
Yield
6
Serving Size
1
Amount Per Serving
Calories

439
Total Fat

11g
Saturated Fat

6g
Trans Fat

0g
Unsaturated Fat

3g
Cholesterol

31mg
Sodium

261mg
Carbohydrates

83g
Fiber

3g
Sugar

65g
Protein

6g
I strive to keep the information as accurate as possible but make no warranties regarding its accuracy. I encourage you to make your own calculations using your preferred nutrition calculator.