Enjoy the Limoncello tiramisu with caramelized lemons – a bold reinterpretation of the classic Italian dessert, in an ideal version for a warm summer day.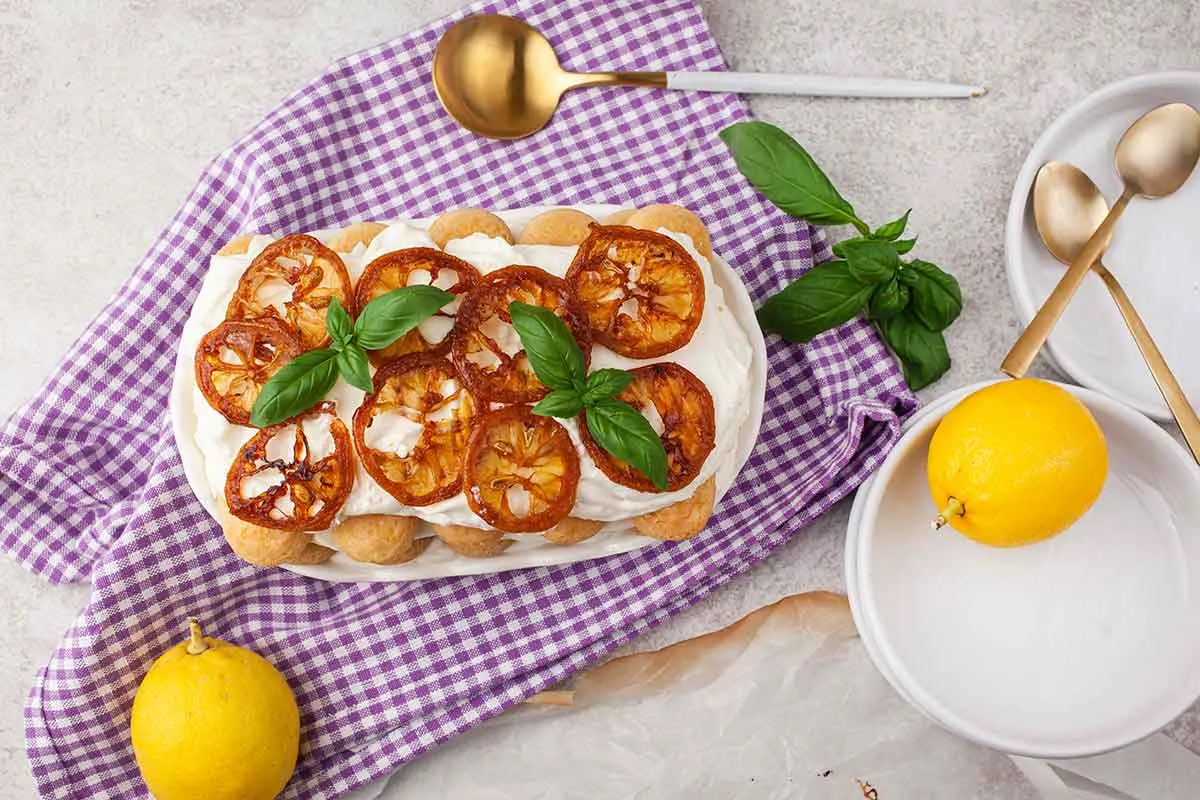 I am excited to present today my unique recipe for Limoncello tiramisu with caramelized lemons – a delightful combination between two iconic flavors from Italy. Well, my passion for cooking has always inspired me to experiment with flavors and create something truly special. So I thought of bringing a refined note of caramelized lemon and the fresh essence of limoncello to the classic tiramisu, for a complete and memorable taste experience.
The story behind this recipe begins with a trip to Palermo, Italy, where I was captivated by the delicious Mediterranean lemons and the aromatic flavors of limoncello. I returned home full of inspiration and decided to combine these ingredients to create a unique and authentic dessert, which I will share here on the blog.
In each layer of fine and creamy mascarpone, each piece of ladyfingers soaked with the sunny essence of caramelized lemons and limoncello, you will feel how the flavors intertwine harmoniously in a symphony of tastes.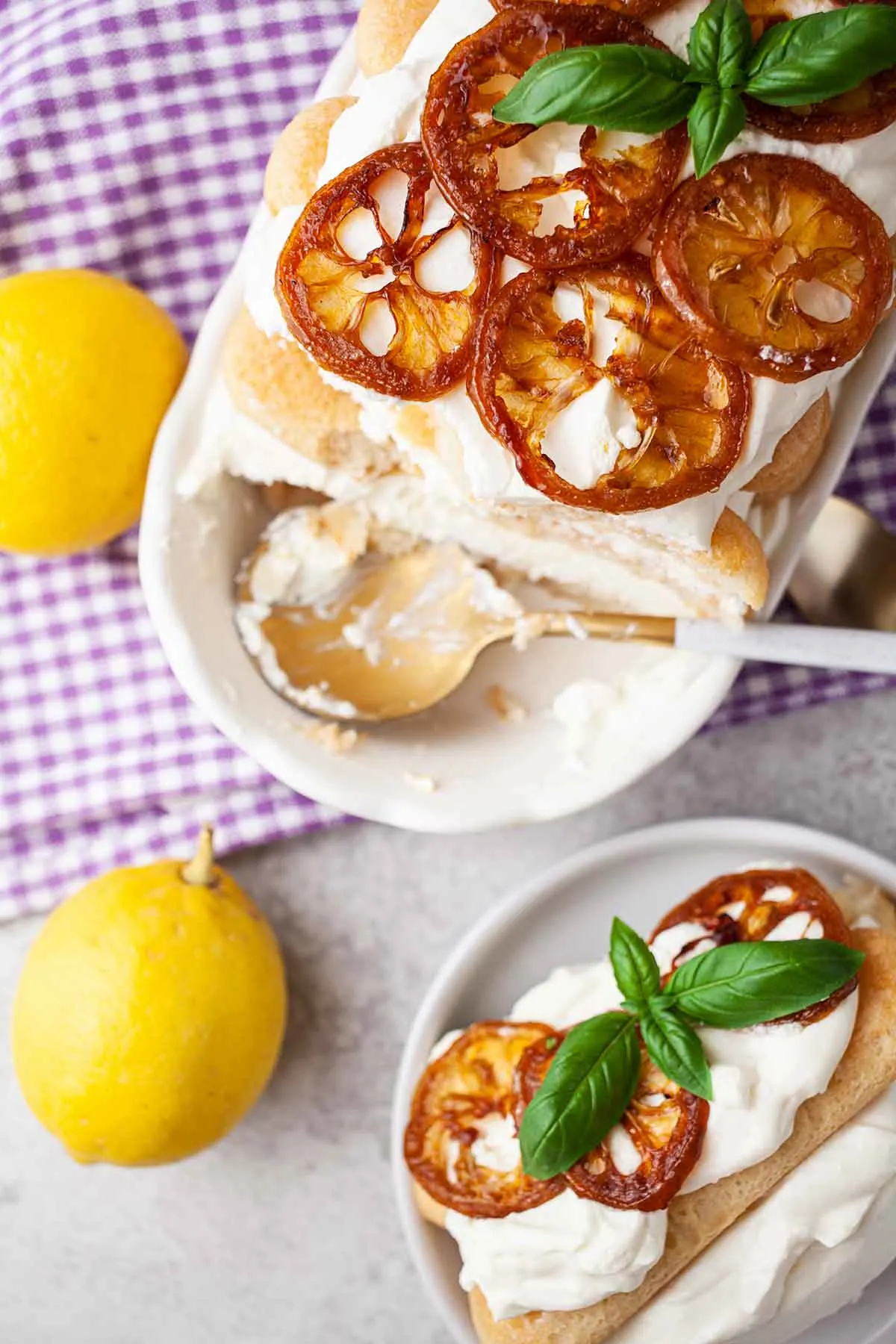 The origins of Limoncello and Lemon Tiramisu
Limoncello, the delicious liqueur with intense lemon aromas, has a long and traditional history in southern Italy, more precisely in the Campania region, where it is considered a symbol of hospitality and joy. This liqueur was created for the first time in the 20th century, being obtained by macerating lemon peels in alcohol and then combining it with sugar syrup. Since then, limoncello has spread throughout Italy and then throughout the world, becoming a prized and appreciated aperitif for its refined and fresh taste.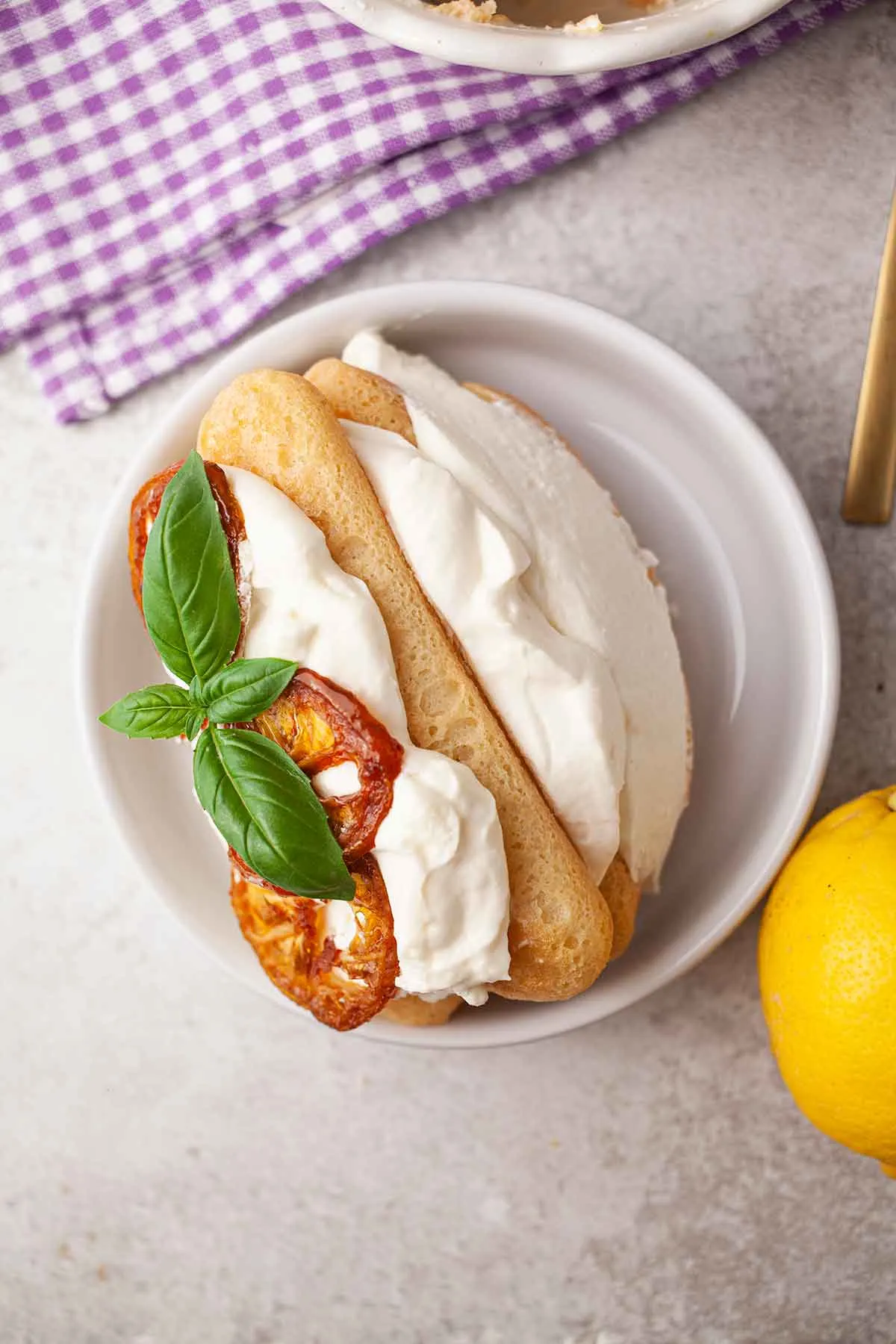 On the other hand, tiramisu, one of the most famous and beloved Italian desserts, also has a rich and controversial history. Although there are several legends about its origin, it is believed that tiramisu appeared in the Veneto region, in northern Italy, in the 17th century. Initially, this dessert was intended to be nourishing and energizing, being appreciated by Venetian soldiers during the Austro-Venetian War.
With a history full of tradition and authentic flavors, Tiramisu with Limoncello and caramelized lemons is a special combination of Italian heritage, a declaration of love for refined sweets and an additional reason to enjoy the pleasures of life in every spoon!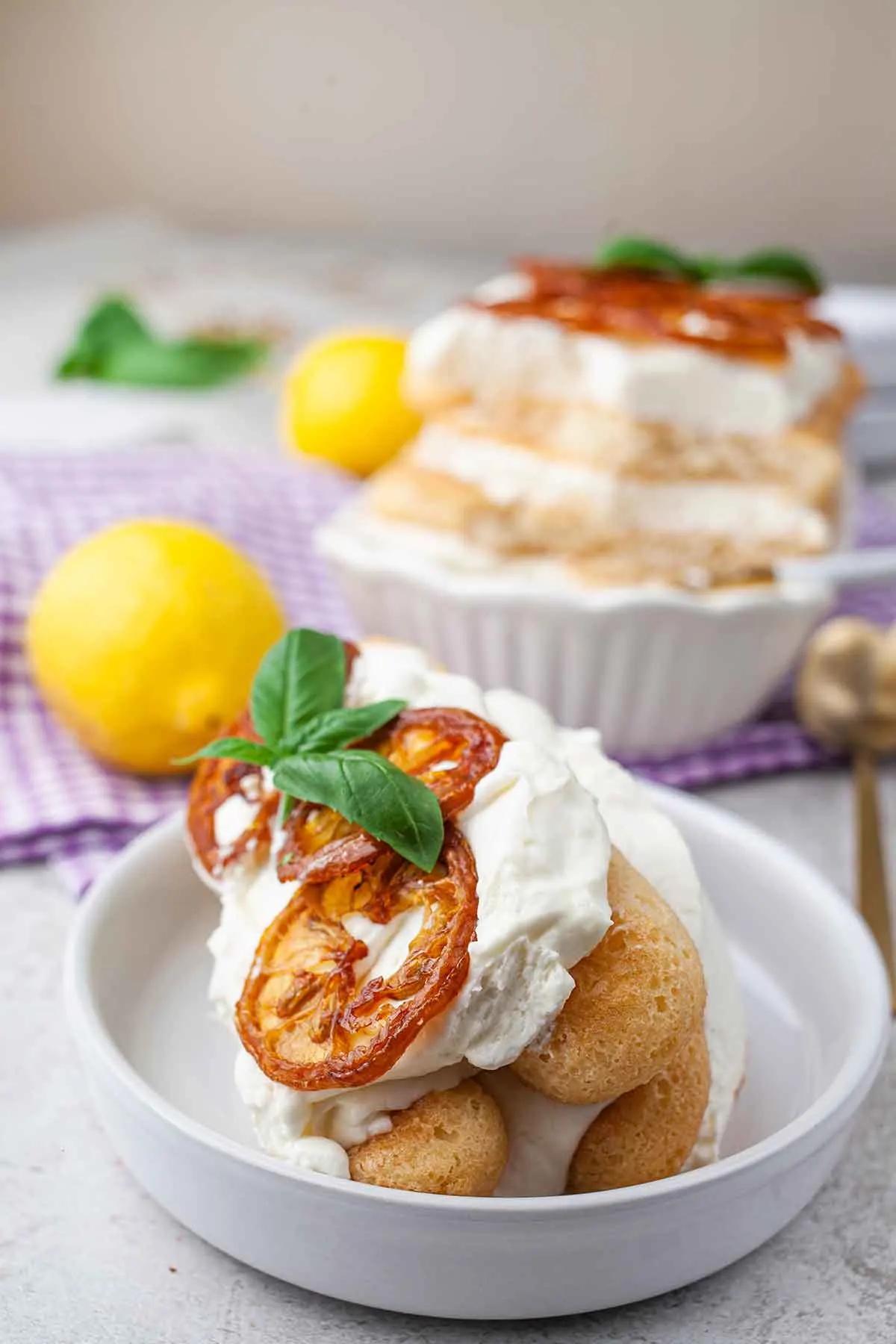 So, I challenge you to pamper your senses with this wonderful lemon tiramisu recipe, because every spoonful of this delicacy will bring with it the joy of discovering new flavors and savoring the pleasures of life in the sweetest and most refined ways! I hope it delights you as it delighted me!
P.S. I recommend you also try my strawberry tiramisu recipe, vegan tiramisu or if you want other desserts based on famous cocktails, try the Margarita cake or the Limoncello cake.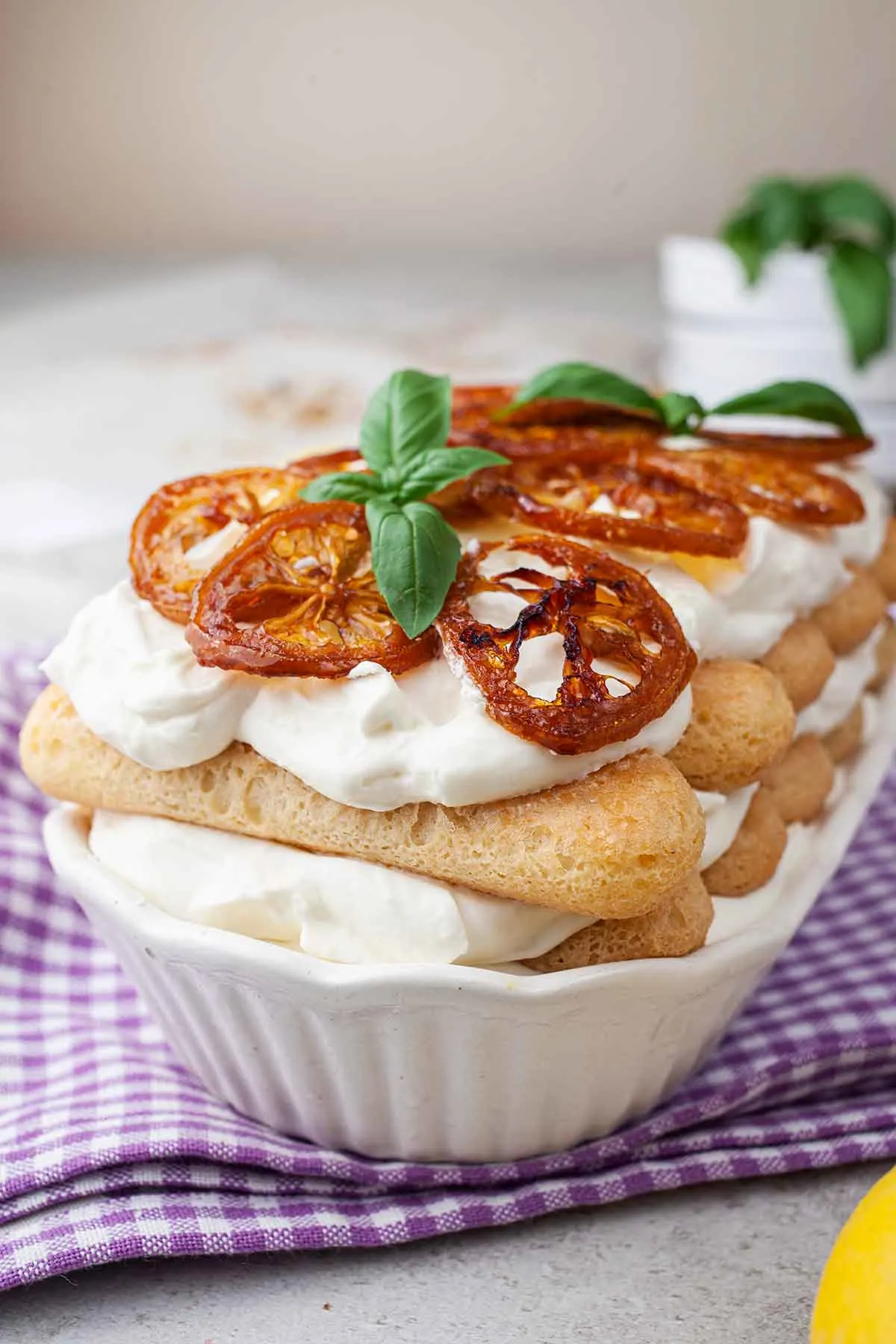 Yield: 6-8
Limoncello Tiramisu with Caramelized Lemons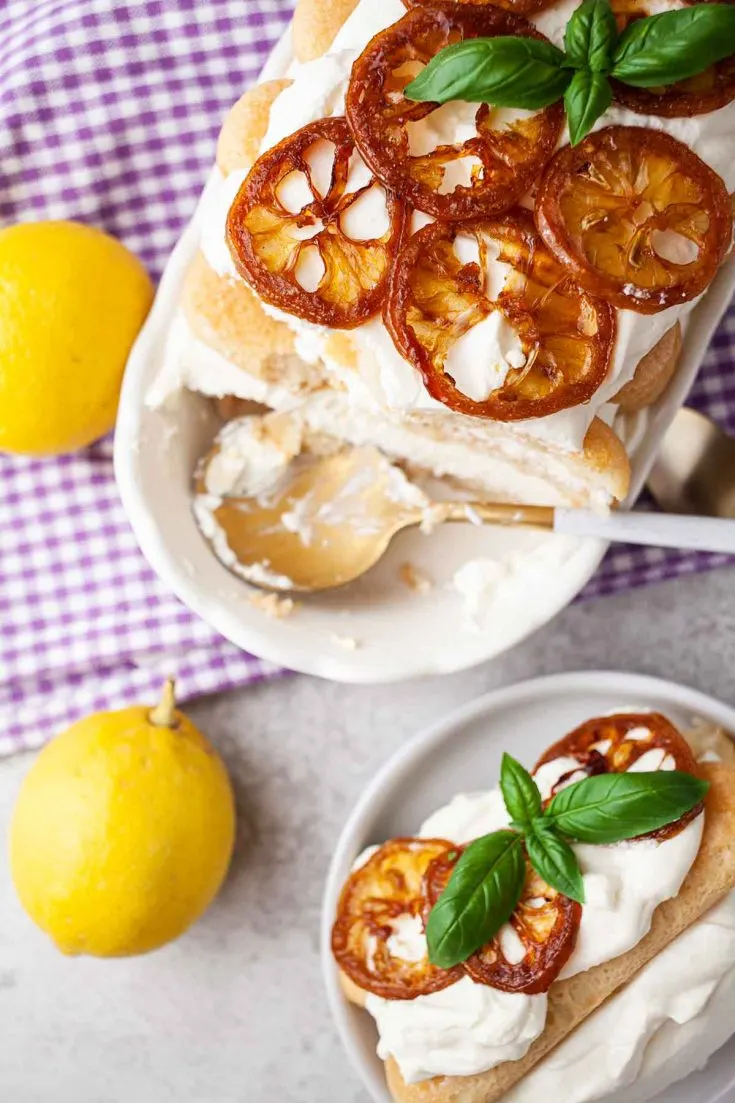 Enjoy the Limoncello tiramisu with caramelized lemons - a bold reinterpretation of the classic Italian dessert, in an ideal version for a warm summer day.
Total Time
4 hours
30 minutes
Ingredients
For the syrup:
½ cup hot water
2 tablespoons of sugar
½ cup limoncello
2 tablespoons of lemon juice
For the lemon tiramisu:
18 wide ladyfingers
400g mascarpone (1 ⅔ cup) , cold
4 large eggs
100g (½ cup) sugar
2 tablespoons limoncello
1 tablespoon of lemon juice
½ tablespoon of grated organic lemon peel
For decoration:
1 organic lemon, thinly sliced
100g (½ cup) brown sugar
100ml (½ cup) water
Instructions
Prepare the syrup: In a deep plate, add hot water and sugar, mix until the sugar dissolves. Add limoncello and set aside.
Prepare tiramisu: All ingredients must be cold.
Separate the egg whites from the yolks in two separate bowls.
Using a mixer, mix the egg yolks with half of the sugar quantity.
Now whisk the egg whites with the rest of the sugar, gradually increasing the mixer speed, whipping until it hardens.
Lowering the mixer speed or using a spatula, add the mascarpone, one spoonful at a time, seamlessly integrating it with the limoncello, lemon juice, grated zest and whisked egg yolks.
Assemble the tiramisu: Soak 1/3 of the ladyfingers, one at a time, in the limoncello syrup and spread them in a single layer on the bottom of the serving tray.
Cover the first layer of ladyfingers with 1/3 of the cream obtained and continue assembling until the last layer. Refrigerate the assembled tiramisu for 4 hours or overnight before serving.
Meanwhile, prepare the caramelized lemons: In a pan heated on medium heat, add water and sugar and mix until dissolved.
Keep mixing until you get a thick caramel composition. Add the lemon slices in a single layer and let them cook for 7-10 minutes.
Turn the slices on the other side and continue cooking. Transfer the caramelized slices to a baking sheet to cool for a few hours or overnight.
Garnish the tiramisu with the caramelized lemon slices and serve.
Nutrition Information
Yield
6
Serving Size
1
Amount Per Serving
Calories

629
Total Fat

37g
Saturated Fat

20g
Trans Fat

1g
Unsaturated Fat

13g
Cholesterol

288mg
Sodium

394mg
Carbohydrates

56g
Fiber

1g
Sugar

34g
Protein

11g
I strive to keep the information as accurate as possible but make no warranties regarding its accuracy. I encourage you to make your own calculations using your preferred nutrition calculator.