Have you heard of cabbage rolls before? If not, you must absolutely try this recipe for vegan cabbage rolls for your next family dinner – it's delicious and unique! Everyone will be impressed!
Today I am going to tell you about an extremely famous and loved Romanian dish: the cabbage roll a.k.a sarmale! The cabbage rolls are a traditional Eastern European dish, often found at special occasions and holiday meals.
They are usually made during the winter season, due to it being quite fatty and heavy, meat-based. A cabbage roll is usually made out of a mix of different minced meats, rice, and vegetables, wrapped around in a cabbage or vine leaf.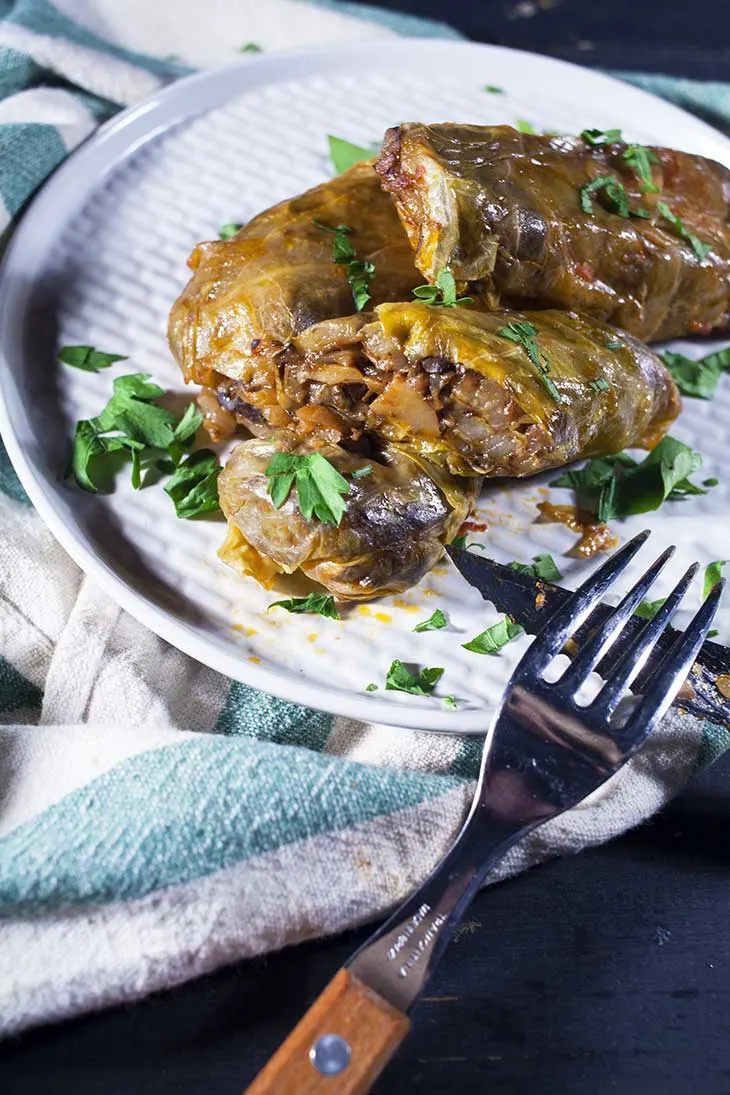 The cabbage rolls are called sarmale in Romania, which comes from the Turkish sarmak, meaning "to wrap", or "to bind". In fact, this dish was first created in Turkey, after which it spread to Eastern Europe and even further. Nowadays, it is a staple dish in countries such as Bulgaria, Croatia, Hungary, Serbia, and even Germany or Sweden.
In fact, each country has its own distinct version of the cabbage roll, no two being exactly alike. The Romanian cabbage roll is similar to the Turkish version, and also to the Greek. Greek Cypriots call these veggie rolls gemista ("filled"), dolmas or dolmades. They even have a name for vegan veggie rolls (which are usually served during the Lent), that is pseftika, or "fake", because they don't contain meat.
The Bulgarians use a mix of minced meat, rice, and yogurt, something quite unusual for the Romanians, who prefer using sour cream or fat yogurt as a side rather than the main ingredient, in order to "cool off" the rolls. In Romania, the pickled cabbage leaves are the most popular wrap for these rolls, whereas in the West this is less likely, as westerners prefer vine or stevia leaves.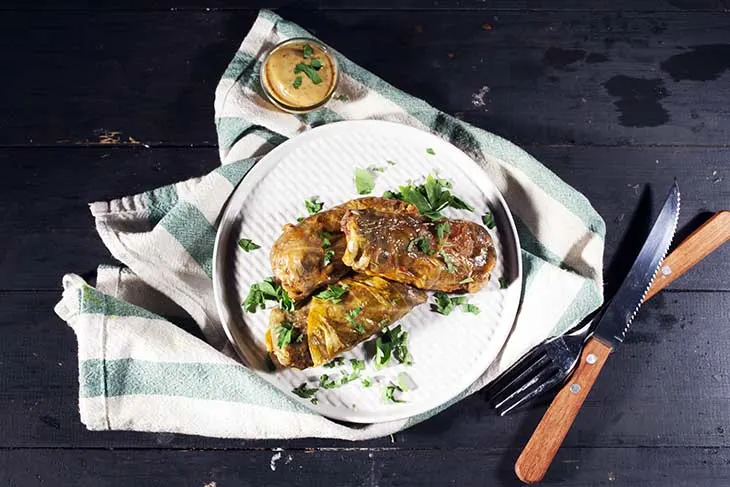 The love Romanians share for cabbage rolls can be easily understood when you consider the existence of lent cabbage rolls, which are basically the vegan version of traditional cabbage rolls, and are equally popular as the latter.
The recipe was conceived with the sole purpose of enabling Romanians to enjoy their traditional sarmale even during the Christmas Lent period, which lasts from the 14th of November to the 24th of December, a period in which the consumption of meat and animal-based produce is forbidden, as a means of purification.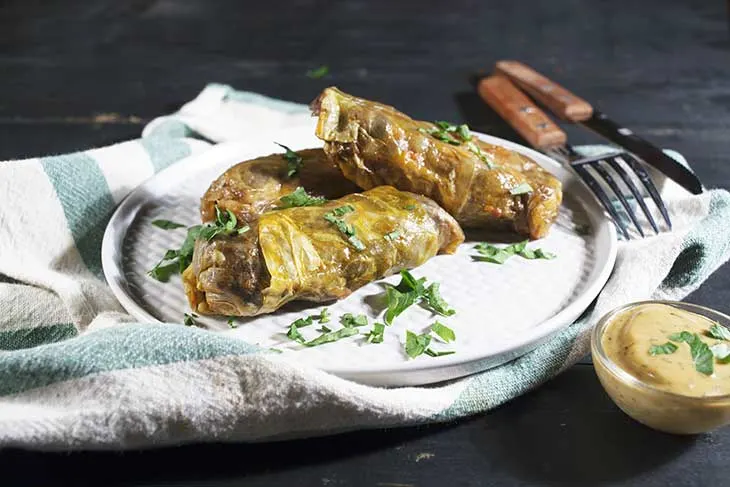 All recipes for lent or vegan cabbage rolls replace the meat with rice, vegetables, nuts or even raisins. They can turn out delicious, and are often even the favorite of non-vegans!
The most prevalent Romanian variations of this recipe are the ones that use rice and mushrooms, along with several different herbs and spices. Soy, chopped vegetables, maze, and even breadcrumbs can be used, the number of combinations being endless. Classic rice cabbage rolls contain vegetables such as onion, carrot and pepper, and are usually spiced with thyme, salt and pepper.
It is a simple recipe with few ingredients that can be used in different ways – being mostly tasteless, rice goes well with many types of vegetables. A funky combo is rice and raisins, which might sound unappealing, but it is absolutely delicious and worth trying out! 🙂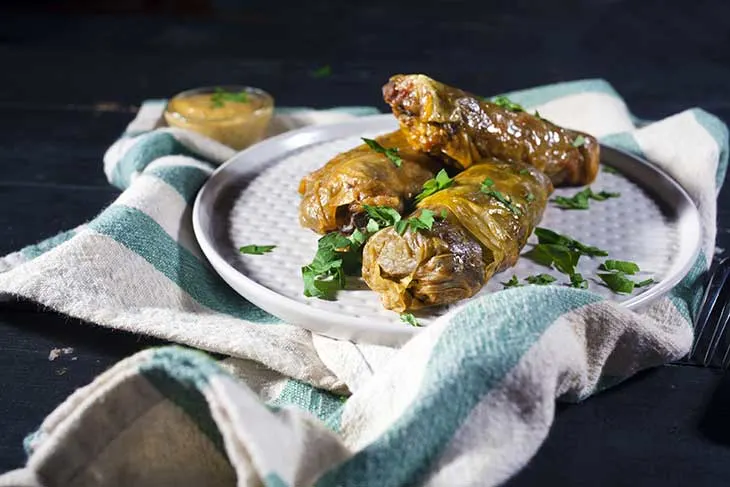 Mushrooms can also go splendidly with any chopped vegetables. The texture of finely chopped mushrooms will resemble that of meat, given that mushrooms have a high protein content, therefore you won't miss out on anything if you eat this type of vegan cabbage roll – not even if you're the biggest carnivore that you know of!
A meatless dish doesn't automatically mean it will feel less consistent. A vegetable filling can be very nourishing depending on the ingredients used. This filling is usually wrapped in pickled cabbage leaves, but one can also use stevia leaves, spinach or even horseradish, depending on the region.
The size of the cabbage rolls can also vary depending on the region they're from. The biggest ones you can find in the Ardeal region of Romania, and the smallest one in Moldova, Oltenia rolls coming somewhere in-between.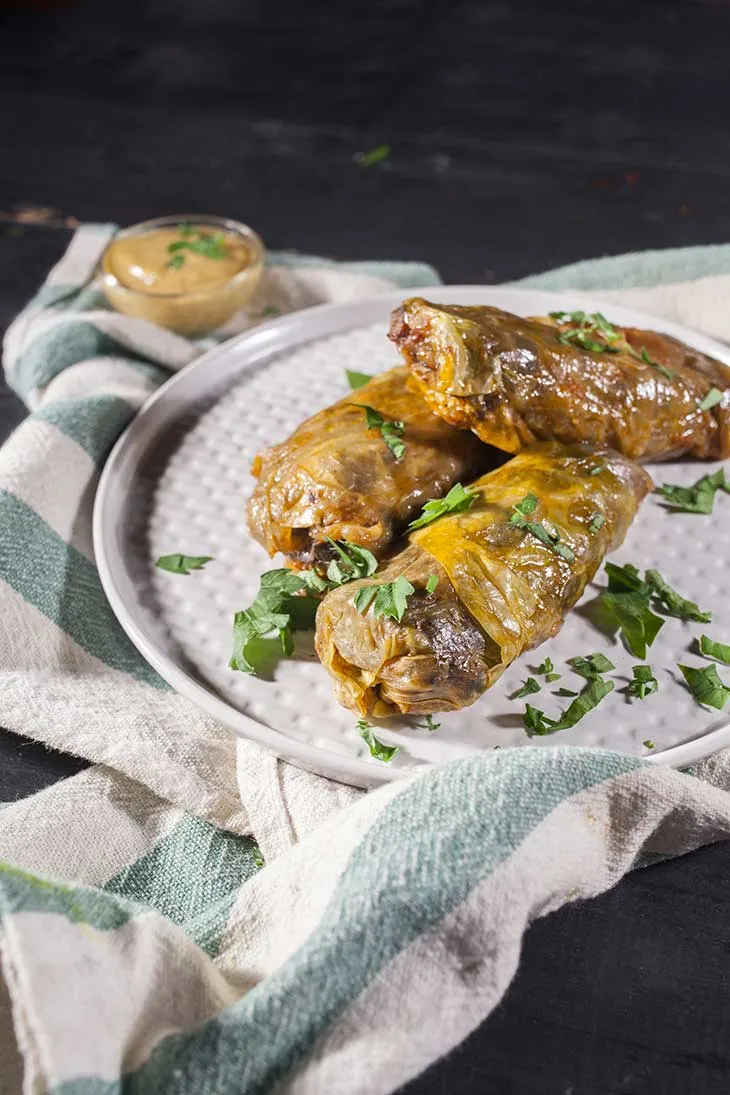 The vegan version of this dish served during Lent is also considered to be healthier, not to mention it has fewer calories. The veggie composition makes this dish easier to digest than the meat-based version, and all this without compromising the taste. Vegan cabbage rolls are made with vegetable fats, like sunflower oil or olive oil, which are by themselves healthier than animal-based fats, such as lard.
Cabbage rolls, whether vegan or not, are usually served as a main dish with polenta and vegan sour cream (or vegan yogurt), and sometimes garnished with hot pepper, potatoes or bread. It's usually considered that traditional cabbage rolls are best consumed hot, while the vegan ones, being lighter, should be consumed at room temperature or even straight out of the fridge.
Since we are in the holiday season, I highly recommend you try some vegan cabbage rolls this year. The options and combinations are endless, so why not experiment a little? 🙂 I used Champignon mushrooms for this recipe, which provide the perfect texture and consistency, so give them a try!
Yield: aprox. 30
Vegan Cabbage Rolls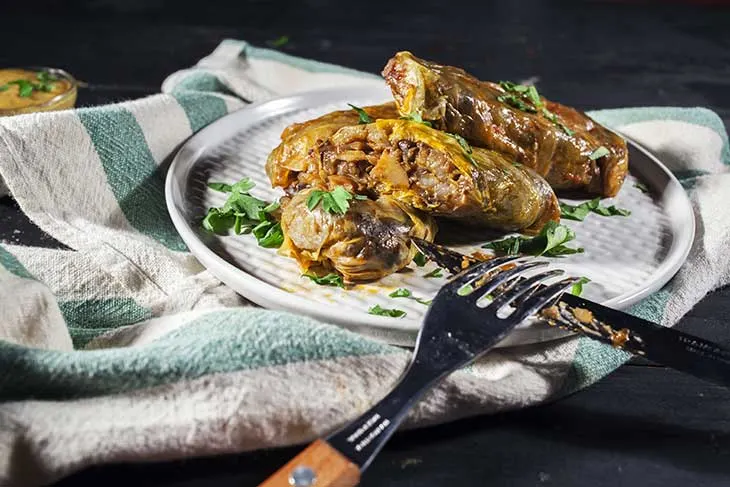 Have you heard of cabbage rolls before? If not, you must absolutely try this recipe for vegan cabbage rolls for your next family dinner - it's delicious and unique! Everyone will be impressed!
Cook Time
2 hours
30 minutes
Total Time
3 hours
30 minutes
Ingredients
1 pickled cabbage, divided to leaves
6-7 large champignon, finely chopped
200g (1 cup) rice
2 small carrots, grated
2 large onions, chopped
4g (½ cup) finely chopped fresh dill
6 Tbsp tomato paste
4 Tbsp oil
3 bay leaf
1 Tbsp black peppercorns
2 tsp salt
1 tsp pepper
1 tsp dry dill
1 tsp dry thyme
Instructions
First, prepare the leaves.
Remove the stems from the big leaves and cut them in two. Use only tender and small pieces for rolling and try to keep them all of the same size. Set aside.
To prepare the stuffing:
In a large pot on medium heat, add the oil and onions. Sautee until translucent.
Add the rice and continue to cook for about 5 minutes, stirring.
Add the mushrooms.
Cook, stirring from time to time, for about 10 minutes or until the rice absorbs the liquids.
Turn off the heat, add the carrots, ½ of the tomato paste, ½ of the chopped dill, dry dill, thyme, salt, and pepper. Stir to combine. Let cool.
To stuff the rolls:
Put a Tbsp of the stuffing mixture on a leaf.
Cover the filling with the edge from the base of the leaf. Bend the edges on both sides and cover over the filling.
Roll the stuffed cabbage leaf while holding it firmly, so it won't break during cooking time.
Repeat these steps until you finish all of your mixture.
In a large pot, place the very big leaves of the cabbage (that you could not use for the rolls) to cover the bottom. Arrange the rolls evenly on the bottom in 2 layers.
Cover the layers with another layer of cabbage rolls, one part of the tomato paste, part of dill and repeat with the rest of rolls.
To cover the last layer, use the rest of the cabbage leaves, peppercorns, and the bay leaves.
Add boiling water until it nearly reaches the last layer of rolls.
When the water in the pot starts to boil, turn the heat to low and cover the pot. Cook for about 2 hours.
Make sure to check from time to time the level of water. If it was absorbed, add about a cup each time.
Serve warm, with polenta on a side, with chopped fresh herbs or vegan cream.
Nutrition Information
Yield
4
Amount Per Serving
Calories

939
Total Fat

46.6g
Carbohydrates

70.6g
Protein

59.2g