This mushroom dolmas recipe is a traditional Greek recipe! Check out these step by step tips on how to make the best vegetarian dolmas every time!
What are Dolmas?
First of all, let me tell you what dolmas are. Dolmas are grape leaves stuffed with a mixture of rice and meat and then cooked. They are a Middle Eastern and Mediterranean specialty and are usually served as appetizers. They can be seen as a variation of the cabbage rolls; dolmas are rolls themselves, but instead of cabbage leaves, you use grape leaves. Just as cabbage rolls, they're filled with combinations of rice, spices, meats, and vegetables.
The term "dolmas" can also be used to refer to a family of stuffed vegetable dishes that are very popular in the Mediterranean cuisine, as well as in the cuisine of the surrounding areas such as the Balkans, the Caucasus, Russia, Central Asia and the Middle East. The most common stuffed vegetables are tomatoes, peppers, onions, zucchini, eggplants and garlic.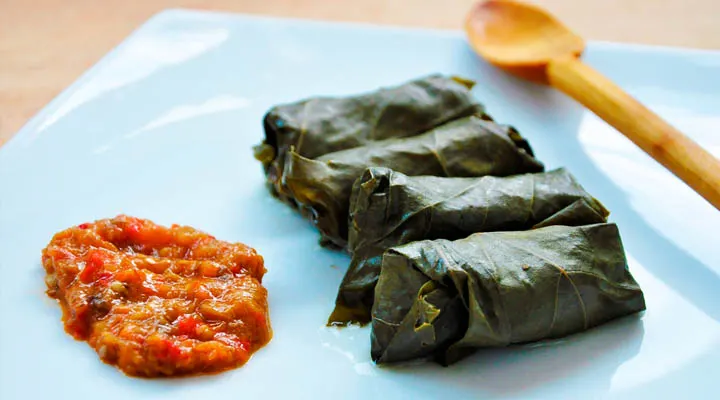 Types of Dolmas
In Turkey: There are two main dolma categories in Turkey; the ones that are filled with chopped meat, onions, rice, oil and spices, and the ones that are meatless. It's usually served with a yogurt-based sauce.
In Azerbaijan: They usually include lamb or a mixture of lamb and beef in the filling as well as rice and leek. They use cabbage or grape leaves as well as eggplants, peppers, tomatoes, and apples to stuff. The most common dolma in the country is the grape leaf dolma.
In Armenia: For the filling, they use chopped lamb meat and rice. They use grape leaves more commonly and they spice it with coriander, mint, pepper, cinnamon and melted butter. Sometimes they add raisins to the mix and they use sour cream as a sauce.
In the Middle East: Dolmas have been a part of Middle Eastern cuisine for centuries. Most notably in Syria, Lebanon, Palestine, Iraq and Iran, where the grape leaf dolmas have been served for centuries.
In Egypt: They call this dish "mahshi" and they normally use grape leaves to be stuffed. The filling is a traditional meat and rice filling just like I've mentioned many times before.
The vegetarian dolmas are usually served cold and the ones with meat warm. I prefer them warm and served as a main dish with a tasty sauce on top. If you are vegan you can try a tomato-based sauce and if you are lactovegetarian, you can add a sour cream sauce on top.
Unfortunately, I didn't count them before I put them in the oven and now once they're ready it's pretty impossible to do it. I think I made about 30 mushroom dolmas, but this is only an estimate.
Enjoy this healthy and delicious, low-calorie meal!
Yield: 30 mushroom dolmas
Vegetarian Mushroom and Brown Rice Dolmas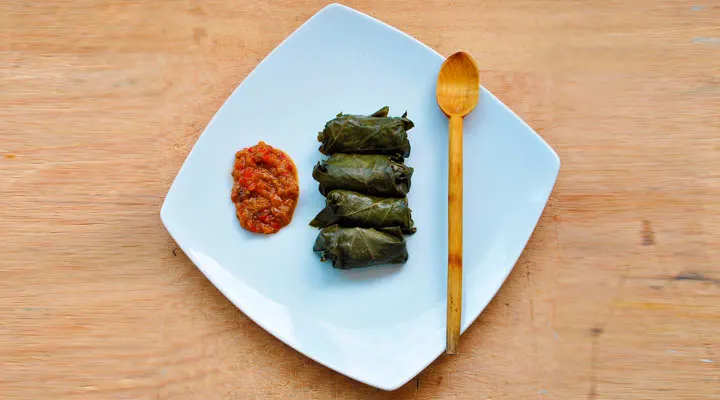 This mushroom dolmas recipe is a traditional Greek recipe made vegetarian! The mushrooms give these dolmas a meaty taste and texture you'll love!
Cook Time
1 hour
10 minutes
Total Time
1 hour
40 minutes
Ingredients
40-50 grape leaves
200g (1 cup) uncooked brown rice, soaked in water for 1 hour
800g (28oz) mushrooms, I used Portobellos
1 onion
10g (½ cup) chopped parsley
½ tsp paprika powder
sea salt, to taste
ground pepper, to taste
1 tsp dry thyme
3 bay leaves
½ tsp ground coriander
¼ tsp ginger powder
2 Tbsps olive oil
120g (½ cup) tomato paste
Instructions
For the filling:
Grind the mushrooms and onion in your food grinder and then set aside (You can use you food processor if you don't have a food grinder).
Heat the oil in a large saucepan, over medium heat.
Add the mushroom and onion paste into the saucepan and sauté for another 10 minutes.
Add the rice (drained) along with an additional 1 cup of water. Stir and let the mixture boil for 10 minutes or until almost all excess liquid is absorbed. It doesn't need to be cooked, it just has to absorb all of the excess water. Add spices.
Remove from heat and add chopped parsley. Let it cool for 10 minutes.
For the wrappers and assembly:
Separate the grape leaves and make the rolls adding about 1 Tablespoon of filling into each roll.
See here how you can make the rolls.
Take a large pot and line the bottom with some grape leaves.
Put the assembled rolls in the pan on top of the grape leaves. Arrange them around the pan until the pan is full.
Add the bay leaves.
Cover with remaining grape leaves.
Add water until all rolls are covered.
Place in oven at 392F? for 1 hour. Check every 20 minutes and add more water if necessary. 15 minutes before it's ready, add the tomato paste and finish cooking.
Nutrition Information
Yield
6
Amount Per Serving
Calories

268
Total Fat

6g
Carbohydrates

42g
Protein

11.6g