Don't feel like cooking but still want to enjoy a delicious, comfort meal? This stuffed zucchini boats recipe is exactly what you need.
These and the stuffed eggplants recipe are two of my favorite easy recipes for whenever I have hungry unexpected guests visiting me. The result makes everyone believe you spent hours in the kitchen, when in fact you prepared the meal in 15 minutes! 🙂
If you want to make these stuffed zucchini boats you'll need just a couple of ingredients: zucchini, some oyster mushrooms (you can use other types of mushrooms too but I like oyster mushrooms because they have a meatier texture), any kind of vegan cheese, or regular cheese if you're vegetarian, garlic, onion and some spices. This would be the base recipe. From this, you can add any other veggies you have in the fridge, such as bell peppers, grated carrots, and even greens.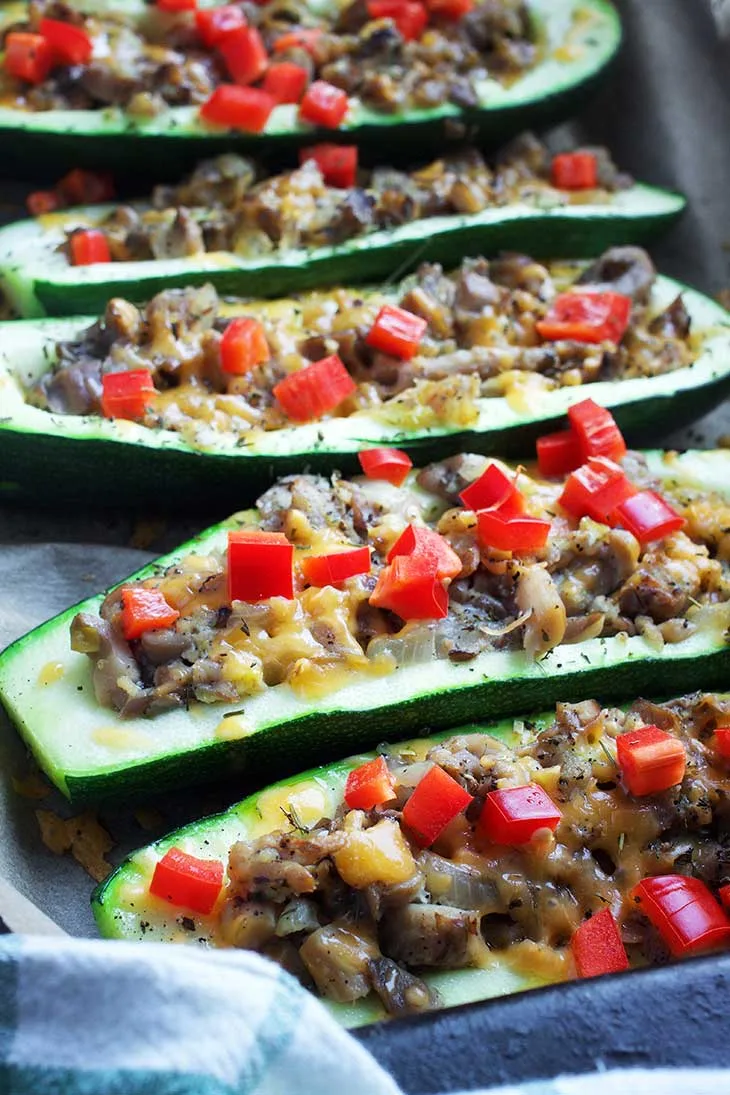 Also, if you don't like mushrooms (but who doesn't like mushrooms?! :)) ) you can use ingredients such as tofu, tomatoes and even nuts to stuff these zucchini boats with. Be creative! 🙂
Tip: You can use this recipe for meal prep as well! These are good even cold but can be easily reheated and last even a week in the fridge.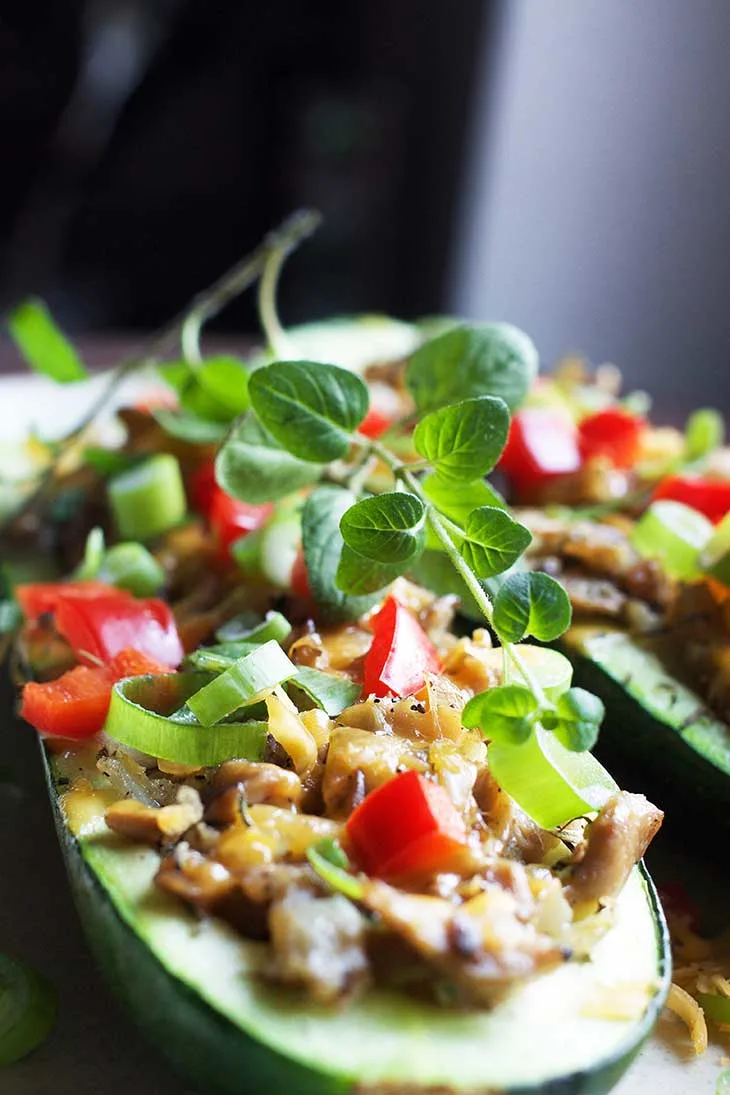 For making the stuffing a little bit creamier, I used coconut cream. It makes the stuffing moist and gives it an incredible taste. This is entirely optional but I do recommend trying it. It really does make a difference.
Tip no. 2: You can use this stuffing for pasta too! Add more coconut cream so it will have some liquid, maybe even some pasta water and enjoy with a big bowl of boiled pasta. It's delicious!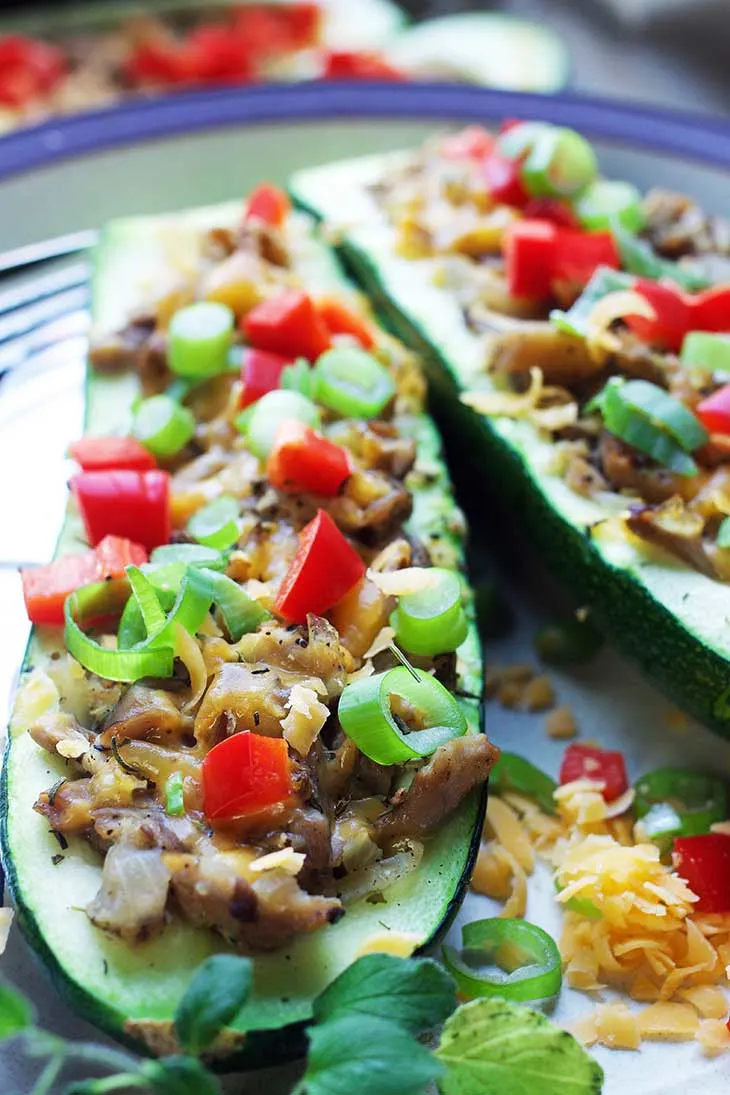 Now, about the spices I used. In this combo, I prefer oregano and thyme because I think they taste great with mushrooms. If you're using eggplant instead of zucchini, I recommend basil. If you want to be creative with the stuffing, I find that tomatoes and olives go hand in hand and can be combined with either parsley or basil. If you like a nutty filling, add some nutmeg to spice it up! 🙂
Just before serving these delicious zucchini boats, top them with fresh chopped herbs and decorate the plate use some oregano sprigs.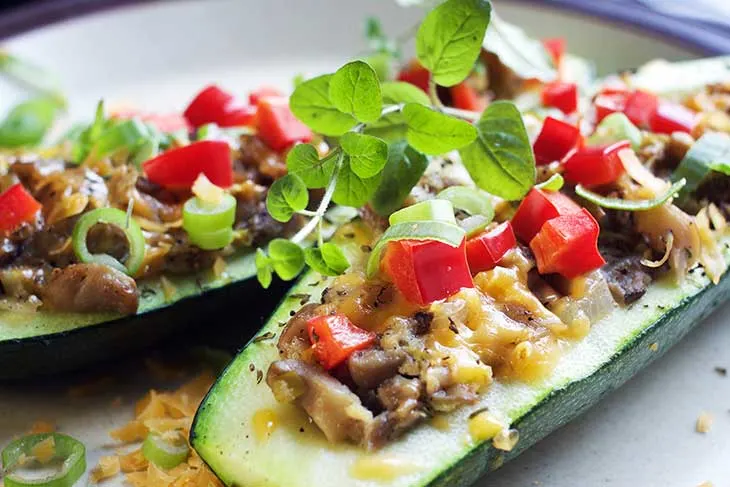 Hope you'll like this vegan zucchini boats recipe! Don't forget, if you give my recipes a try, take a photo and tag me on Instagram @gourmandelleblog and use the hashtag #gourmandellerecipe. I will feature you on my Facebook page and/or Instagram Stories! 🙂
P.S. Also, try these recipes: stuffed zucchini with quinoa and stuffed peppers. <3
Yield: 3
Stuffed Zucchini Boats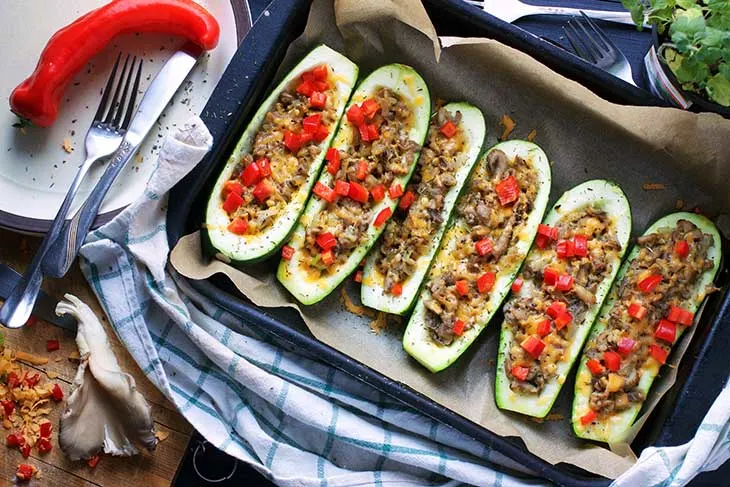 Don't feel like cooking but still want to enjoy a delicious, comfort meal? This stuffed zucchini boats recipe is exactly what you need.
Ingredients
3 medium zucchinis
2 Tbsp extra virgin olive oil
150g (1 cup) yellow onion, diced
2 medium garlic cloves, minced
170g (2 cups) oyster mushrooms, diced
240ml (1 cup) unsweetened, full-fat coconut milk, chilled overnight
1 tsp dried oregano
1 tsp dried thyme
½ tsp salt
¼ tsp freshly ground black pepper
20g (¼ cup) grated vegan cheese
⅓ green onion, chopped
75g (½ cup) bell red pepper, diced
Instructions
Preheat the oven to 400F.
Rinse the zucchinis and cut them lengthwise into 2 halves. Cut the edges of each half.
Using a spoon, scoop out the insides of the halves of zucchini.
In a large frying pan, heat the oil over medium heat. Add the onion and cook it until fragrant for a couple of minutes. Add the garlic and mushrooms. Cook on low until done, about 10 minutes, stirring occasionally.
Add the full-fat coconut cream and mix to incorporate.
Remove from heat and mix in dry oregano, thyme, salt, pepper.
Fill in each zucchini boat and press in the stuffing.
Bake for 35–40 minutes uncovered. Try not to overcook them, otherwise, the zucchini will start to sag.
As soon as they're almost ready, sprinkle them with chopped bell pepper and grated cheddar and let them broil for 2 more minutes. Serve these zucchini boats with chopped green onion and fresh oregano on top.
Nutrition Information
Yield
3
Amount Per Serving
Calories

242
Total Fat

13.2g
Carbohydrates

22g
Protein

8.7g