This Italian-inspired lemon olive oil cake is a delicious and easy to make cake recipe that's also vegan! Give it a try and enjoy a lovely dessert with a fresh citrus flavor!
Olive oil makes exceptional cakes! This was the first time I've used olive oil in a cake and the result was just incredible! The texture is soft and moist and combined with a delicious frosting is simply perfection!
This recipe was inspired by the Ligurian olive oil cake, a traditional Italian cake recipe I found online during my search for the best recipes of the Italian cuisine. The authentic Italian olive oil cake is simple, usually with no frosting and just some dusted sugar on top. It's also made with butter, whole milk, and eggs.
I wanted to try the vegan version, taken to the next level, so I transformed this simple and easy recipe into a delicious cake that can even be served for birthday parties or other special occasions!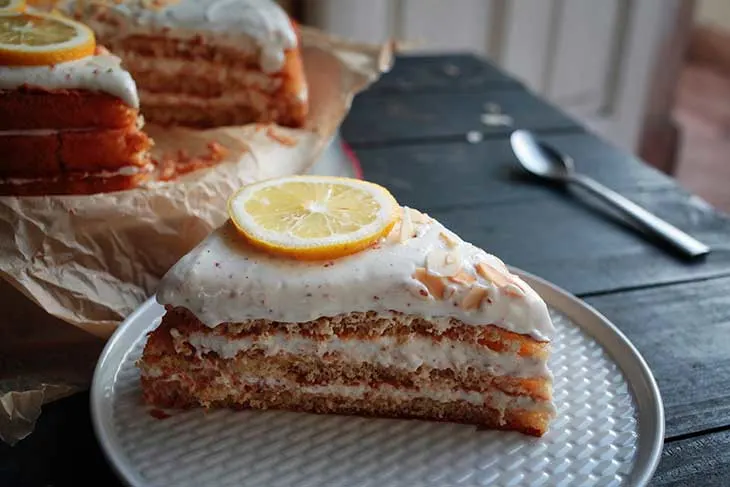 The frosting is simple, made with coconut milk, coconut yogurt, and coconut oil, plus some crunchy almonds to make the texture more interesting. I discovered the wonders of whisked coconut milk (the full-fat kind) when creating the chocolate cheesecake and vegan French silk pie recipes. It's so versatile and absolutely delicious in desserts! You can use it in savory dishes as well, for example, I always add it to polenta to make it extra creamy!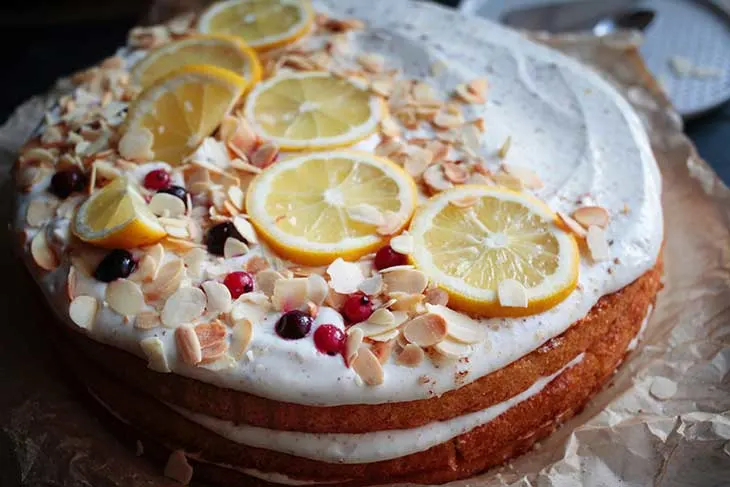 The topping for this olive oil cake was made to match the ingredients inside the frosting and batter, so I used lightly toasted almonds, lemon slices and some frozen berries for just a touch of color.
Hope you'll like this delicious vegan olive oil cake and give it a try! It's easy to make and you'll surely be impressed of the fresh citrus flavor! Enjoy!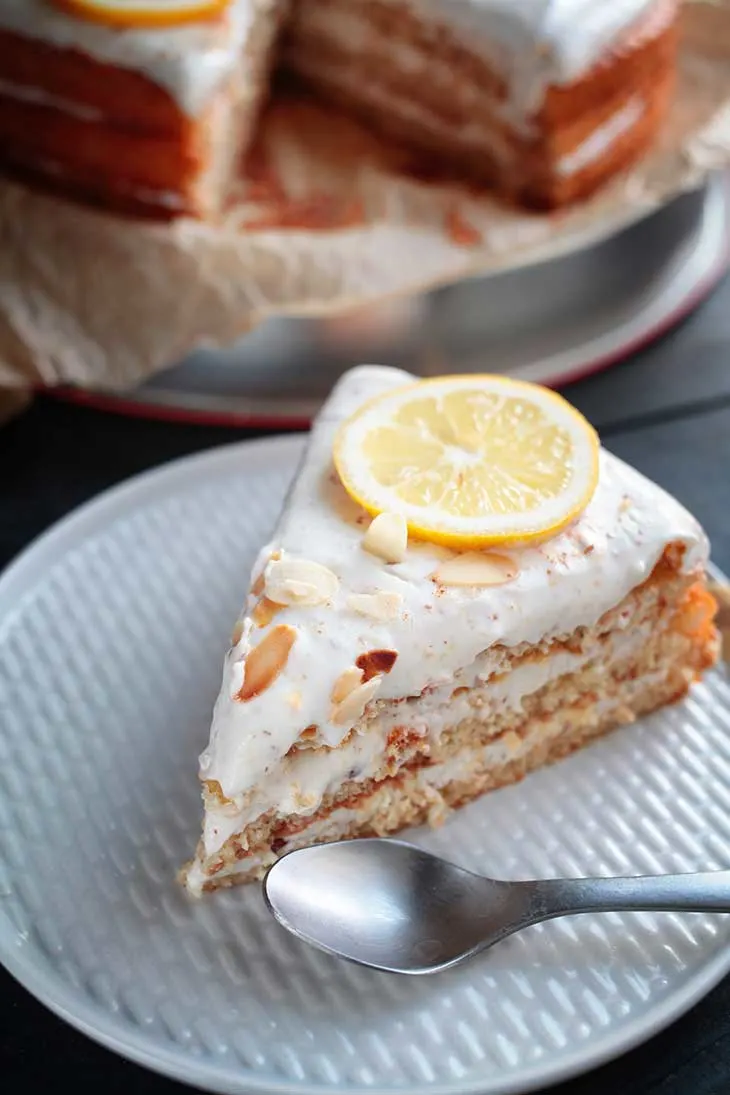 Yield: 6 +
Lemon Olive Oil Cake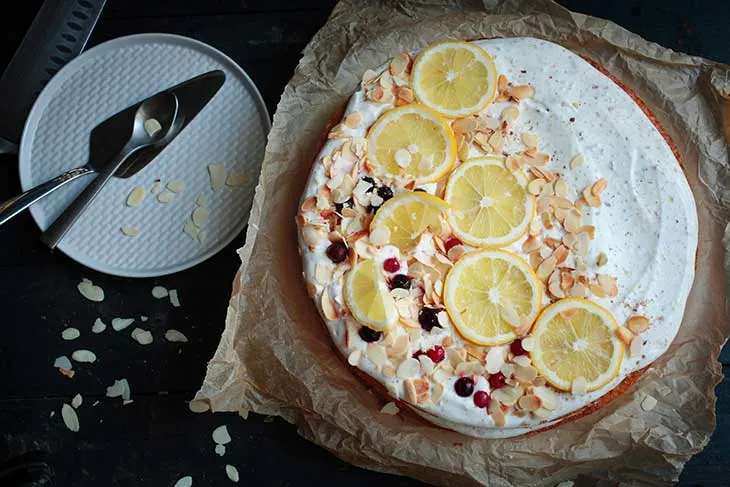 This Italian-inspired lemon olive oil cake is a delicious and easy to make cake recipe that's also vegan! Give it a try and enjoy a lovely dessert with a fresh citrus flavor!
Ingredients
For the cake:

Dry ingredients:

360g (3 cups) self-raising flour
200g (1 cup) light brown sugar
1 tsp baking powder

Wet ingredients:

160g (¾ cup) olive oil, plus extra for greasing the tin
1 lemon, zested, ½ juiced
160ml (⅔ cup) cold water
For the "mascarpone" frosting:
1 can (400g | 14 oz) full-fat can of coconut milk, chilled overnight
60g (¼ cup) coconut yogurt
55g (¼ cup) coconut oil, melted
½ teaspoon vanilla extract
70g (¾ cup) finely shredded almonds
100g (½ cup) sugar
1 tsp lemon zest
For topping:
fresh lemon slices
sliced almonds, lightly toasted
frozen berries
Instructions
Preheat the oven to 200C.
For the cake:
Grease and line with parchment paper one cake tin with detachable walls.
In a large bowl, combine all the dry ingredients, then add the wet ingredients. Mix until smooth.
Pour the batter into the cake tin and place it in the oven.
Bake for about 20-30 minutes or until a skewer inserted in the middle comes out clean.
Let it cool on a rack.
Meanwhile, make the frosting:
Scoop the coconut cream out of the can (just the creamy part).
Using a mixer, whisk the coconut cream until fluffy and soft peaks form. Add the remaining ingredients and continue mixing, until you get a nice silky texture. Let it cool in the refrigerator for about 20 minutes.
take out the cake from the cake tin and slice it into 2-3 layers, depending on how many layers you want. Check out this tutorial so you can learn how to easily slice cake layers.
Using a knife or a spatula, spread the frosting on each of the cake layers. Top with lemon slices, berries, and sliced almonds.
Nutrition Information
Yield
6
Amount Per Serving
Calories

987
Total Fat

60g
Carbohydrates

97g
Protein

13.8g