Are you craving a comforting and easy-to-put-together meal? Try this recipe for cabbage casserole – it is everything you wish for and more!
Part of what makes cooking such a special activity is how simple and fun it can sometimes be. A bunch of careless decisions can lead to the most delicious result. And even though there are times when you feel like trying out a complex recipe only leads to disappointment, because they never turn out like you hope them to, you're always going to have some simple dishes that you know how to make by heart.
So let's try to think of a recipe that doesn't take much effort. In the cookbook, there are always some recipes that simply work. You couldn't get these recipes wrong even if you tried. Most of them involve throwing some ingredients into a pan or pot and letting them cook and simmer and get to know each other until something good happens. I can think of no better example of a dish that follows this description entirely than this cabbage casserole! 🙂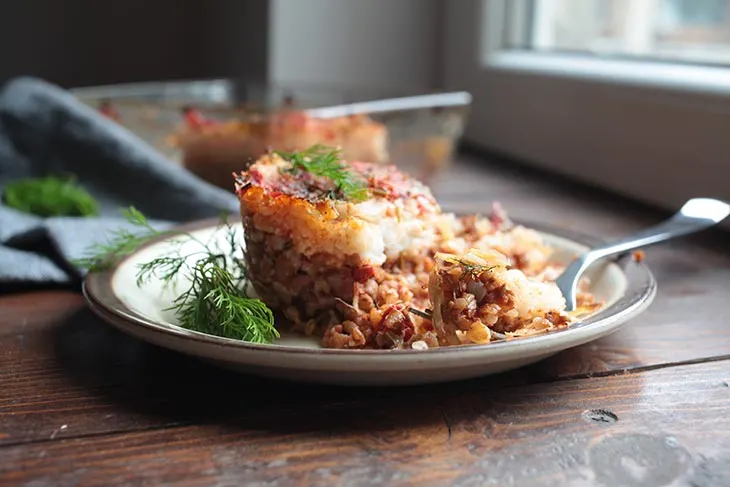 The casserole is a time-honored culinary tradition dating back to the medieval ages. It is appreciated in most of the kitchens of the world as the best way to beat hunger in record time. Casseroles are the embodiment of convenience – this dish will cover a whole meal while requiring a minimum amount of ingredients.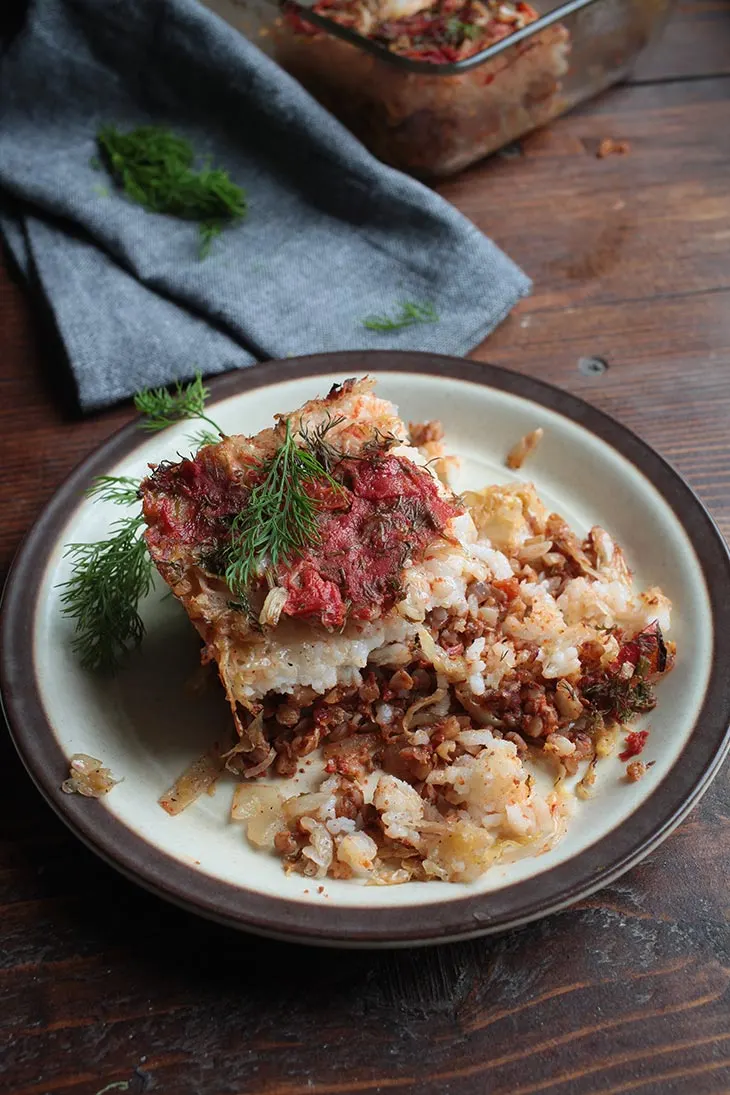 The term casserole has a very wide range of meanings. First of all, any meal that contains a variety of ingredients and has to be slow-cooked in a deep pan can technically be counted as a casserole.
The word casserole actually means the pan itself in some cultures, but for convenience purposes, it is also used to describe the meal. There is an endless number of ways that you can apply this way of cooking to make a tasty dinner.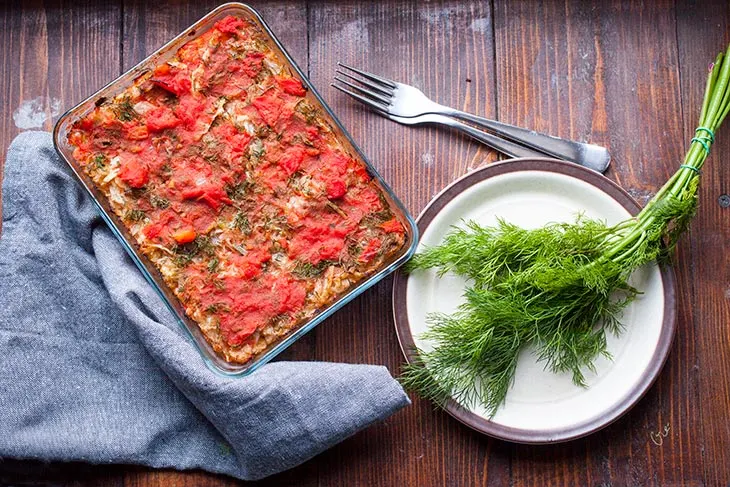 The ingredients in a casserole dish can vary greatly. Because it's so common to make a casserole that covers your whole dinner or lunch, most recipes include many different food types – a kind of meat, vegetables, a starchy binder like potatoes or flour, and a creamy topping, usually of melted cheese.
What makes a casserole really great is that specific juiciness of it, that comes from the slow cooking of ingredients and stock liquids of choice – and the cabbage casserole is no exception!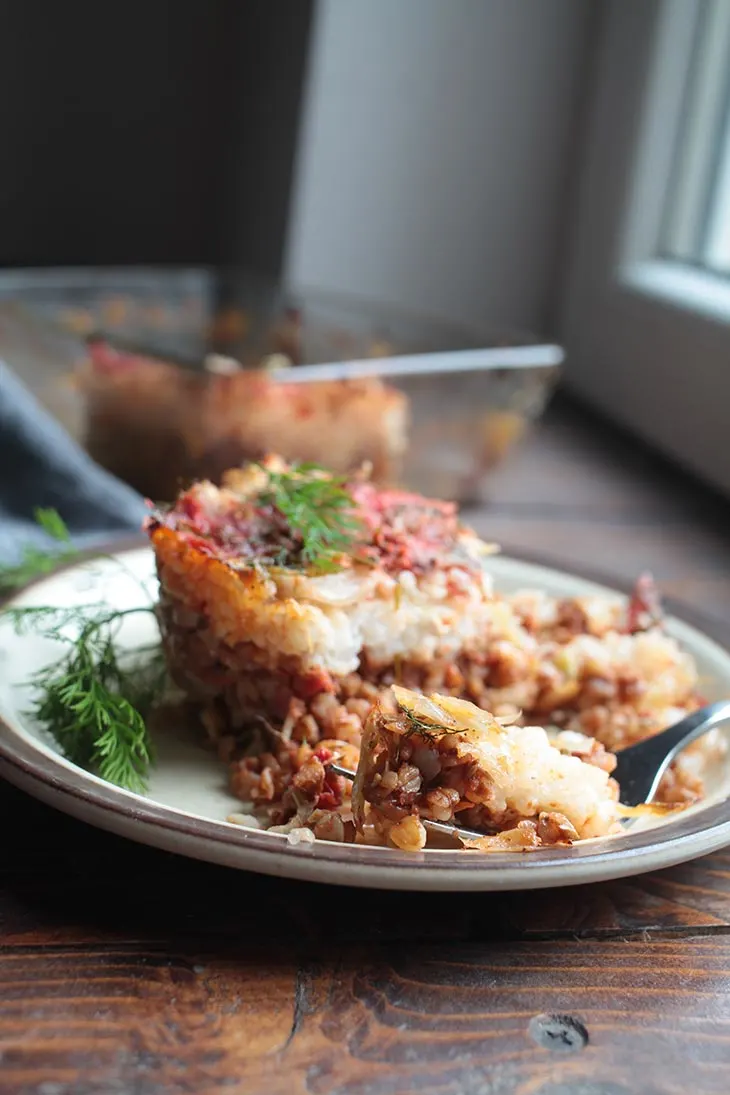 Casseroles are greatly popular in the United States and England. The English have been cooking casserole-type dishes since the middle ages, which makes sense, considering how sparse ingredients were in that period. Cooking random ingredients together proved to be more delicious than eating them raw and apart, anyway.
From then to now, many quintessential traditional European recipes can be considered casseroles, like the Shepherd's or cottage pie, quiche, and Lancashire hotpot.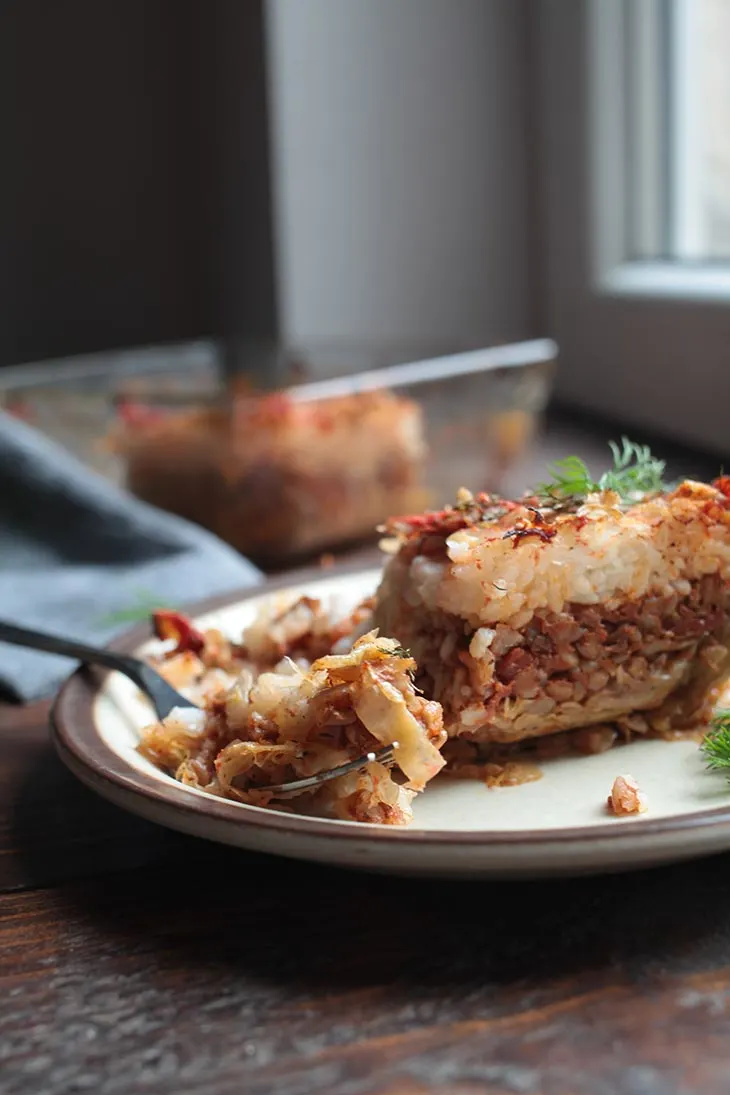 Today's recipe is a great way to get acquainted with casserole dishes. Cabbage casserole is a relatively simple dish that takes little time to prepare. You will be able to enjoy it by itself, or as the side to a meat-based dish. It goes great with pork roast or any other type of meat. Cabbage casserole is made great by the grated cheese on top, as well as the sauteed onions that are lightly browned in a pan beforehand. This combination of ingredients will give a rich, balanced taste to every spoonful of it.
But, like any other great recipe, the cabbage casserole can be easily transformed into its vegan, delicious version! For this, I used a tasty combination of cabbage (of course), soy chunks, buckwheat and lots of irreplaceable spices and herbs that resulted in the most comforting vegan cabbage casserole!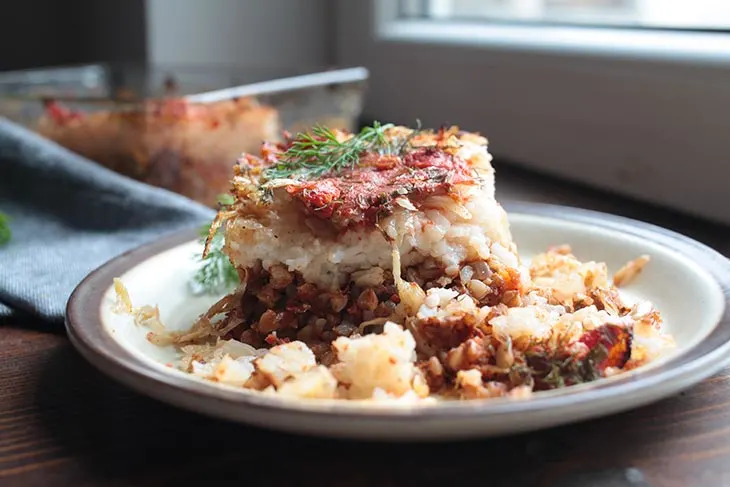 The cabbage casserole has comfort food written all over it! It's a great dish to make at home any day when you don't feel like making too much of an effort in the kitchen. Depending on the side of the casserole pan, it can range from dinner for two to feeding a whole family.
And if you have any leftovers, don't hesitate to put them in the fridge for now! This dish is based on the fact that the ingredients have to get to know each other, so leaving them in the fridge for a couple of hours to cool off will only do good things to your cabbage casserole. You'll wake up to an entirely new kind of dish that I guarantee you will enjoy immensely. Enjoy!
Yield: 6
Cabbage Casserole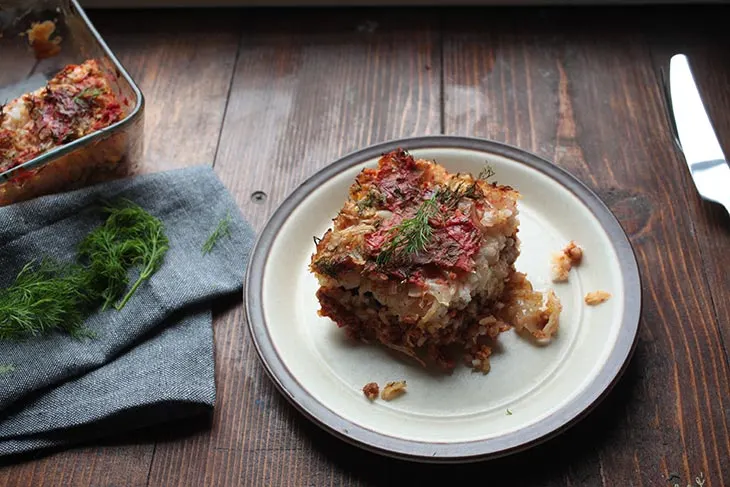 Are you craving a comforting and easy-to-put-together meal? Try this recipe for cabbage casserole - it is everything you wish for and more! >>>
Total Time
1 hour
20 minutes
Ingredients
3 Tbsp olive oil, divided
400g (3 cups) cabbage, shredded and pickled
170g (1 cup) soy chunks
240ml (1 cup) hot veggie broth
170g (1 cup) cooked buckwheat
2 onions, chopped, divided
1 garlic clove, crushed
½ tsp cumin
½ Tbsp liquid smoke
1 Tbsp nutritional yeast
3 Tbsp chopped dill, divided
450g (2 cups) canned tomatoes, crushed, divided
300g (1 ½ cup) cooked rice
salt and pepper to taste
Instructions
In a medium bowl, add the soy chunks and the hot veggie broth. Combine and set aside to soak.
Heat a skillet over medium heat with 1 Tbsp olive oil. Add half of the chopped onion and cook until translucent. Add the cabbage and cook, stirring occasionally until golden, for about 15 minutes. Set aside.
Preheat the oven to 200C.
Heat another skillet on medium heat. Add 1 Tbsp olive oil. Add cumin, the remaining of the chopped onion, and crushed garlic. Cook until translucent for about 3 minutes.
Discard the excess liquid from the soy chunks and add the soy to the skillet. Add buckwheat and stir to combine.
Cook for about 5 more minutes. Add the liquid smoke, 1 cup crushed tomatoes, 2 Tbsp chopped dill, salt, and pepper to taste. Continue to cook until all the liquid is absorbed and the flavors are combined.
Add the nutritional yeast, give it a stir, cover and set aside.
Grease a baking dish with the last Tbsp of olive oil.
Add a layer of cooked cabbage to the bottom of the dish (use ½ of cooked cabbage).
Layer on top with the cooked soy mix.
Next, layer the cooked rice and add the remaining cooked cabbage as the next layer.
Top with 1 cup of crushed tomatoes and chopped dill. Cook for about 30 minutes.
Enjoy!
Nutrition Information
Yield
6
Amount Per Serving
Calories

446
Total Fat

12.3g
Carbohydrates

71.7g
Protein

11.9g