Does the weather outside make you all gloomy and depressed? No worries, I've got the perfect solution – try this homemade vegan hot chocolate at home and you'll instantly feel better!
Winter time is upon us. Big fluffy snowflakes, icicled roofs, smokey chimneys… and the best way to admire all of these is at home, in front of a large window, wrapped up in your fluffiest blanket and holding a steaming cup of delicious hot chocolate.
Let's be honest, wintertime would be nothing without the treats – the smell of chocolate, cinnamon and baked apples simply makes everything more magical. You can't expect to get into the holiday spirit with just a cup of cold water in your hand. It simply does not work, guys!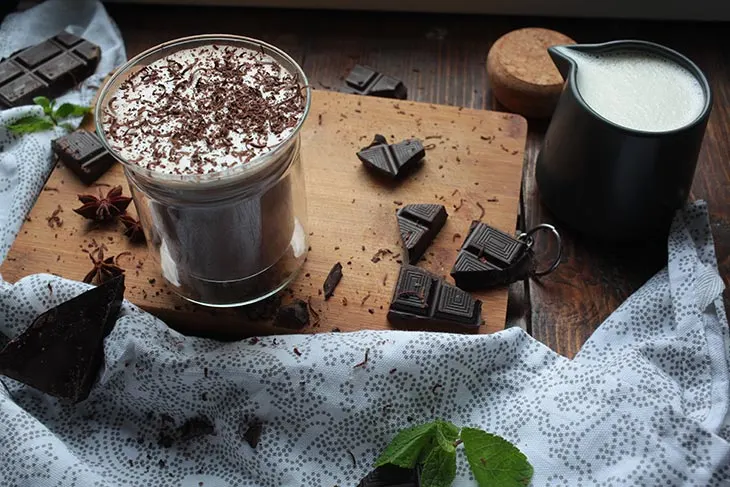 For me, the perfect winter means a cozy interior, baked goods (gingerbread, anyone?), sweet smells and hot drinks that make the outside cold more bearable. Hot chocolate is one of those things that simply yells "HAPPINESS!", and I believe it should be illegal to deprive yourself of this amazing drink during this time of the year.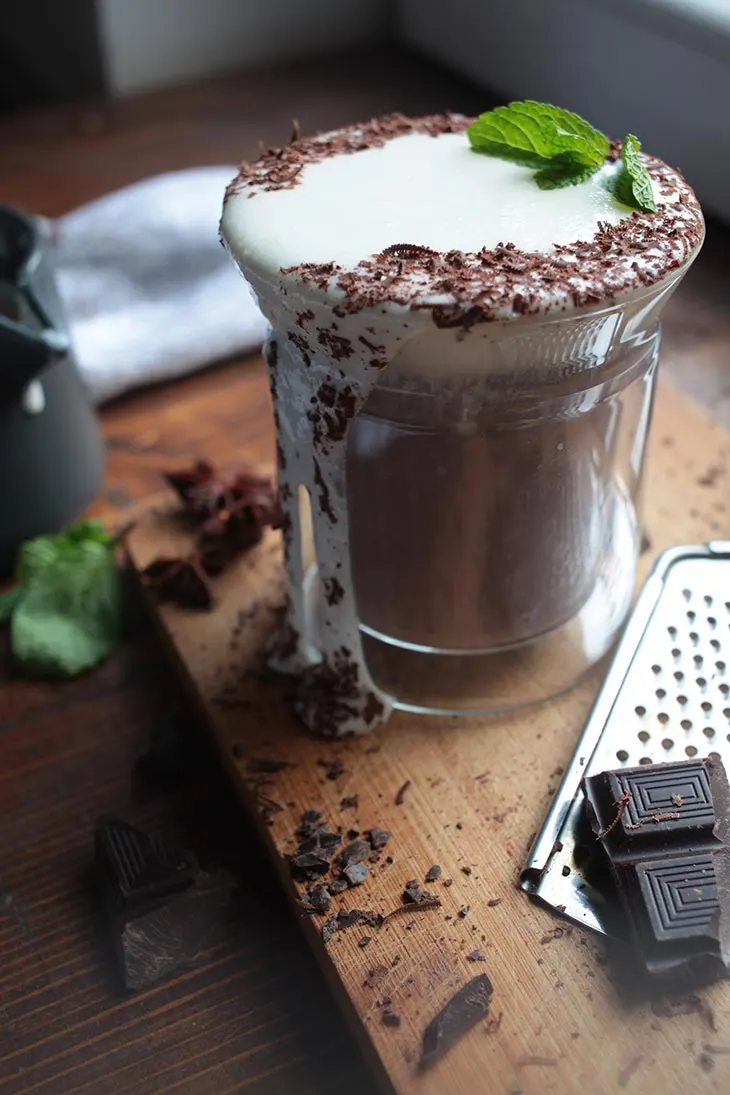 If you've gone vegan in the meantime, you might wonder how you might still enjoy hot chocolate with none of the cruelty part involved in making milk. And I'm here to tell you that I've 100% got your back.
You can definitely enjoy a cup of hot chocolate that's vegan but still sweet, rich and non-watery. And it doesn't involve even a drop of animal milk. A good cup of hot chocolate should be rich, thick, chocolatey (duh), creamy and comforting, and there are various ways to achieve this: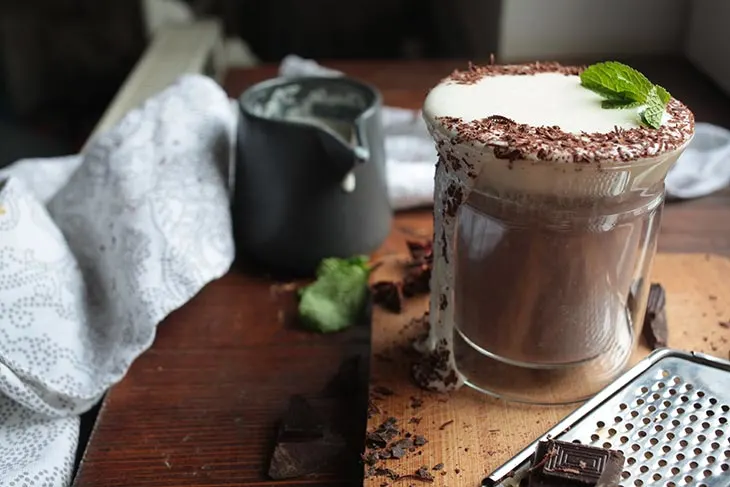 One of them is by using natural cocoa mixed with some sort of thickening agent, such as cornstarch. This method is very easily obtainable as cocoa can be found at every supermarket and it's usually vegan. Be careful though: you have to use high-quality cocoa. If you use a cheaper one, it might be more bitter, less thick, and the chocolatey flavor less pregnant. In this case, (a little) more money means happier taste buds.
Another method of achieving the best cup of hot chocolate is by using a good vegan dark chocolate tablet which you're going to heat up, melt and mix with the milk, sugar, and whatever else you might use. You can also use vegan chocolate chips. These will actually melt up more quickly, so less work for you.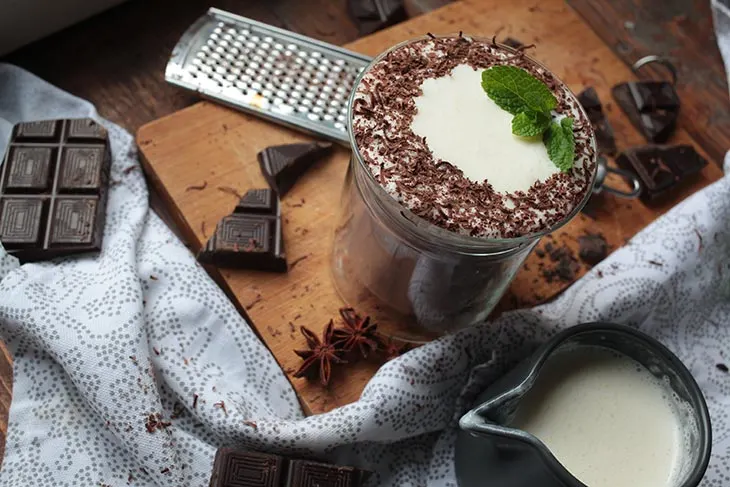 Ok, so what about the milk? I'm happy to tell you that any plant-based milk makes for an amazing substitute when it comes to hot chocolate, and I've actually come to prefer it tastewise. Using coconut milk, for instance, gives your hot chocolate such an amazing and subtle flavor that regular milk simply doesn't have! Same goes for almond milk. Or oat milk. Or any other plant-based milk you might find or fancy, for that matter! Really, anything goes.
The only recommendation I have is to be sure that you're using sugar-free milk, or at least pay attention to that, as your hot chocolate might turn out too sweet when you add your own.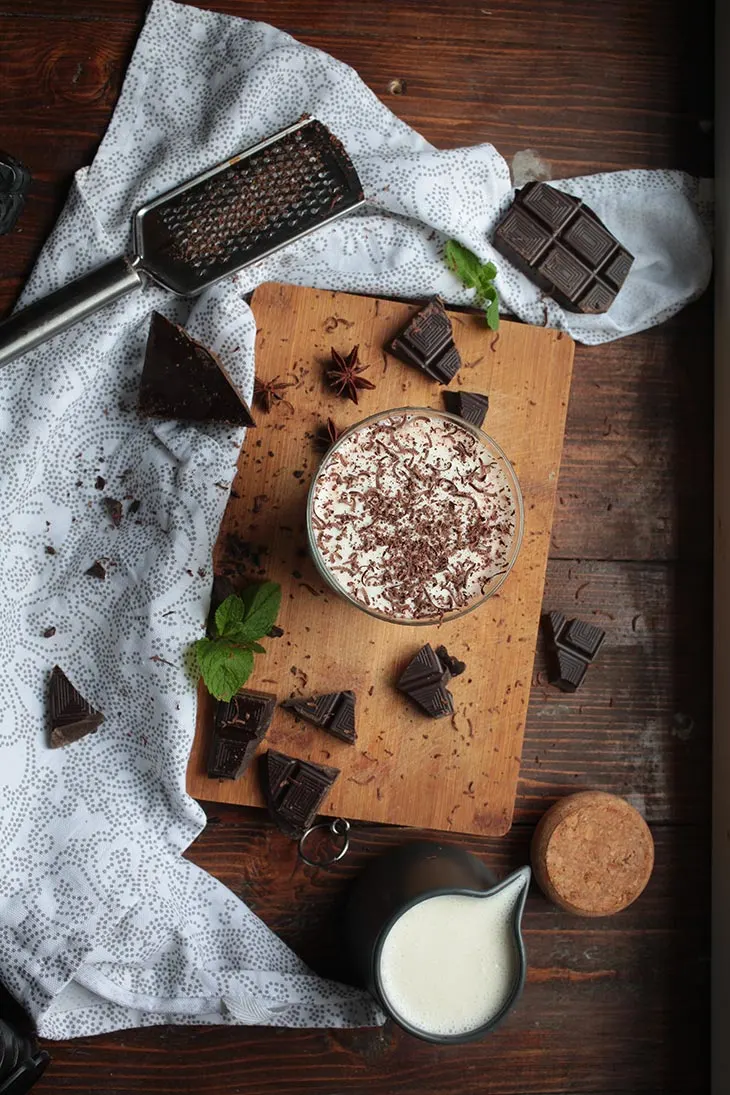 This is an incredibly simple recipe that's sure to bring all members of the family together – vegan or non-vegan – during a cold winter evening. You won't even be able to tell that it doesn't contain regular milk.
Oh, and did I mention that vegan hot chocolate tends to have fewer calories than the regular one? Yep. It's true. Plant-based milk usually has lot fewer calories than regular milk, and this makes a lot of difference when it comes to a whole cup of chocolate. For example, one cup of regular 2% fat cow's milk contains about 122 calories, while a cup of unsweetened coconut milk has only 45 calories! That's a big difference and it doesn't even mess up with the taste.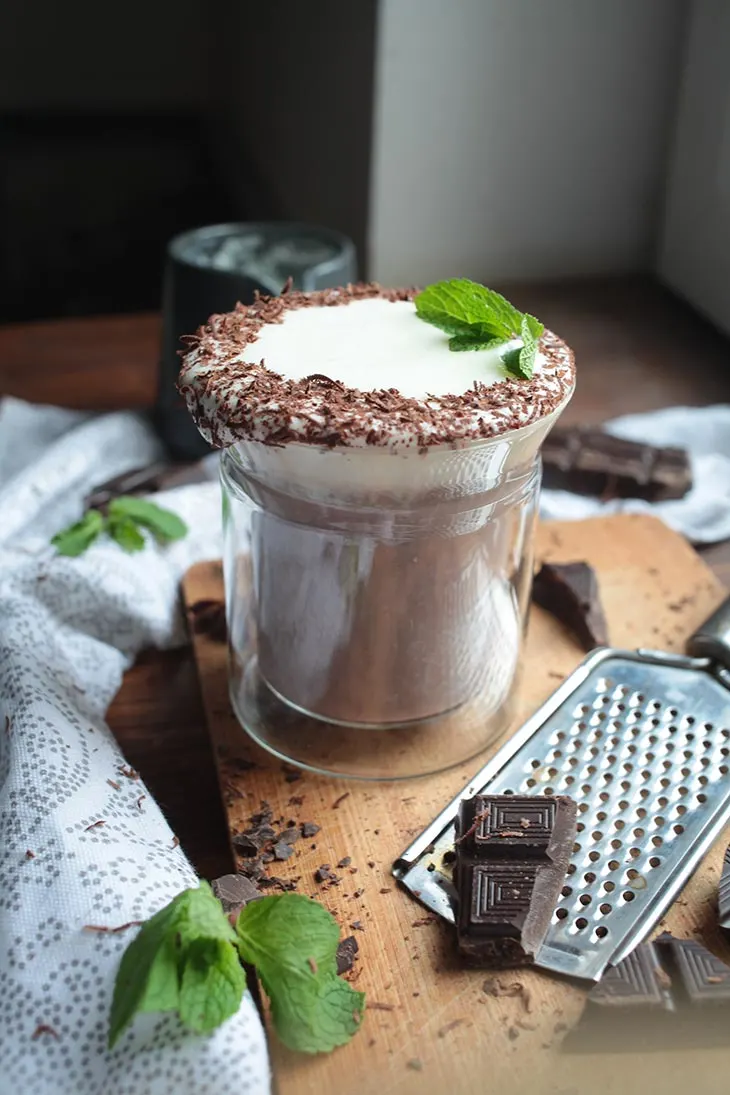 These being said, if you want to level-up your hot chocolate game, there's a bunch of other vegan ingredients you can add to it that is surely going to make it a hundred times better. These are mostly spices and flavors, such as cinnamon, peppermint, nutmeg, cardamom, vanilla or rum essence… or if you want to have a little more fun you can always use a teeny tiny bit of booze – you know, just for the flavor.
Rum, for example, would be an amazing choice as it enhances the chocolate flavor by a ton. If you want to give your cup a bit of vanilla flavor, I highly recommend using vanilla seeds instead of vanilla essence, though the latter would work as well. A vanilla bean is a bit more pricey, but boy is it worth the extra money! Same goes for cinnamon – using a cinnamon stick when boiling your ingredients makes a world of difference flavor-wise.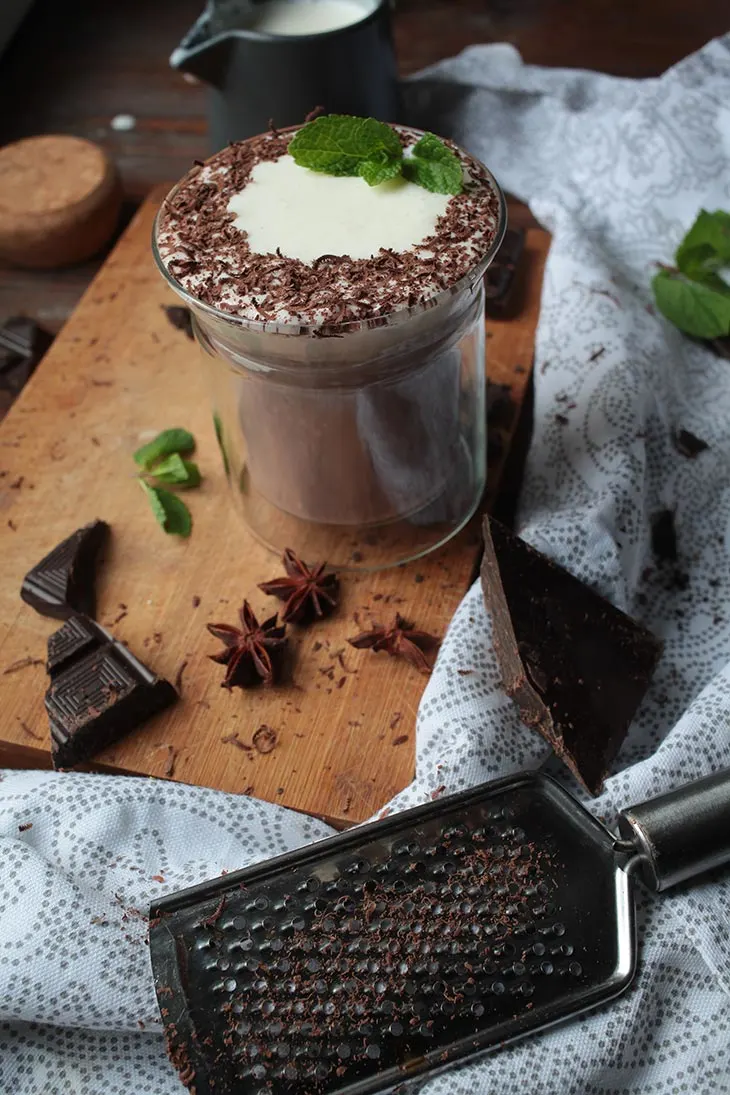 And last but not least… What would be a good cup of hot chocolate without the marshmallows? Nowadays you can find vegan marshmallows quite easily, and it's surely worth the effort in case you want to make the extra step! Garnish everything with a touch of cinnamon or even more cocoa and you're ready to go… Oh, wait, there's nowhere to go to, we're talking about the holidays. How about you simply pour yourself another cup? That's the spirit! 🙂
Yield: 6
Vegan Hot Chocolate - homemade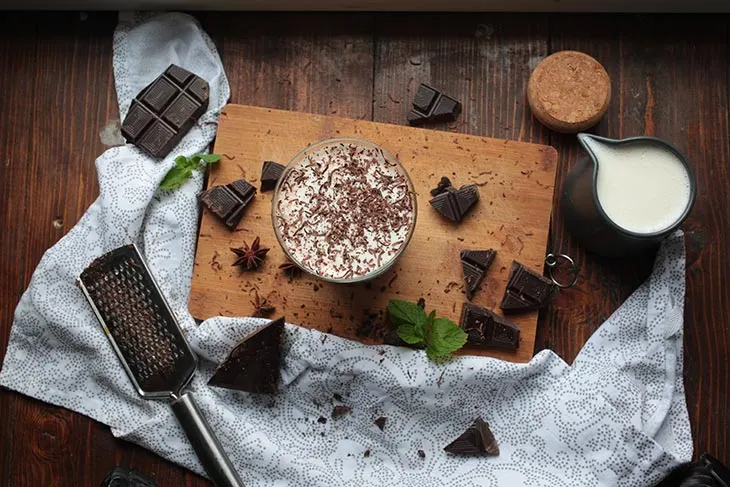 Does the weather outside make you all gloomy and depressed? No worries, I've got the perfect solution - try this homemade vegan hot chocolate at home and you'll instantly feel better! >>>
Ingredients
1L (4 cups) almond milk
4 Tbsp cocoa powder
85g (½ cup) vegan chocolate chips
1 Tbsp coconut sugar
1 vanilla stick
¼ tsp peppermint extract
2 Tbsp shredded chocolate
4 Tbsp vegan whipped cream
Instructions
Pour the milk into a pot, add the vanilla stick and sugar and heat it on low until simmering. Remove from heat.
Add the cocoa powder and whisk until well combined. Add chocolate chips and let sit for about a minute.
Add the peppermint extract. Whisk to combine.
Divide between cups and top with whipped cream and shredded chocolate.
Serve warm. Enjoy!
Nutrition Information
Yield
6
Amount Per Serving
Calories

499
Total Fat

32.2g
Carbohydrates

49.7g
Protein

2.4g