Are you in the mood for some comforting Mexican dishes? Then you have to try this veggie taco bowl full of amazing flavor. Needless to say, it's super healthy!
Who doesn't love a good taco now and then? Even more, who doesn't love a good taco bowl? 'Cause I think I sometimes prefer this option instead of the classic one! 🙂
In my opinion, taco bowls embody everything that's good about a taco with none of the mess you are making while eating it. Everything is as it should be. It's one of those perfect comfort foods that can actually be quite healthy – a win-win in my book.
So, what does a classic taco bowl contain?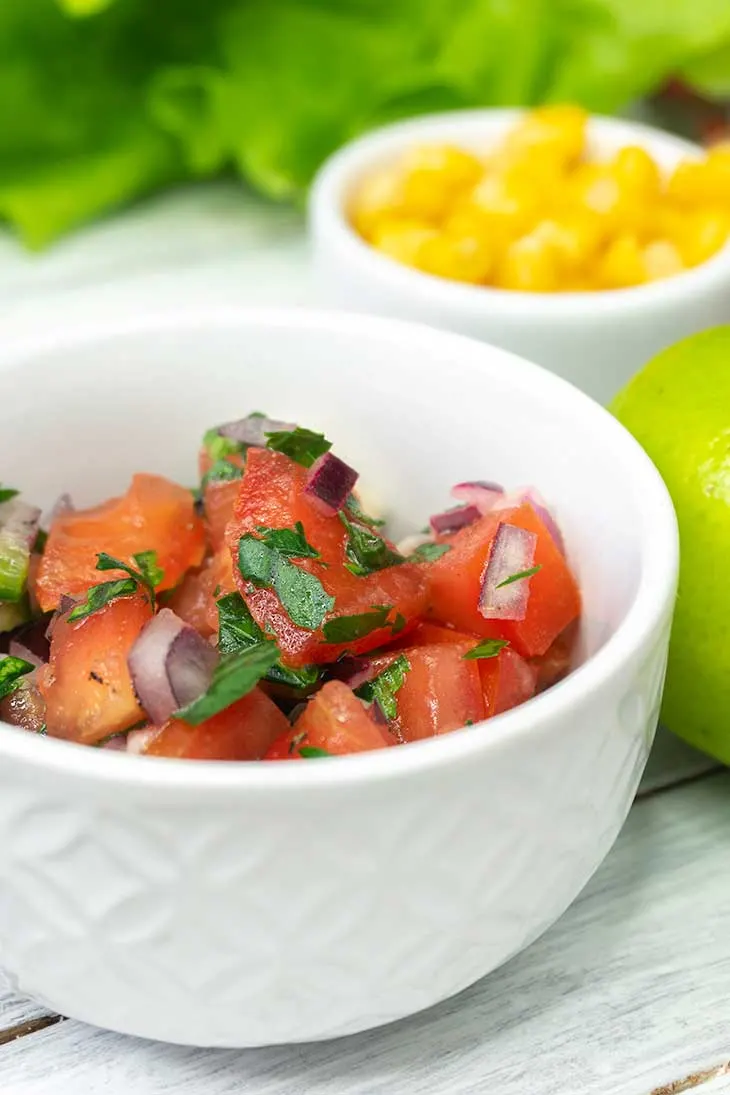 When it comes to the classic version, the base is some sort of ground meat, usually turkey or beef. Needless to say, we're not going to use any, since this is a vegetarian recipe. Other mandatory things are rice, any type of beans (red ones work wonders), sometimes corn, and your favorite vegetables such as tomatoes, red bell peppers – really anything you like. Tacos allow you to do many things – they're incredibly versatile foods. Of course, last but not least, what would a taco bowl be without the actual taco?
The taco itself is small corn or wheat-based tortilla. It's crunchy and delicious, adding that satisfying factor to this meal.
To make vegetarian tacos, you obviously have to skip on the meat. You can make them vegan as well, in which case, we are going to skip on the animal products altogether. But don't worry yet! Fewer animal products do not mean less pleasure and a less satisfying meal. On the contrary. You can use delicious, satiating fillings that will quench your hunger and tastebuds in no time.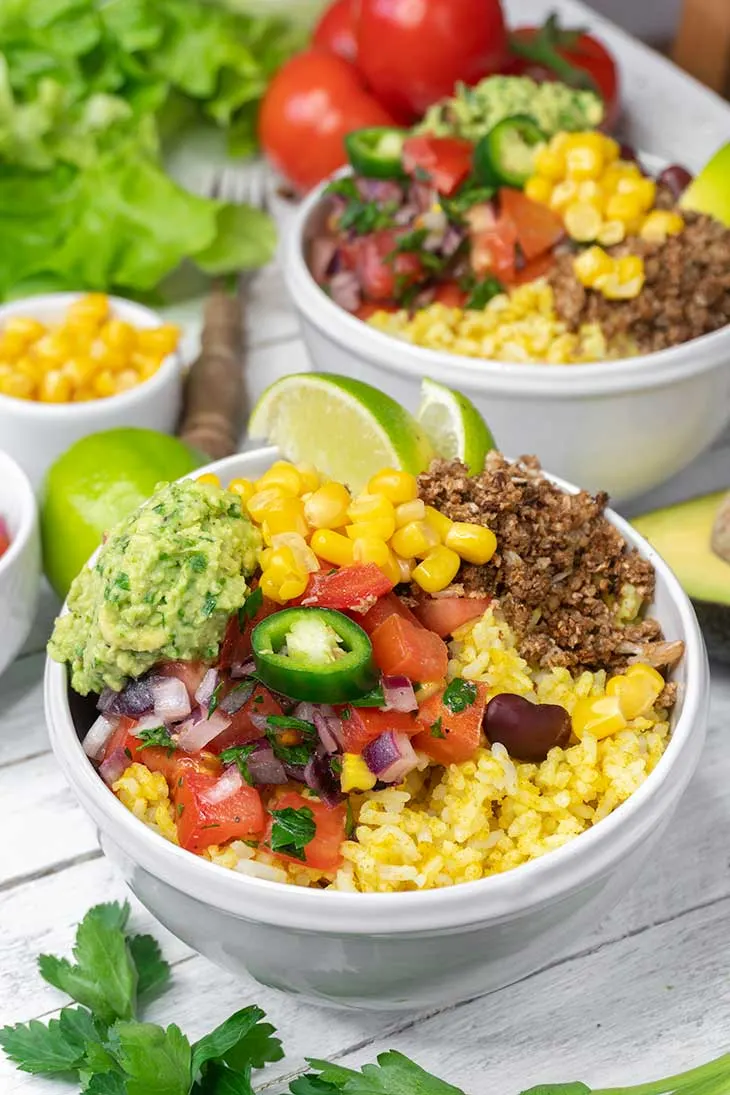 The meat can be left out altogether or replaced by a ground mock meat. You can either use savory soy or try a mixture of ground mushrooms, walnuts, and cauliflower rice. In case you don't know what that is, I have a recipe on my blog. It's basically ground cauliflower that resembles rice in texture. You can make this mixture really savory and yummy, seasoning it with some smoked paprika for an extra meaty flavor. But you can honestly use whatever you want.
If you don't have the time for faux taco meat, you can even leave it behind altogether and assemble your taco bowl with the rest of the ingredients.
Now, when it comes to rice, white and brown varieties both work really well. However, if you want to pump up the fiber game, I really recommend brown rice. It's packed with fiber, it's going to keep you fuller for longer, plus it's really delicious.
For a vegetarian version, you can use your favorite type of cheese – make sure to melt it and make it really delicious. If you want to opt for the vegan one, either skip on the cheese entirely or use a vegan one. My favorite options would be cashew cheese and tofu. If using tofu, I highly recommend marinating and grilling it. You'll get an amazing flavor.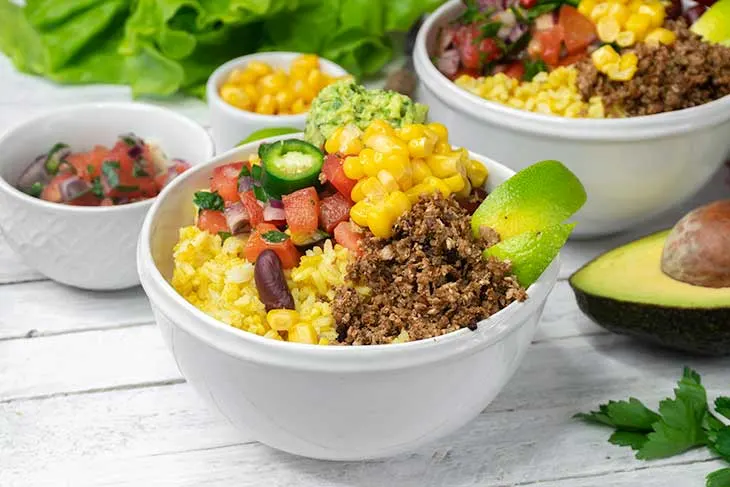 Another great tip I have is to use both fresh and cooked veggies for your taco bowl. Fresh veggies add that amazing crunch and plumpness, while cooked veggies are more flavor-dense. I highly recommend oven-baked or grilled vegetables here. Because, in the end, taco bowls are all about mixing together a lot of textures and tastes. The more, the merrier! 🙂
This makes for an amazing lunch or even dinner. It has everything: good carbs, quality veggie protein. If you're using ground walnuts in your faux meat mixture you can also get a bunch of healthy fats. If not, you can always use avocado to make a creamy guacamole sauce which you can then use as a topping. Or simply slice up the avocado and mix it together with your veggies – either way, it is perfectly fine!
I love these taco bowls for their versatility and for the health boost they are offering with each bite. They're the kind of health food that is satiating enough that it doesn't feel deprived at all. You can eat the bowl either as it is, or warmed up – I love both ways, really. The heated version is a bit more suitable for the colder months, while the cold version is super refreshing and I love to have it as lunch in the summer.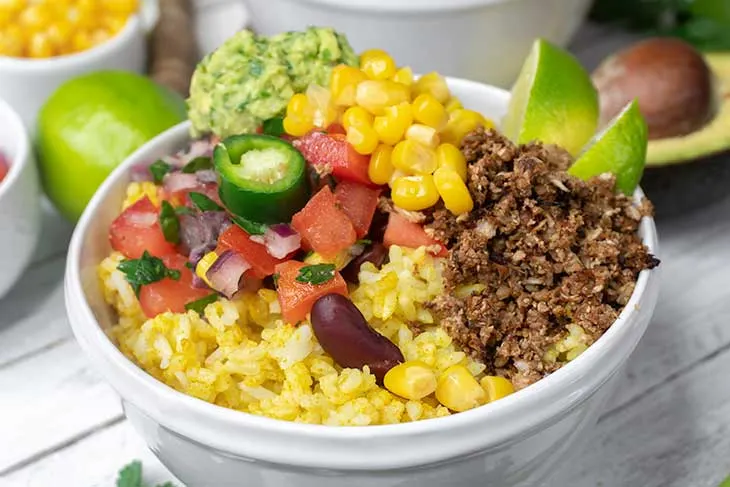 I hope you're going to try this recipe, be it for Taco Tuesday or any other day of the week! If you find some ingredients that don't work for you, you can simply swap them for something you like. Because, as I said before: tacos are all about versatility. And fun! 🙂
---
Personalized meal plans and workout videos | Get your customized meal plan today! [x_button shape="square" size="mini" float="none" target="blank" href="https://shop.gourmandelle.com/?utm_source=mainsite&utm_medium=site&utm_campaign=inpost" info="none" info_place="top" info_trigger="hover"]I WANT A MEAL PLAN![/x_button]
---
Yield: 2
Veggie Taco Bowl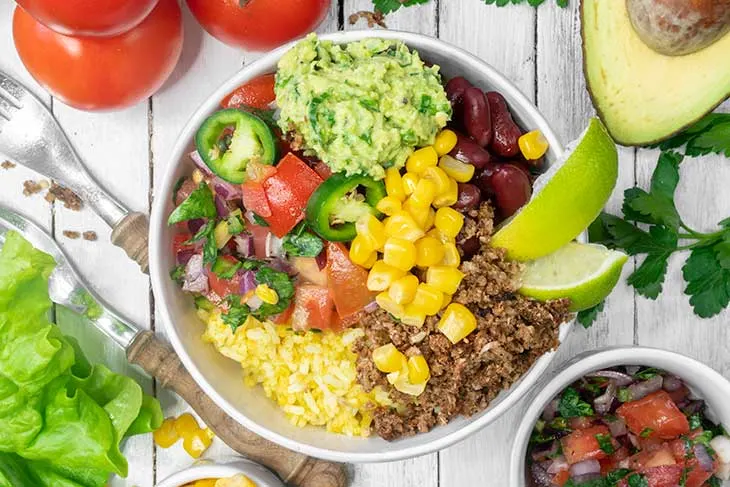 Are you in the mood for some comforting Mexican dishes? Then you have to try this veggie taco bowl full of amazing flavor. Needless to say, it's super healthy!
Ingredients
210g (1 cup) rice
250g (1 cup) pico de gallo
80g (½ cup) canned corn
80g (½ cup) kidney beans
2 Tbsp guacamole
1 lime
½ Jalapeno
Taco 'meat' - 2 ways:
First version - soy-free:
100g (1 cup) cauliflower florets
40g (½ cup) walnuts
¼ tsp chili powder
1 tsp ground cumin
¼ tsp garlic powder
½ tsp Italian seasoning
1 Tbsp taco sauce
Salt
Pepper
Second version - with textured soy protein granules:
All the spices mentioned above
50g (½ cup) textured soy protein granules
Instructions
Cook the rice following instructions on the package.
Taco 'meat' - soy-free version:
Pulse the cauliflower and walnuts in a food processor until it's a fine crumble. Don't let it turn into a paste. Move to a bowl and add chili powder, cumin, garlic powder, Italian seasoning, taco sauce, salt, and pepper. Set it aside for 5-7 min. Transfer to a baking sheet and bake at 180 degrees C for 20-25 minutes.
Taco 'meat' - TSP version:
Boil the textured soy protein granules for 10 minutes. Drain very well and mix with the spices.
To assemble:
Put the cooked rice in a bowl, top with faux cauliflower meat, corn, beans, pico de gallo, Jalapeno, and guacamole.
Squeeze fresh lime juice.
Nutrition Information
Yield
2
Amount Per Serving
Calories

855
Total Fat

24g
Net Carbohydrates

127.3g
Protein

32.2g
I strive to keep the information as accurate as possible but make no warranties regarding its accuracy. I encourage you to make your own calculations using your preferred nutrition calculator.