Here's the ultimate potato recipe you can make today: this vegan Hasselback casserole! It's extremely yummy, easy to put up together and healthy as well! What you are waiting for?
Whenever I think about the perfect side dish, potatoes automatically come into my mind. And it's no wonder – they're a classic! They go perfect with almost anything you can think of, they are usually easy to prepare and they stand out in any recipe without having an overpowering taste. What can you want more from your side dish? 🙂
Given all these qualities, today's recipe is all about potatoes. I know many people who tell me that they are becoming tired of the usual way of having their potatoes – fried, mashed, cooked in the oven. I am here to tell you that there is so much more to do with your potatoes!
There are so many options and ways to turn your potato-based side dish into a work of art, that you just don't have any excuses not to do it. And this is exactly what we are going to do today. Two words: Hasselback Casserole!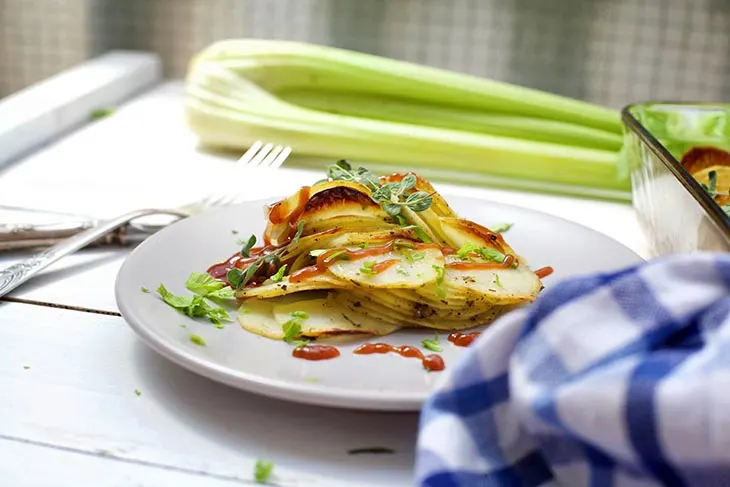 Believe me, it's simply perfect. Crisp edges and tenderness inside – it has the best of both worlds. It really is one of the best ways to have your potatoes – you will have an incredibly tasty side dish that is at the same time really easy to make and it only requires one pot to put together.
Whenever I bring out this beautiful dish, everybody is impressed. Why are they so good? Because they are the perfect combination between baked and roasted! Crisp on the outside, while still soft on the inside.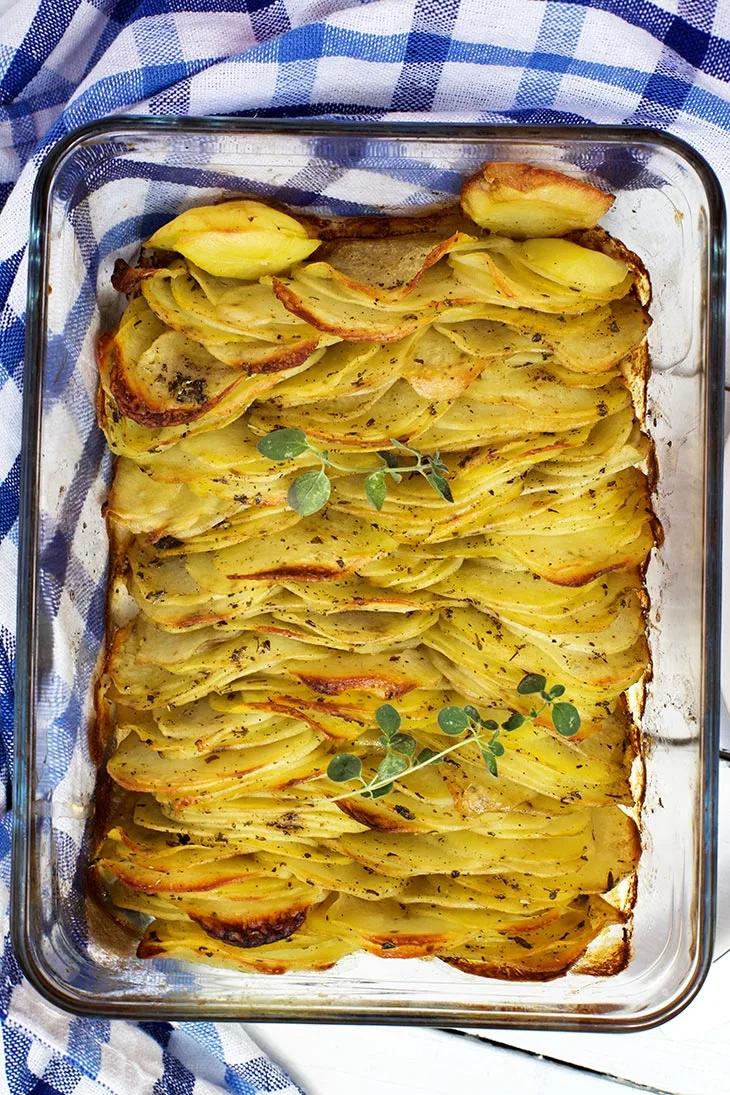 Although they seem like a classic, the Hasselback is still an early invention. They were first created at the Hasselbacken Hotel and restaurant in Stockholm, Sweden in the 1950s. By the way, the restaurant is still open and has this item on the menu if you're curious to see the place where it all started.
The name actually reflects the technique and not the recipe. It's the way the Hasselback potatoes are cut that makes them so special: you have to make small fan cuts on the potato that don't go all the way to the other side – it's basically an accordion-like shape.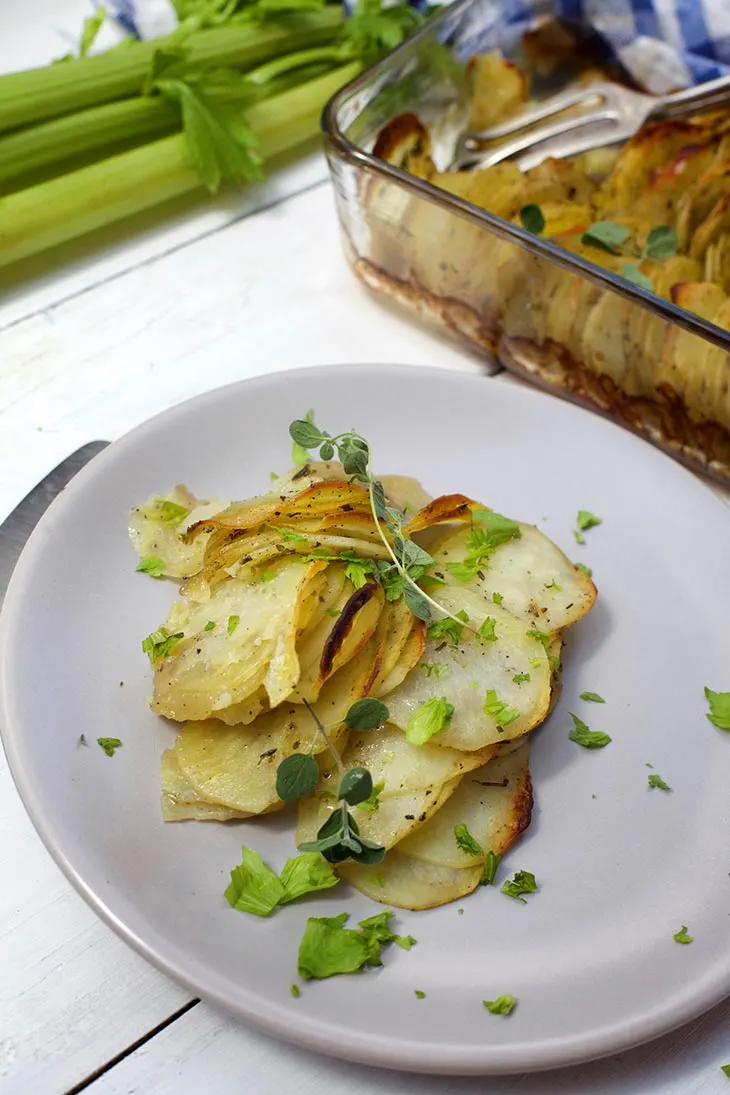 But since the cut is quite hard to master and I like to keep things simple, my recipe has a small twist. We are going to cut chips-like bites of potatoes – it's much easier to do it like this!
In order to keep the crisp-tender texture intact, we are going to arrange the potato slices vertically into the baking tray! That's my quick trick. 🙂
Be sure to have enough potatoes on hand, as your tray has to be filled completely in order for the potatoes to maintain their position. Don't worry if you haven't tried this before – once you start preparing the recipe you will realize that it is actually extremely easy – all you need is a sharp knife and a sufficient quantity of potatoes.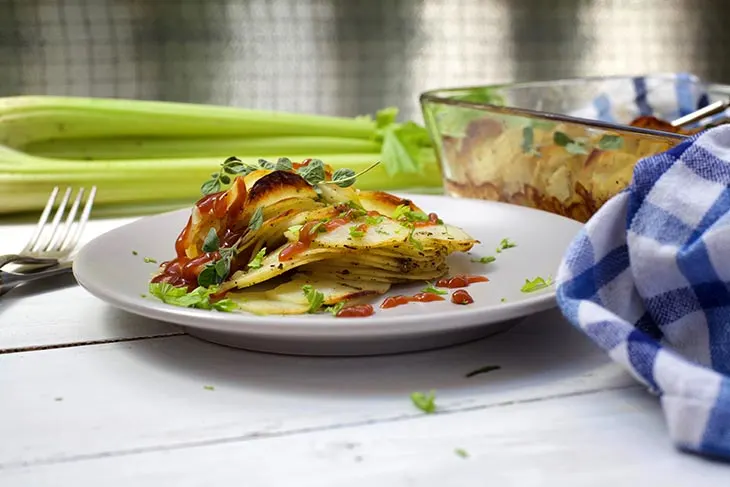 And in case you would like to make things even faster and easier, then a mandoline slicer is your best friend. Your meal will be assembled in no time, and all that's left to do will be waiting for the potatoes to get perfectly golden and crisp inside the oven.
You can keep everything basic – just the potatoes inside the tray, but you could also add some extra toppings. They will be added over the potatoes before introducing them into the oven – so all the flavors will merge together nicely. Just follow my recipe and you will get a really delightful side dish in no time!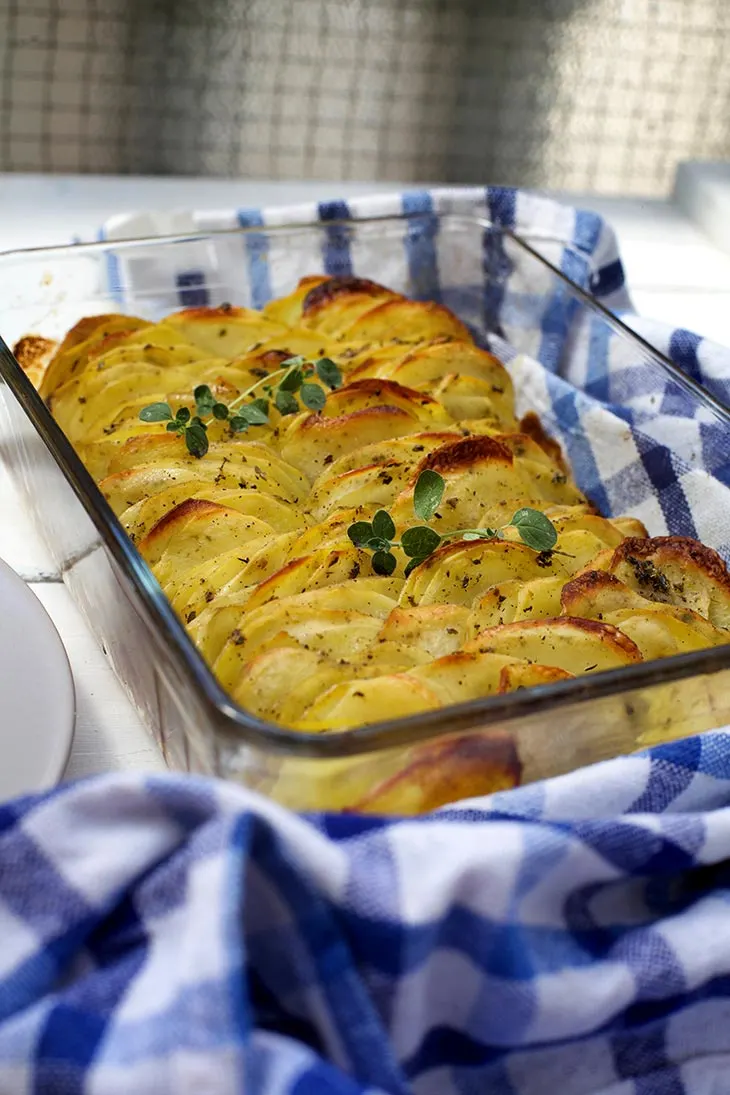 This Hasselback casserole is so good it can be served as a main dish too! Just add some fresh salad on the side and there is your meal!
Now that I told you everything about how tasty these potatoes are, gather your ingredients and let's start cooking! This dish is best served hot out of the oven, so invite your friends over and have a lovely dinner. I promise everybody will be impressed. You can't go wrong with this Hasselback casserole!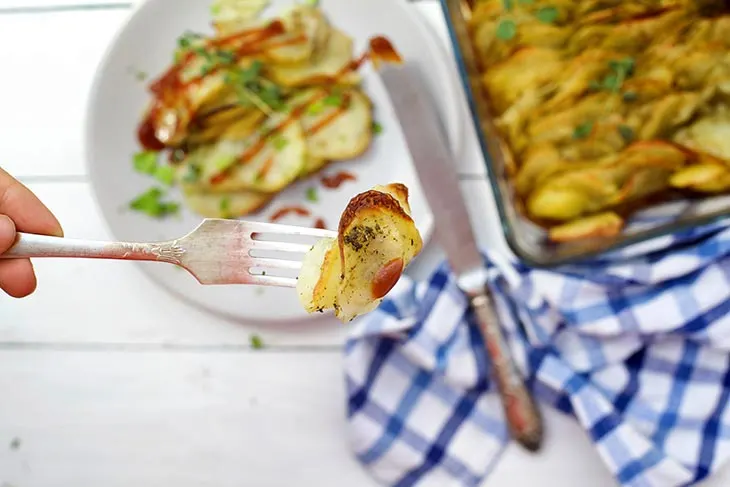 Yield: 8
Hasselback Casserole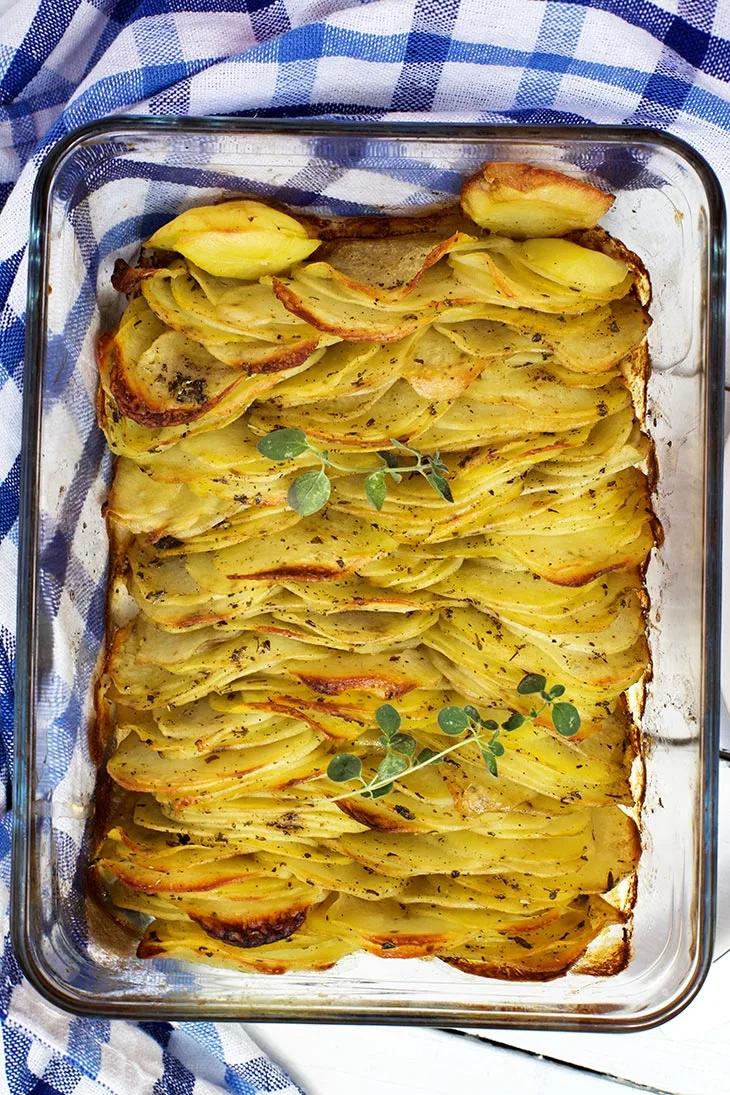 Here's the ultimate potato recipe you can make today: this vegan Hasselback casserole! It's extremely yummy, easy to put up together and healthy as well! What you are waiting for?
Total Time
1 hour
20 minutes
Ingredients
3 large potatoes, peeled and thinly sliced
2 Tbsp olive oil
1 Tbsp vegan butter, melted
1 tsp chopped oregano
1 tsp cumin seeds
½ tsp paprika
½ tsp chili
1 Tbsp nutritional yeast
1 tsp dry celery leaves
2 clove garlic, finely chopped
salt and pepper to taste
Instructions
Preheat the oven to 200C.
Grease a baking dish with olive oil.
In a large mixing bowl, add the potatoes and the rest of the ingredients.
Rub the sliced potatoes with oil and condiments. Try to cover all of the slices.
Arrange the potato slices upright vertically and tightly in the prepared dish.
Transfer to the oven and bake for about 1 hour until golden and crispy on the edges.
Serve with some fresh herbs and your favorite sauce.
Nutrition Information
Yield
8
Amount Per Serving
Calories

207
Total Fat

9g
Carbohydrates

26g
Fiber

8g