If you never tried making homemade risotto before, this extra flavorful recipe for vegan roasted tomato risotto will definitely convince you to start! Give it a try!
I'm back at it with the Mediterranean flavors, and, with that being said, I'm guessing you already know that this is definitely going to be a recipe rich in good, fresh Italian produce! At least that's where we're getting the inspiration from, but no need to book a plane ticket to the heart of Italy, 'cause we can bring Italy here with just a few ingredients and techniques.
This is going to be one of those recipes that will just make you shout "Mamma mia!" after you gave it the first taste, I assure you! And you know that, usually, the "tastiest" food is also the unhealthiest one, but this one is a special cookie because guess what? It's low fat! 🙂
Now, let's talk a bit about risotto, which is actually a true culinary masterpiece, so it's worth talking about. Did you know you can even find cookbooks that are exclusively for this type of rustic recipe?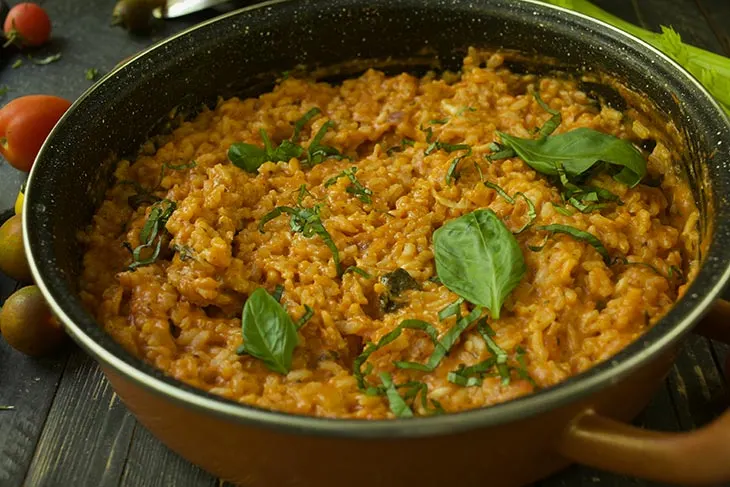 Risotto uses a distinct type of rice, most commonly arborio but also carnaroli which, when cooked, it offers this delicious, creamy texture with the perfect touch of chewiness.
Cooking the rice releases the starch, giving the risotto its creamy, unforgettable consistency. Arborio rice can absorb a good amount of liquid without becoming all mushy and pilaf-like (not that I don't love it, but for now it's all about the risotto!).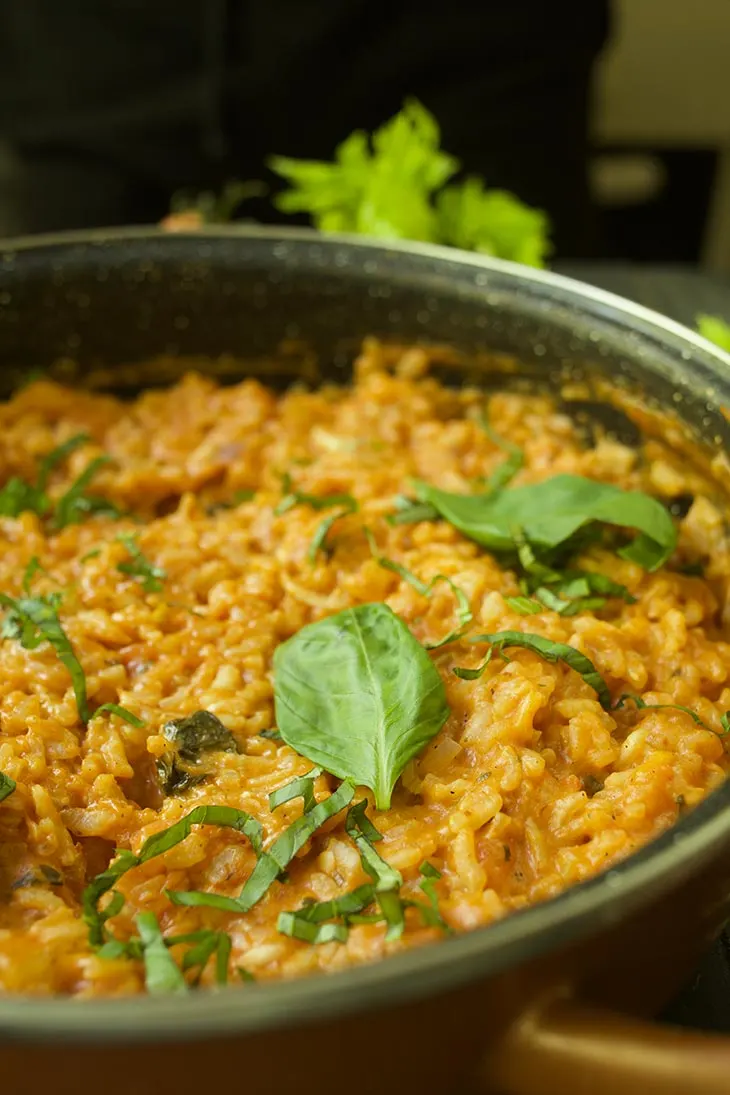 But maybe you don't know that much about these two types of rice, which is no problem – let's find out! Arborio is an Italian short-grain rice that is named after the town of Arborio where it is traditionally grown. Because of its creamy and chewy consistency, it's also a perfect choice for rice pudding. So, guess what, you can save a little bit for dessert as well!
Carnaroli, which is medium-grained Italian rice, also grown in northern Italy, can also be used to make risotto, but it's harder to find outside of Italy. It is differing from the more common arborio rice due to its higher starch content and firmer texture, as well as having a longer grain. Carnaroli is considered and often described as a "superfino" rice or as "the king of rice". Interesting, right?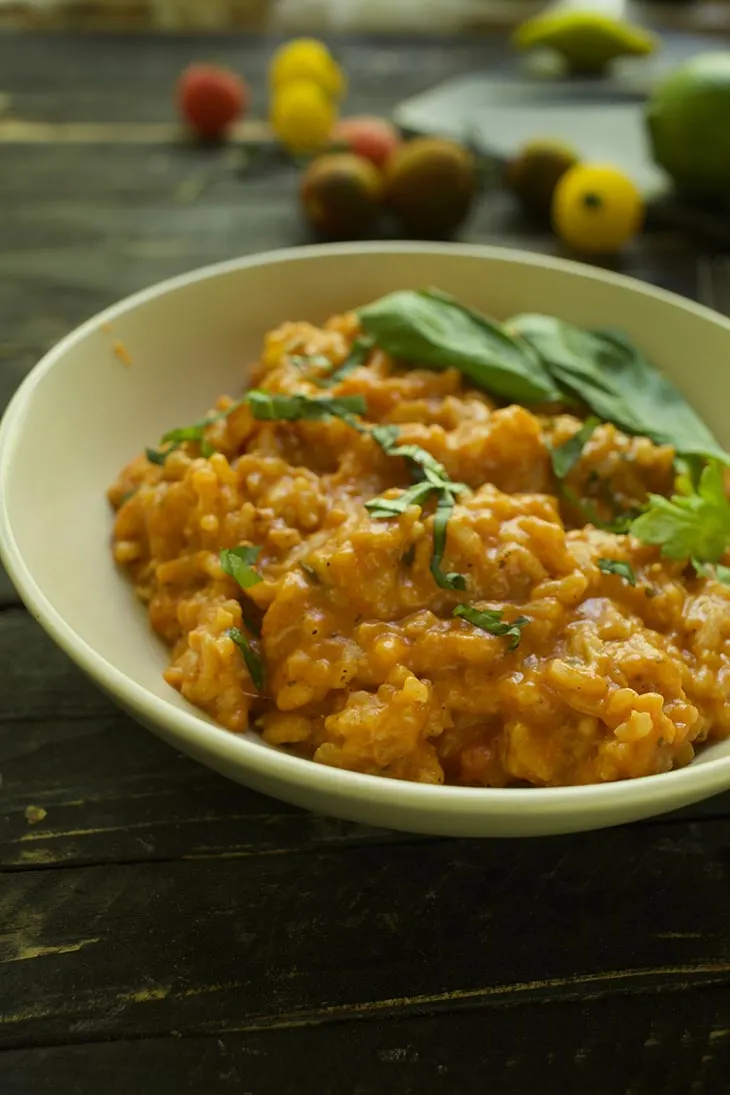 You don't have to get nervous if you never tried cooking risotto before, and with this overabundance of tomatoes growing at the moment, it's a great time to try! We're in the season after all.
If you would like to unleash your inner gardener this summer (and if you have enough space, of course), I strongly advise you to grow some tomato crops along with some herbs as well. There's nothing like the good taste, color, and juiciness of a homegrown tomato, really!
This recipe includes roasted tomatoes, as you already figured out by the title. By roasting the tomatoes we're going to enhance the flavor a lot, and this will give us a burst of that tomatoey taste, that will make us want to get a second plate after we finish the first one. It is definitely also a good method to bring out their sweetness as well! 🙂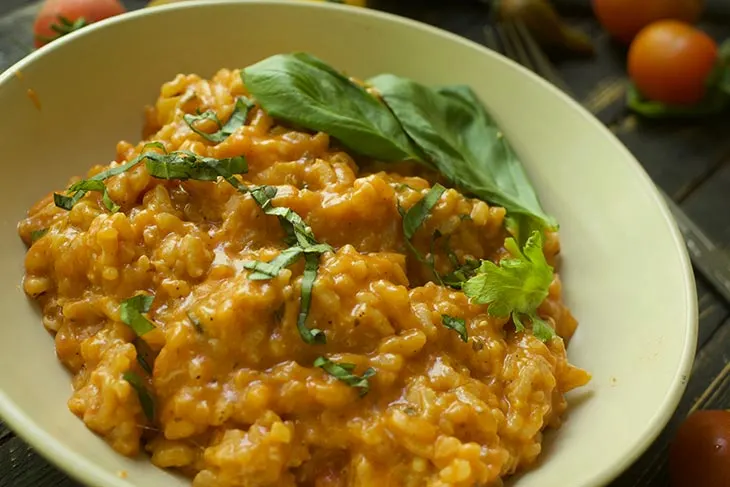 Here's a quick tip as well: try not to add too much veggie broth at a time because that's just going to give us boiled rice, and we don't want boiled rice, nope! We want creamy risotto! So, easy with the liquids, add them gradually because that's what's going to result in a creamy, scrumptious risotto.
When you hear the crackling sound in the pan, you're gonna know that the rice wants to get a little bit boozy. That would be the time to use some good quality wine that you have in your pantry (I used vermouth).
This is very important, so remember: the wine you drink is the wine you use, otherwise it's just not going to have that marvelous, authentic Italian taste. So, grab yourself a corkscrew and your favorite bottle of wine, maybe pour yourself a glass and let's get cooking! Preparing risotto requires a minimum of 20 minutes of constant stirring and gradually adding the liquid, so you need to be patient with it and you will thank me later!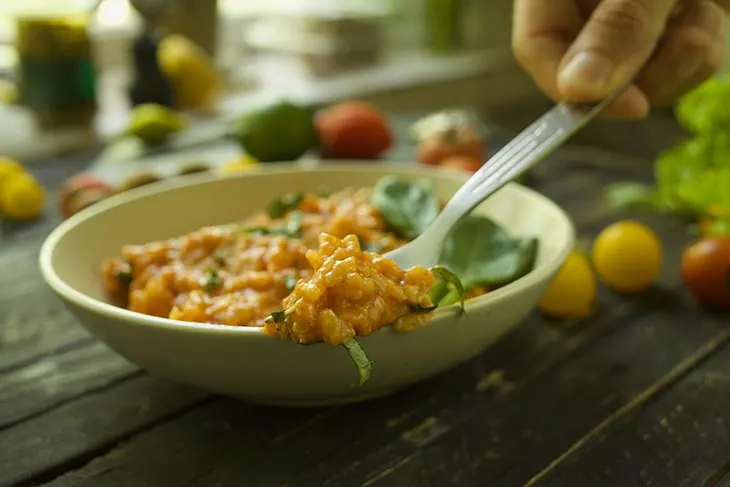 So, remember – making this tomato risotto is no rocket science, but the end result is definitely out of this planet! If you have any questions or concerns, let me know in the comments below – I'm happy to answer! Buon appetito!
Yield: 2
Vegan Roasted Tomato Risotto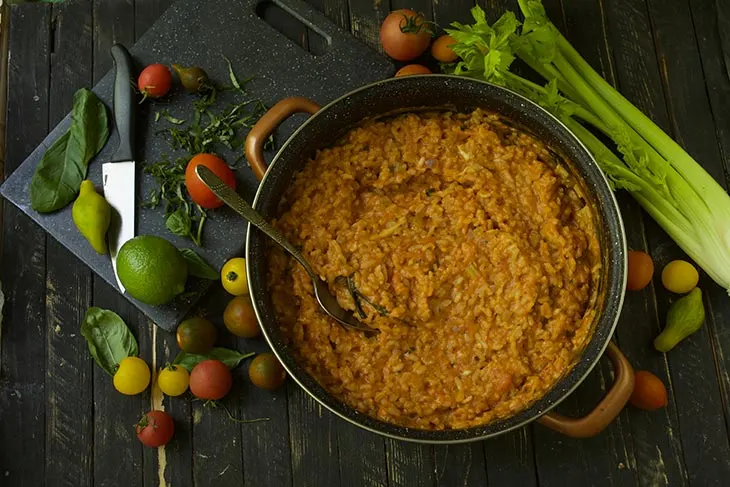 If you never tried making homemade risotto before, this extra flavorful recipe for vegan roasted tomato risotto will definitely convince you to start! Give it a try!
Ingredients
200g (1 cup) arborio rice
1 stalk celery, chopped
½ red onion, chopped
1 clove garlic, crushed
80ml (⅓ cup) vermouth
400g (2 cups) ripe tomatoes
3 thyme sprigs
2 Tbsp olive oil
zest of ½ lemon
120g (½ cup) vegan cheese
2 Tbsp thick coconut cream
240ml (1 cup) veggie broth
salt and pepper to taste
fresh basil to serve
Instructions
Preheat the oven to 200 C.
On a grill pan, add 1 Tbsp olive oil, the tomatoes, garlic, thyme, salt, and pepper.
Bake for about 25 minutes until fragrant and the skins are smoky.
Take away the thyme sprigs.
Add the tomatoes with all their juices to a food processor and blend until smooth.
In a large dish, heat 1 Tbsp olive oil on medium. Add the chopped onion, celery and cook until translucent.
Add the arborio rice and the vermouth and continue cooking, while stirring, until the alcohol evaporates and the rice absorbs the liquid.
Add the tomatoes mixture, gradually, to the rice. Cook, stirring.
Add the broth, lemon zest, coconut cream, cheese, salt, and pepper and continue cooking until the rice absorbs most of the liquid.
Cover, turn off the heat and let rest.
Top with fresh basil and serve.
Nutrition Information
Yield
2
Amount Per Serving
Calories

478
Total Fat

23g
Carbohydrates

52g
Fiber

6g
Sugar

8g