If you're a quinoa lover, here's a recipe you'll definitely going to love! This vegan quinoa salad is packed with nutrients and it's full of flavor as well!
In need of a nice idea for this summer? Grab some friends and go have a picnic somewhere nice! And in case you don't know what to bring to the picnic, don't worry, I got you again, because this vegan quinoa salad will be just what you and your friends will need to have a memorable meal together! You won't believe how fast this salad will disappear once you serve it!
This salad can give you a big dose of good "fuel" for your adventures, but it is such a light and refreshing dish that leaves you satisfied for hours as well! Honestly, I absolutely love a good vegan quinoa salad and, after all, what's not to love about it?
One of the reasons I'm such a big fan of this specific type of salad (just like the rest of the globe, of course) is that quinoa is extremely packed with nutrients!
First of all, it's an excellent source of protein with about 11 grams per cup cooked, it's high in iron, magnesium, and fiber and can be prepared faster than most other grains, which makes it perfect for busy lifestyles as well! Second of all, it's delicious, vegan, gluten-free, low-calorie, and it only takes about 30 minutes to prepare. So, I'm assuming that we can all agree that we're talking about a superfood here!
Quinoa is one of the world's most popular health foods and it technically is not a cereal grain, like you probably thought, but a pseudo-cereal. To be more specific, this means that it is basically a seed, but in terms of preparations, it is cooked and eaten similarly to a grain. There are many different types of quinoa, white, red or even black quinoa. The texture is pretty much the same, the taste is subtly different, ranging from mildly earthy to bolder flavors.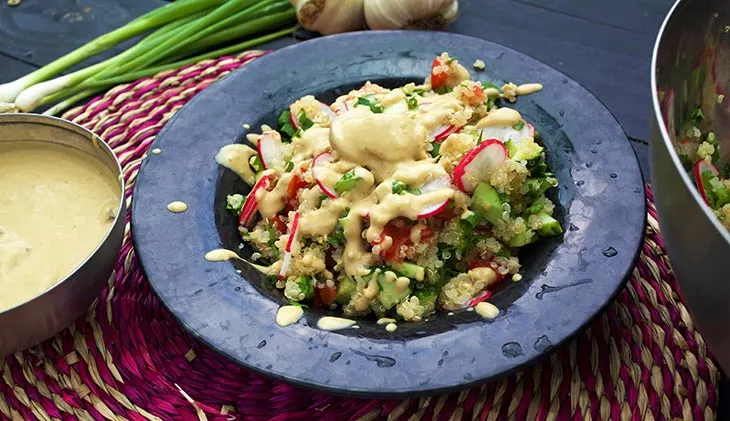 Since pre-Columbian times, quinoa was an important crop for the Inca Empire. They referred to it as the "mother of all grains" and believed it to be sacred.
It has been eaten for thousands of years in South America and only recently it became so popular around the world and acclaimed for its superfood properties. The scientists from NASA have been looking at it as a suitable crop to be grown in outer space, mostly based on its high nutrient content, ease of use and simplicity of growing it! 🙂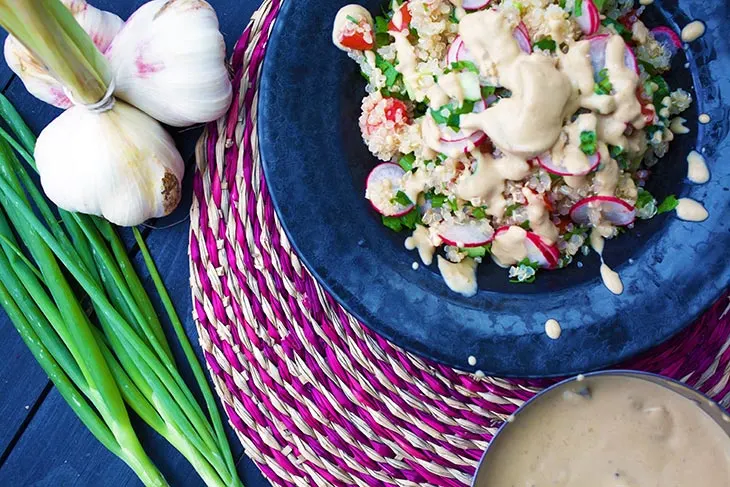 Now let's get back to our vegan salad: it's important to eat salad all year long, not only in summer. If you don't like salads in general, I truly believe this only means you didn't find the perfect salad combo for you yet.
Don't be afraid to try different, unconventional recipes and use your favorite veggies. Maybe you should try salads made with legumes, rice or quinoa, but don't forget to add fresh leafy greens, vegetables or fruits as well!
Speaking of dark leafy greens, did you know that quinoa is botanically related to spinach? I know, crazy. 🙂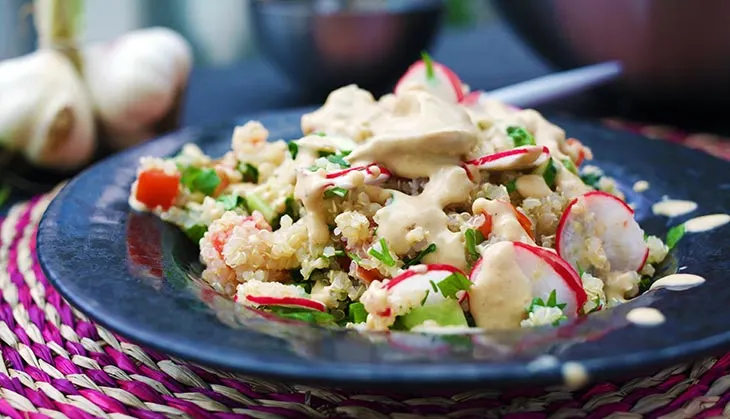 Cooking quinoa is very similar to cooking rice. Before you start boiling the quinoa, make sure that you give it a good rinse, until the water runs clear. If you skip this step, then it will taste bitter and I'm guessing that you'd much prefer the fluffy quinoa instead. This is key for getting a clean, nutty flavor. Otherwise, quinoa can sometimes taste dirty and gritty.
Despite being a gluten-free superfood, quinoa is delicious and it has the ability to pair so well with most vegetables, nuts, fruits, and all sorts of herbs and spices. Rich in fiber, minerals, antioxidants and all nine essential amino acids, quinoa is one of the healthiest and most nutritious foods on the planet!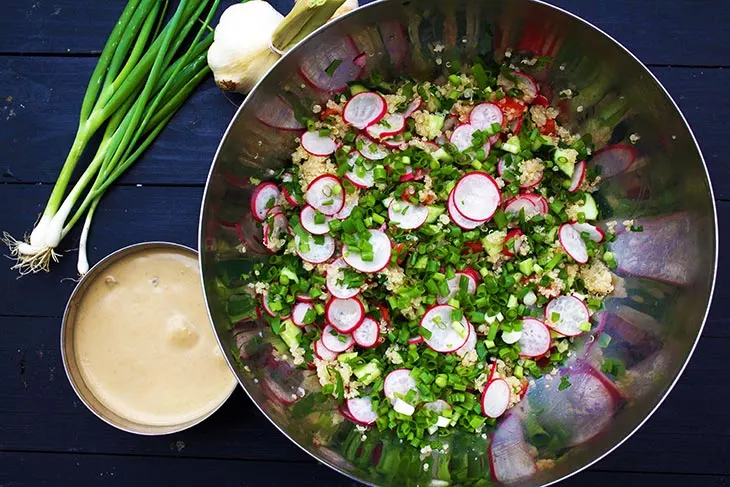 And if you don't have any experience in the kitchen, don't worry! This vegan salad recipe is super simple to make. It's just a matter of time (in a jiffy, to be more exact) until you cook the quinoa, chop all the veggies that you want to add and mix them together.
Once the quinoa has cooled down, you can add the vegetables and you have yourself a delicious and fresh quinoa salad. Easy-peasy, right? In the end, you can unleash your inner artist and garnish you quinoa salad however you want!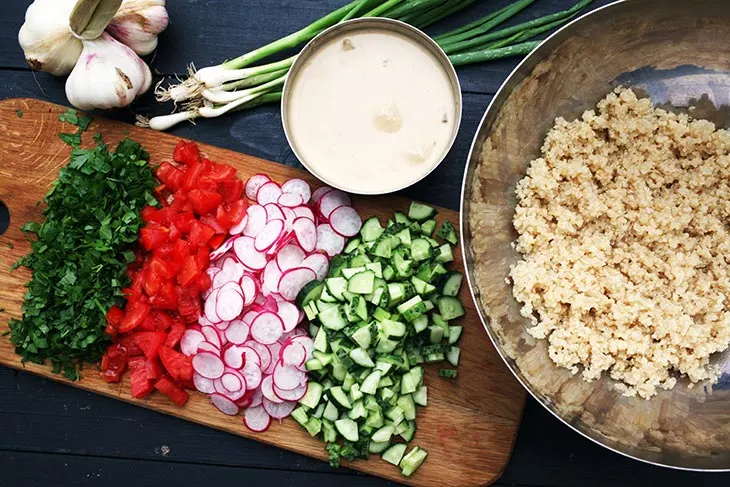 With so many ingredient options, you can have a different quinoa salad for every day of the week! But let me show you my favorite recipe, which you can find below!
Yield: 4
Vegan Quinoa Salad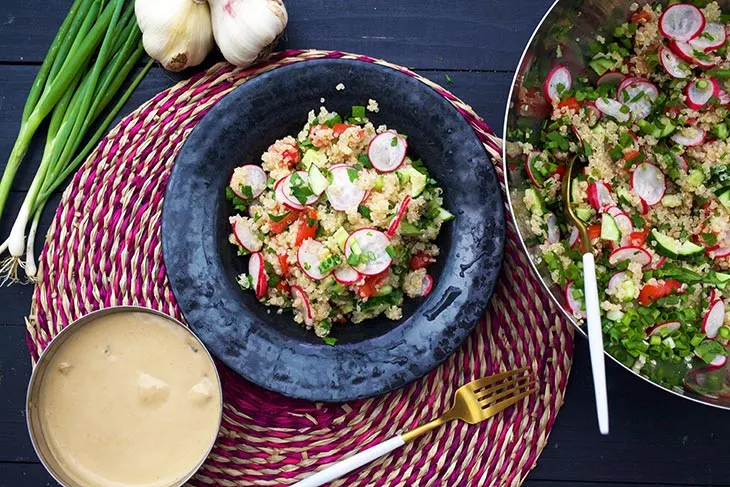 If you're a quinoa lover, here's a recipe you'll definitely going to love! This vegan quinoa salad is packed with nutrients and it's full of flavor as well!
Ingredients
For the salad:
360g (2 cups) cooked quinoa
180g (1 cup) plum tomatoes, diced
130g (1 cup) cucumbers, diced
120g (1 cup) fresh radishes, sliced
25g (1 cup) fresh parsley, chopped
50g (½ cup) spring onion, chopped
5 mint leaves, finely chopped
2 garlic cloves, crushed
For the dressing:
75g (1 cup) cremini mushrooms, sliced
1 Tbsp flour
300g (1 cup) coconut cream
1 Tbsp thick soy sauce
1 tsp dijon mustard
1 tsp black pepper
1 tsp olive oil
Instructions
To prepare the dressing:
Heat a frying pan with olive oil on medium heat.
Add the sliced mushrooms and fry, stirring, until golden. Add the flour and continue frying until the flour begins to get golden.
Add the remaining ingredients and stir for about 4 minutes, in order to get a homogenous mixture with a creamy texture. Set aside.
In a large bowl, add all the salad ingredients and stir to combine.
Serve with the mushroom dressing on top. Enjoy!
Nutrition Information
Yield
4
Amount Per Serving
Calories

475
Total Fat

19g
Carbohydrates

63g
Fiber

7g
Sugar

5g