Avocado fries are a fantastic twist on one of the world's favorite foods! Learn how to cook healthy fast food at home with these amazing vegan fries.
With a rise of hands, how many of you have been addicted to fast food at least once in their lives? It's nothing to be ashamed of. We've all had a childhood, crazy nights in high school and possibly bad times when all we needed was a little comfort and to let ourselves be lazy.
Now that all of that passed, I want to ask you if you think you could picture a new kind of fast food – one without the health risks and cruelty involved into the making of mass-produced burgers and fries, one that takes little enough time to still count as 'fast' food.
Introducing vegan, homemade versions of your favorite fast food items! Now that we're all becoming more aware of the dangers of large food industries, we can start making a difference in our own homes. If we learn to cook healthier, we will be better off in the future, and also taking into account that cooking brings discipline, we will better ourselves in both mind and body.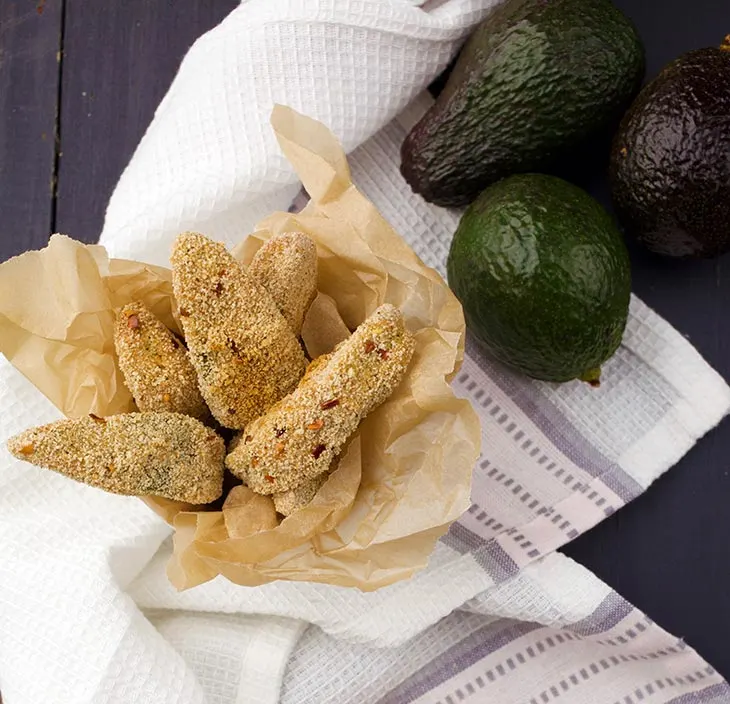 Today's recipe is all about efficiency and deliciousness! We're going to be taking one of my favorite ingredients that I keep using and mentioning – avocado – and making it into something that you might not have expected you can make avocado into – fries! Wait, what? Avocado fries?
Yes, avocado fries, and lots of them. This is the solution you've been looking for. Salty and delicious, without a hint of harming fats in them. These avocado fries will go along great with your vegan patty burger or whatever else you want to serve them with. If you wish to serve them by themselves, I definitely recommend looking for a recipe for a vegan dipping sauce, like lime sauce or vegan cheese sauce.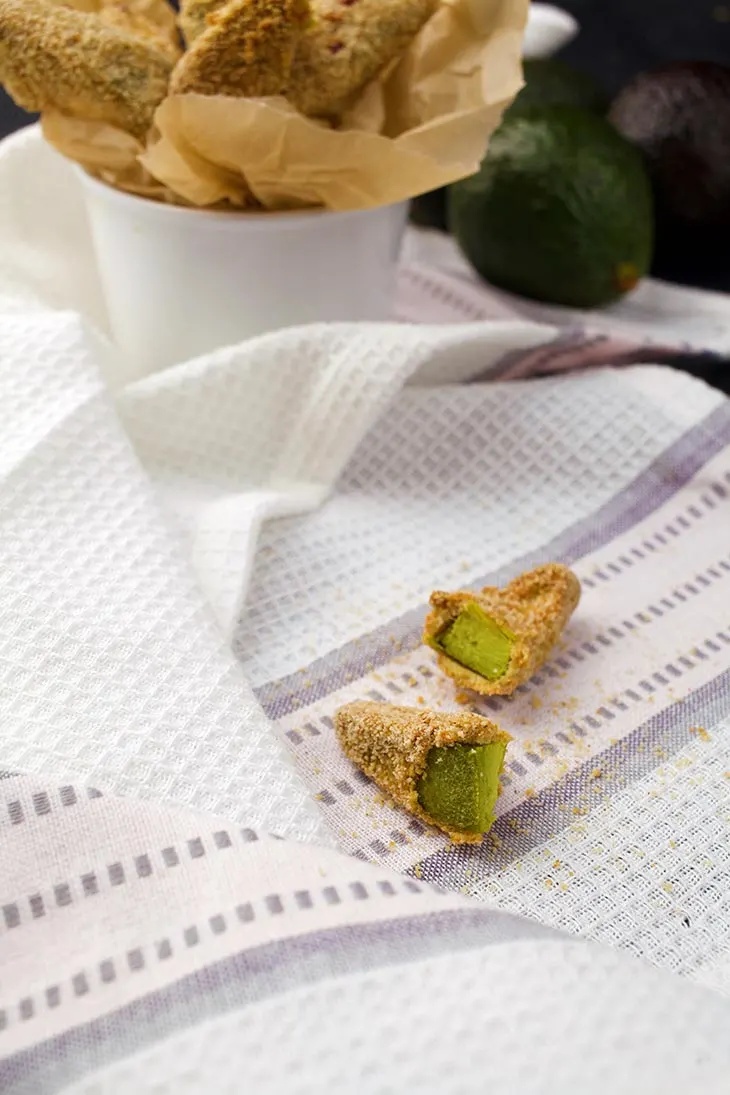 So you might be a bit confused about how you can make fries out of avocado. This is understandable, seeing how avocado has such a creamy texture and it seems like the only thing that can be made out of it is guacamole! Well, that's true. You generally need a very ripe avocado to make guacamole. This is why for our avocado fries we will be using a harder avocado, one that you could chop into pieces and then deep-fry.
But for today's recipe, I opted for the healthier version and I baked my avocado fries instead of frying them. This way you can make your fries golden-brown and fat-free! 🙂 Either way, you will have to use some breadcrumbs in order to give them a crunchy texture. And this is where the avocado texture comes into play, as the breadcrumbs will be easy to place.
Avocado fries are a recipe that you might want to attempt when you're out of energy and feel like ordering. I say this because making these fries will burn the same amount of energy as sitting on the couch and ordering something expensive on your phone. They're so easy to make and so delicious! They're one of the things I always encourage people to try when they say they're anxious about cooking vegan recipes.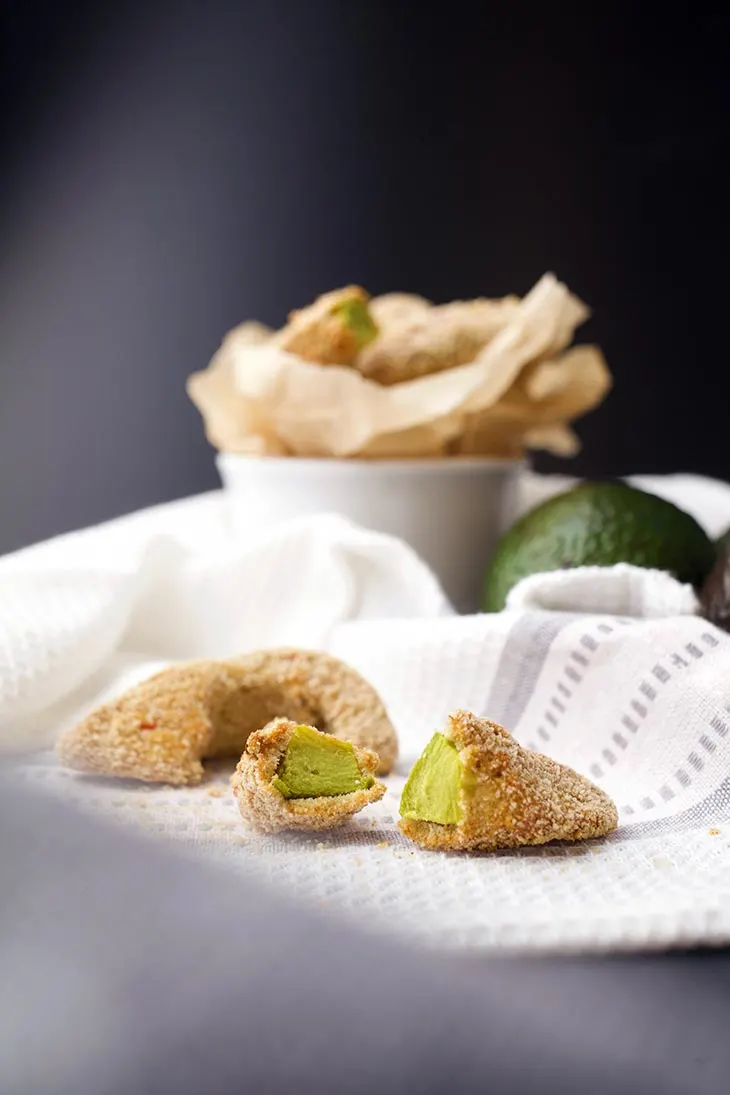 I personally can't recommend this recipe enough, because it really ties a vegan feast together. As regular fries go great with most things, these avocado fries will compliment whatever you throw at them – vegan burgers, vegan bacon, all manners of salads, and most importantly, sauce.
If you have a lot of leftover avocados that you don't know what to do with – unlikely scenario, as a vegan, but still – you can make a whole platter of avocado fries and share them with your friends. They work great as a party snack, but also as an appetizer for more formal meals.
Convince your parents that veganism is cool with these nifty nibblers! If you have kids, then definitely give them avocado fries sometimes! It's much healthier than fast-food for their bodies, and they might even like them better than regular fries! Start them small, I always say. 🙂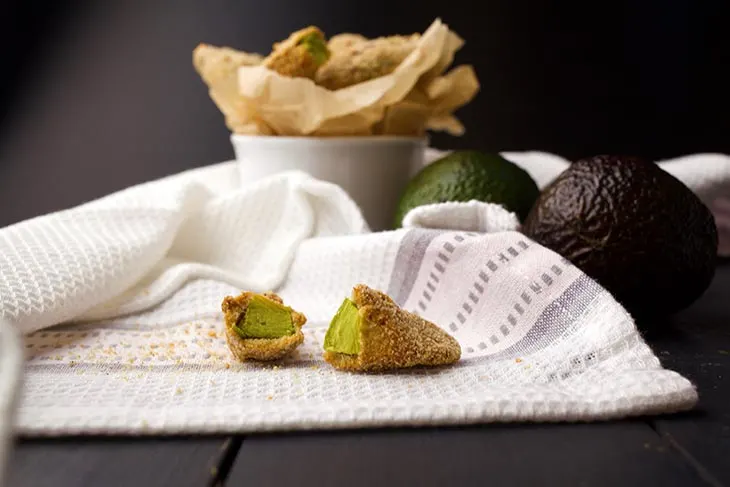 I hope you will enjoy making this recipe. It honestly shouldn't take you long! Please share your thoughts and whether you decided to serve it differently than I suggested! I always love hearing your comments on what I do!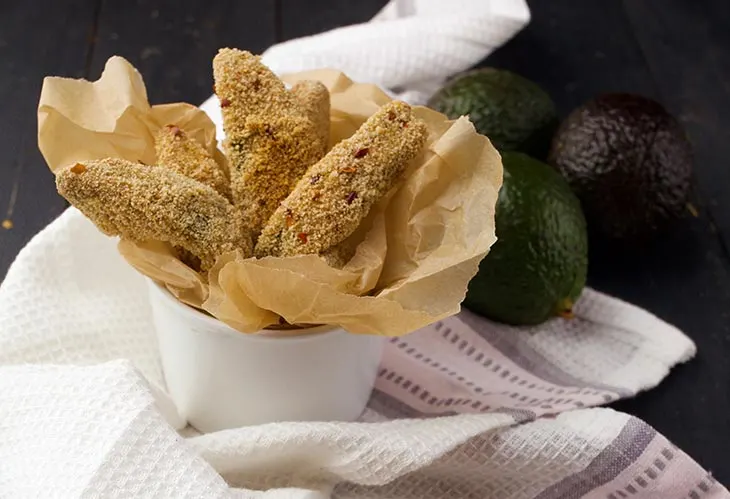 Avocado fries are a fantastic twist on one of the world's favorite foods! Learn how to cook healthy fast food at home with these amazing vegan fries.
Ingredients
2 large avocado, peeled, pitted, cut into wedges
120g (1 cup) breadcrumbs - use gluten-free if needed
1 tsp garlic powder
1 tsp red chili flakes
1 Tbsp nutritional yeast
1 tsp salt
1 tsp pepper
1 tsp smoked paprika
90ml (¾ cup) soy milk
Instructions
Preheat the oven to 200C.
Line a baking tray with baking paper.
In a small bowl, mix the breadcrumbs, garlic powder, chili flakes, nutritional yeast, paprika, salt, and pepper.
In another bowl add the soy milk and a pinch of salt and mix.
Dip the avocado wedge in milk, then in the breadcrumb mixture. Repeat twice with each avocado piece.
Lay the avocado wedges on the already prepared baking tray.
Bake for about 25 minutes or until golden and crispy.
Nutrition Information
Yield
4
Amount Per Serving
Calories

233
Total Fat

2g
Carbohydrates

27g
Fiber

7g
Sugar

3g