Make this cheesy spaghetti with dill and green peppercorns sauce and enjoy a flavorful, simple dish with an amazing creamy texture!  
I am crazy about this cheesy spaghetti with dill and peppercorns sauce! I've made it more than 5 times already in the past 2 weeks! I crave it like an addict and I just can't get enough of it! I've always been a huge fan of cheesy spaghetti recipes but this one is just perfect. The peppercorns have a subtle, spicy flavor and combined with sour cream, feta cheese, and dill, the result is just perfect.
Yes…I know.. you'll tell me that pasta isn't really healthy and neither is cheese, but still, I think we should indulge ourselves some comfort foods for once in a while. Anyway, I made this cheesy spaghetti with dill and peppercorns sauce as healthy as possible by using GF pasta made from brown rice flour. I also added lots of greens which are a plus!
Looking forward to reading your comments. Let me know if you liked this cheesy spaghetti with dill and peppercorns sauce as much as I did 😀
---
It's time to stop worrying about what you're going to eat! I created the meal planner app to help you! Get your personalized meal plan with delicious, healthy, and budget-friendly recipes! GET YOUR MEAL PLAN!
---
Also try: Spicy Carrot Penne Pasta with Mustard and Parsnip Sauce .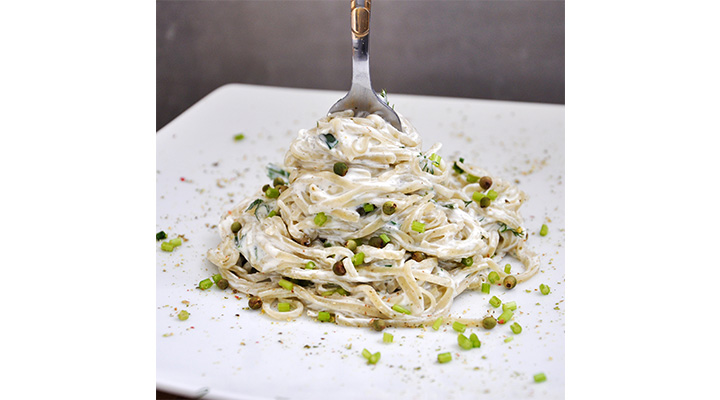 Cheesy Spaghetti with Dill and Green Peppercorns Sauce
This is a vegetarian pasta recipe for cheesy spaghetti with dill and peppercorns sauce, inspired by the Italian cuisine.
Ingredients
spaghetti (preferably gluten free or whole wheat – I used GF brown rice noodles which I love!!)
4 Tbsps feta cheese
4 Tbsps sour cream
3 Tbsps dill, chopped
a handful of chopped green onions
green peppercorns, to taste
Instructions
Boil the pasta according to the instructions written on the package.
In a bowl, add feta cheese, sour cream, chopped dill, green onions and green peppercorns.
Add the boiled pasta and blend together.