Are you looking for a delicious recipe for a vegan Dutch Baby pancake? Enjoy the unique taste of this classic German pancake recipe, with a vegan twist.
I am delighted to share on my blog this delicious recipe for vegan Dutch Baby pancake. I love the classic Dutch Baby recipe, so I thought I'd test a recipe without eggs, milk or butter, for those who don't consume these foods. The result is delicious, although it doesn't look exactly like the original, but I guarantee that it will make you want to get out of bed in the morning and start cooking.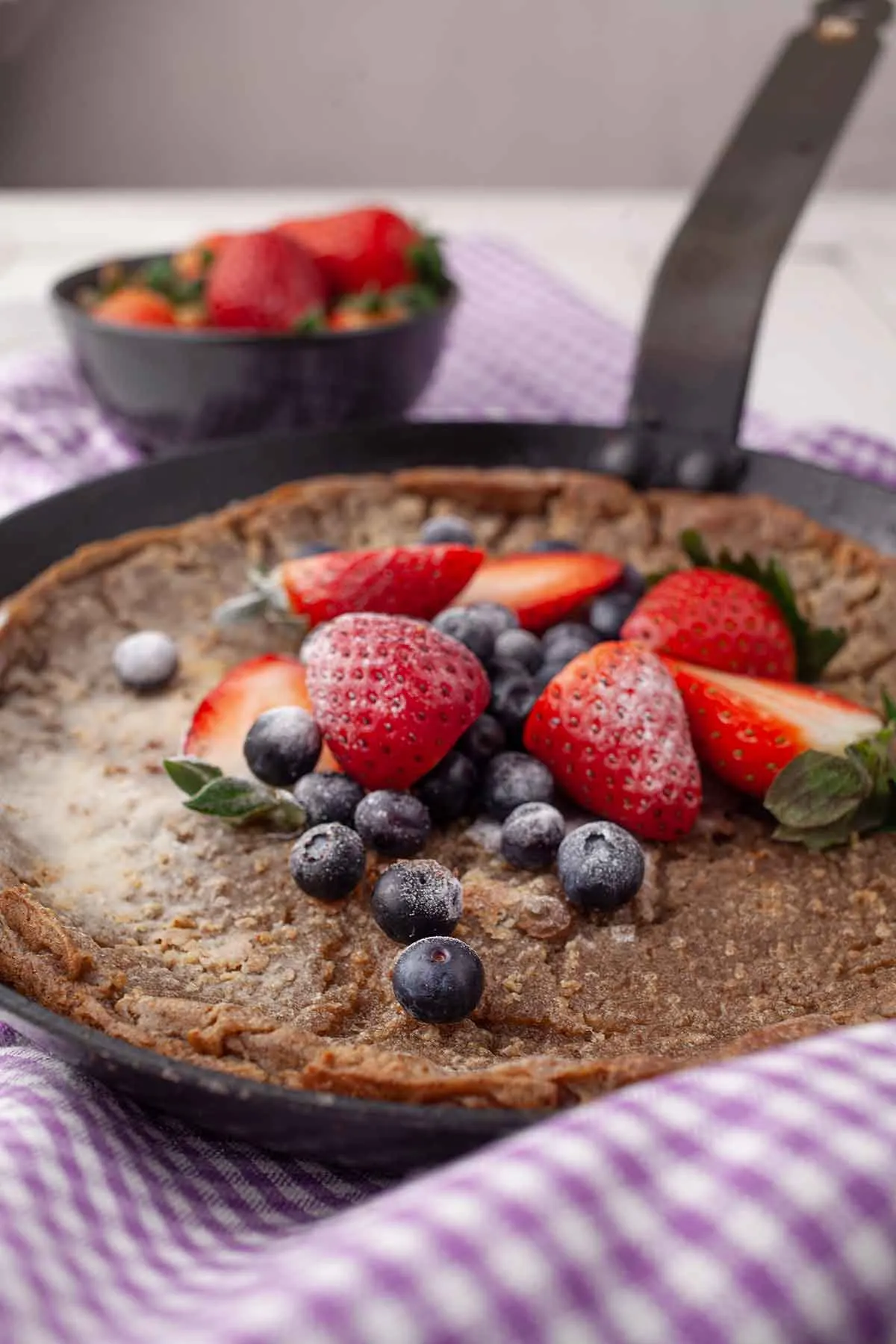 What is the Dutch Baby pancake and what is its history?
The Dutch Baby pancake is a large and thin pancake, also known as the German pancake or Dutch puff. This pancake is made in a cast iron pan, in the oven, and is usually served for breakfast or brunch.
It is said that this pancake recipe was created in the 19th century in Germany or Holland, hence the name "Dutch Baby". It is not known exactly who invented the recipe, but it seems that it was popularized in the United States of America, especially in the Pacific area, in the 1900s.
The original Dutch Baby pancake recipe involves mixing eggs, milk, flour and sugar, which is then poured into a cast iron pan and baked in the oven. The pancake swells during baking and then waits for it to cool slightly and is served with sweet sauces or fresh fruit.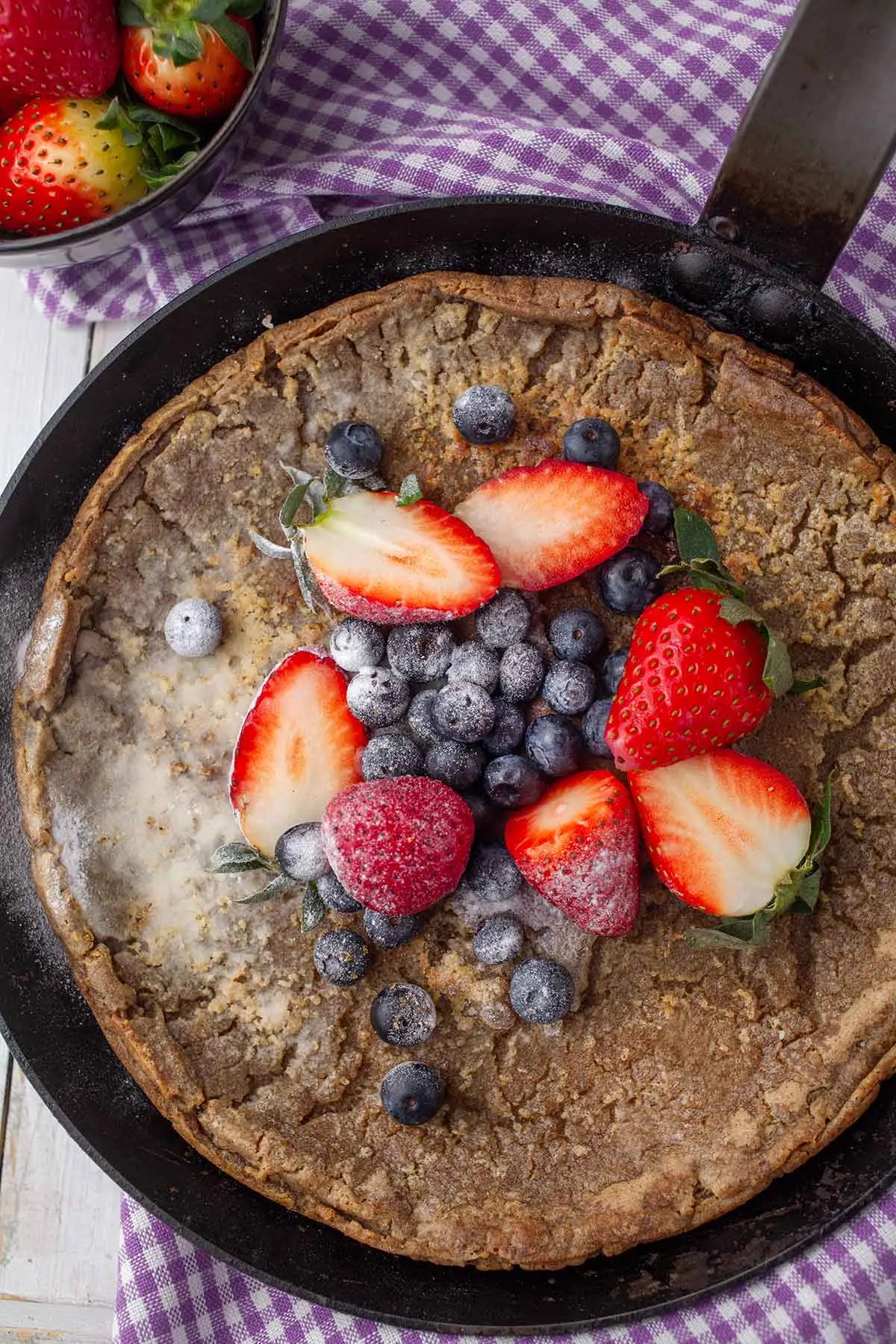 Where does the name Dutch Baby for this pancake come from?
The origin of the name "Dutch Baby" is not clear, but it is believed to be a misnomer of the German word "Deutsch", which means "German" in English. This name may be a reference to the German origin of the recipe, and people would have misinterpreted the word "Deutsch" as "Dutch". Another theory suggests that the name could be derived from the word "dutch" which means "large" or "notched", referring to the distinctive appearance of the pancake.
What other names are used for the Dutch baby pancake recipe?
Alternative names for the Dutch Baby pancake include "German pancake", "Bismarck", "Dutch puff" or "Bebita". These names also refer to the fact that this recipe originates from Germany and has a fluffy and airy texture.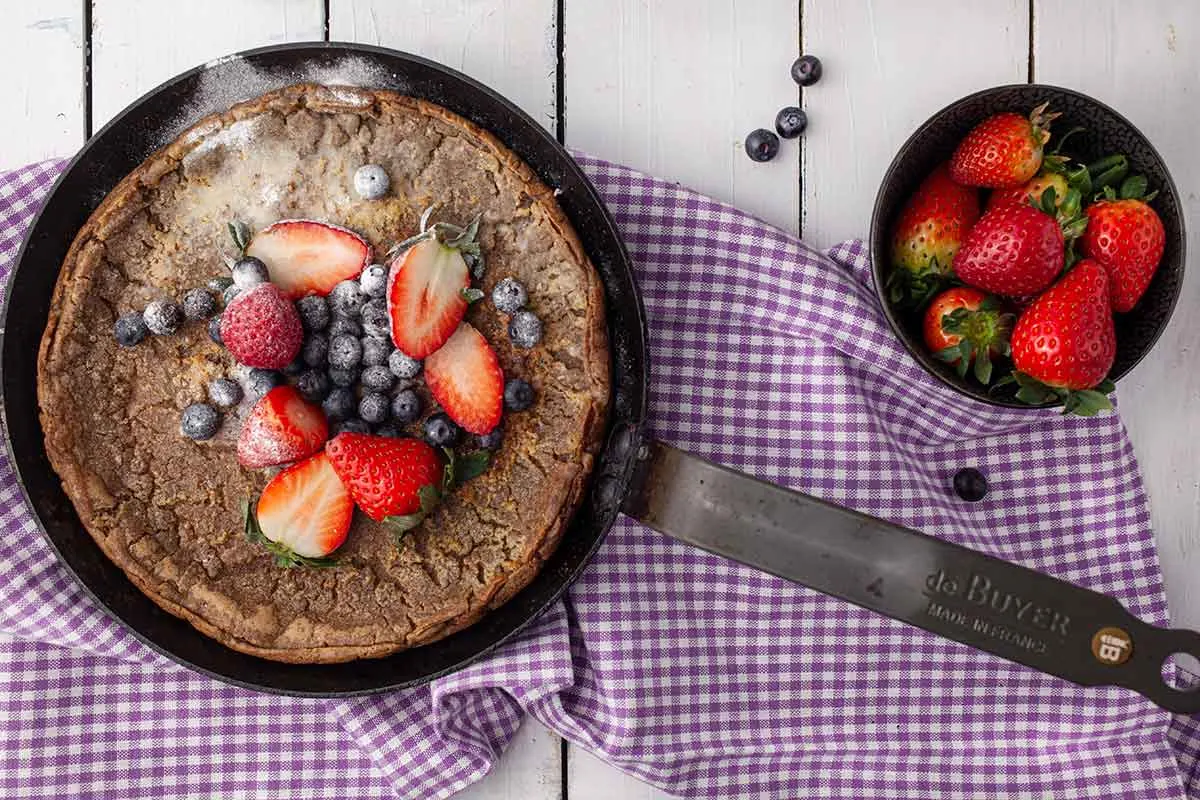 What toppings are suitable for Dutch Baby pancakes?
Common toppings for Dutch Baby pancakes include maple syrup, berries, fresh fruit (such as bananas or apples), powdered sugar, or cream cheese. A popular option is to sprinkle the pancake with lemon juice, grated zest and powdered sugar.
The Dutch Baby pancake is a popular choice for breakfast or brunch due to its simplicity and versatility, and although the original recipe involves eggs and milk, there are also vegan versions, such as this recipe. You can also make it in the gluten-free version – I recommend Schar's Mix C Patisserie for optimal results.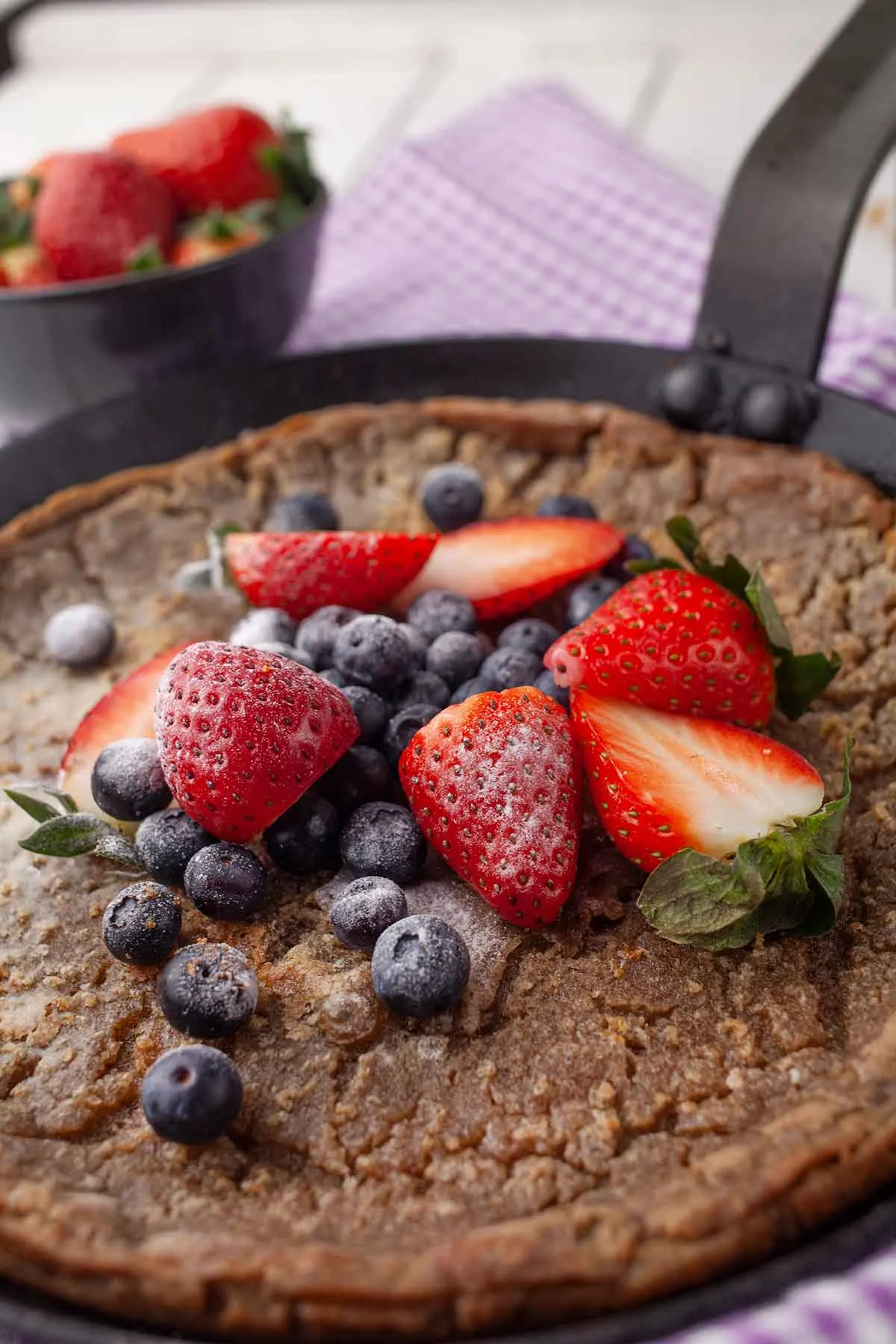 What is the difference between Dutch Baby and a normal pancake?
The differences are very big, especially in appearance and texture, as well as in the way it is cooked. Dutch Baby is thicker and fluffier, with raised edges, similar to a cake. It is made in the oven using a special technique, in a heated cast iron pan. This preparation method produces a fluffy and airy pancake, which is served as dessert or breakfast.
Why is the recipe for German pancakes so different?
If you are looking for a healthy and vegan pancake recipe in the oven, this is something you have to try. I'm sure you'll love it as much as I do! I hope I have convinced you to try this recipe and to enjoy Dutch baby vegan pancakes for breakfast or weekend brunch.
Tip: If you want a dutch baby pancake for one, just divide the ingredients in half.
Next on my to-try list is a savory dutch baby, what toppings should I try? 🙂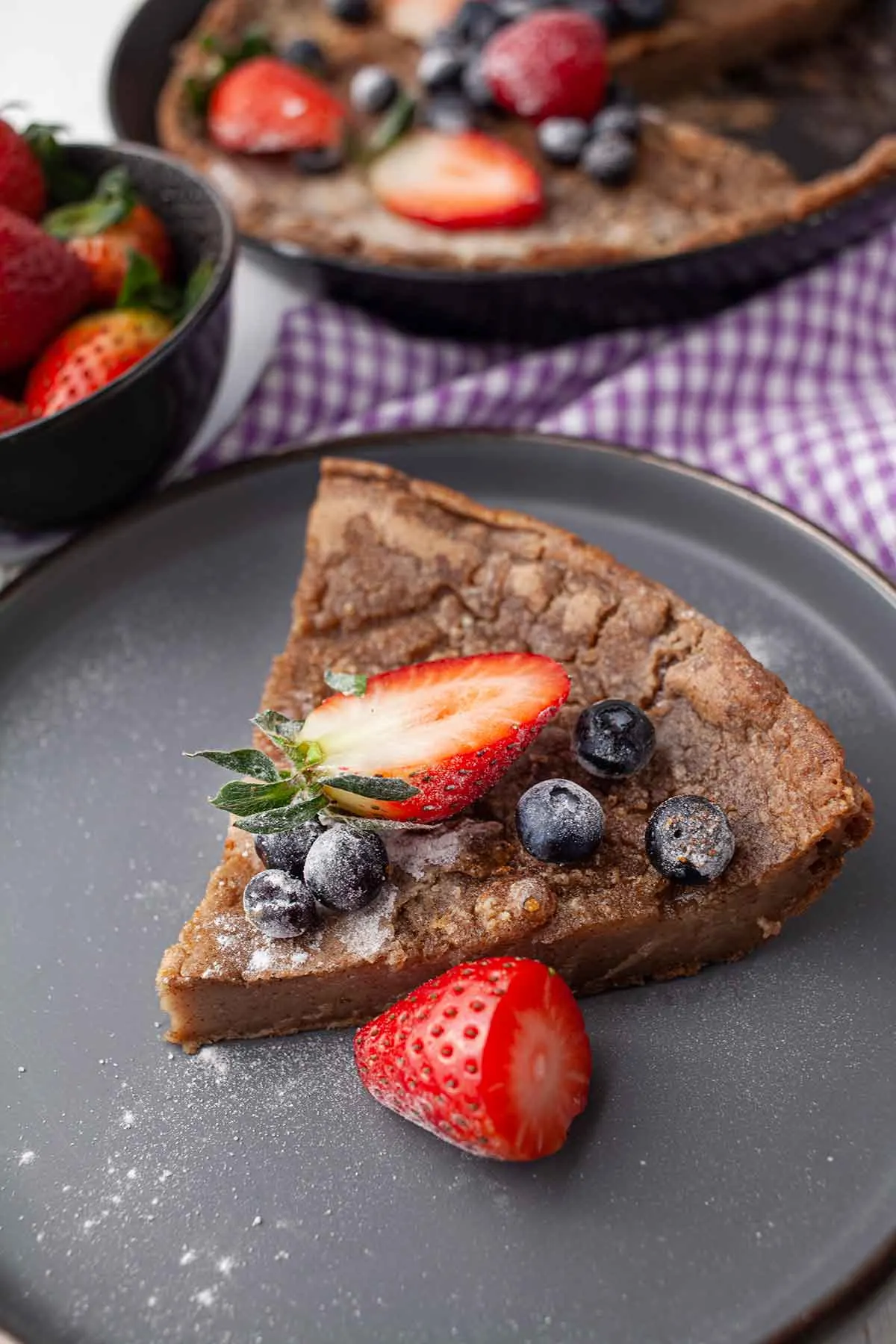 Yield: 2 servings
Vegan Dutch Baby Pancake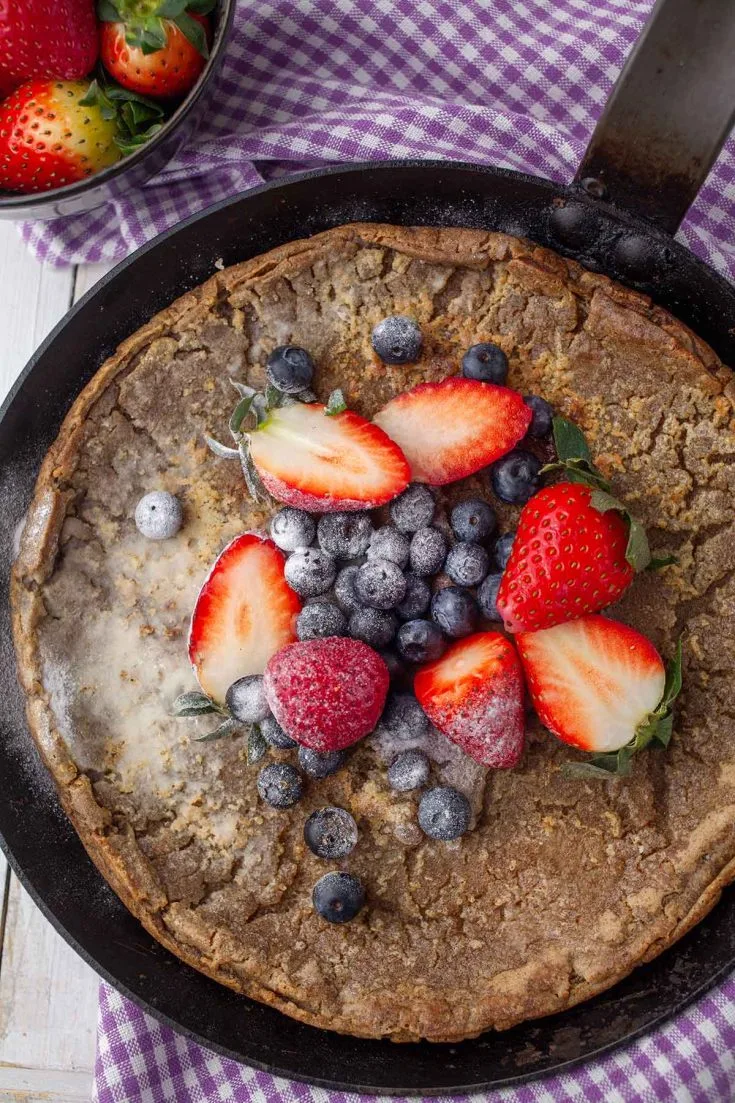 Are you looking for a delicious recipe for a vegan Dutch Baby pancake? Enjoy the unique taste of this classic German pancake recipe, with a vegan twist.
Ingredients
90g (⅔ cup) flour
1 tablespoon brown sugar
1/4 teaspoon of baking powder
½ cup vegan milk of choice
1 teaspoon of lemon juice
½ cup aquafaba
2 tablespoons vegan butter
fruits for decoration
Instructions
Heat the oven to 200C.
In a cup, add the milk and lemon juice, set aside.
In the bowl, mix the flour, sugar and baking powder.
When the milk has thickened, combine it with the aquafaba using a mixer. Until it mixes well and becomes foamy.
Add the wet mix over the dry mix and whisk until smooth.
In the cast iron pan, put the vegan butter and put the pan in a hot oven, until the butter melts completely and the pan heats up.
With a towel or gloves, remove the pan with melted butter from the oven and pour the pancake mixture into it. Put the pan back in the oven and leave the pancake to bake for 30-40 minutes, until well browned at the edges.
Serve the pancake with powdered sugar and fresh fruit.
Nutrition Information
Yield
2
Serving Size
1
Amount Per Serving
Calories

366
Total Fat

13g
Saturated Fat

3g
Trans Fat

2g
Unsaturated Fat

10g
Cholesterol

5mg
Sodium

94mg
Carbohydrates

55g
Fiber

3g
Sugar

17g
Protein

7g
I strive to keep the information as accurate as possible but make no warranties regarding its accuracy. I encourage you to make your own calculations using your preferred nutrition calculator.