Bored of the classic muffins? Get ready for something fancier! Here's how to make the best vegan poppyseed muffins – quick, easy, and super yum!
Today I'm going to share with you a fancier recipe, one that I love: poppyseed muffins. This is not your usual dessert, but it's not complicated to make, and it's got an amazing subtleness to it.
In my opinion, poppyseed desserts are not popular enough. They remain one of those treats that you can get only in a fancy bakery or something. So, with this article, I'm trying to get poppyseeds into the spotlight! 🙂
Poppy seeds are oilseeds obtained from the opium poppy – you know, that gorgeous red flower. The seeds are illegal in some countries, though in Central Europe it's legally grown and sold in shops.
The seeds are used whole or ground as an ingredient in many foods, especially pastries and bread. From what I've seen, as I mentioned above, poppyseeds are more commonly used in savory dishes than sweet ones, though they're absolutely delicious both ways.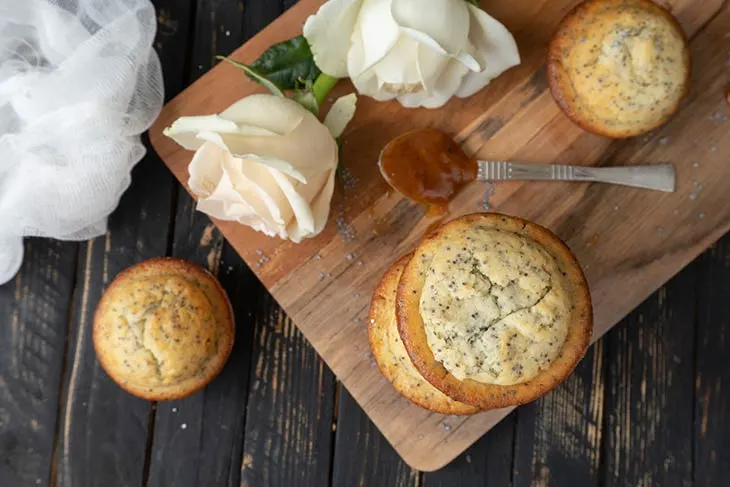 Aside from having an amazing flavor, poppyseeds are also coming with a bunch of health benefits. The opium poppy has been used to aid sleep for centuries, as its seeds are known to induce a calming effect. Nowadays a lot of anxiolytic supplements actually contain poppyseeds. They're also believed to improve female fertility and aid digestion, being excellent sources of insoluble fiber.
They're rich in calcium and copper, nutrients that help with bone health and strength. They're also abundant in manganese, which aids the production of collagen, which, in turn, protects your bones from damage. Poppyseeds are also believed to improve heart health and immune system. So many benefits in such a tiny seed, right?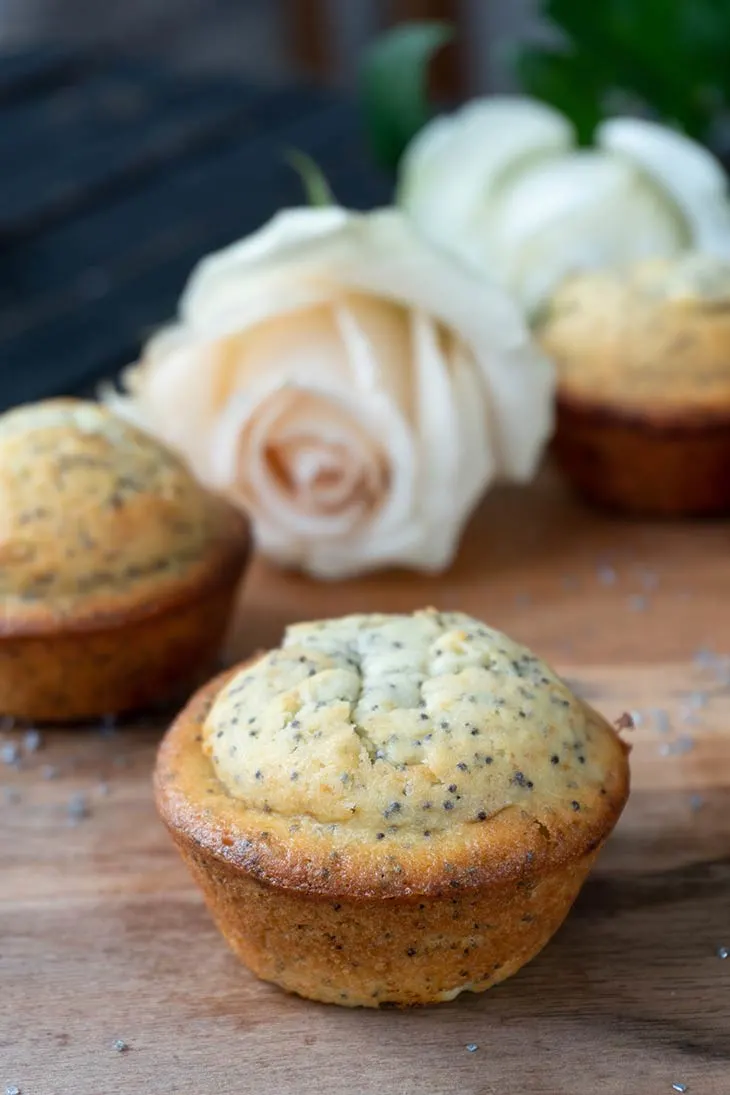 That's why I chose poppyseeds as the main star for today's recipe! 🙂 And I do not regret it. Nope. Not one bit. These poppyseeds muffins turned out absolutely amazing – a unique dessert that you have to try out for yourself, otherwise it's impossible to describe.
There's a bunch of things I'm not a fan of when it comes to muffins. More often than not, they're overly sweet, they're small, and they're not fluffy enough. Not the case with these beauties! 😉 I made sure these turn out just perfect – and they did. The flavor is not strong, in your face, but delicate and subtle, allowing you to enjoy these on their own, with coffee or tea, or to cut them in half and slather some butter and/or homemade jam or marmalade.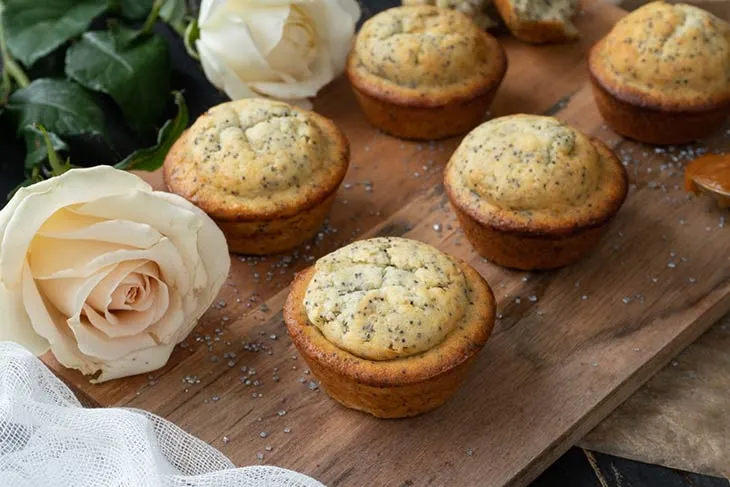 Another thing I really love is the way they look. The muffins themselves are golden and beautiful, perfect for a picnic on a sunny day, or just a summer day in general, while the poppyseeds offer the most beautiful and delicate pattern, similar to polka dots. They also look really impressive.
I'm sure you can bring these to a Sunday brunch or a family gathering and everyone is going to be really impressed! It's the kind of dessert that looks better as it is – you don't have to decorate it.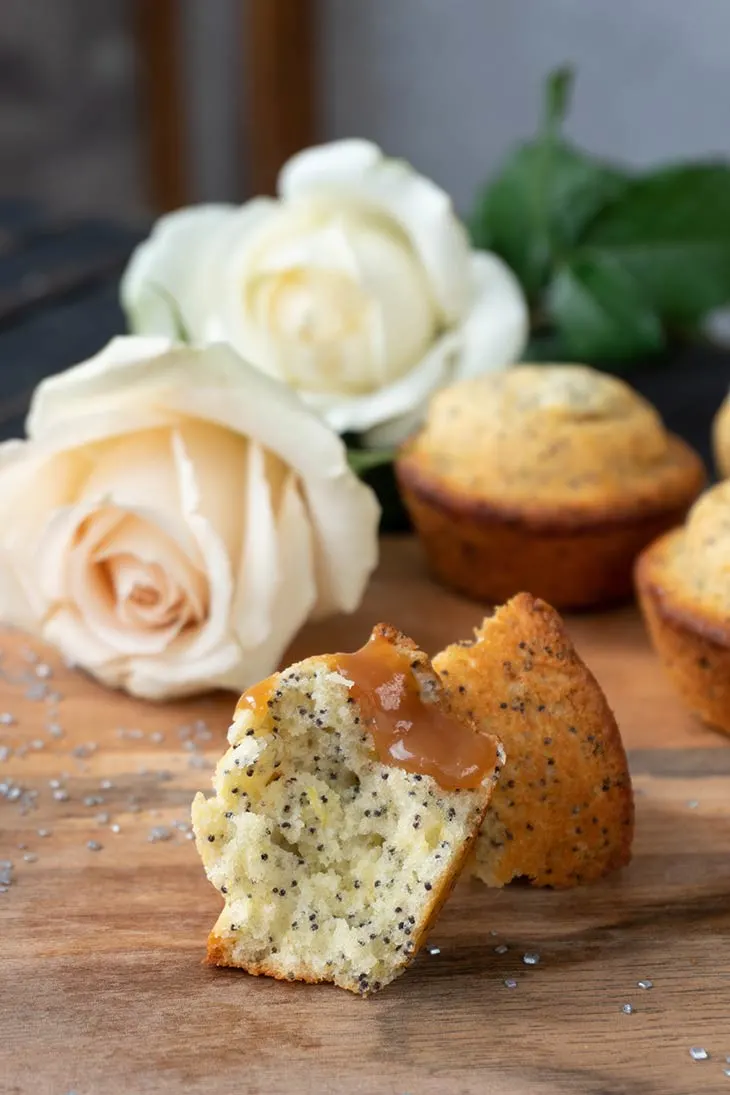 When it comes to flavor, poppyseeds go really well with vanilla or citrus, for example, lemon or orange. You really can't go wrong with those. I found that other flavors, such as chocolate, for instance, tend to be a bit overpowering. The poppyseeds give the muffins a slight crunch, which comes as a pleasant pause from the incredible fluffiness of the muffin batter itself.
These are great on their own, as dessert, but I found that they were also amazing for breakfast and snacks. Some serving ideas would be at breakfast alongside a bowl of yogurt and fruit. For a light snack, you can grab one and go – so easy. Or, as I mentioned above, you can pair them with your favorite vegan cream cheese or butter and your favorite type of jam or preserve, in case you're looking for a sweeter option.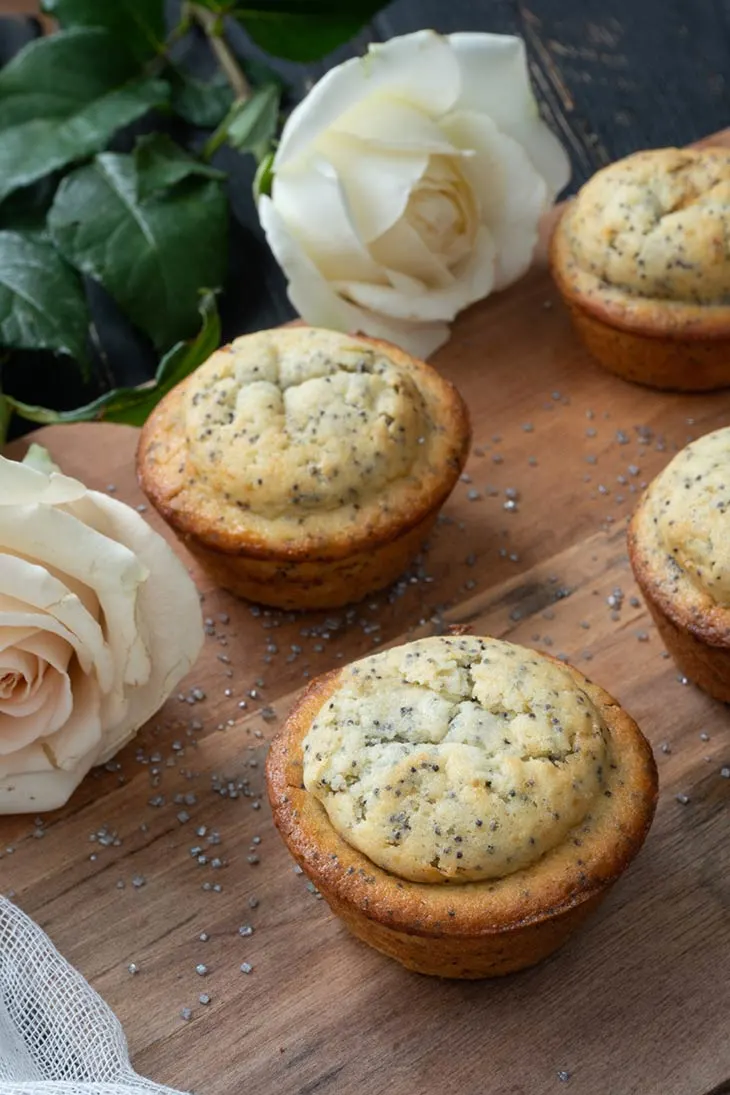 I love having these with a cup of Earl Grey and milk as a 5 PM snack that tends to be a bit on the fancy side. We all deserve a treat of this kind every now and again! 🙂
These muffins keep well in the fridge for up to a week, but you can store leftovers in the freezer for months. They keep amazingly well. This way, all you have to do is reheat them – and you'll be prepared for when that sweet tooth strikes. It's better to indulge in a homemade poppyseed muffin than to go buy that bag of M&Ms which you know are terrible for your health.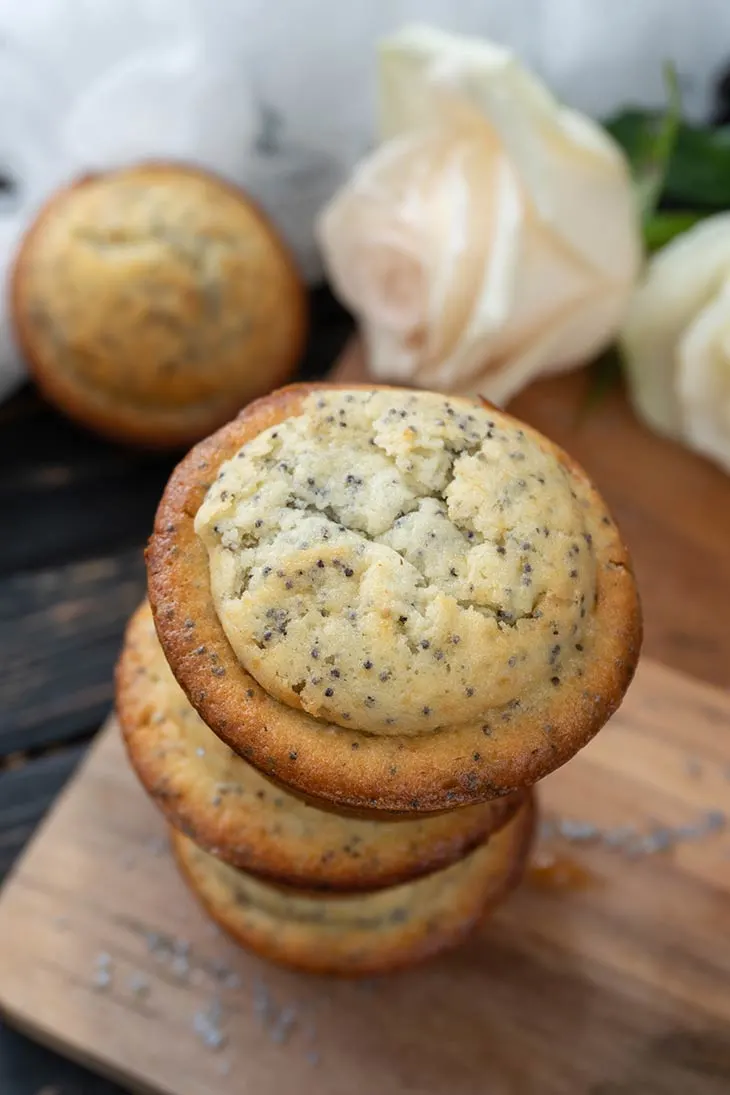 These being said, I think it's best you try out these poppyseed muffins for yourself. And if you do, please send pics and opinions. I always love to hear back from you!
---
Personalized meal plans and workout videos | Get your customized meal plan today! [x_button shape="square" size="mini" float="none" target="blank" href="https://shop.gourmandelle.com/?utm_source=mainsite&utm_medium=site&utm_campaign=inpost" info="none" info_place="top" info_trigger="hover"]I WANT A MEAL PLAN![/x_button]
---
Yield: 6
Poppyseed Muffins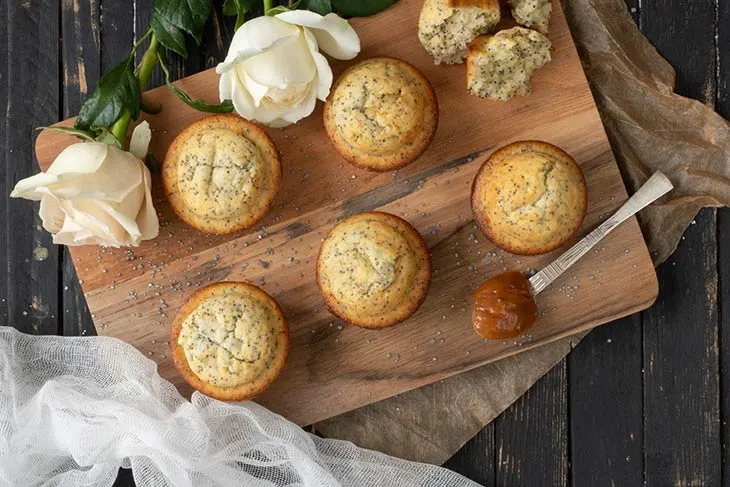 Bored of the classic muffins? Get ready for something fancier! Here's how to make the best vegan poppyseed muffins - quick, easy, and super yum!
Ingredients
3 tsp poppy seeds
200g (1 1/2 cup) all-purpose flour
110ml (½ cup) olive oil
240ml (1 cup) vanilla soy milk
100g (1/2 cup) coconut sugar
1 tsp baking powder
1/2 tsp baking soda
1 lemon, zested
½ lemon, juiced
1 tsp pure vanilla extract
Instructions
In a bowl, mix the flour, sugar, poppy seeds, baking powder, baking soda and lemon zest.
Add the oil, vanilla, lemon juice, and soy milk, then mix until smooth.
Pour the mixture into the tin, in each muffin liner.
Bake for 25 minutes.
Test with a toothpick.
Insert it in the middle of a muffin and if it comes out clean, they're ready. Otherwise, let them bake for a couple more minutes.
Let them cool in the tin for 10 minutes, then remove and transfer the muffins on a rack to cool.
Nutrition Information
Yield
6
Amount Per Serving
Calories

437
Total Fat

20g
Saturated Fat

3g
Trans Fat

0g
Unsaturated Fat

16g
Cholesterol

0mg
Sodium

99mg
Carbohydrates

61g
Fiber

1g
Sugar

33g
Protein

5g
I strive to keep the information as accurate as possible but make no warranties regarding its accuracy. I encourage you to make your own calculations using your preferred nutrition calculator.