Bread lover? Why don't you try something special instead? Here's the BEST focaccia recipe – vegan, healthy and extremely flavorful!
If you're one of those people that have started experimenting with sourdough bread during the pandemic, you'll surely love this focaccia recipe. Hmmm, if I think about it, I'm pretty sure you'll love it regardless if you ever tried baking bread before or not. Because (spoiler alert) it's SO easy! 🙂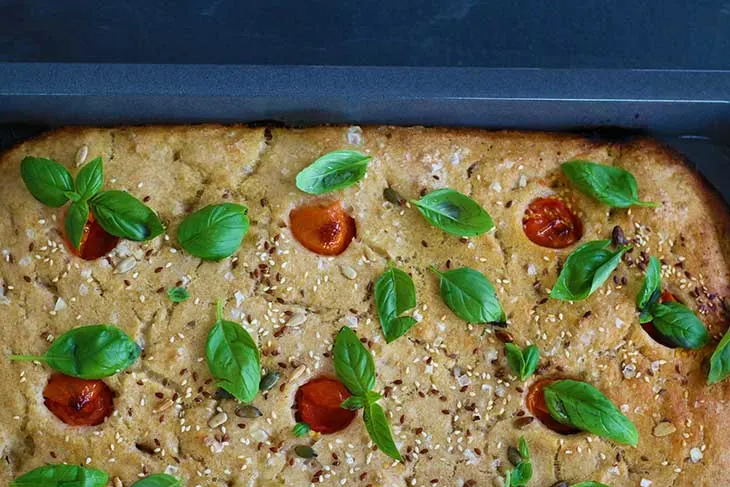 I don't really like making bread, but I love making focaccia. Why? I'm not sure, but maybe it's because I think focaccia is more than just a plain side. It's full of yummy flavors and it can include several other ingredients as well. You can mix and adapt as you wish!
I didn't like making bread even when we were in quarantine, stranded in the house. I always prefer baking something else instead – anything, really. Any cake or sponge cake. Bread? Not so much. But I could make this focaccia recipe every day if I could. With several different variations depending on my mood and the rest of the menu I'll be creating.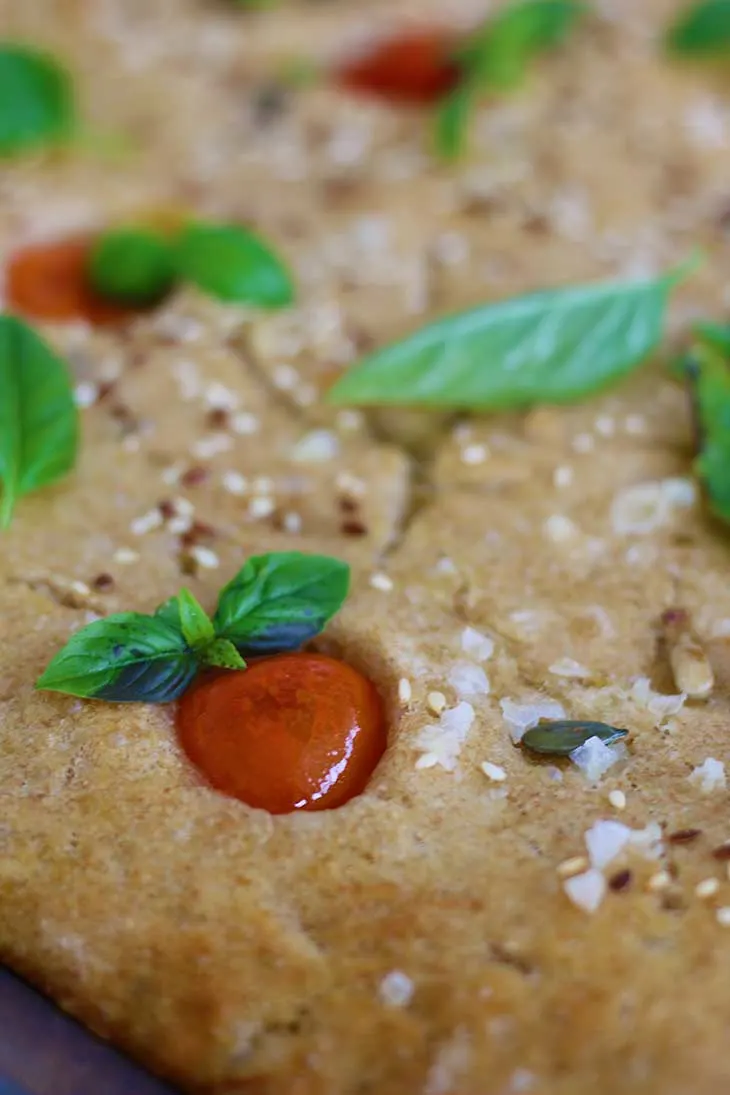 But let's start with the beginning. What's focaccia, though? Focaccia is a fluffy oven-baked flatbread that originated in Italy. It's usually made with olive oil (of course!) and yeast and it can include several aromatics, from rosemary to basil.
You can top it with different ingredients as well such as olives, garlic, cherry tomatoes, dried tomatoes, chili flakes, red or green bell pepper, onion slices, and the list can go on and on.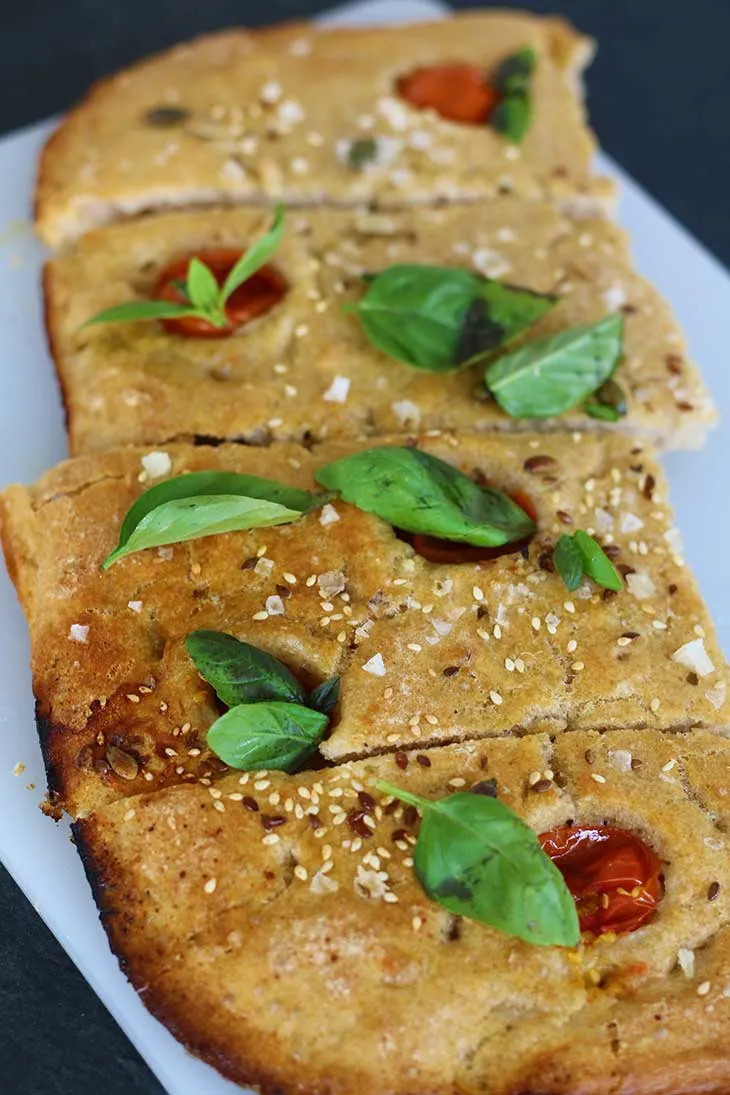 Another name for focaccia is "pizza blanca" which literally translates to "white pizza". Because it's pretty similar to a pizza, but it doesn't have the mozzarella and tomato sauce base – all the ingredients are placed directly on the dough.
Focaccia has an amazing taste, flavor, and smell. You have been warned: when you'll prepare this focaccia recipe, your kitchen will smell exactly like heaven. And the result? Fluffy, healthy vegan focaccia. Easy and efficient.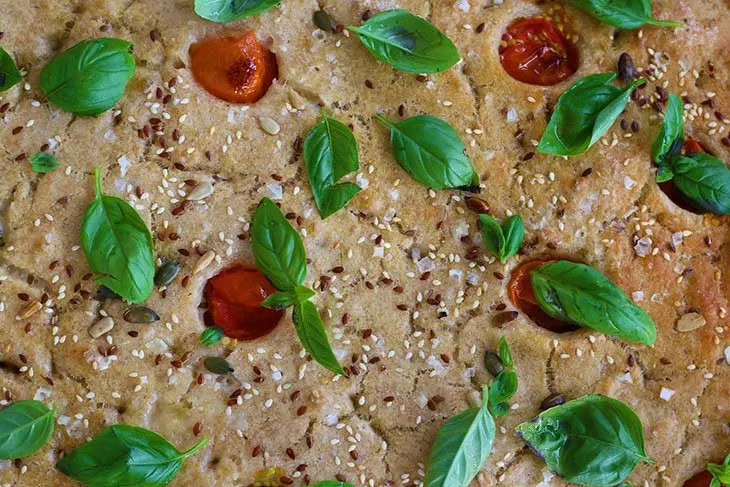 Trust me when I say that this focaccia recipe is extremely easy to make, even though it may look a bit intimidating at first. It's not! I'll explain the step-by-step instructions below and I tried to make everything as easy to follow as possible.
For this focaccia recipe, I used active dry yeast, all-purpose flour combined with whole-wheat flour, some lukewarm water, a little bit of brown sugar, and, of course, some salt. As for the toppings, I chose to keep things classy today: only some cherry tomatoes, basil, and some mixed seeds for texture.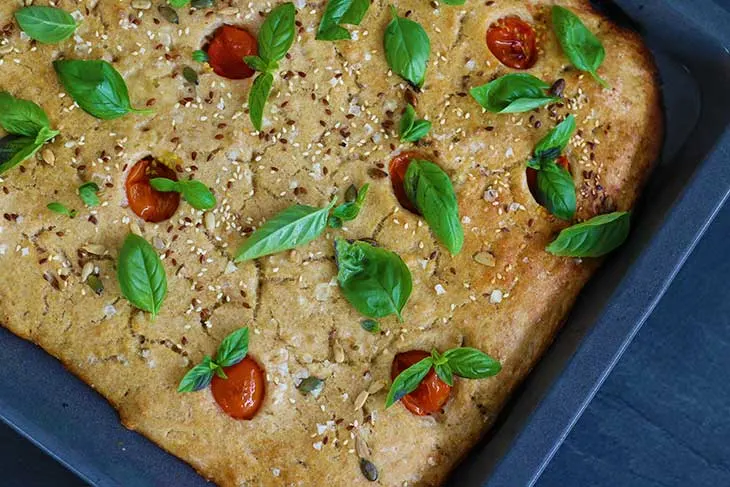 But you can adapt and change the toppings as you please! In case you don't like warm tomatoes (I've heard a lot of people hate them, although I have no idea why!), you can add some red bell peppers instead or some black and green olives.
There are countless yummy combinations you can make and none of them are wrong. It all just depends on your dietary needs and preferences!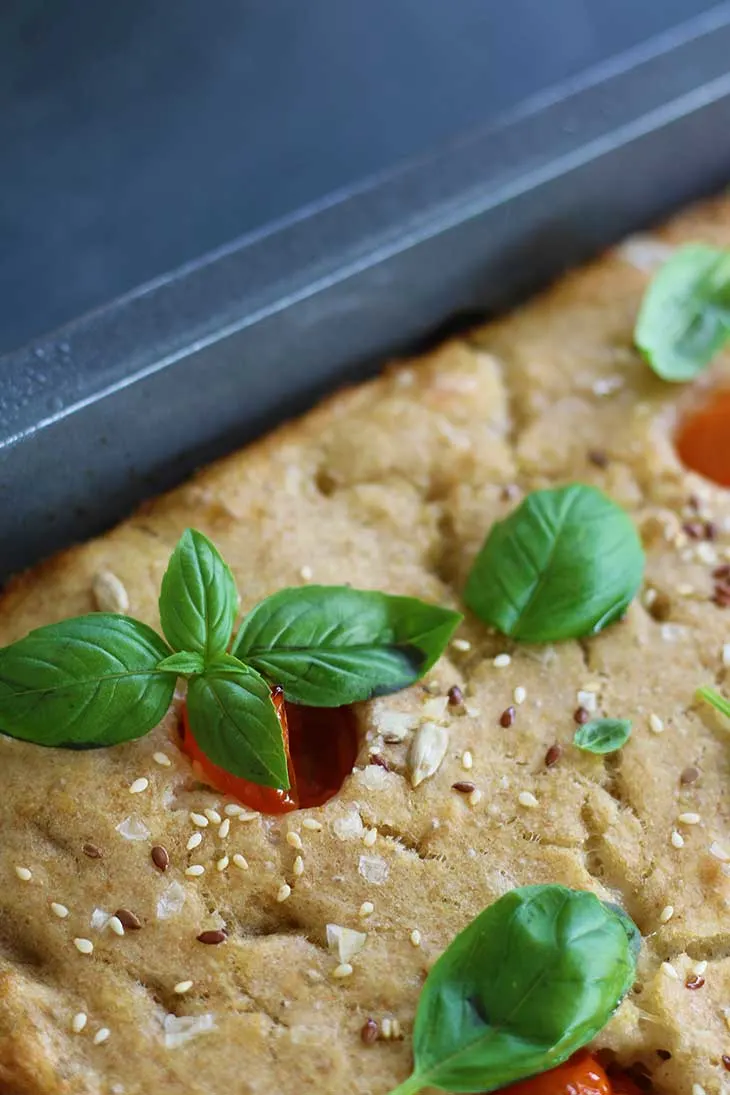 In case you don't want this recipe to be vegan, you can even top your focaccia with some cheese as well. Your favorite!
As for serving, the sky's the limit. You can eat this focaccia as a side dish with some creamy soup such as this cream of parsnip soup. Or with a stew such as this vegetarian Irish stew. You can even serve it with a big plate of your favorite appetizers. Who am I to judge?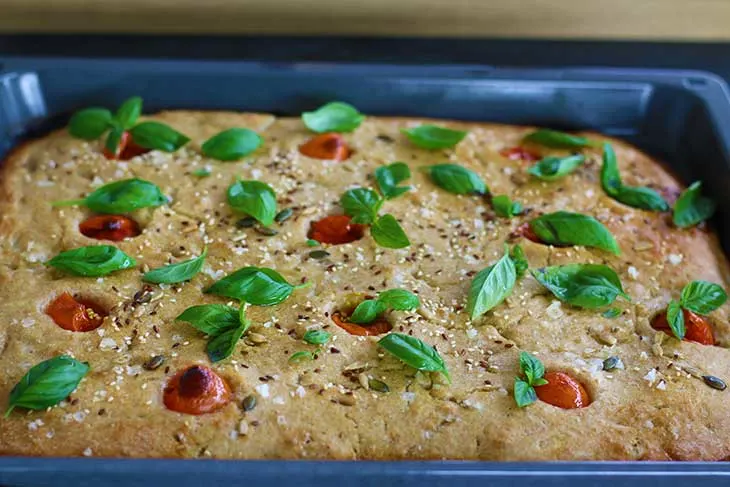 If you want me to be 100% honest, I sometimes eat this focaccia plain, as it is, right from the oven. The salt flakes have an incredible taste and the fluffy texture is absolutely perfect for a snack. You just have to be careful not to consume it all in one sitting, hehe! 😉
You know I'm (a bit) lazy, so of course I created a focaccia recipe that requires no kneading, of course. As little effort as possible, my friends. And yes, it is possible to make no-knead focaccia that tastes incredible and that has the perfect fluffy texture. Easy. Delicious. Just like the title says!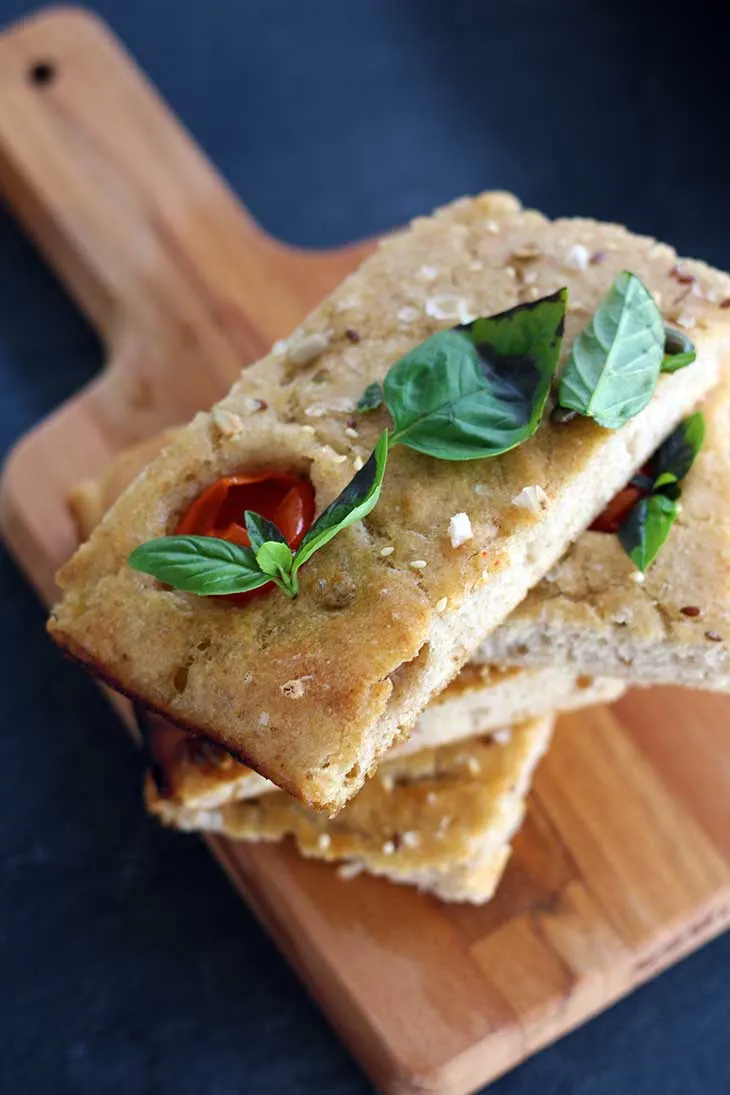 The only effort you'll have to make would be to mix all the ingredients. That's it! Find a bowl, throw everything in there and your focaccia is almost done. You just need to bake it in the oven, play a little game of patience until it's golden brown and everything's done. Yes, sir!
By the way, you can prepare the focaccia mixture the night before and throw it in the oven the next morning if you're craving a freshly baked treat right after you wake up. It's so easy and convenient!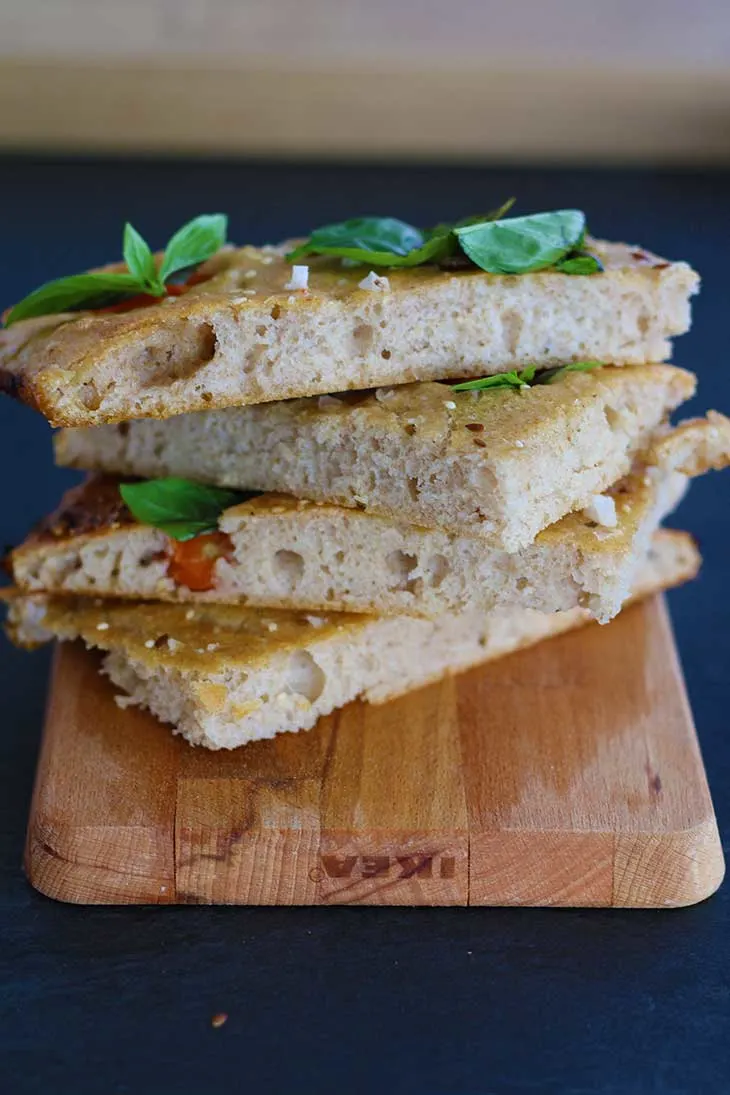 That being said, I'm pretty sure you're already eager to try this vegan focaccia recipe. And if you do so, don't forget to tell me just how much you loved and, of course, your toppings of choice. I'm curious to find out your favorite combinations.
Happy cooking!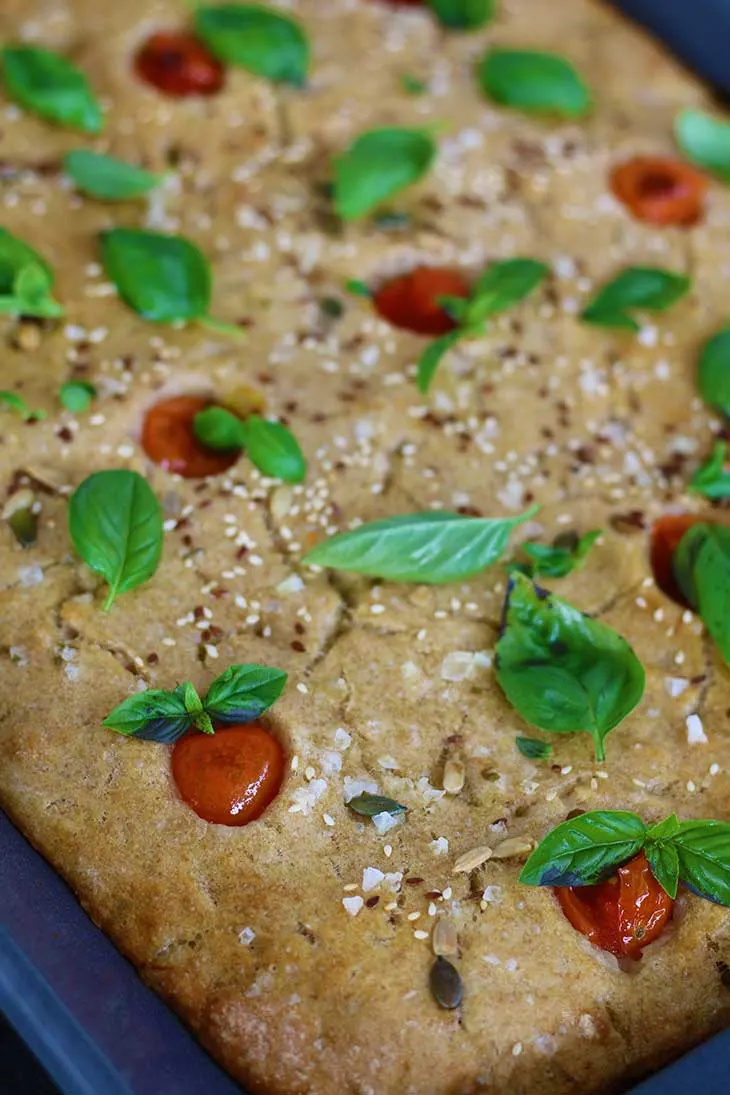 Yield: 1 focaccia
Your Go-To Focaccia Recipe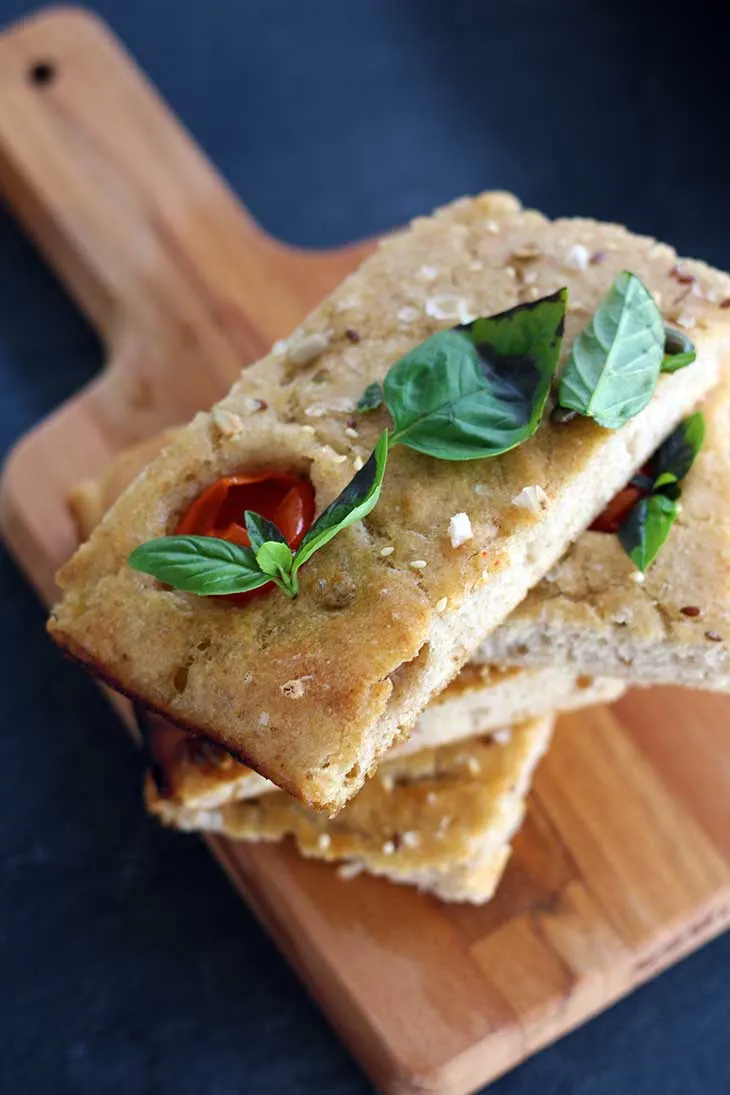 Bread lover? Why don't you try something special instead? Here's the BEST focaccia recipe – vegan, healthy and extremely flavorful!
Ingredients
Focaccia Dough:
7g (2 ¼ tsp) active dry yeast
450g (2 ¾ cups) all-purpose flour or whole-wheat flour - you can also combine them like I did (50-50)
300ml (1 ½ cups) lukewarm water
2 tsp brown sugar
1 tsp sea salt
5 Tbsp extra-virgin olive oil - 1 for greasing the bowl + 2 for greasing the tray + 2 for drizzling
Toppings:
flaky sea salt
cherry tomatoes
fresh basil
mixed seeds
Instructions
In a large bowl, mix the dry yeast, sugar, and lukewarm water. Let sit for 5 minutes, until it gets foamy/creamy. - Make sure you check the yeast expiration date before using it. It will not activate if it's expired.
Add the flour and salt. Mix well using a spatula.
Grease a separate bowl with 1 tablespoon of olive oil and pour the dough into it. Turn it and coat it on all sides in oil, then cover it with plastic wrap. Let it rise at room temperature until it doubles its size (~4 hours).
Grease an oven tray with 2 Tablespoons of olive oil.
Transfer the dough to the oven dish and spread it with your fingers. You should either water or grease your hands, to ease the process.
Once it is evenly spread out onto the tray, start poking it with your fingers to form some holes. Add the cherry tomatoes in those holes, drizzle it with 2 tablespoons of olive oil, sprinkle some sea salt flakes on top, and some mixed seeds.
Heat the oven at 220C.
Bake focaccia until golden - for about 20-30 minutes. Serve with fresh basil on top.
Nutrition Information
Yield
8
Amount Per Serving
Calories

189
Total Fat

9g
Saturated Fat

1g
Trans Fat

0g
Unsaturated Fat

7g
Cholesterol

0mg
Sodium

366mg
Carbohydrates

24g
Fiber

2g
Sugar

1g
Protein

4g
I strive to keep the information as accurate as possible but make no warranties regarding its accuracy. I encourage you to make your own calculations using your preferred nutrition calculator.