Craving something comforting and delicious? Here's how to make the best potato cabbage soup. Cheap, delicious, and super easy to make!
What could be better than a big bowl of hot soup on a cold day? I'll tell you – literally nothing! And today's recipe will teach you how to make the BEST potato cabbage soup full of healthy veggies. It's yummy and it's full of nutrients – and I'll tell you everything you need to know about it down below.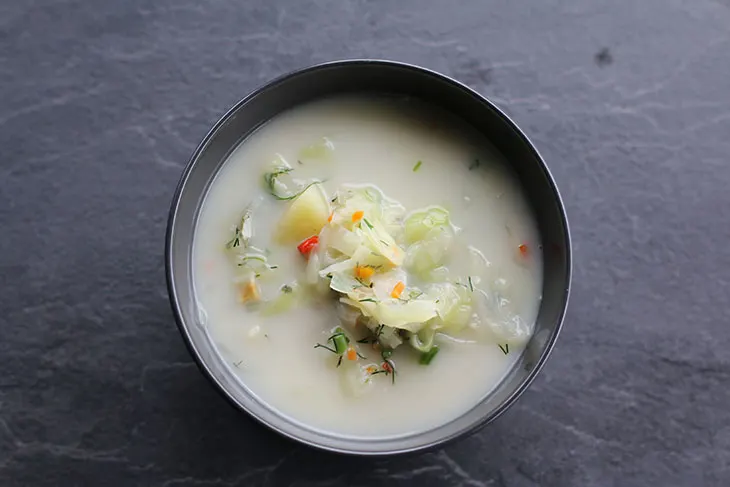 Potatoes are one of my favorite things in the entire world because they're so yummy and versatile. And you may know I experimented with tons of potato recipes before – from fries to potato curry, potato burritos, and baked mashed potato muffins, I loved each and all of them!

And don't get me started on cabbage too. I truly believe this is one of the most underrated vegetables in our pantries! It's super cheap, it's very versatile and it's also extremely yummy, so I really believe we should use it in our day-to-day cooking more. Not just in cabbage side salads! If you want to add more cabbage into your recipes, you can try these low-carb cabbage hash browns or this vegan cabbage lasagna.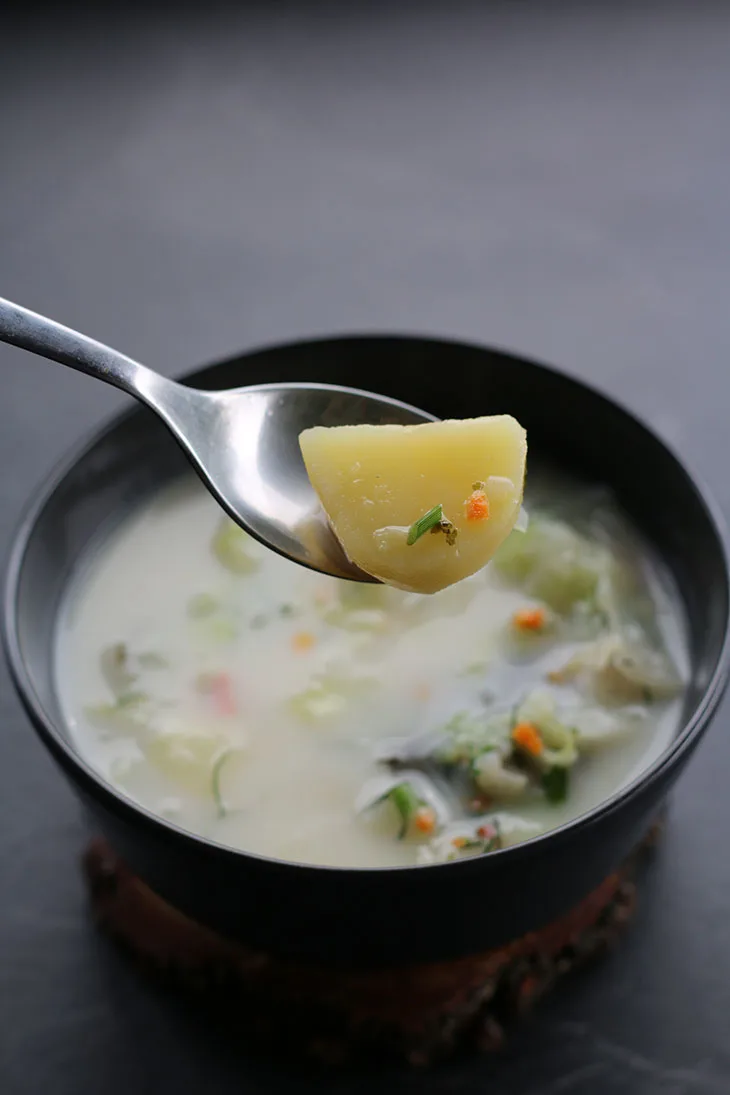 Or, even better, I urge you to make this potato cabbage soup for the ultimate comforting treat. No, really, it's so good I'm making it the second time this week! 🙂
What I love most about this potato cabbage soup is that it's extremely easy to make. You just need to boil your ingredients and… your soup is pretty much done. And when it comes to costs, trust me, it's cost-efficient. It doesn't get cheaper than this!
Both potatoes and cabbage are budget-friendly and can be found in any supermarket or farmer's market, so you won't have to gather any complicated ingredients for today's recipe. Heck, you might even have all the ingredients you need in your fridge or pantry already!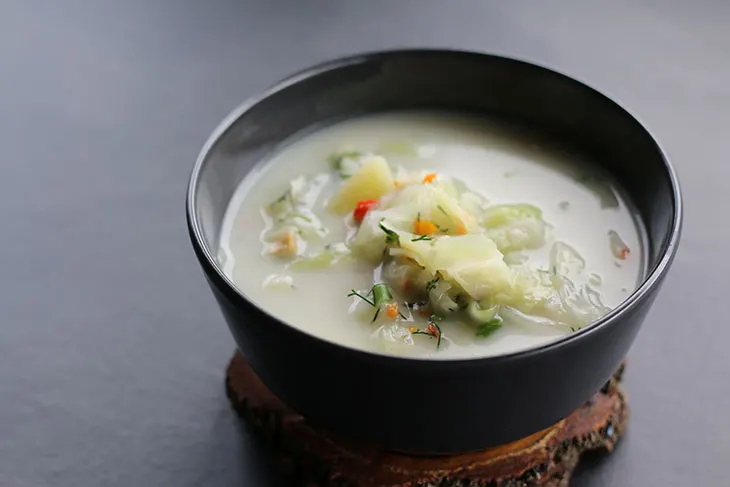 I added some rice milk and vegan rice/soy cream into this potato cabbage soup as well for a hint of flavor. You know how much I hate tasteless soups! I think they take away all the pleasure from eating! So my soups are hearty, yummy, and bursting with flavors. Just like this one! 😉
Now I want to share a little secret with you. If you're as lazy as I am, trust me, you're gonna love this.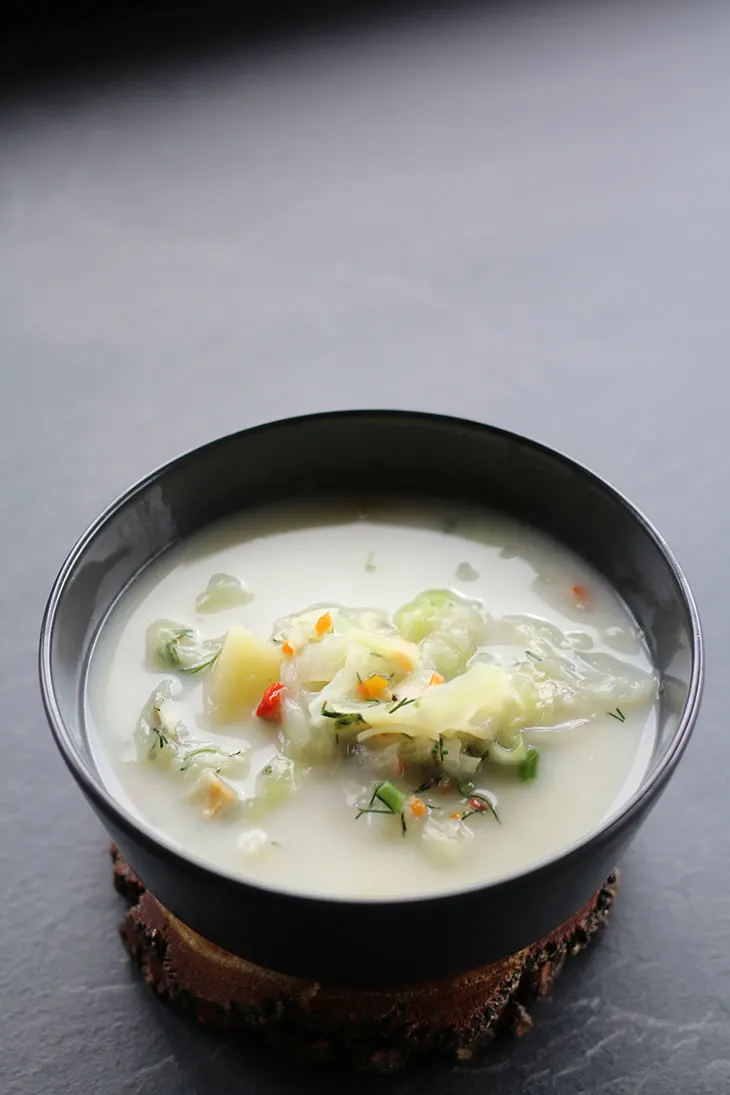 Fact: I strongly dislike chopping vegetables for soup. Over the years, I found some awesome hacks that saved me time – I oftentimes use frozen veggies or… a dry veggie mix! Yes, yes, it's my secret weapon when it comes to soups and stews. My dry veggies mix is made of equal parts (50 grams of each) of carrots, parsnip, celery, lovage, parsley, onion, and bell pepper.
I ordered mine online or you can buy your dried veggies in bulk from health food stores and then combine them to make your own mix. It's as easy as A-B-C!
I put my dried veggie mix in a big jar that I keep close whenever I know I'll prepare a soup. I always mix the ingredients a little, as the greens tend to fall to the bottom of the jar. After you add the dry veggies to your soup water, you'll see that they rehydrate and the end result will look and taste exactly like the fresh ones. Simple, quick and SUPER efficient!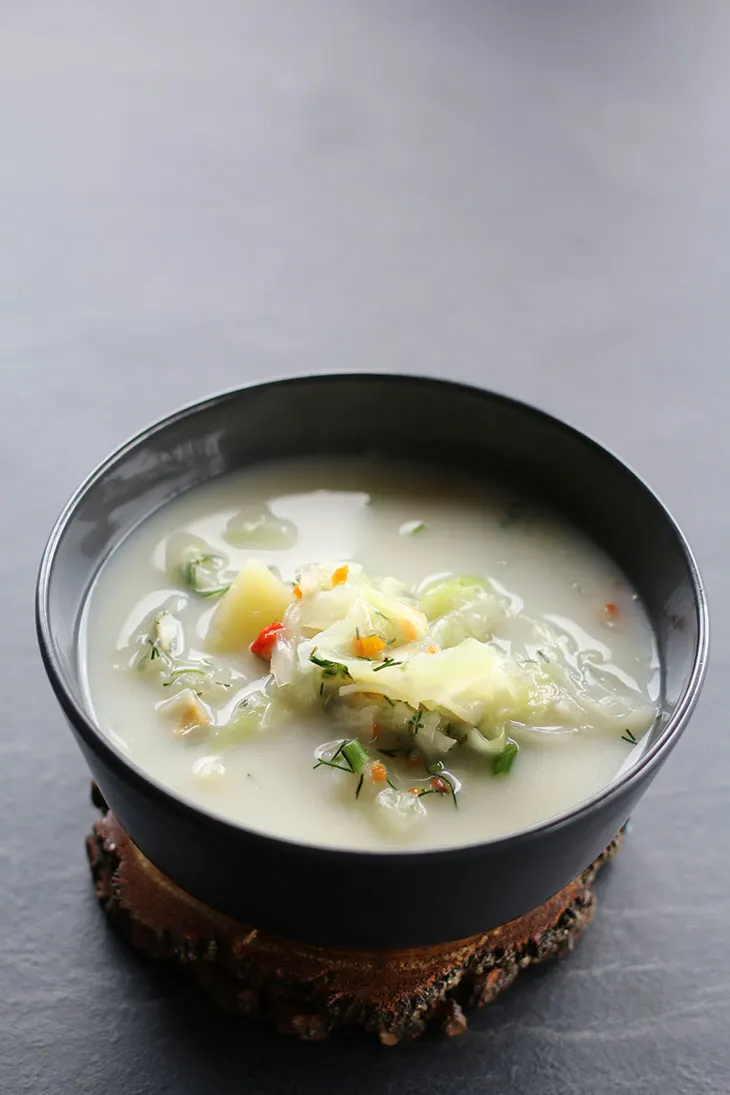 Honestly, this is a life-saver for me. It saves me a lot of time (and nerves!) and my soup is ready in NO time like this and they taste super delicious each and every time. I recommend you try it too. You can thank me later!
So now that you have your potatoes, your cabbage, and my dried veggie mix for soups, you'll only need some fresh onions, rice milk, and vegan cream. Add some dill and freshly ground pepper as well and you're pretty much good to go. You'll end up with a yummy clear soup full of healthy vegetables and the perfect lunch for a sad winter day. Let's put a smile on that face!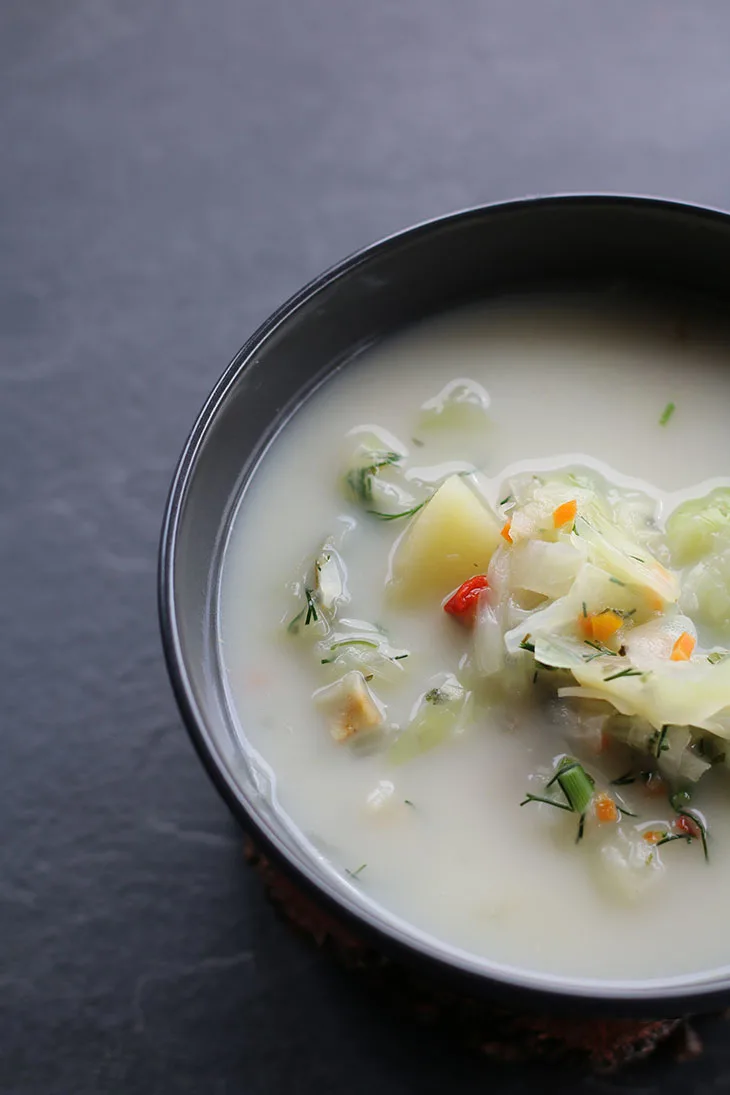 I hope you'll try this amazing potato cabbage soup soon. Right now it's just the perfect season for it! And if you decide to try it, let me know how it went. Happy cooking!
Yield: 6 portions
Potato Cabbage Soup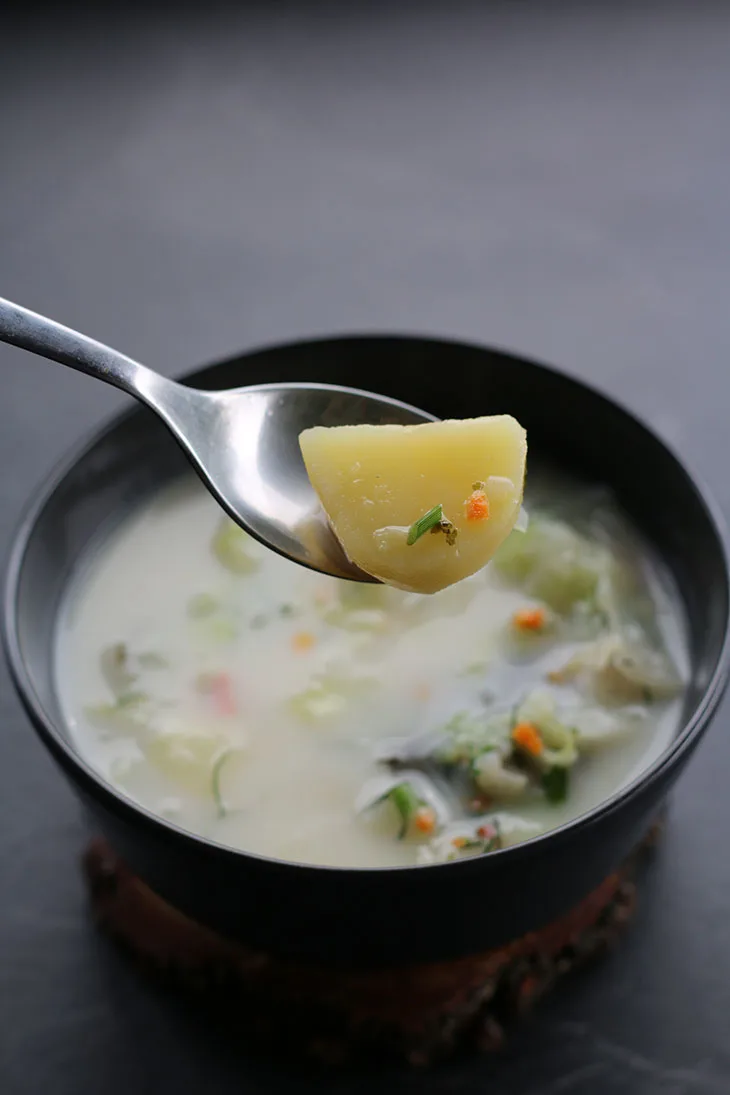 Craving something comforting and delicious? Here's how to make the best potato cabbage soup. Cheap, delicious and super easy to make!
Ingredients
3L (12 cups) water
4 medium potatoes, peeled and cubbed
1 medium white onion, chopped into small pieces
¼ medium cabbage, chopped into small pieces
4-5 Tbsp dried vegetables mix - see how I prepared it above
250ml (1 cup) vegan cooking cream, rice or soy
500ml (2 ¼ cups) rice milk, unsweetened
vinegar, to taste - some people prefer sour soups, some prefer them sweeter, so you can make it as you please. Instead of vinegar, I sometimes use the spiced vinegar from pickles. I never throw it away and you can try it too!
4 bay leaves
a bunch of fresh dill, chopped
a few peppercorns or ground pepper
salt or miso paste, to taste - I started using miso paste instead of salt in various recipes. It gives a hint of salt and a kick of probiotics and flavor
Instructions
Add 3L water in a pot to boil. Add the cubed potatoes, cabbage, and onion into the water. Let them boil for 15 minutes.
Add the dried vegetable mix, bay leaves, and pepper. Let them boil until the potatoes are tender for approx. 10 minutes.
Turn the heat off and add the chopped dill, rice milk, and vegan cream. Mix.
Now is the time to season your soup to taste. Add salt or miso paste, mix, and taste. Then add the vinegar. When I use the pickled vinegar with spices I add around 1/2 jar to one batch of soup because it's usually sweeter. If you use normal vinegar which is stronger, add just a little bit at a time until you reach the desired taste.
Nutrition Information
Yield
6
Amount Per Serving
Calories

238
Total Fat

4g
Saturated Fat

2g
Trans Fat

0g
Unsaturated Fat

1g
Cholesterol

11mg
Sodium

760mg
Carbohydrates

44g
Fiber

5g
Sugar

6g
Protein

8g
I strive to keep the information as accurate as possible but make no warranties regarding its accuracy. I encourage you to make your own calculations using your preferred nutrition calculator.