In case you love everything spicy and you're in the mood for an autumnal dish, here's how to make the best spicy pumpkin soup. Super flavorful and healthy!
How could I name myself a food blogger if I didn't have an autumnal soup recipe on my blog, am I right? Soups don't get the attention they deserve all year round! 🙁 But as soon as one leaf hits the ground and it gets a little chilly… it's their time to shine. And for good reason.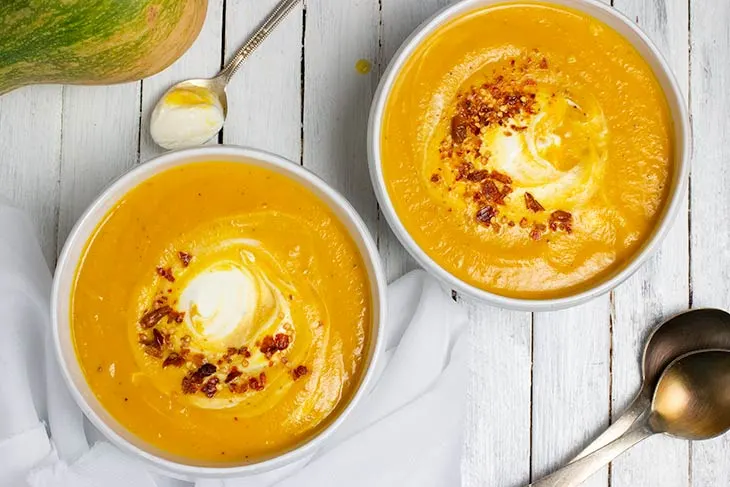 Soup can be an incredibly nutritious meal, and it's for sure one of the coziest. It can literally and metaphorically warm you up on a cold day. And it can also be super delicious if you know how to cook it, which I'm gonna show you today!
Soup is, generally speaking, super good for you. Most soups are pretty low in calories and an easy way to include more veggies in your diet. Not to mention that they're a great way to reduce our food waste. While wilted carrots and peppers in the back of your fridge are neither that appetizing or delicious when eaten fresh, you can definitely give them new life by tossing them in a soup recipe.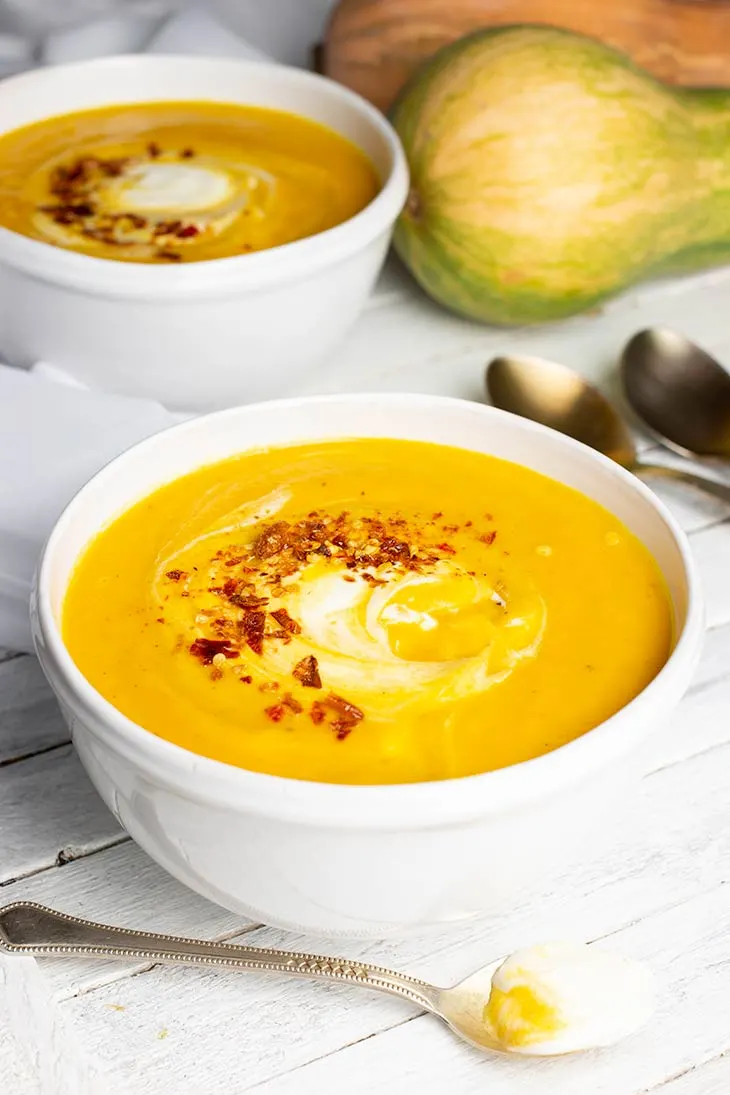 For most soups, you can use whatever veggie scraps you have on hand, including the skins (that's where most of the fiber is found.)
Another reason why soups are so great is that they're generally friendly with your wallet. Vegetables are among the least expensive ingredients. Plus, preparing soups usually doesn't require a huge amount of effort or skills.
Furthermore, soups keep you hydrated, which is not on the top of a lot of people's heads, especially in the colder months. While a cold glass of water sounds super appetizing during the scorching hot months, we kinda tend to push hydration aside as soon as it gets colder. Adding soup to your diet may very well help you need the daily necessary liquid amount. And, speaking of colder months: what's better than having a steaming bowl of soup when fighting a nasty cold or a sore throat? We've all been there – it feels like receiving a warm, wholesome hug.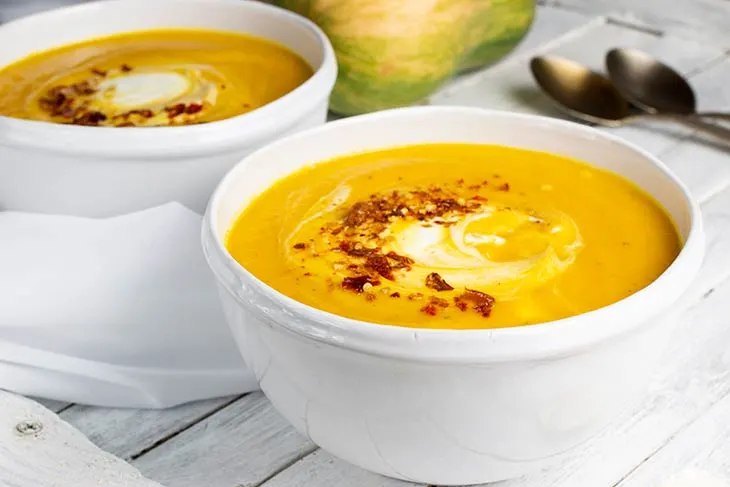 This spicy pumpkin soup does all of the things mention above – and more! 🙂
It's just the perfect amount of spicy, which, by the way, you can leave out entirely if you can't tolerate spicy food. It's silky smooth without unnecessary amounts of cream. I do love cream soups, but what I've noticed is that they tend to get pretty heavy by containing huge amounts of sour cream and fat.
So I wanted to come up with a soup recipe that's filling and creamy but at the same time light and friendly with the waistline. I also decided I wanted to go crazy with the herbs and spices – things I do associate with the coming of autumn, and which I truly love.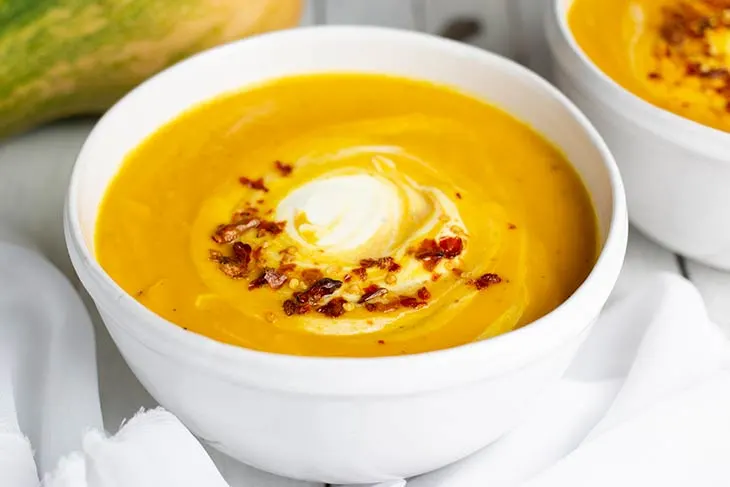 Another thing I truly love about this soup is that it's made with seasonal, locally grown ingredients, which helps us be more sustainable and reduce our carbon footprint. Speaking of being less wasteful, you can totally prepare a huge batch of this soup in advance, then store it in the freezer for months to come. It freezes super well! 😉 Just take it out, pop it in the microwave, and you won't even notice it.
I'm a huge fan of freezing my food whenever that's possible. This way, if I'm caught off guard and left without any cooked food, I can always know I do have something nutritious and healthy in my home, and I won't feel guilty for consuming takeaway. Which, as you might know, tend to be not only unhealthy but also pricey!
As you might notice after you've finished making this recipe, this soup is A. effortless to make B. flippin' delicious.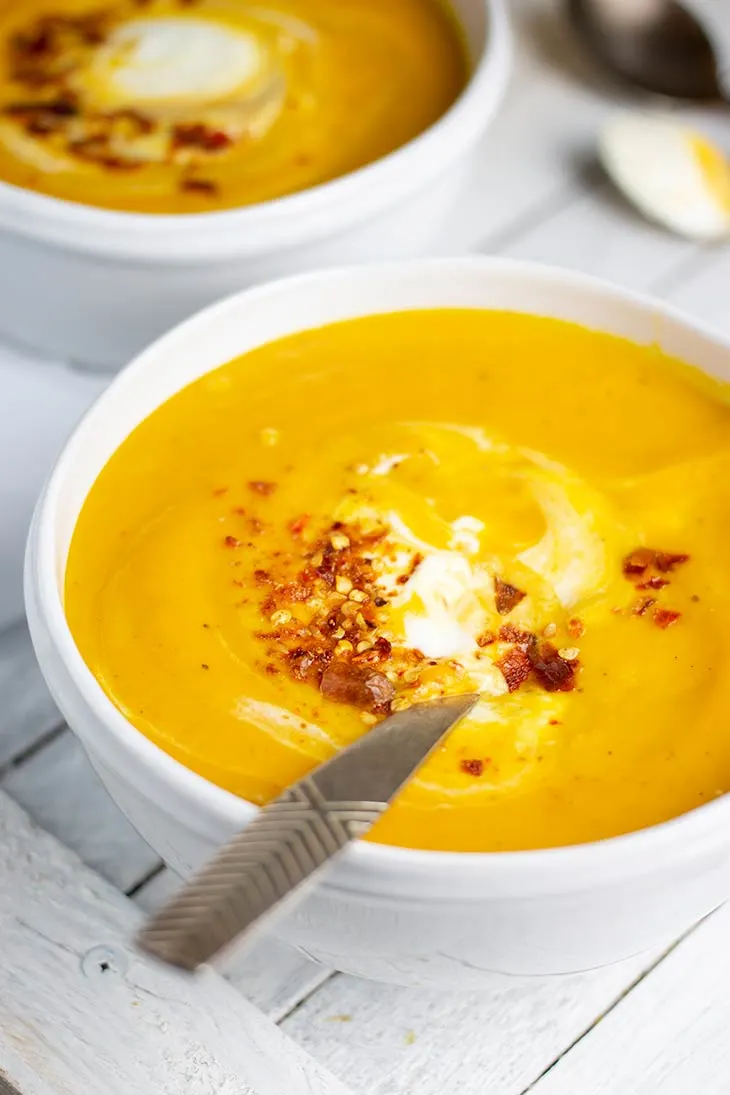 It really hits the spots, especially on a cold day, and most of all if it happens to drizzle on that particular day. Do you know the type of autumn rain that makes you cold just by looking at it? And thanks for being able to stay inside with a bowl of steaming hot soup, and perhaps a nice, fluffy loaf of bread? That's what I'm talking about! 😉
When it comes to cream soups, I always like to play a bit with the toppings. These can really add textural variety to the meal, plus having something crispier to chew on makes the dish even more filling like you're not simply slurping the soup away. Ideally, you'd want to have a few pepitas (squash seeds) on hand. You can roast these with a little bit of salt for extreme deliciousness. You can also add bits of crumbled cheese if you're not vegan, or other seeds such as hemp, for extra protein, or sunflower, for amazing flavor.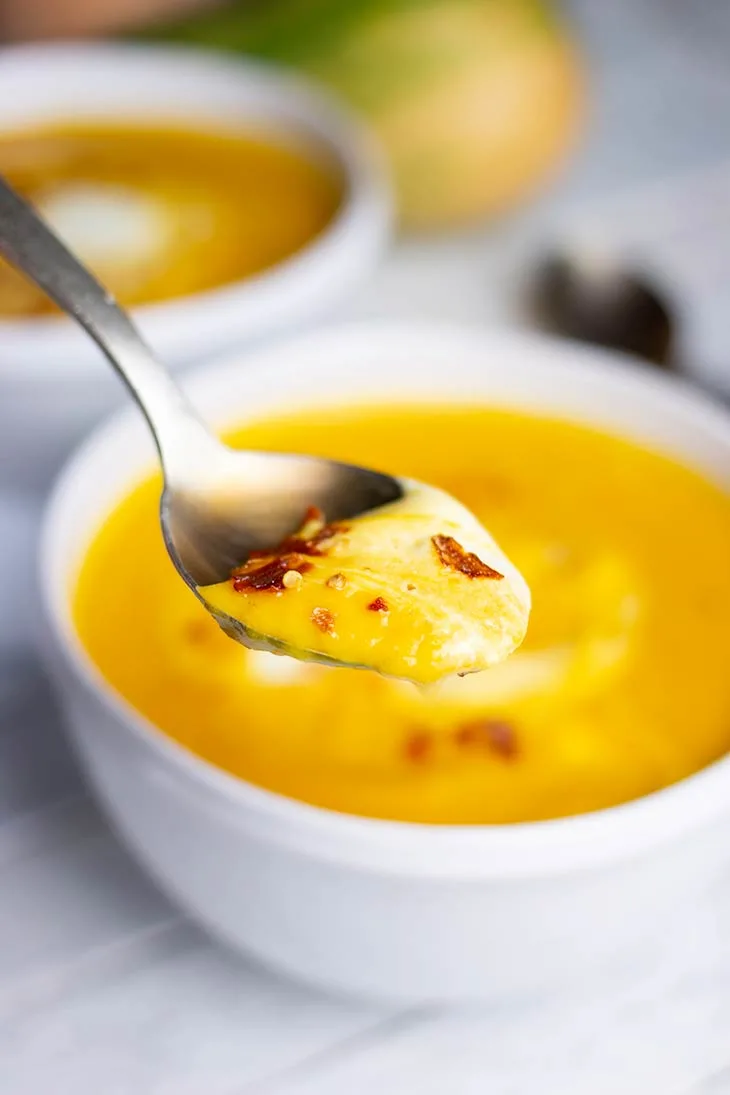 With or without toppings, I'm fairly certain you're going to love this recipe. How can you not? It screams "autumn" and "cozy"! 🙂
Yield: 2
Spicy Pumpkin Soup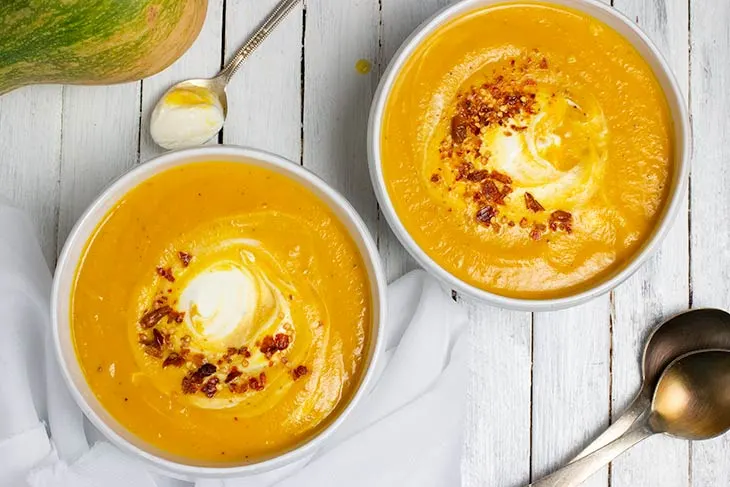 In case you love everything spicy and you're in the mood for an autumnal dish, here's how to make the best spicy pumpkin soup. Super flavorful and healthy!
Ingredients
½ medium pumpkin
½ onion, chopped
240ml (1 cup) veggie stock or water
100ml (¼ cup) coconut milk
1 garlic clove, minced
2 Tbsp olive oil
¼ tsp Peperoncino
⅓ tsp paprika
Yogurt, vegan or dairy
Salt
Pepper
Instructions
Peel and cut the pumpkin into cubes. Boil for 20 minutes. Save some water from the boiled pumpkin if you don't have vegetable stock.
In a pan, add the olive oil, onion, garlic, paprika, and peperoncino.
Sautee until translucent.
Add the pumpkin cubes, coconut milk, and veggie stock or water from the boiled pumpkin.
Season with salt and pepper and simmer on low heat for 5-7 minutes.
Pour the mixture into a blender and blend until smooth.
Serve with yogurt and peperoncino on top.
Nutrition Information
Yield
2
Amount Per Serving
Calories

360
Total Fat

23g
Saturated Fat

9g
Trans Fat

0g
Unsaturated Fat

13g
Cholesterol

9mg
Sodium

564mg
Carbohydrates

30g
Fiber

5g
Sugar

13g
Protein

12g
I strive to keep the information as accurate as possible but make no warranties regarding its accuracy. I encourage you to make your own calculations using your preferred nutrition calculator.