When it comes to soups, I can say that I love all types and variations. But this vegan cream of avocado soup is definitely one of my favorites out there! It's yummy, healthy and super easy to make!
I will start by confessing that I am one of those people that could eat big amounts of avocado-anything, at any given time. I just adore its creamy texture, vibrant color and amazing taste that fits so good basically anywhere. As I spend quite a lot of my time thinking about what can I incorporate avocado into, here's my today suggestion: cream of avocado soup! 🙂
Why cream of avocado soup? Because it's the perfect choice for summer! It's fresh, you can eat it at room temperature or even cool, it's packed with healthy nutrients and you can enjoy it in less than 30 minutes! Do I need to say more?
Now that I declared my love for avocado-everything, maybe we should learn a little about the history of this versatile fruit that we all adore!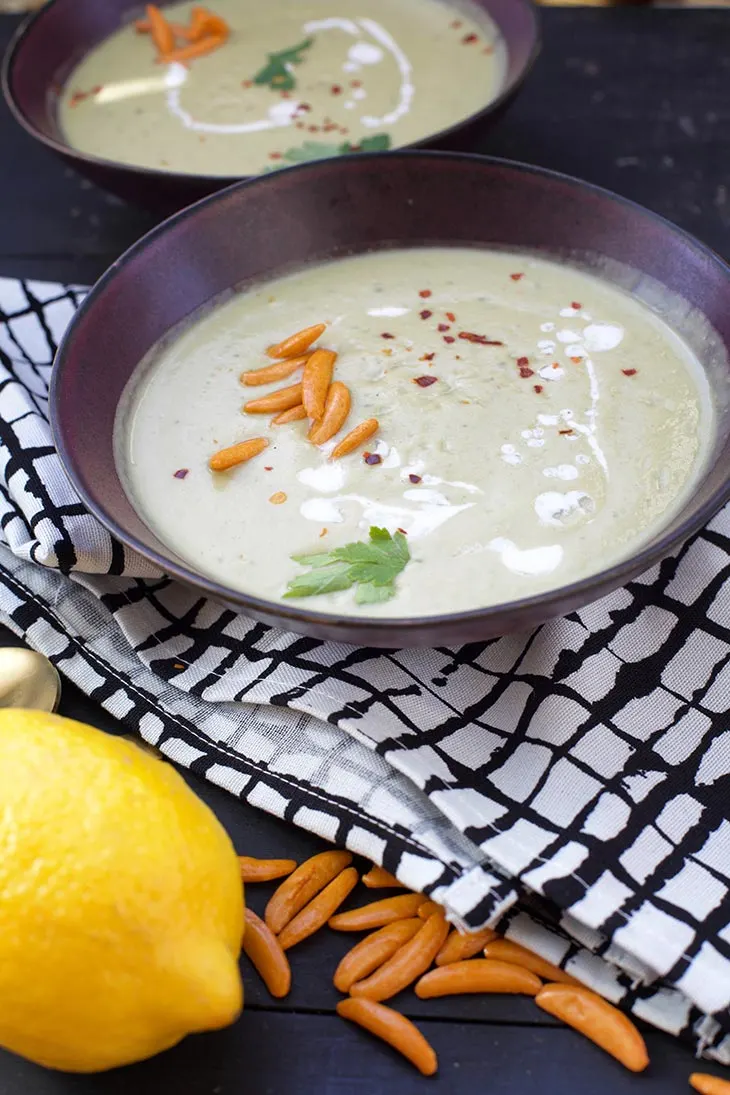 As we all probably know, the avocado is not a European fruit – the inhabitants of the Mexican territory have been using avocado in their diets as long as 10.000 years ago! Or so the researchers suggest – and who am I to judge?
Yet back then, they were simply gathering the avocados from the trees. They started cultivating their own avocados 5.000 years ago, but that still incredibly impressive! But as old as this fruit is for other people, to us it's still kind of new. Well… that if you consider over 600 years "new".
In the 16th century, the Spanish explorers were the first Europeans who tried avocados. And thanks to the Spanish we can enjoy avocados now, as they were the ones to bring this fruit to Europe and sell them to other countries. Thank you, Spanish explorers!
It just seems amazing to me that the history of this fruit goes back so much into the history – sometimes we just take these things for granted, but avocados actually traveled a long way to get to us and make our lives so much better.
Now enough with the history lessons (although I must confess that I kind of enjoy knowing the route that dishes and fruits and vegetables and spices have taken before arriving into my plate – and I think it's interesting for you too!).
Why should I try this recipe, you may ask? Well, if absolutely delicious and green are not good enough reasons, hear me out! First and most important, this amazing cream of avocado soup is made on the base of … avocados. Any other observations, Sherlock?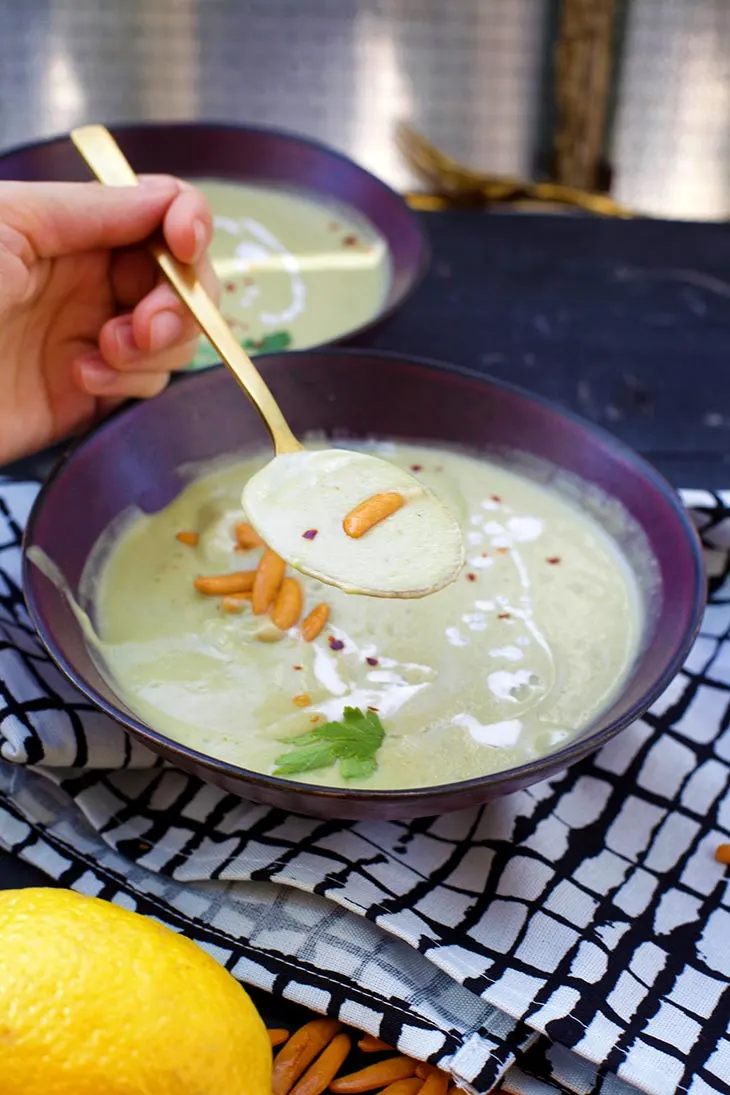 That should actually be a very good reason to try this soup because if we look deeper into it, we find out that avocados are extremely healthy. How healthy exactly? Here is what you can get from only 100 grams of raw avocado:
Vitamin K: 26% of the daily value (DV)
Folate: 20% of the DV
Vitamin C: 17% of the DV
Potassium: 14% of the DV
Vitamin B5: 14% of the DV
Vitamin B6: 13% of the DV
Vitamin E: 10% of the DV
Sounds great, right? The proven benefits of avocado consumption are helping maintain a healthy heart, protecting the health of the eyes, helping the prevention of osteoporosis, improving digestion while also helping the natural detoxification of the organism. Quite convincing!
Now it is actually easy to understand why avocado has become so popular among those of us trying to maintain a healthy diet. There's a wide misconception surrounding the fact that healthy eating is not as tasty and satisfying as junk food, yet this couldn't be farther from the truth! 🙂
Now back to our cream avocado soup. I bet you already have all the ingredients in your cupboard! Besides avocados, you will only need some coconut oil, coconut milk, garlic, onion, lime juice and some spices for flavor. These are the main ingredients, but depending on the specific taste you wish to attain, they may vary. After cooking and preparing a little bit the garlic and onion, you just add the avocados, pour everying in the blender and lunch's ready! 🙂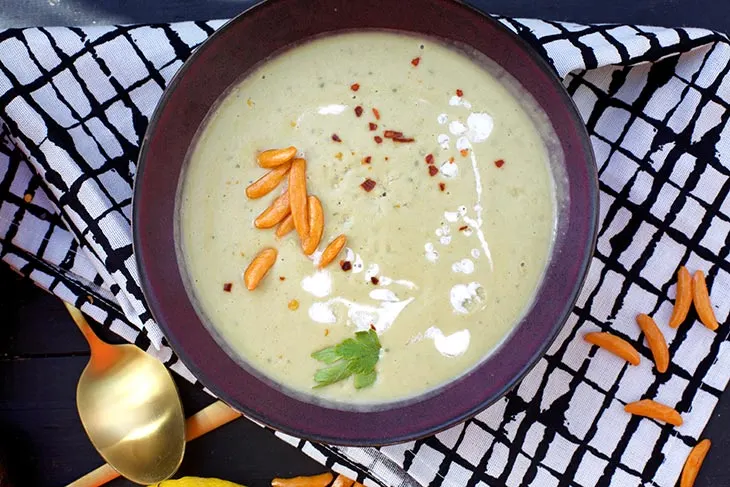 So easy that I am heading to the kitchen to start right now preparing it! Gather your ingredients and follow my steps, we are only minutes away from a delicious bowl of soup! Now let's have some fun!
Yield: 4
Cream of Avocado Soup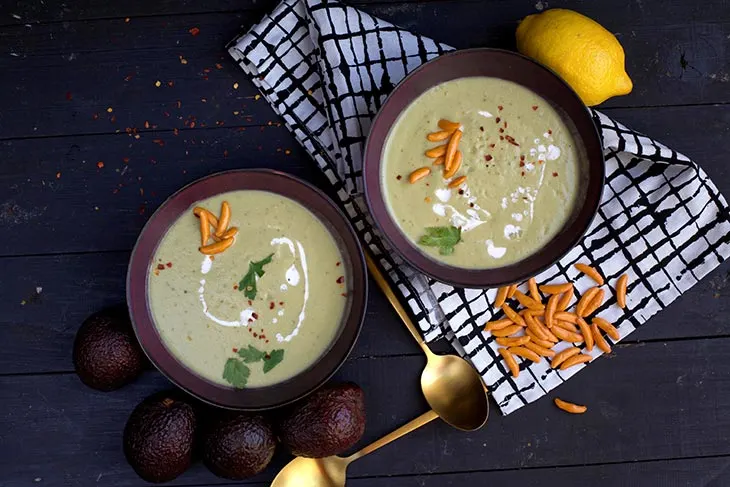 When it comes to soups, I can say that I love all types and variations. But this vegan cream of avocado soup is definitely one of my favorites out there! It's yummy, healthy and super easy to make!
Ingredients
500ml (2 cups) veggie broth
½ tsp cumin seeds
1 Tbsp coconut oil
1 red chili, dry
1 Tbsp lemon juice
1 red onion, chopped
3 garlic cloves, chopped
1 celery stalk, chopped
1 can (440ml | 15 oz) coconut milk, divided
3 small avocados, peeled and pitted
5g (⅓ cup) cilantro
1 tsp chili flakes
rice chili crisps, optional
Instructions
Heat a pot on medium.
Add the cumin seeds and chili and dry fry for about a minute.
Add the coconut oil and let melt.
Add the chopped onion, garlic and stir-fry for about 3 minutes, until fragrant.
Add the celery and cook for about 4 more minutes.
When nice and soft, add the veggie broth and bring to a boil.
Simmer for about 5 minutes. Take out the chili.
Add half a can of coconut milk, lemon juice, avocados, cilantro, chili flakes, and broth to a food processor.
Blend until smooth and incorporated.
To serve, divide between bowls, add about 2 Tbsp saved coconut milk on each, sprinkle with additional chili flakes and rice chili crisps.
Bon appetit!
Nutrition Information
Yield
4
Amount Per Serving
Calories

168
Total Fat

11g
Carbohydrates

18g
Fiber

8g
Sugar

3g