Who doesn't love sweet potatoes? If you're not a fan, then I'm sure this recipe for vegan sweet potato cakes will help you change your mind. Give it a try!
Today I was in the mood for something easy to make, but more in the warm food area. So I decided to try this sweet potato cakes recipe. They turned out absolutely amazing so I decided to share it with you. They were so great that I couldn't stop eating them – I ended up eating the whole bunch by myself! 🙂 One of my friends invited me to a get-together next weekend, and I will surely prepare this recipe for them – I am positive they will all love it.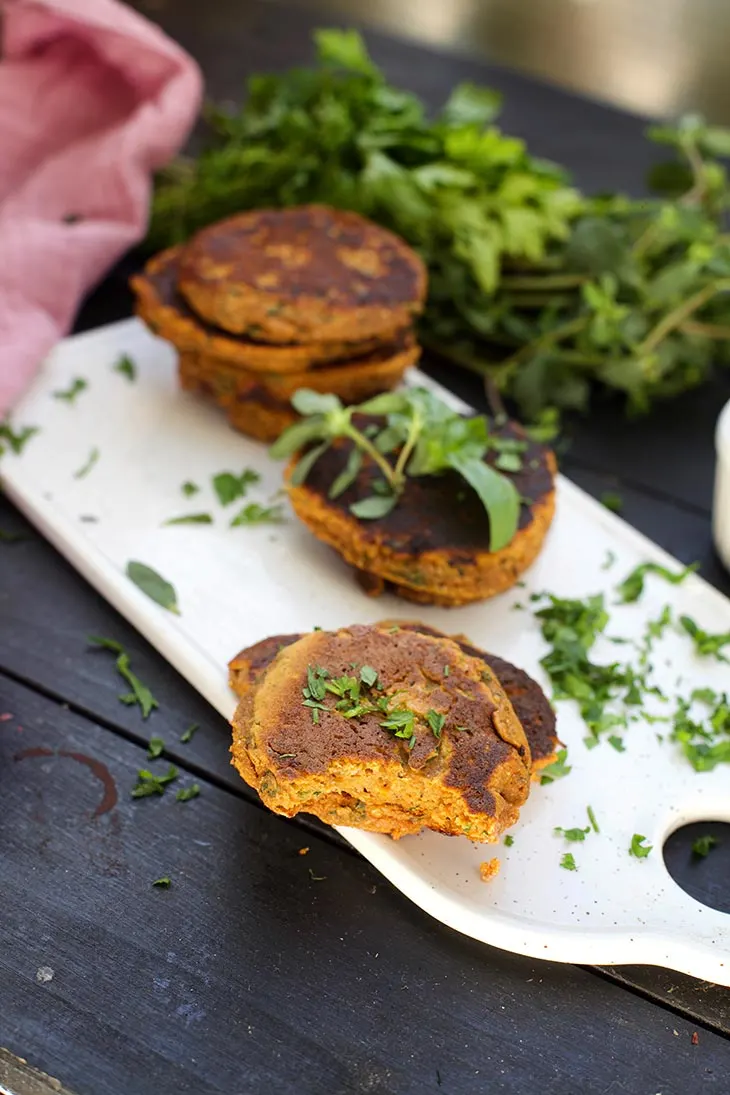 So what makes this sweet potato cakes so great? They make a great side dish, but they can be just as good on their own if you add some yogurt or maybe some mashed avocado on the side. There is no question, they are truly delicious and I am sure you will enjoy them just as much as I did!
The sweetness of the potato goes so well with the rest of the spices, and the texture is so soft – they will practically melt in your mouth! 🙂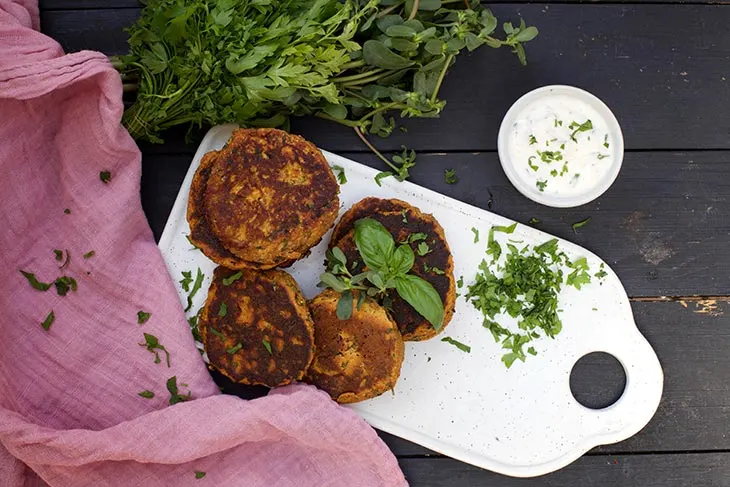 I don't know how things go in your areas, but in my country, sweet potato is not that popular. But since I have first tried it, the sweet potato has gradually become a regular ingredient in my kitchen.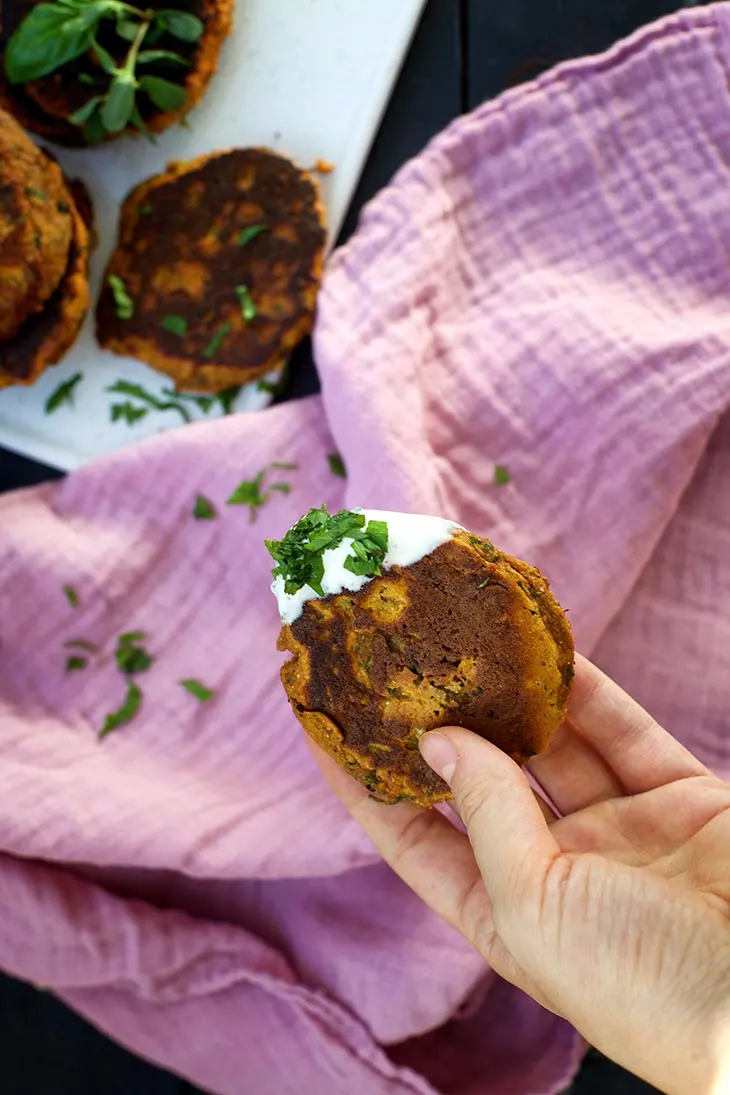 Did you know that the sweet potato is actually one of the oldest vegetables known to mankind? Scientists say that sweet potato was cultivated thousands of years ago in Central America. And it was Christopher Columbus that introduced sweet potatoes to Europe after his first trip to the Americas in 1492. Quite a long journey!
And it's good to know that the sweet potato is much more nutritious than the regular potato!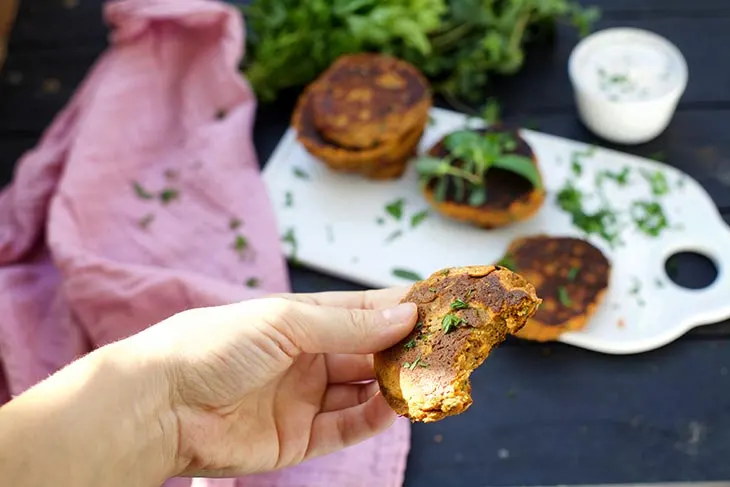 Here is what your body can get from 200 grams of sweet potato:
Calories: 180
Carbs: 41.4 grams
Protein: 4 grams
Fat: 0.3 grams
Fiber: 6.6 grams
Vitamin A: 769% of the Daily Value (DV)
Vitamin C: 65% of the DV
Potassium: 27% of the DV
So, whenever, you get the chance, you should switch the regular potato for the sweet potato. As you probably know from my previous recipes – for example, the muffins or the loaded sweet potatoes – I always try to keep things as healthy as possible, and this is the case with these sweet potato cakes as well!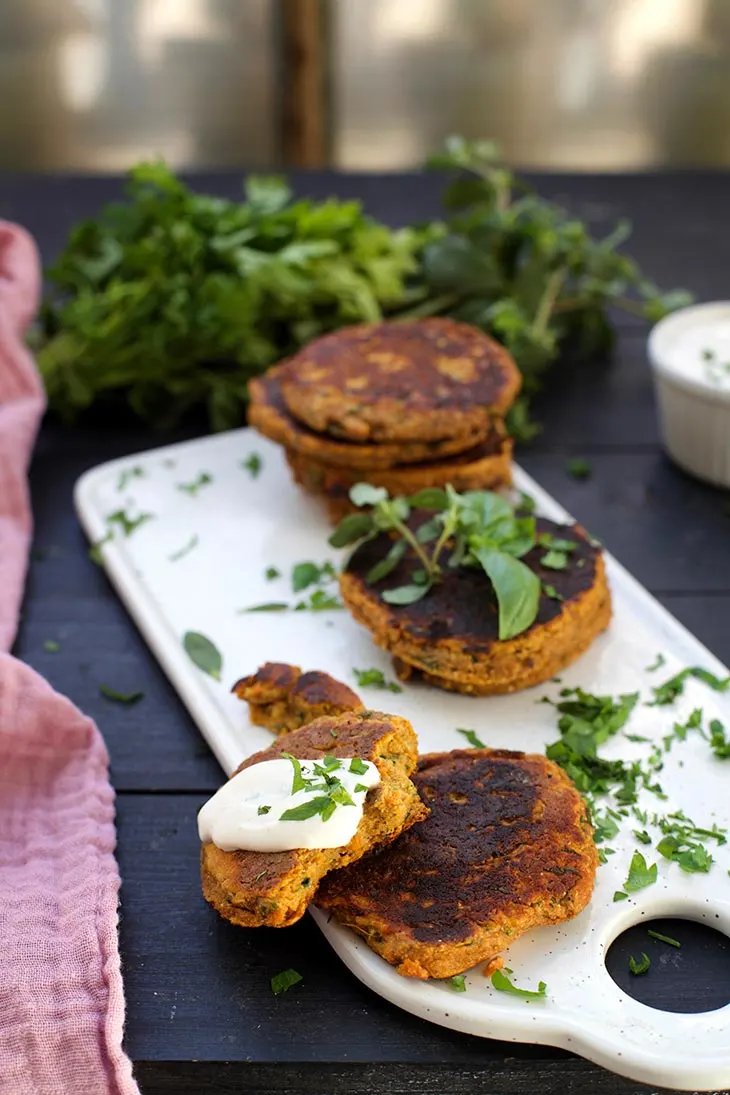 What I really like about this recipe is how easy it is to be put together. You just have to cook the potatoes – either bake them or boil them, and then mash them together with the spices. Then you should put them in the pan and voila – your meal is ready!
The fact that these sweet potato cakes are so easy to prepare makes them the perfect choice for a weekday dinner, or a lazy Sunday lunch.
You probably also have all the ingredients in your kitchen already, so you don't need to worry about anything! 🙂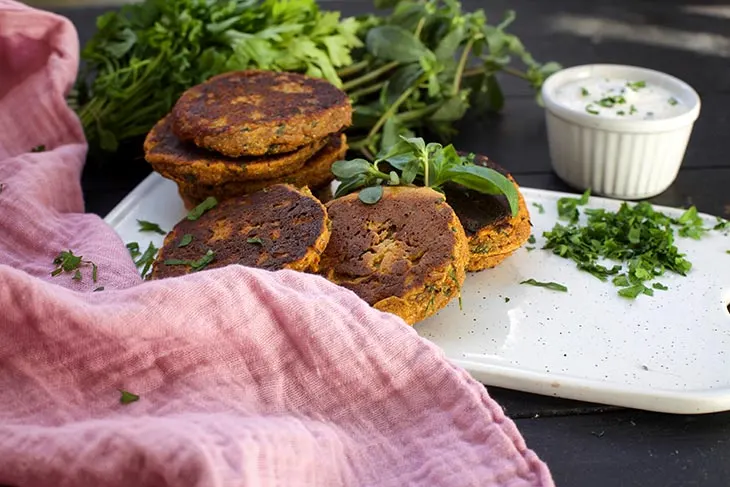 I promise that this recipe will be a hit, so don't hesitate and share it with your friends and everyone will end up wanting the recipe for themselves! Just like I always say – if you decide to try this recipe, don't forget to let me know if you liked it or not, I'm so curious!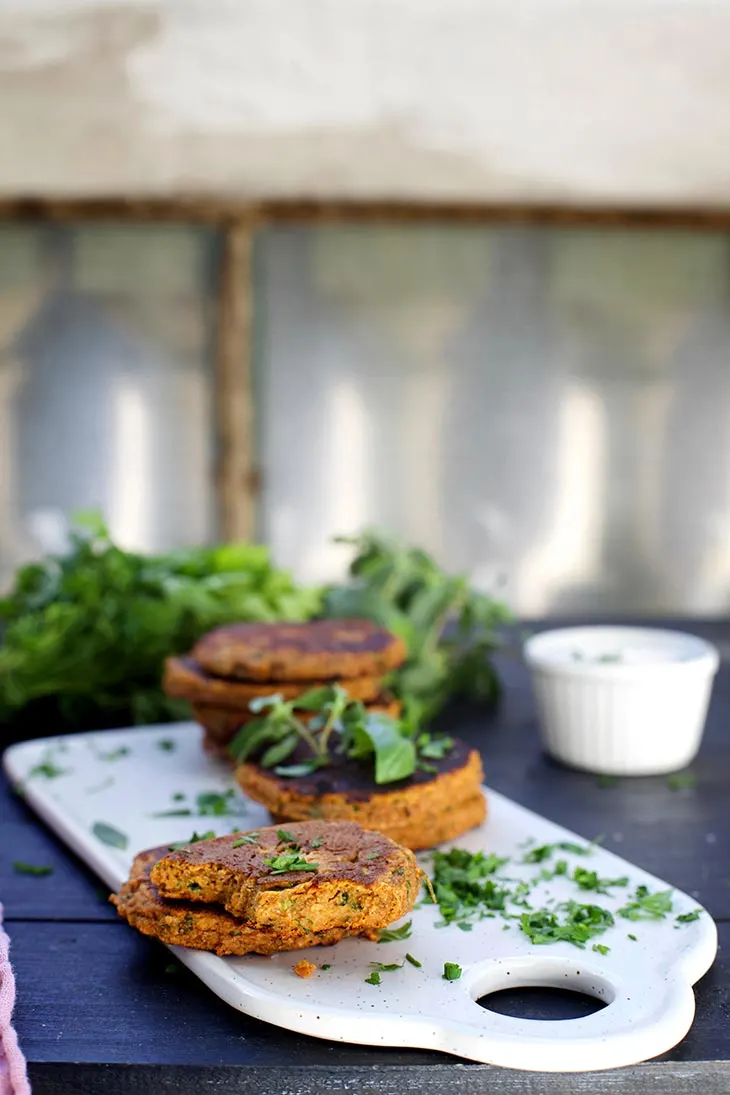 Yield: 8
Sweet Potato Cakes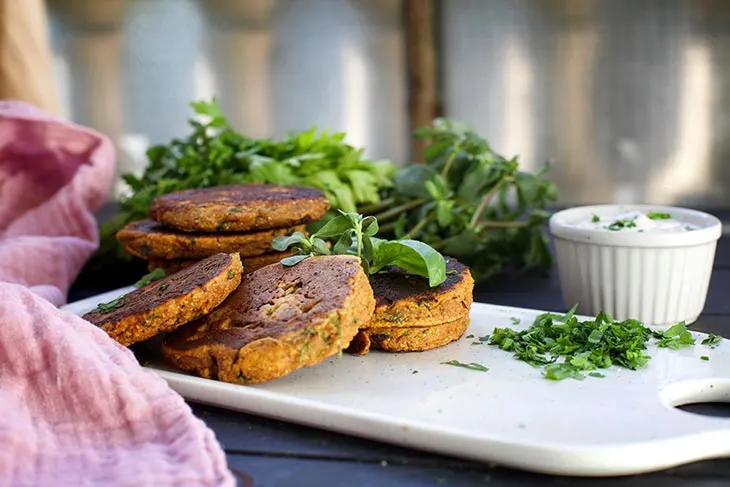 Who doesn't love sweet potatoes? If you're not a fan, then I'm sure this recipe for vegan sweet potato cakes will help you change your mind. Give it a try!
Ingredients
For the potatoes:
2 large sweet potatoes
50g (½ cup) chickpea flour
1 Tbsp soy sauce or tamari
1 flax egg
2 Tbsp all-purpose flour - use GF if needed
½ tsp baking powder
1 Tbsp parsley, chopped
1 Tbsp dill, chopped
1 Tbsp basil, chopped
½ tsp smoked paprika
½ tsp garlic powder
½ tsp cumin
1 Tbsp nutritional yeast
salt and pepper to taste
For the sauce:
250g (1 cup) vegan yogurt
1 tsp smoked paprika
1 tsp onion powder
2 tsp finely chopped greens
a pinch of salt
Instructions
For the sauce:
Add all the sauce ingredients into a small bowl and whisk until just combined. Set in the fridge until serve.
For the cakes:
Preheat the oven to 200 C.
Wash and dry the sweet potatoes.
Place the sweet potatoes into an oven-friendly dish, cover with aluminum foil and bake until soft, for about 40 minutes. Let cool.
Peel the sweet potatoes, place them into a food processor and add all rest of the ingredients.
If you want a thicker consistency, you can add a little bit more flour.
Heat a skillet on low-medium heat and add coconut oil.
Cook the cakes using about 1 ice-cream scoop of the batter and a mason jar for the shape.
Cook on both sides until golden brown.
Serve with the yogurt sauce. Enjoy!
Nutrition Information
Yield
8
Amount Per Serving
Calories

224
Total Fat

2g
Carbohydrates

44g
Fiber

4g
Sugar

29g