Here's a crazy idea: what if I told you that you can make crunchy, textured vegan bacon at home? That's right! Using this recipe for vegan rice paper bacon you will create the healthiest alternative for real bacon! >>>
Who doesn't love bacon? This tasty but not as healthy snack has been a staple of American breakfast culture for generations. And its popularity isn't surprising. Many people will tell you how much a strip of bacon makes their day better. And it should! Bacon is generally considered a good addition to a big egg breakfast, to a potato salad, or to a beef burger.
Traditionally, bacon is served almost burnt to a crisp, along with sunny side up eggs. It goes well with almost anything, some might say. And yet, you should probably watch your weekly bacon intake – as mentioned before, it's not exactly the healthiest of snacks!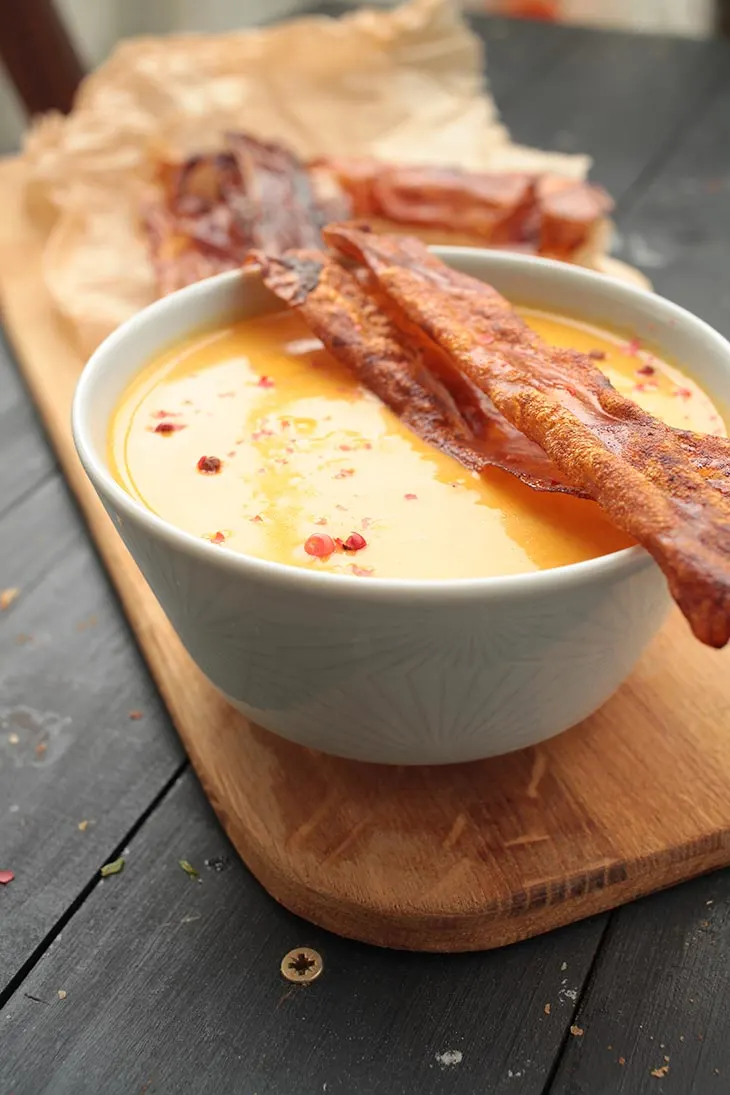 Luckily, these days you don't have a hard time finding healthy vegan alternatives for basically any meat-based fatty food. If you want to eat cruelty-free, you will definitely be obliged.
These alternatives are usually made from low-fat, 100% organic ingredients, and prepared in such a way that might actually convince you that you're eating the real thing. Sometimes they don't even need to be cooked at all – the versatility of vegan dishes can be astounding.
Given its worldwide popularity, it wouldn't have made sense for bacon to be an exception to this rule, so naturally, there are a number of delicious vegan recipes you can try making to add to your delicious breakfast. So if you at all miss the taste of bacon after having gone vegan, I've got you covered!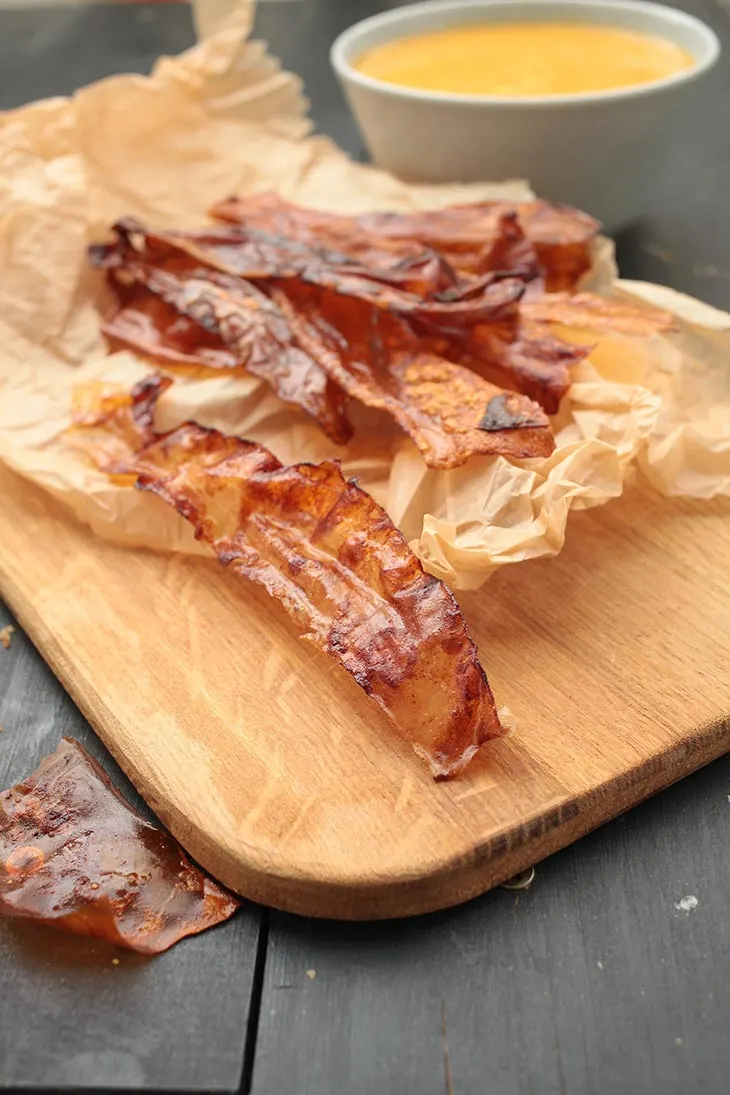 This time we are going to be talking about vegan bacon made of rice paper. What is rice paper, you ask? It is a thin sheet of paper-like substance made from a wide range of plants in East Asia. The edible variant of rice paper is made out of rice straw or rice flour. Being mostly tasteless, it is a very inspired base for any vegan dish! 🙂
Rice paper gets used extensively in cooking, especially in things like wraps, spring rolls, and sushi rolls. Rice paper is going to give you the crunchiness you look for in bacon. It doesn't have any taste, so you'll have to do a bit of work yourself. However, the cooking process is quite simple and takes very little time. Rice paper is thin and crunchy, conveying a very bacon-like texture that you'll find very familiar from the get-go.
The bacon taste is obtained by taking the rice paper and marinating it in a mix of olive oil, nutritional yeast, soy sauce, liquid smoke, agave syrup and more! The resulting taste might surprise you. It is much closer to real bacon than one might think. Not to mention that it even looks the part!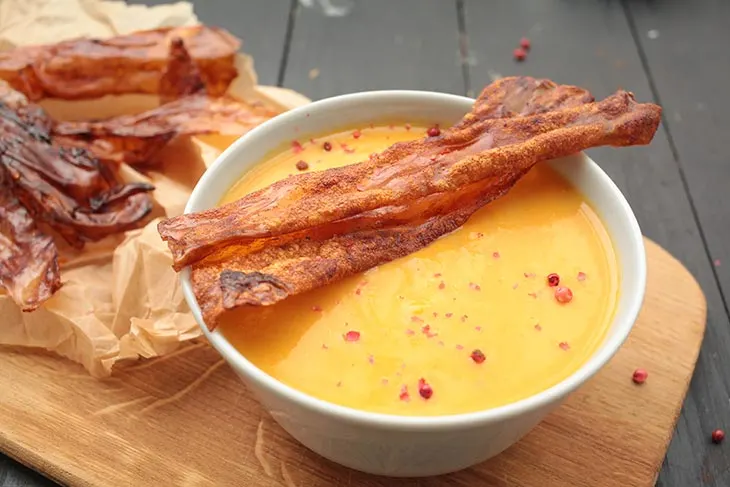 Rice paper bacon will achieve the all too familiar reddish-brown color after being fried thoroughly. You don't necessarily need to fry this bacon, either. You can bake it in the oven, or even microwave it. It's insane how versatile it is, and it gets you the same result no matter how you decide to prepare it!
You can even give rice paper bacon to your kids! Usually, bacon isn't recommended for young children, for obvious health reasons. This vegan version, however, is perfectly suited for the little ones' breakfast! You can use it to garnish their scrambled eggs, or you can add it to their lunchbox in a sandwich.
In what regards serving choices for yourself, you can really play around with rice paper bacon. You can add it to your vegan burger, on top of creamy soup or to your vegan breakfast. You can serve it as a healthy snack while you're in the office, or at home. You can even use it in a salad! There are countless possibilities with this one. Here's a fun tip – serve some to your meat-loving friends and see if they can taste the difference.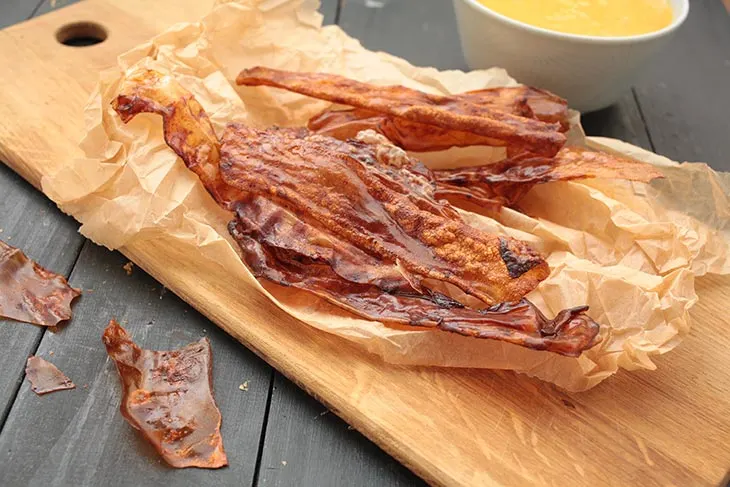 Due to the texture that rice paper gives, this vegan bacon recipe is one of the truest to the source material you will find out there. I hope you'll enjoy this recipe and continue to look for cruelty-free alternatives to your favorite foods!
Yield: 6 +
Vegan Rice Paper Bacon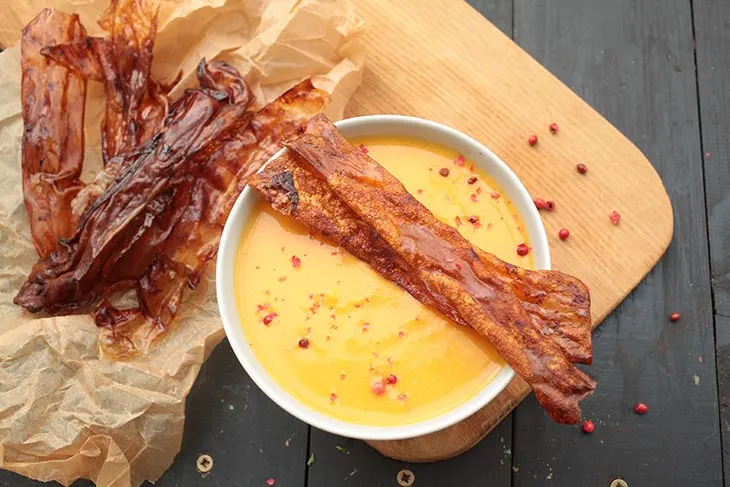 Here's a crazy idea: what if I told you that you can make crunchy, textured vegan bacon at home? That's right! Using this recipe for vegan rice paper bacon you will create the healthiest alternative for real bacon! >>>
Ingredients
4 rice paper sheets
1 Tbsp warm water
1 Tbsp olive oil
2 tsp nutritional yeast
1 Tbsp soy sauce or tamari
½ tsp onion powder
½ tsp cumin powder
1 tsp tomato sauce
½ tsp liquid smoke
1 tsp agave syrup
⅓ tsp smoked paprika
Instructions
Preheat the oven to 160C.
Lay a baking paper on a baking tray and grease it with a little oil.
In a small bowl, mix all the ingredients except for the rice paper, until well incorporated.
In a deep large plate, pour hot water. Dip the rice paper sheet in the plate for 30 seconds.
When soft, remove it and lay it on a clean cutting board.
Using scissors, cut the rice paper into 6 equal strips. Lay down the strips on the prepared baking tray.
Brush every strip with the prepared sauce.
Bake for about 10 minutes, until crispy and golden. Enjoy!
Nutrition Information
Yield
6
Amount Per Serving
Calories

117
Total Fat

3.2g
Carbohydrates

18.8g
Protein

3.2g