The German potato salad is probably the most comforting and simple potato salad recipe ever! Learn how to make it by following the simple recipe below.
German cuisine is all about delicious, comforting dishes that can keep us full for a long time but with not much effort. The same principle applies to the German potato salad, a traditional dish known as "Kartoffelsalat" in this amazing country. Kartoffelsalat is a very simple, yet super tasty German salad that can be served either cold or warm.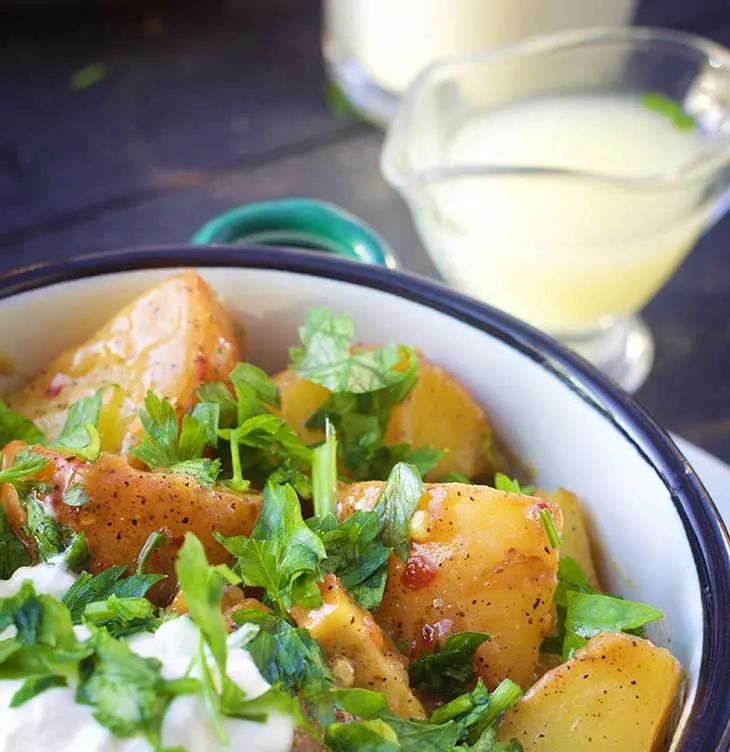 This authentic potato salad is usually served as an appetizer during German meals and it is loved by everyone, regardless if they're German or not. The "star" of this salad is, of course, the potato. Traditionally, the German potato salad requires red potatoes or small golden potatoes, which aren't usually peeled in order to achieve a better texture.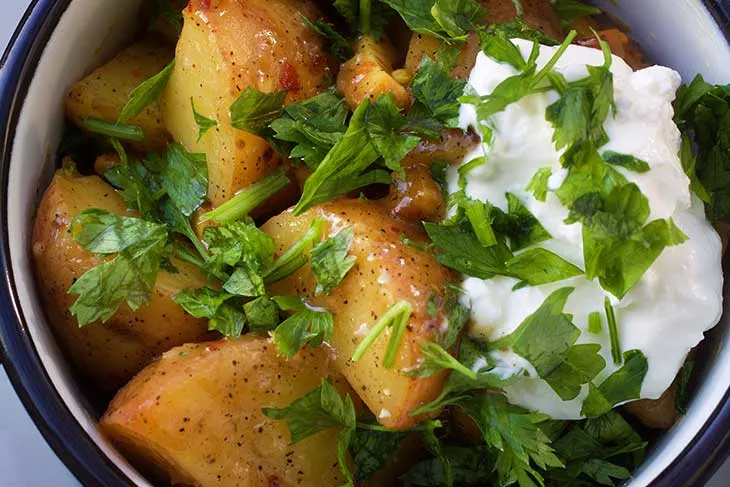 Let's find out how we can make the best authentic German potato salad! Before we start, you need to know that there are two very different ways to make it, depending on the region.
In Northern Germany, the potato salad is made with potatoes and mayonnaise. It's a bit heavier than your usual salad, but super delicious and filling nonetheless.
In Southern Germany, you will find a traditional potato salad made with potatoes, pieces of bacon, vinegar and the most important ingredient: Dijon mustard! This type of salad is full of delicious flavors and it's very tasty served cold, as well as warm. It really depends on which way you prefer, as it is no general rule for this.
Nowadays, the Southern way of making this salad is considered to be the authentic German potato salad.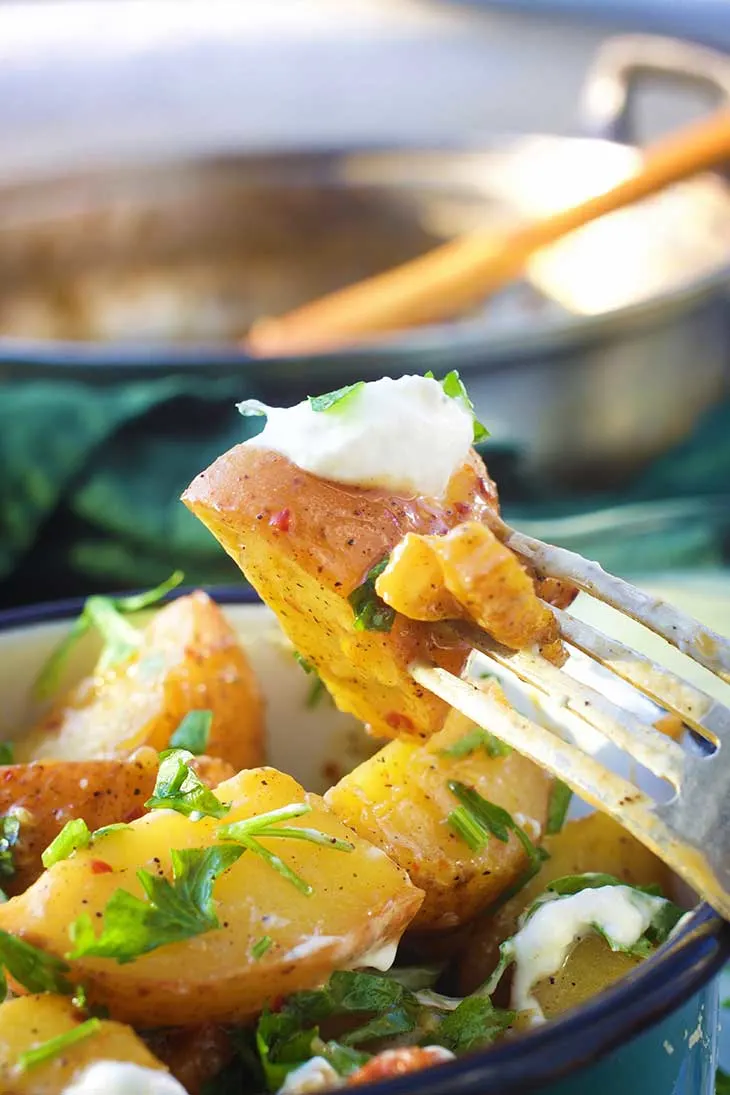 And because the German potato salad is such an amazingly popular dish, it was naturally "borrowed" by other countries as well. For example, the Northern version of this salad (the one with mayonnaise) has been very common in America ever since the 19th century! Over time it was considered to be an American recipe and it is loved by everyone around the country.
One of the best things about this recipe is that it's incredibly easy to make, which makes it a great idea for a weeknight dinner or a quick lunch when you are in a rush! You can even add it to your weekend meal prep – this way you will have a big batch of salad to consume over the following days, either as a side dish or as a main dish, if you desire.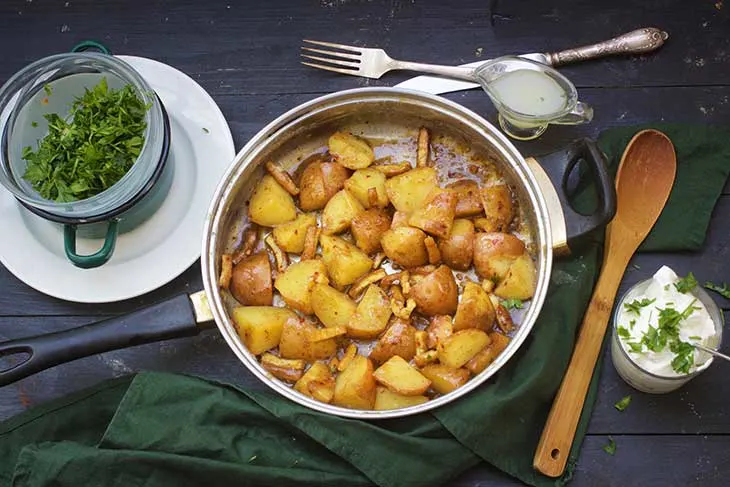 For this recipe, I chose to create a vegan version of the Southern German potato salad. For this, I used a combination of smoked tofu and spices in order to replace the bacon bits, to which I added the classic red potatoes, mustard, vinegar and some other essential ingredients that you can find in the recipe below. The results? A filling, extra tasty salad that can be served during a celebration, picnic or during a regular day when you just need a comforting meal.
You can serve it warm during the cold winter days and cold during the hot summer days! How convenient, right? Happy cooking!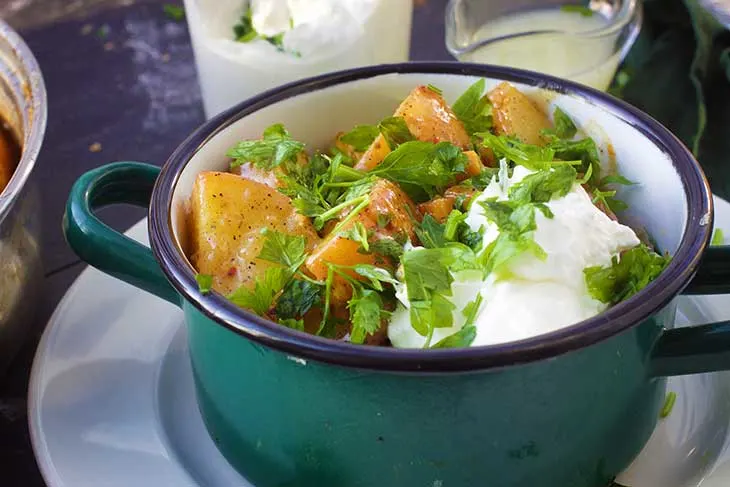 Yield: 5
Vegan German Potato Salad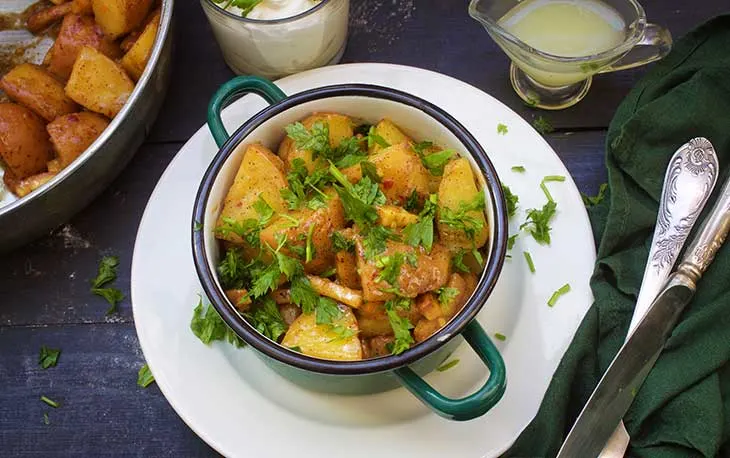 The German potato salad is probably the most comforting and simple potato salad recipe ever! Learn how to make it by following the simple recipe below.
Ingredients
For the vegan bacon:
250g (1 cup) firm tofu, smoked, sliced
1 tsp ground cumin
1 tsp smoked paprika
1 tsp garlic powder
2 Tbsp olive oil
For the salad:
10 medium red potatoes, washed
1 Tbsp Dijon mustard
2 Tbsp apple cider vinegar
2 Tbsp brown sugar
2 large garlic cloves, crushed
1 tsp salt
1 tsp freshly ground black pepper
1 tsp red pepper flakes
30g (1 cup) fresh parsley, chopped, for serving
240g (1 cup) vegan creme fraiche
Instructions
Place the washed potatoes into a large pot, cover with water and bring to a boil.
Reduce the heat and cook until tender for about 20 minutes. Drain the water and let cool. Cut into large pieces and set aside.
Meanwhile, make the "bacon". Heat a skillet on medium. Add the olive oil. Add the sliced tofu, paprika, garlic powder and cumin.
Fry, stirring occasionally, until all the tofu pieces are crispy.
Take the "bacon" tofu out and set aside.
In the same skillet on medium heat, slowly add the apple cider vinegar and mustard. Stir to combine and add the garlic.
Simmer for about 2 minutes, add the sugar, salt, pepper and red pepper flakes.
Add the cooked potatoes to the skillet and stir to combine.
Cover the skillet and let sit for about 5 minutes to let the flavors combine.
Serve with fresh chopped parsley and vegan creme fraiche.
Nutrition Information
Yield
5
Amount Per Serving
Calories

565
Total Fat

28.4g
Carbohydrates

55.8g
Protein

21.5g