Change language / Schimba limba:

Română
Manakish Zaatar or spiced pita bread is a popular Middle Eastern recipe very similar to pizza. It's bursting with flavors and can be served as a snack or for breakfast, lunch and even dinner.
No one can deny the fact that Arabic food is full of flavor and has a distinct taste which makes it so special! Personally, I think that the Middle Eastern cuisine is the best in the world and this month has been an incredible culinary journey for me. 🙂
While doing some research online and finding out which are the most popular Middle Eastern recipes, I discovered Manakish Zaatar – a flavorful and delicious spiced pita bread recipe which is more or less similar to the pizzas that we all enjoy.
Manakish Zaatar is highly popular with the majority of the Arabic nations, including Jordan, Palestine, Lebanon, Syria and everywhere Arabic people have settled. As per the historical records are concerned, it was introduced by the Palestinians during their pilgrimage to Mecca.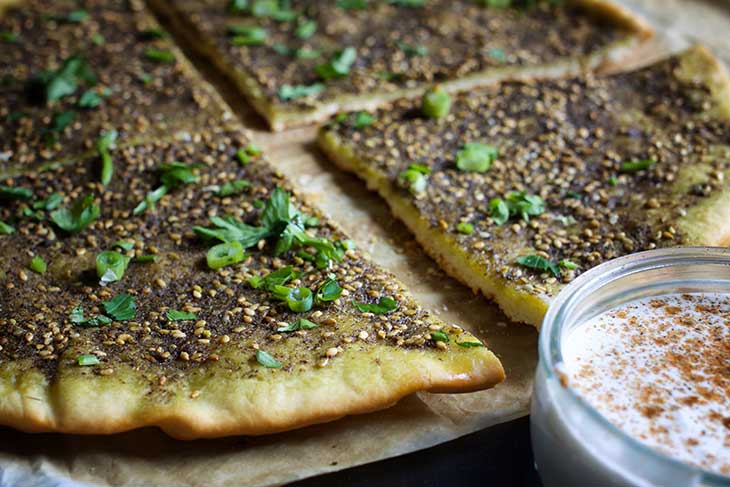 Manakish Zaatar is basically a flatbread with spice toppings that can be eaten for breakfast, lunch, and dinner. In fact, you can also enjoy it as an appetizer and snack. This type of manakish I made today uses zaatar, a unique spice blend I personally love! Zaatar is a popular Middle Eastern spice mix, a combination of dried oregano, thyme, sesame seeds, sumac and salt.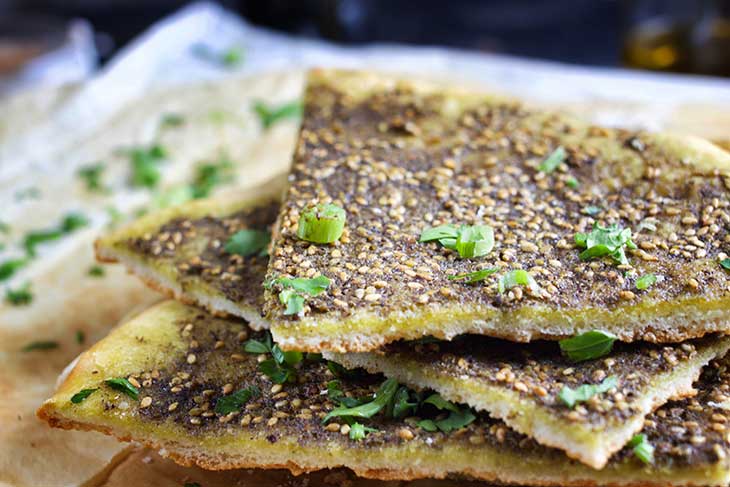 This versatile meal is also very easy to make. The basic pita dough is prepared and then topped with a balanced mix of spices and herbs like thyme, toasted sesame seeds, oregano and sumac. In some cases, cheese and ground meat is also added. Just like pizza, you can fold or slice it and enjoy it at any time. Manakish Zaatar is served as a snack with feta cheese and mint tea.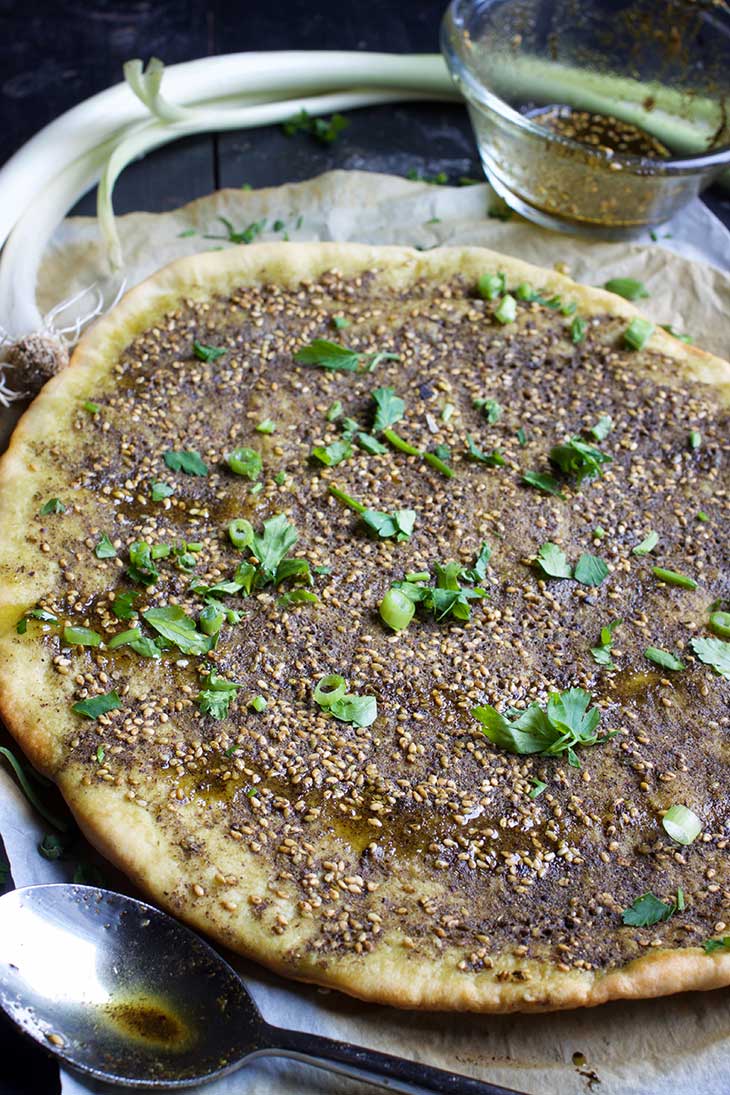 I made this manakish with regular wheat flour, but if you're gluten intolerant you can easily replace it with a GF flour mix. I recommend the Schar flour mix, either Mix B or MixIt which I've previously tested numerous times and even made gluten-free flatbreads with them.
Hope you'll enjoy this flavorful spiced pita bread recipe! Don't forget to drop me a comment and tell me how it was! 🙂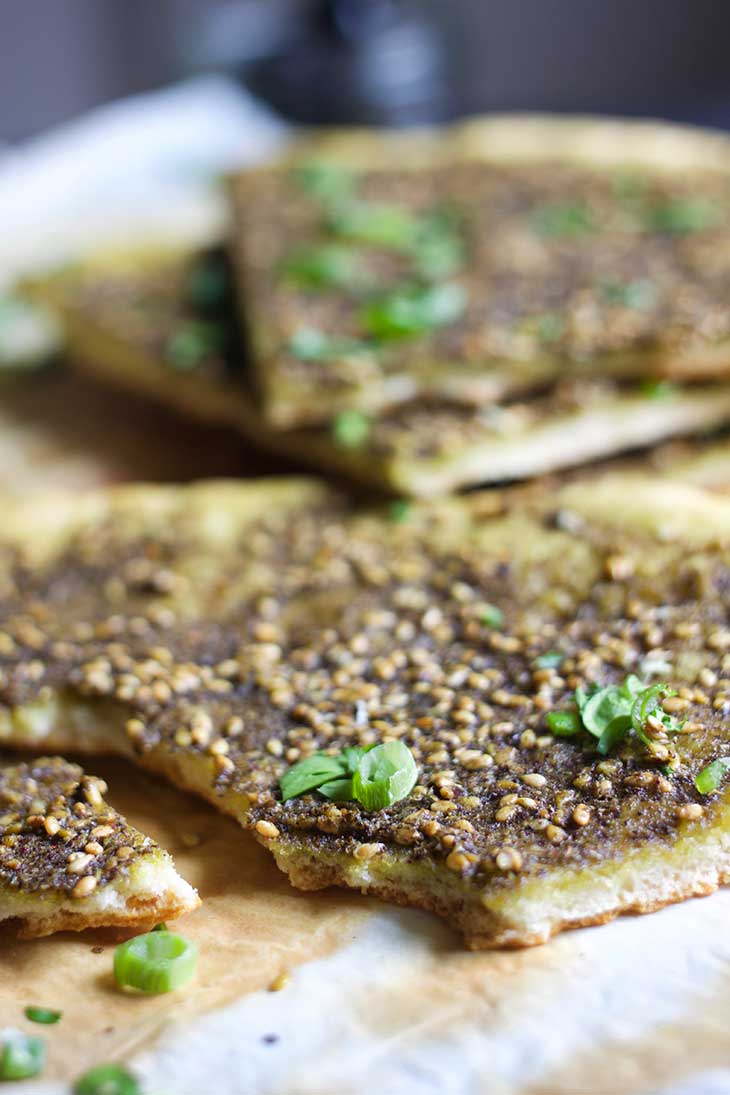 Yield: 6-8
Manakish Zaatar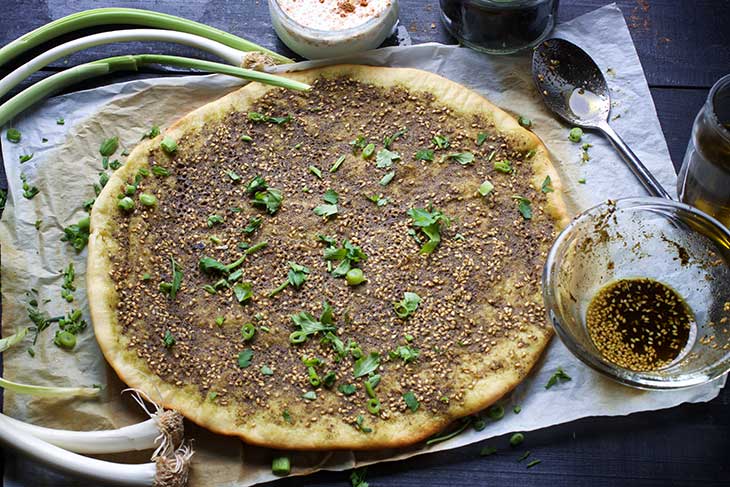 Manakish Zaatar or spiced pita bread is a popular Middle Eastern recipe very similar to pizza. It's bursting with flavors and can be served as a snack or for breakfast, lunch and even dinner.
Ingredients
Zaatar mix:
30g (¼ cup) sumac, ground
3 Tbsp dried thyme
3 Tbsp dried oregano
4 Tbsp toasted sesame seeds
1 tsp sea salt
120ml (½ cup) extra-virgin olive oil
For the pita bread:
240ml (1 cup) lukewarm water
1 tsp sugar
~2 ½ teaspoons active dry yeast
350g (3 cups) all-purpose flour, plus more for dusting (or use Schar gluten-free flour if gluten intolerant)
1 tsp sea salt
2 Tbsp extra-virgin olive oil, plus more for greasing
Instructions
In a medium bowl, mix all the zaatar ingredients and set aside.
Combine the water, sugar, and yeast and set aside. It will start to foam.
Combine the flour and salt in a large bowl. Add the olive oil and mix with your hands. Add the water and yeast once it started to foam and mix into a soft dough.
Place the dough onto a floured surface and knead for 10 minutes.
Grease a bowl and place the dough in the bowl. Cover the bowl with plastic wrap and let the dough rise in a warm place, for 1 hour. It will double its size.
Once the dough is ready, place it on a floured surface again. Knead it for 2-3 more minutes.
Divide the dough into 6-8 balls.
Roll each dough ball into a circle.
Preheat the oven to 200C/400F.
Spread 1-2 tablespoons of zaatar over each flattened dough circle but leave some space for the margins.
Repeat the process and place each spiced pita on an oven tray covered with parchment paper.
Cook until the edges start to brown - for about 10 minutes.
Serve with vegan yogurt and chopped parsley on top. Sliced green olives are also a good topping idea!
Nutrition Information
Yield
8
Amount Per Serving
Calories

340
Total Fat

22g
Carbohydrates

29.6g
Protein

5.5g