When I think of autumn, I automatically associate it with yellow leaves, cinnamon, and, of course, pumpkin. If you're the same as me, then you'll definitely love these vegan pumpkin cookies!
There are a few things that say autumn like nothing else. Yellow leaves on the ground, hot tea, and rainy afternoons. But the flavor that really sets the mood for autumn is definitely pumpkin.
Pumpkin spice lattes, pumpkin pies, and pumpkin everything. It's simply a wonderful spice to add to the cooler days. It's cozy and comforting. It's everything you've been wishing for! That's why today I decided to embrace autumn with a wonderful recipe for vegan pumpkin cookies with chocolate chips!
It's all you could wish for a cozy autumn afternoon. Just imagine yourself tucked nicely in your warm blanket, sipping from a cup of hot chocolate and munching on some amazing pumpkin cookies. That's what this season is all about!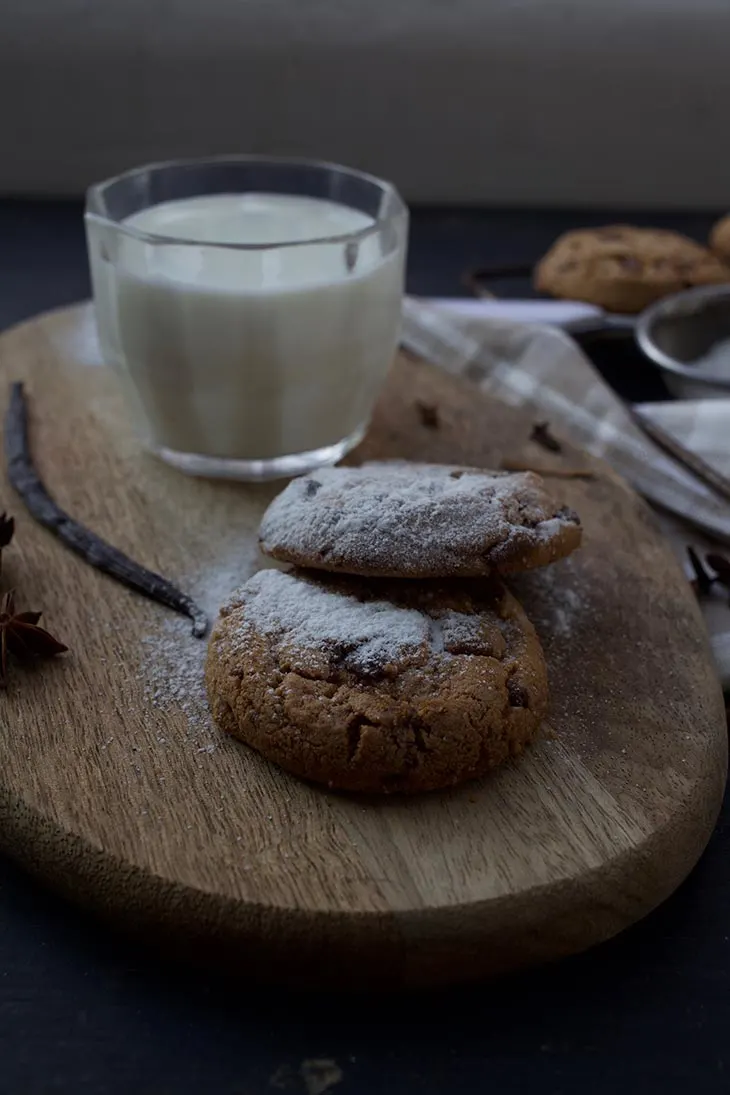 And these cookies will really make you feel that you are having the best autumn experience possible. Because they are the soft, melt-in-your-mouth kind of cookies. And they are perfectly spiced, with a delicious pumpkin flavor.
I've been trying every year to perfect this recipe, and this year I think I've finally made it. It's the most perfect balance, and I feel like I wouldn't change a thing! That's why I am finally ready to share this recipe with you! 🙂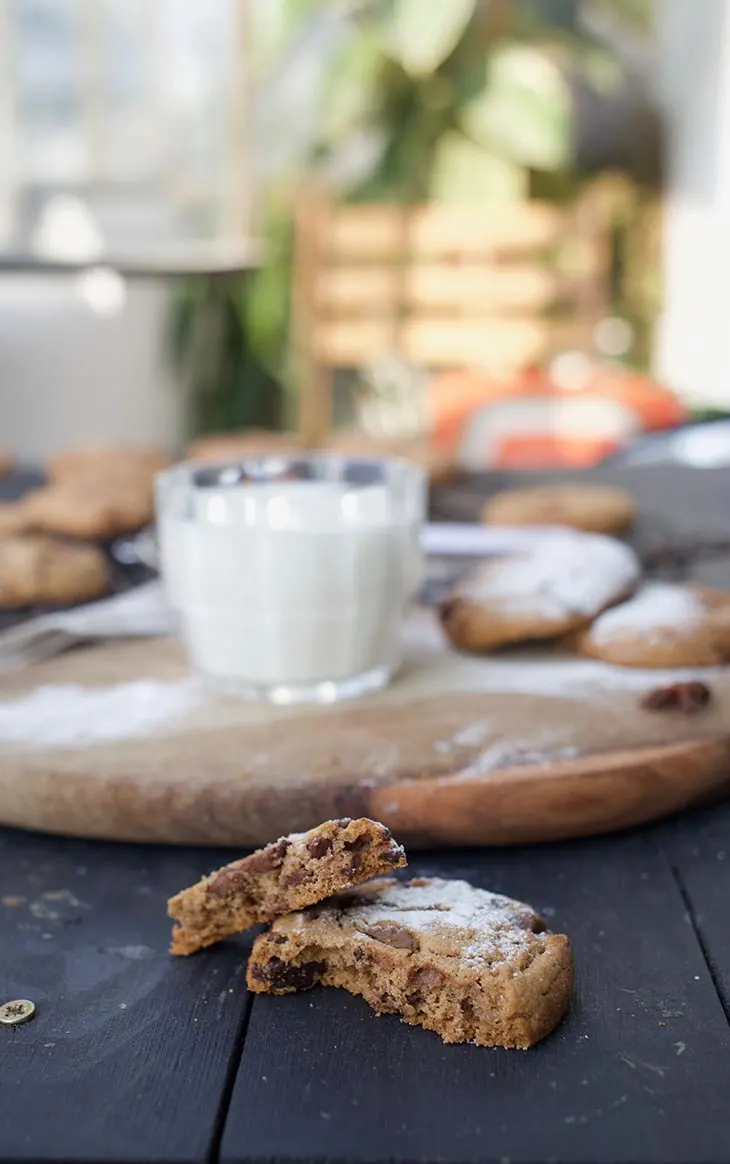 So many people feel that, when a recipe tastes incredibly good, like luxury bakery kind of good, it should be really complicated to make. But this is not the case at all with these cookies! 🙂
All the ingredients are easy to find and you won't be wandering around town for some really rare and expensive ingredients. One quick run to a close store and you're good to go. And the cookies are also really simple to prepare.
It's a one-pot kind of situation. Well, one bowl and one baking tray to be extremely specific. And that's it! Are you ready?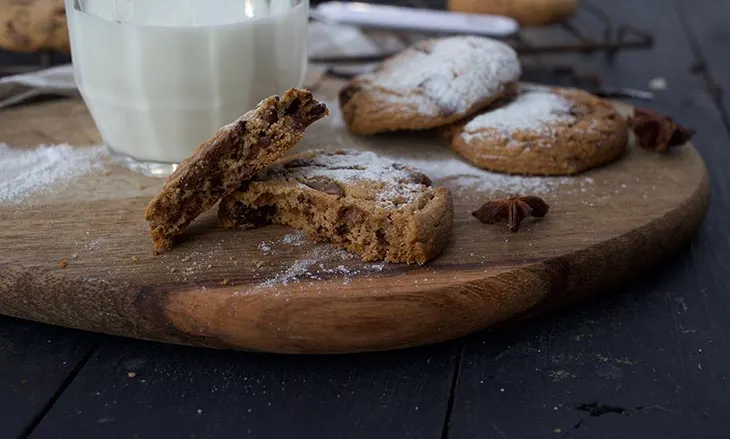 I am positive that you will find this recipe extremely satisfying. Not only because they are so easy to make, but also because of how good they are. I shared them with some of my friends and every single one of them was amazed. These are the kind of cookies that will be the star of the party. Or the picnic. Or the lunch break. Or wherever you decide to make an appearance with these cookies by your side!
Because they are so easy to transport that you can take them with you anywhere you want to. That's probably why they won't last too long! And if you manage not to eat them all in one stay, don't worry!
They store really well in the fridge for up to four days – loosely covered with some plastic wrap. You can also store them outside the fridge if you're afraid that they may lose some of the flavors in the fridge, but they will last a little bit less. But anyway, I bet you they won't resist being eaten that long! Because these are the kind of cookies you just can't resist!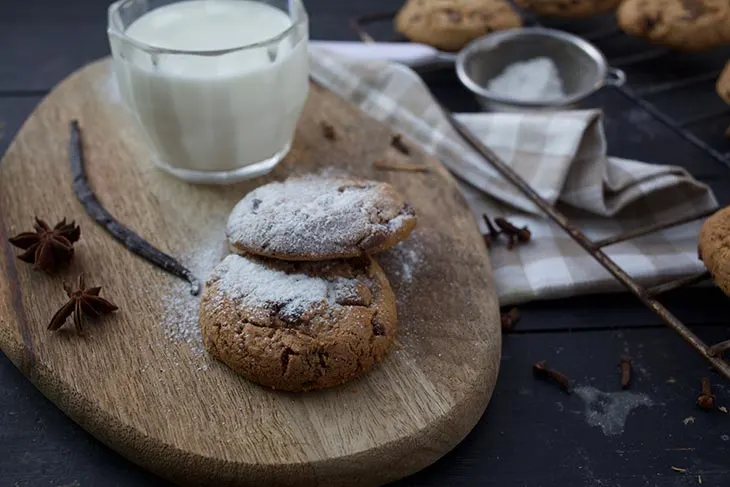 Okay, but are they actually that easy to prepare? The answer is yes, 10 times yes! You just combine all the ingredients in one bowl (see the recipe below for the detailed steps).
Don't forget to preheat the oven and prepare a baking sheet. Then use one tablespoon to arrange the dough onto the baking sheet in the form of small cookies. Flatten them a bit, because they won't spread much in the oven.
I always get impatient when I have to wait for my food to get cooked in the oven, but this is not the case with these cookies! Because they will only spend around 15-20 minutes into the oven! And this is all! As I've told you, it's a really simple and fast recipe!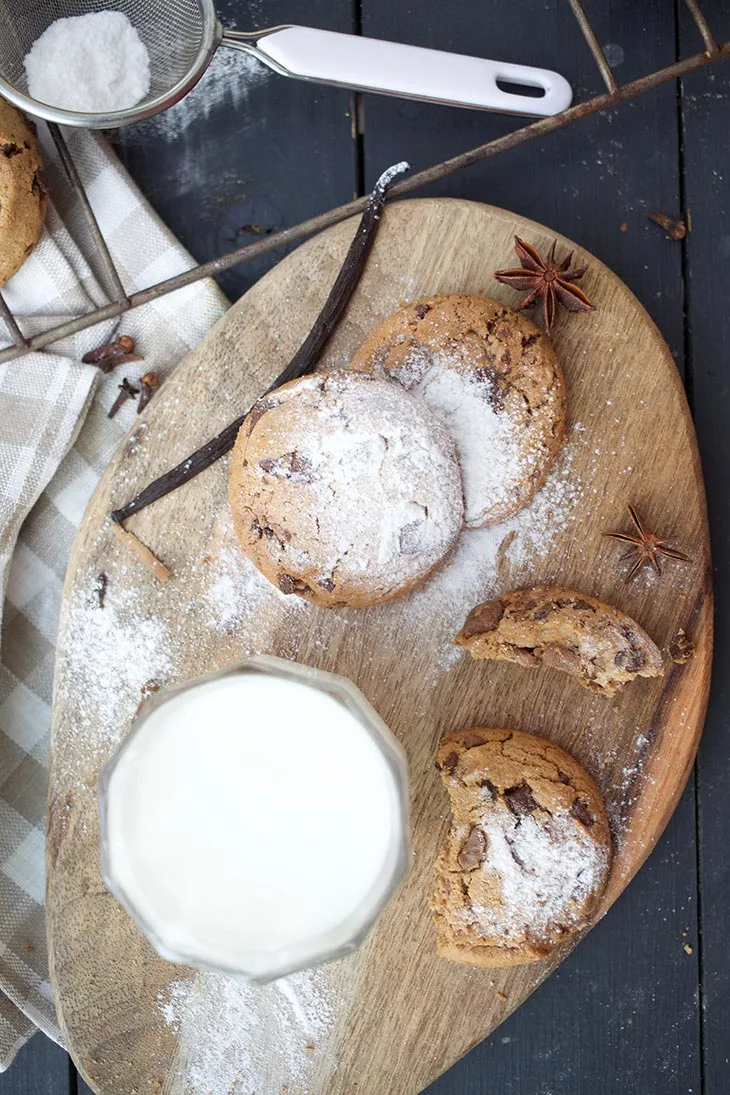 That being said, you may want to start already. So follow the instructions below and your vegan pumpkin cookies will be perfect. Share them with your friends or binge eat them while watching TV, it's completely up to you! Just let me know if you enjoyed this recipe, I am always curious about the feedback of my recipes! Now let's start baking!
Yield: 16
Vegan Pumpkin Cookies with Chocolate Chips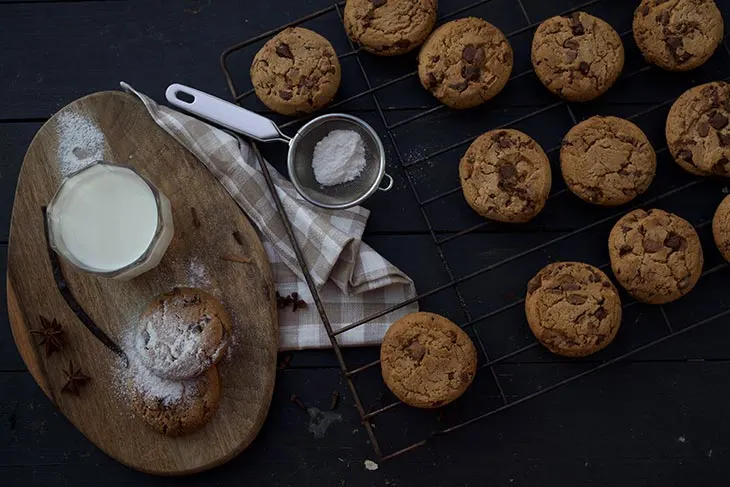 When I think of autumn, I automatically associate it with yellow leaves, cinnamon, and, of course, pumpkin. If you're the same as me, then you'll definitely love these vegan pumpkin cookies!
Ingredients
120ml (½ cup) coconut oil, soft
140g (¾ cups) coconut sugar
2 Tbsp molasses
2 Tbps almond milk
70g (⅓ cup) pumpkin puree
240g (2 cups) flour
1 tsp baking soda
½ tsp salt
2 tsp pumpkin pie spice
170g (1 cup) dark chocolate chips
Instructions
Preheat the oven to 200 C.
Line a large baking tray with parchment paper, set aside.
In a large bowl, whisk the coconut oil, sugar and vanilla until smooth.
Stir in the molasses, coconut milk and pumpkin puree until incorporated.
In a medium bowl combine the flour, baking soda, salt, and pumpkin pie spice.
Add the dry ingredients into the wet mixture and mix well to combine until a thick batter forms.
Stir in the chocolate chips.
Scoop about one tablespoon of batter for each cookie on the prepared baking tray.
Bake until set and golden.
Nutrition Information
Yield
16
Amount Per Serving
Calories

216
Total Fat

11g
Carbohydrates

30g
Fiber

1g
Sugar

16g