Halloween is just around the corner and what better way to celebrate it than a delicious vegan Halloween Pumpkin Pie? Easy, quick and delicious!
Looking for the best Halloween pumpkin pie to make your celebration ever spookier and more delicious? You have come to the right place!
Halloween is approaching fast and if you want to celebrate it the right way, a pumpkin pie might just be the perfect, easiest dessert to put on the table for your family and friends! Halloween is a special celebration and pumpkin is definitely the "star" of the season. There are countless delicious recipes with pumpkin out there, but what can be better than a healthy, easy to make Jack-o'-Lantern pie that will enchant both kids and adults alike?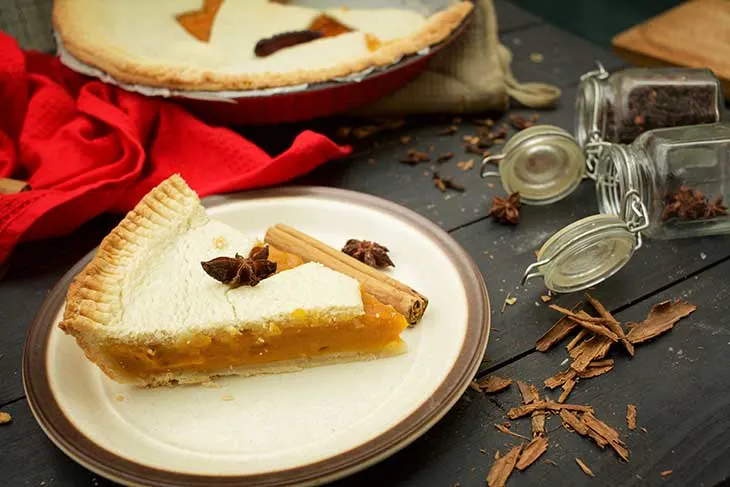 One of the best things about this pie is that you can make it with fresh pumpkin. If you want, you can also buy some canned pumpkin puree, but I assure you that nothing can compete with a freshly baked pumpkin puree that's both healthy and full of authentic flavor.
The baking process isn't hard at all. All you need to do is take your squash, cut it in halves and scoop out the seeds and "strings". Then cut it in smaller pieces and bake them in the oven until the pulp is soft and delicious. Another way of doing it is to boil the pumpkin, but I would pick roasting it every day because it preserves that amazing, comforting flavor we all know so well.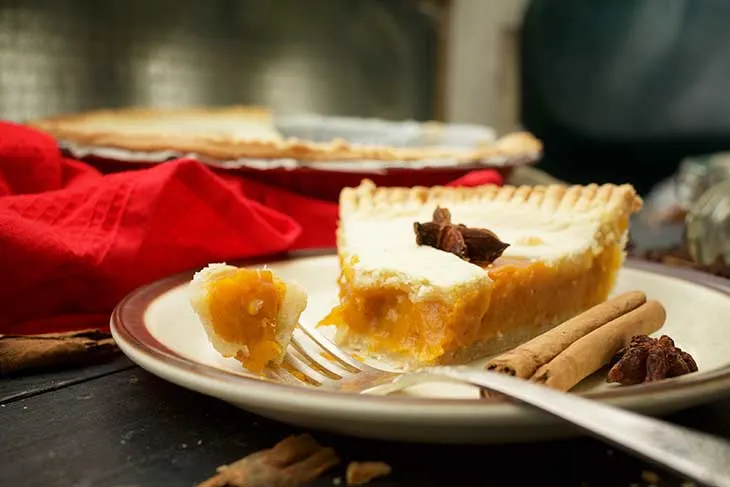 As the squash is very hard and it can be pretty difficult to cut it in halves, I can recommend that you bake the entire pumpkin in the oven at 180C for about 45 minutes, as this process will make it softer and easier to cut.
Regardless of which method you choose to use for this recipe, I guarantee that nothing says "fall" better than a freshly baked pumpkin pie, sprinkled with some sugar and served warm!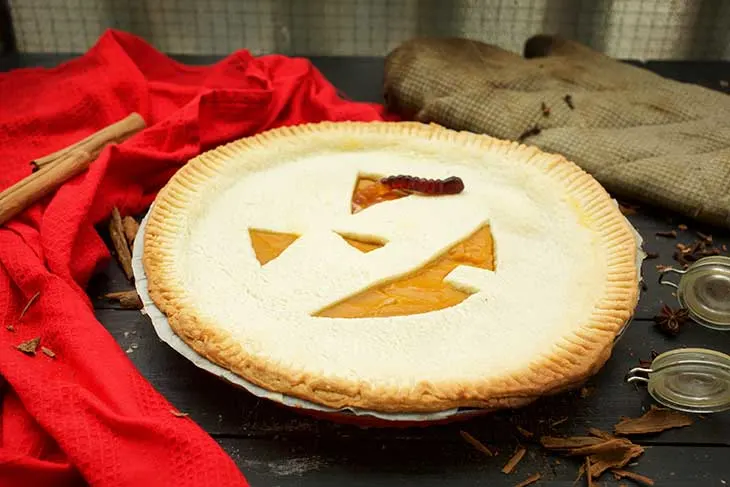 This vegan pumpkin pie can also be the perfect dessert for your Thanksgiving meal or the perfect treat for any other autumn day when all you want is something to make you feel better and to warm you up from the inside.
Besides being incredibly tasty, this pumpkin pie is also healthy as well. And do you know why? Because pumpkin is an incredible fruit (although some people consider it to be a vegetable), full of amazing nutritional benefits! Pumpkins are rich in beta-carotene, vitamins (such as vitamin A, E, C), minerals and they're also low in calories and help improve our immune system. Did you know that pumpkins are made of 94% water? It's incredible, right?!
Oh, and don't throw away those amazing pumpkin seeds when scooping out your Halloween squash. Just throw them in the oven with some salt on top and you will achieve the simplest snack, full of nutrients!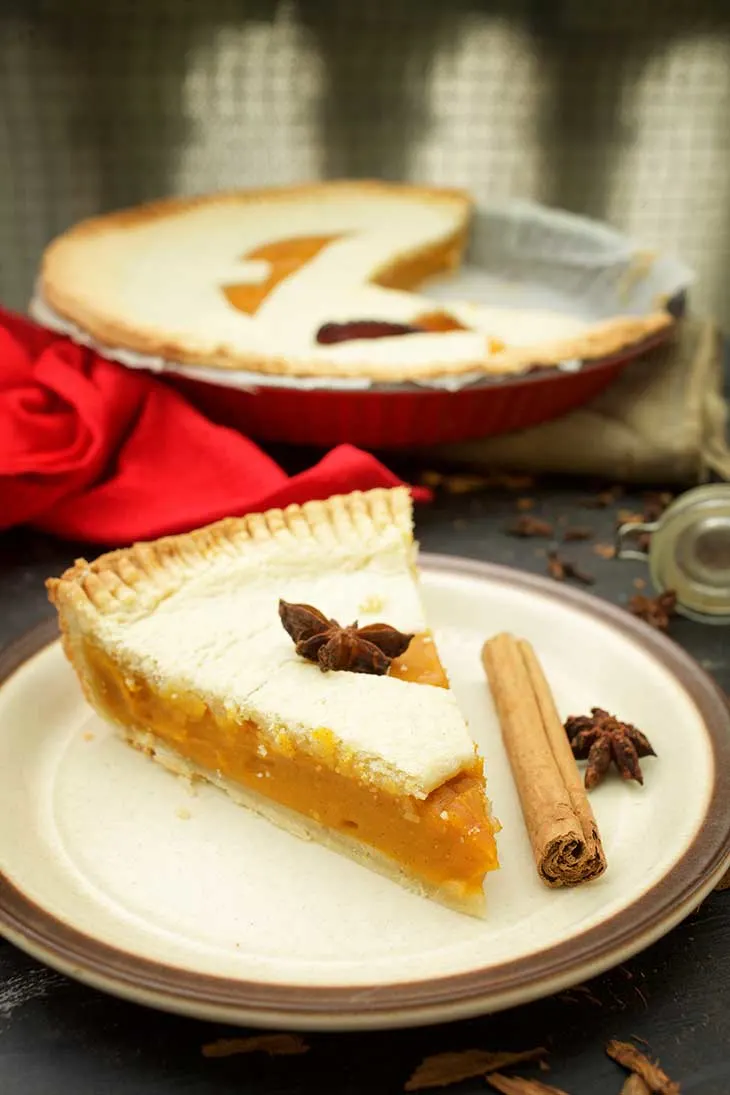 For this recipe for vegan Halloween pumpkin pie, I created a very easy crust that will be filled with a finger-licking-good filling made of pumpkin and autumn-inspired spices such as cloves, vanilla, anise, cinnamon and, of course, some ginger! This amazing pumpkin pie has "fall" written all over it, so hurry up and make it for your Halloween party! Happy Halloween!
Yield: 6+
Halloween Pumpkin Pie / Jack-o'-Lantern Pie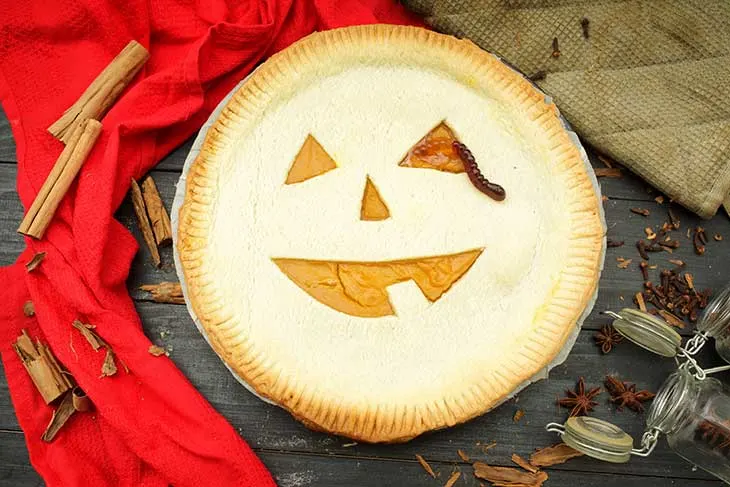 Halloween is just around the corner and what better way to celebrate it than a delicious vegan Halloween Pumpkin Pie?
Ingredients
For the crust:
240g (2 cups) all-purpose flour
2 tsp baking powder
1 tsp salt
1 Tbsp brown sugar
6 Tbsp almond milk
6 Tbsp soft vegan butter
4 Tbsp water
1 tsp lemon juice
For the pumpkin filling:
135g (⅔ cup) brown sugar
3 Tbsp tapioca flour
1 tsp ground cinnamon
½ tsp ground ginger
½ tsp ground anise
1/8 tsp ground cloves
450g (2 cups) pumpkin puree
120ml (½ cup) almond milk
1 tsp vanilla extract
Instructions
Making the crust:
In a medium bowl, combine the flour, baking powder, salt, and sugar.
In another small bowl, combine the almond milk, butter, water, and lemon juice.
Pour the milk mixture into the flour mixture. Stir until combined.
Roll out the dough on a lightly floured surface with a floured rolling pin into 2 same size circles.
Transfer one of the circles to the pie plate/pan.
Decorate another circle by cutting a pumpkin face shape with a sharp knife.
Making the filling:
In a mixer bowl add the sugar, tapioca flour, cinnamon, anise, ginger, and cloves.
Stir in the pumpkin, 1/2 cup almond milk, and the vanilla extract until combined.
Pour into the pie crust. Cover with the pumpkin face circle and crimp the edges.
Bake in preheated oven for about 45 minutes.
Let cool for about an hour and transfer to refrigerator.
Decorate with Halloween candy and serve.
Nutrition Information
Yield
6
Amount Per Serving
Calories

341
Total Fat

9.3g
Carbohydrates

59g
Protein

5.1g