These chickpea sandwiches are bursting with flavors! You'll also love the crispy chickpea patties and strong basil aroma. They're perfect for a quick lunch at school or work!
I am so happy to see that more and more gluten-free products appear each day in the stores here in Romania, too. Up until a couple of years ago, things weren't this good! It's really a blessing for those who are gluten intolerant or have gluten sensitivity and it's definitely NOT just a trend as most people say.
I had the opportunity to test these new products myself and I loved them. I made these awesome vegan fajitas last week with Schar's gluten-free wraps and today I decided to test their Ciabattine bread, which is perfect for making sandwiches.
Even though I have a gluten-free diet, I avoid processed foods as much as possible. So you won't see me eating bread, sweets or snacks too often. But, I must admit, I do crave a hot, steamy, gluten-free sandwich or bread every once in a while! And these vegan lunch recipes are so delicious!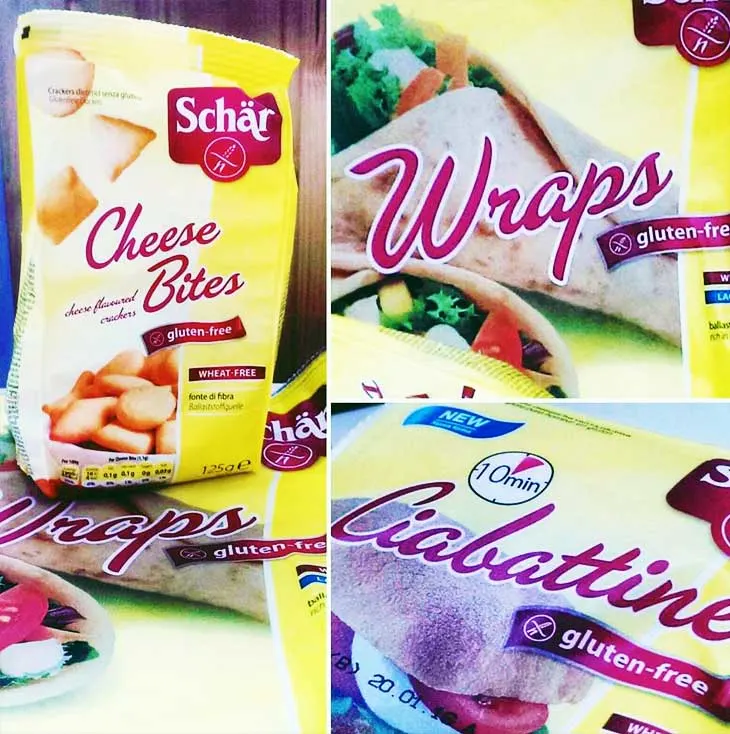 So, I decided to turn these gluten-free Ciabatta bread rolls into chickpea sandwiches. I made some really crispy and flavorful chickpea patties to go with these.
Of course, if gluten isn't your enemy, you can use any other kind of bread you want! No problem! These chickpea sandwiches will turn out to be just as good.
Because my basil plant wasn't feeling very well, I turned it into pesto! So mean of me… I know. 😀 It will grow back, though, so don't worry! I followed this vegan pesto recipe, but used cashews and also added some nutritional yeast. It was delicious! I spread it all over these Ciabatta bread rolls.
Hope you'll like this chickpea sandwich recipe! They're perfect for a work/school lunch, or just as a quick snack. You can also add some lettuce, spinach, or any other greens on these sandwiches or on the side for a fresh taste and extra nutrition.
Tip: Make the patties in larger batches. You can freeze them! 🙂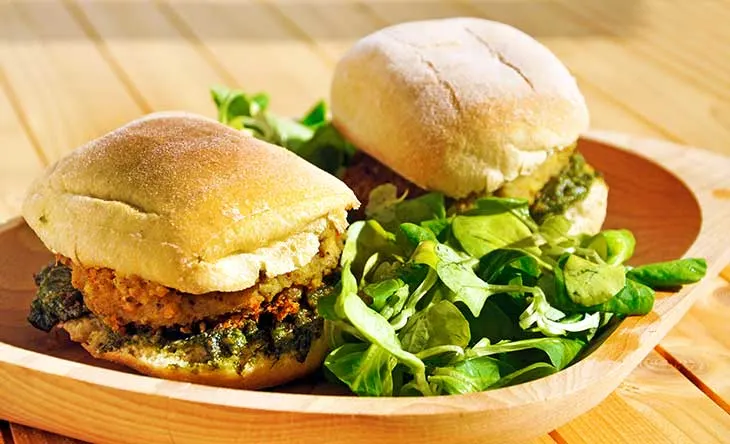 Yield: 2
Green Chickpea Sandwiches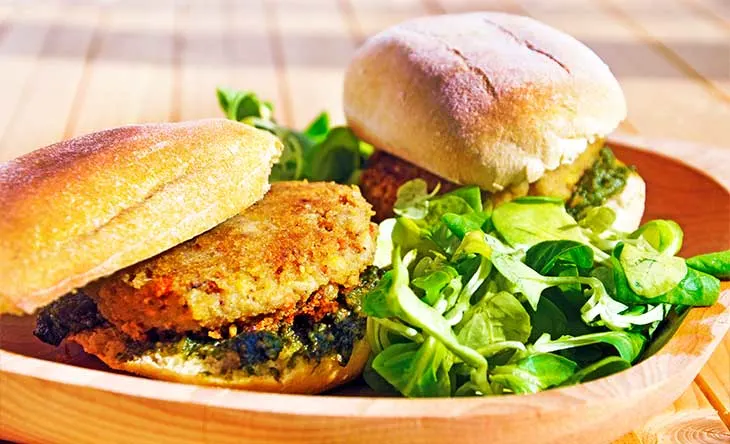 These chickpea sandwiches are bursting with flavors! You'll also love the crispy chickpea patties and strong basil aroma. They're perfect for lunch at school or work!
Ingredients
2 gluten-free ciabattine, cut in half - I used Schar Ciabattine; You can also use any other type of bread you want.
2 Tbsps homemade vegan pesto, or store-bought
1 pickle, sliced
some greens of choice - I used valerian leaves
Chickpea patties:
1 can (400g | 14 oz) chickpeas, drained
30g (½ cup) chopped fresh parsley
45g (½ cup) chickpea flour or any other kind of flour + some more for coating
1 onion, chopped (keep 2-4 thin onion slices aside, for the sandwiches)
2 Tbsps dry vegetable mix - you can use any brand you want, preferably one that's low in sodium and as natural as possible. Mine had celery, carrot and parsnips, among other ingredients
2 Tbsps psyllium husks , or ground flax seeds
½ tsp thyme
2 tsps ground coriander
½ tsp ground cumin
some oil
Instructions
Make chickpea patties. Add all chickpea patties ingredients in the food processor and blend until smooth.
Heat oil in a large non-stick frying pan.
Make patties and coat them in some flour. Place them on the pan.
Let them fry 2 minutes on each side, until golden and crispy.
Cut bread in half. Spread some pesto sauce on the bottom part. Add 1-2 slices of onion and 1-2 slices of pickles in each sandwich. Add chickpea patty and top with the other half of bread.
Bake in oven for 10 minutes.
Serve with valerian leaves or any other greens you like. You can add these in the sandwich as well.
Notes
The chickpea patties composition is enough for more than 2 large patties (about 6+). I usually leave it in a small pot, cover it with a lid and place it in the fridge. Everytime I want some, I just take it out, make the patties and fry them. I found that making the vegan patties composition in larger batches and storing it in the fridge saves lots of time. I usually do this 2 times a week... because I eat a lot of patties! :))
Nutrition Information
Yield
2
Amount Per Serving
Calories

2300
Total Fat

60.4g
Carbohydrates

359g
Protein

80g