Have you heard about samosas before? They're one of the most delicious snacks out there! Here's how to make vegan samosas – simple, quick and full of flavor!
Coming to terms with the fact that our favorite dishes are not always the healthiest can be hard. And I bet you all know the feeling. Maybe it's the pizza.
Maybe it's that decadent chocolate cake. Maybe it's a hamburger with fries. We all have that one (or maybe two…) guilty pleasures. But I think we need to be understanding with ourselves.
As long as we mostly eat on the healthy side, having a balanced diet that provides all the nutrients that we need, we can indulge from time to time in our guilty pleasures! 🙂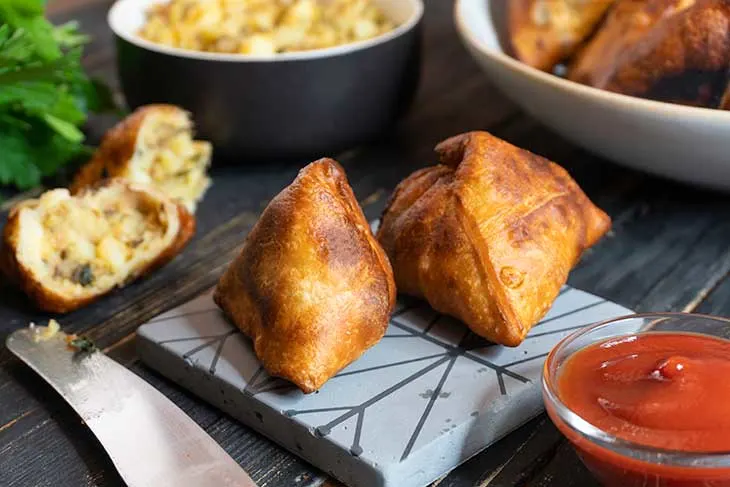 The guilty pleasure we're discussing today: samosas. They are delicious. Crunchy pastry, super flavorful filling, potatoes, peas, onions, garlic (the list is endless, the possibilities for samosas fillings know no end), a delicious dipping on the side.
Oh, they're so good! And so heavy. Not only it's a pastry filled with potatoes… so carbs filled with carbs, but they're also deep-fried. Very deep-fried. But as I said before and I stand by it… it's mentally healthy to let ourselves loose from time to time and not feel that we're missing out on things that we crave and love.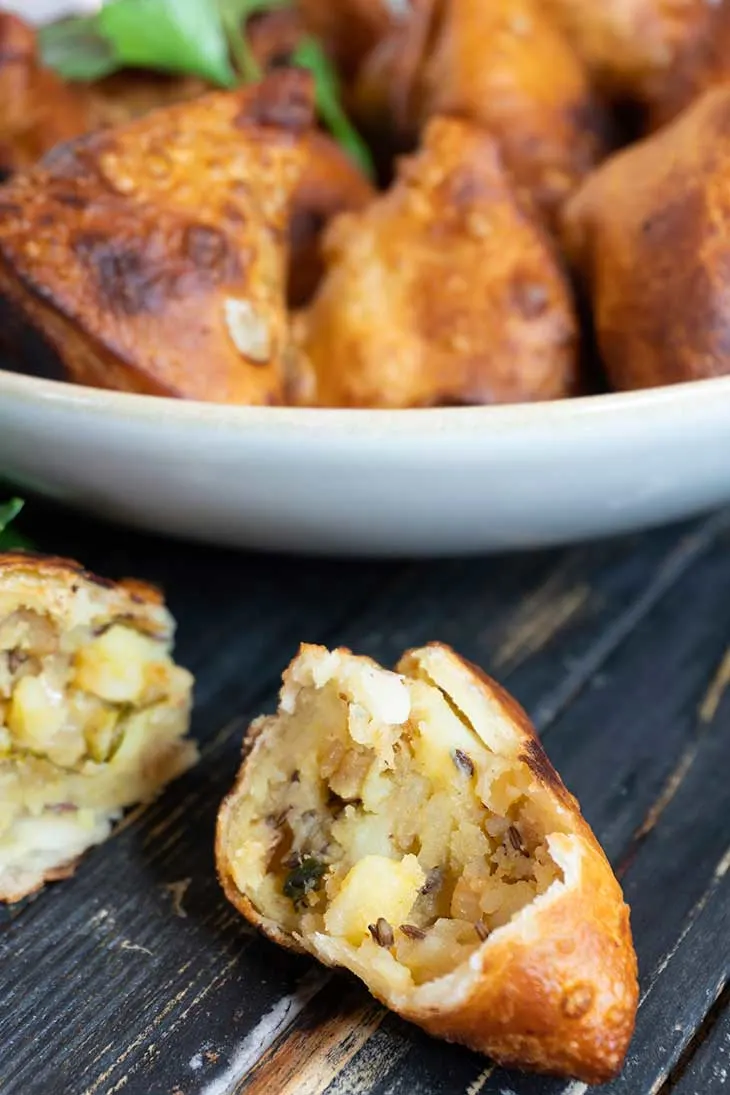 One thing we can do to make the experience overall better is trying to adapt these recipes and make them a little bit healthier. Sometimes, totally unhealthy dishes turn into super healthy and nutritious meals. And sometimes things just get a tiny bit better. They don't become healthy but they become less unhealthy. But that's good too and it definitely helps with the feeling of guilt that we experience afterward.
One thing that both nutritionists and doctors agree upon is that eating healthy is good but having a good relationship with food is even better. And that means not feeling like food is a harmful enemy or constantly denying yourself things that you crave for. All the salads in the world won't ease out the stress that those strict restrictions bring.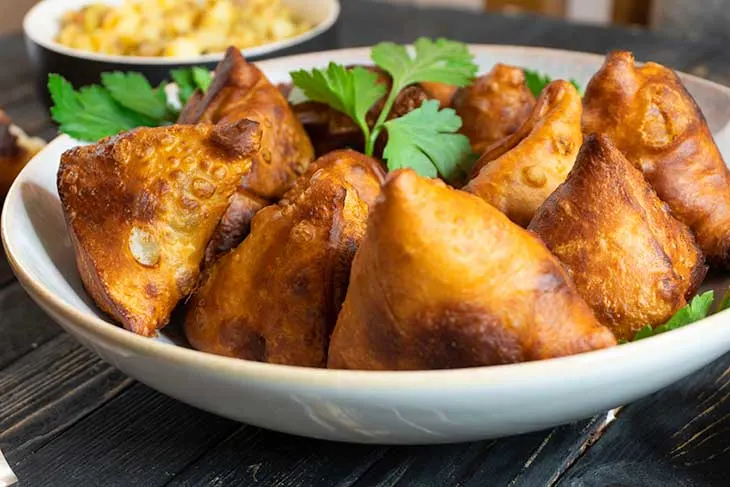 And today I want to take a classic recipe for samosas and make it a little bit healthier, while still being equally tasty. I fried the vegan samosas in today's recipe, but I suggest baking them if you want to achieve a healthier result! This will for sure help with the heaviness and it will make the fitter for a healthy lifestyle.
I made this recipe for some friends a week or so ago and they were all really impressed. I don't know why they keep being skeptical when I tell them that my healthier version of foods will be just as good.
I never let them down and they should have known by now that I know my way around the kitchen! But we keep repeating the scenario over and over again. I tell them about my ideas of changing some ingredients in order to make the dishes healthier and vegan, they are like yeah, sure, we'll see how that goes, they taste what I made and are truly amazed of how good it is and ask for the recipe. Well, as long as it's a happy ending, I'm ok with it! 😉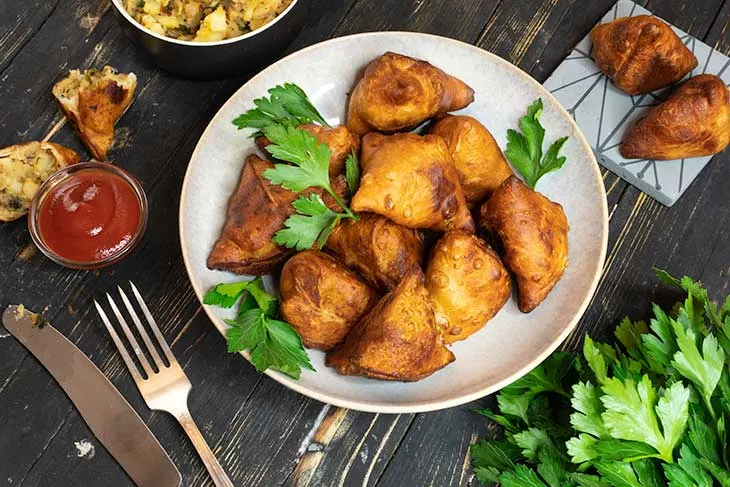 Samosas are a great dish for parties and gatherings. That's because they are easy to share, you won't need any forks and knives and they're the kind of thing that fits any taste. There are many ways to make samosas and you can totally adapt the recipe based on the occasion and the people that will be eating them.
A basic vegan samosas recipe features potatoes, peas, and lentils, for example. But today I chose to keep it as simple as possible, using mainly potatoes! While it may seem basic, samosas are all about seasoning, herbs, and condiments.
So make sure to check out the recipe below to find out about the best seasonings for savory vegan samosas. There are even dessert versions of samosas but we're not going to talk about them today!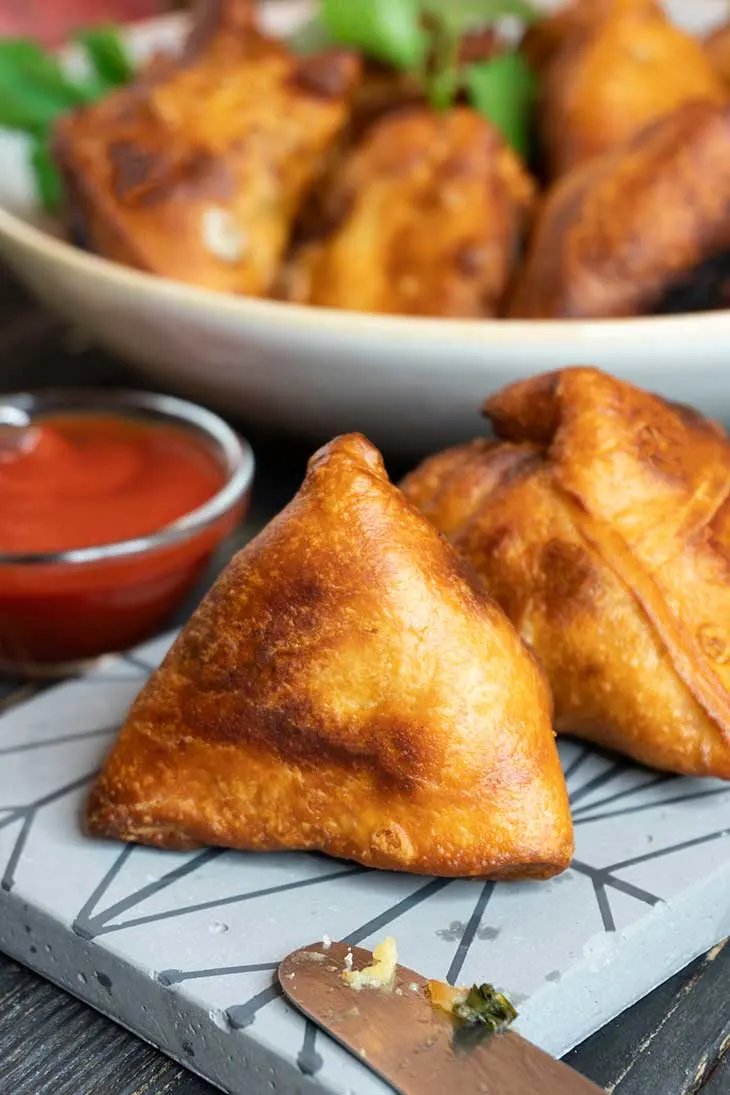 Another really important thing when it comes to vegan samosas: dipping. And ketchup won't do here. Samosas are an Indian specialty and as we know, Indian cuisine knows its way with spices. Here are some great ideas for samosas dippings:
Tamarind dipping sauce
Coriander and mint chutney
Sweet mango chutney
Cool yogurt dipping sauce (vegan version, of course)
The list doesn't stop here of course, but these are my favorite dipping options. I encourage you to try them all and pick your favorite!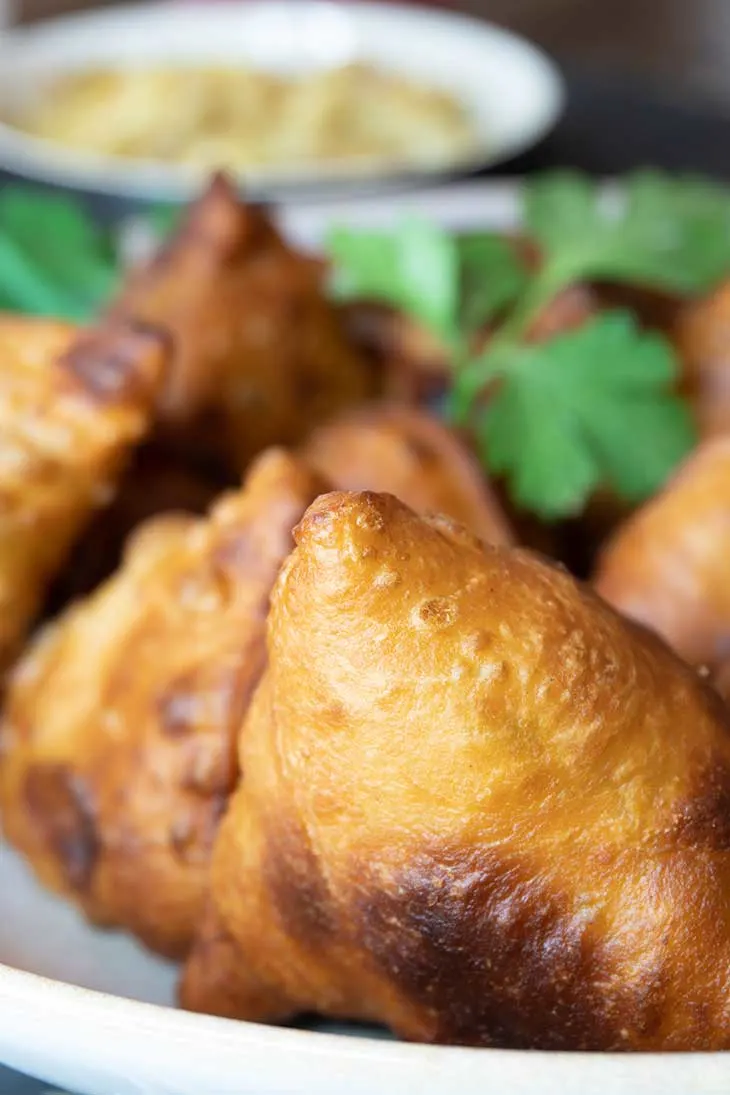 I think it's time to head to the kitchen and get started. Gather your ingredients and follow the detailed steps below. I am sure your samosas will turn out great and I can't wait to hear about it in the comments!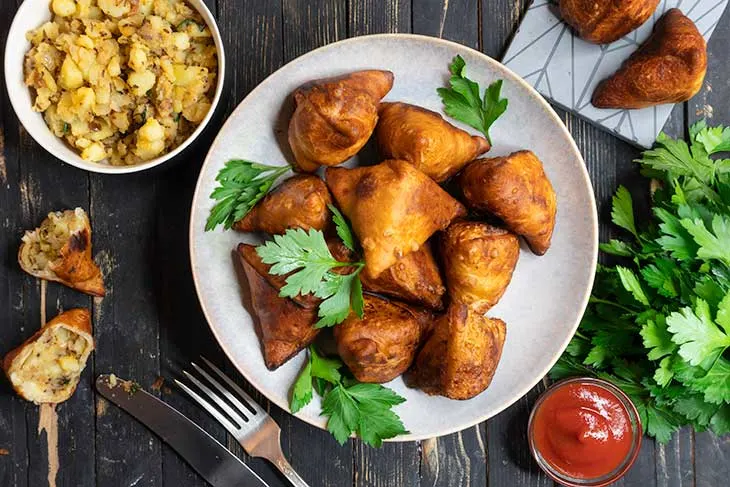 Have you heard about samosas before? They're one of the most delicious snacks out there! Here's how to make vegan samosas - simple, quick and full of flavor!
Ingredients
240g (2 cups) flour
1 tsp salt
4 Tbsp vegetable oil
120ml (½ cup) water
4 boiled potatoes, peeled
4 garlic cloves, finely chopped
1 medium onion, chopped
2 Tbsp ginger, finely chopped
1 tsp cumin seeds
1 tsp carom seeds
½ tsp chili powder
1 chili pepper, finely chopped
fresh coriander
cilantro
juice of ½ lemon
1-2 Tbsp olive oil
frying oil, I chose sunflower
salt and pepper
Instructions
Boil and peel the potatoes. In a medium mixing bowl, combine the flour with salt and carom seeds. Add the vegetable oil and mix.
Start adding the water while stirring until the dough is formed. Set aside.
Heat up 1-2 Tbsp of olive oil in a pan, add the finely chopped garlic, cumin seeds, ginger, chili pepper, chili powder and cilantro.
When the garlic develops some color, add the onion. Cook until translucent.
Chop the potatoes and add them to the pan.
Add lemon juice and season with salt and pepper.
Cook for 5-7 minutes.
Cut the dough 8 pieces.
Roll each piece into a circle and cut it in two.
Form the samosa and fill with potato mixture.
Deep fry in sunflower oil until golden brown.
Nutrition Information
Yield
5
Amount Per Serving
Calories

503
Total Fat

29.5g
Carbohydrates

50g
Protein

9g