Caramelized sugar makes everything tastier, and these crème brûlée cheesecake bars are the proof! Discover this vegan cheesecake recipe with a caramelized twist that will make your taste buds dance.
These crème brûlée cheesecake bars are vegan which means I didn't use milk, eggs, or any butter to make it, and yet it tasted incredibly good! I used cashews and silken tofu as the base for the cream. The result was a vegan cake with the delicious taste of cheesecake and the subtle aroma of burnt sugar. This recipe was a hit among my friends, even among those who are not vegan. Try the recipe and let yourself be surprised by how delicious a vegan dessert can be!
Also check out my vegan crème brûlée! You'll love it. 🙂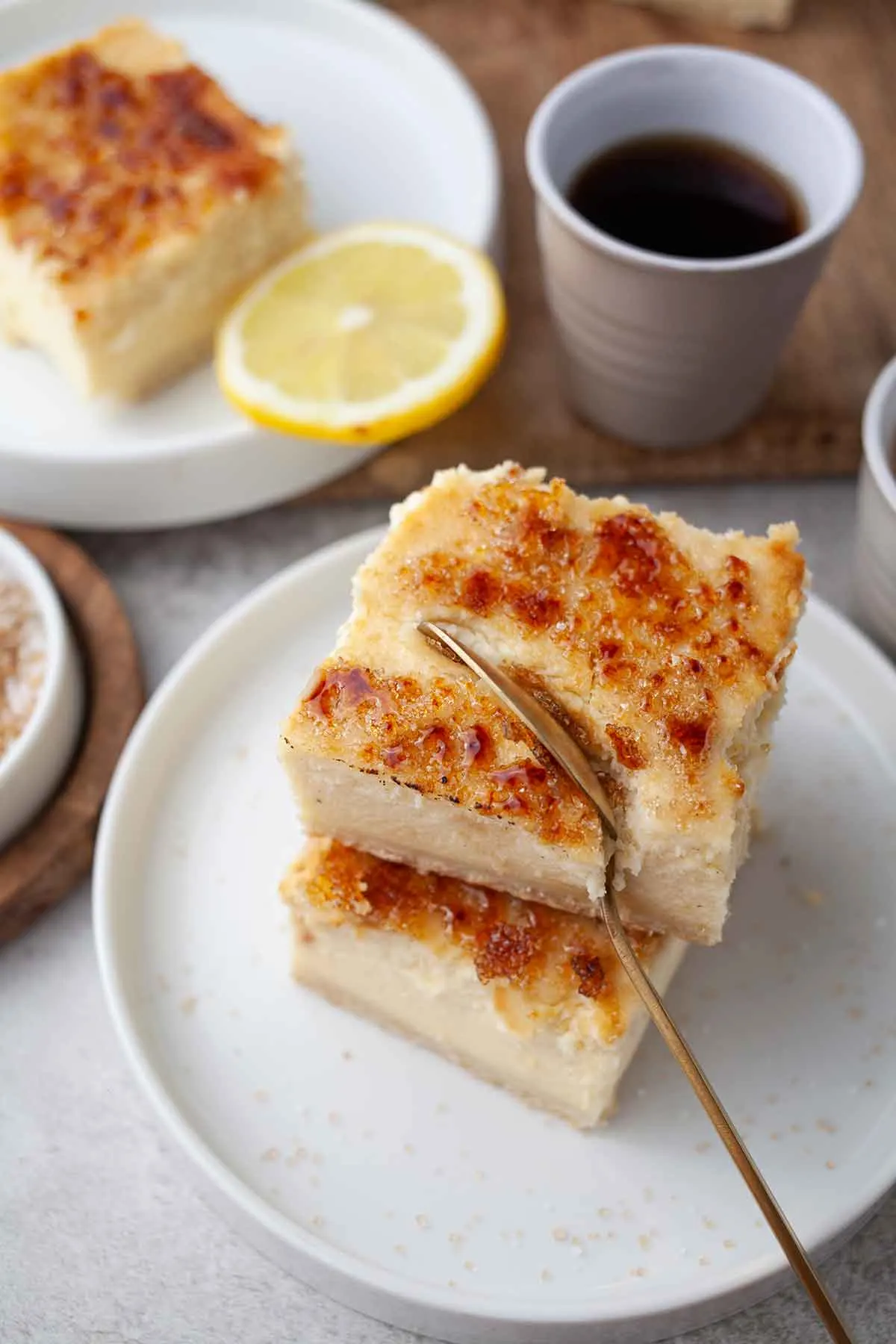 The inspiration for this recipe – the famous crème brûlée!
Crème brûlée, also known as crème caramel or caramel custard, is a classic dessert with origins in France. It is said that the original recipe dates back to the 17th century, being created by chef François Massialot at the royal court of Louis XIV.
The original recipe consists of a mixture of eggs, milk, cream and sugar, which is heated and stirred continuously until the sugar melts and caramelizes. This mixture is then poured into a dish greased with butter and sprinkled with sugar and baked in a bain-marie.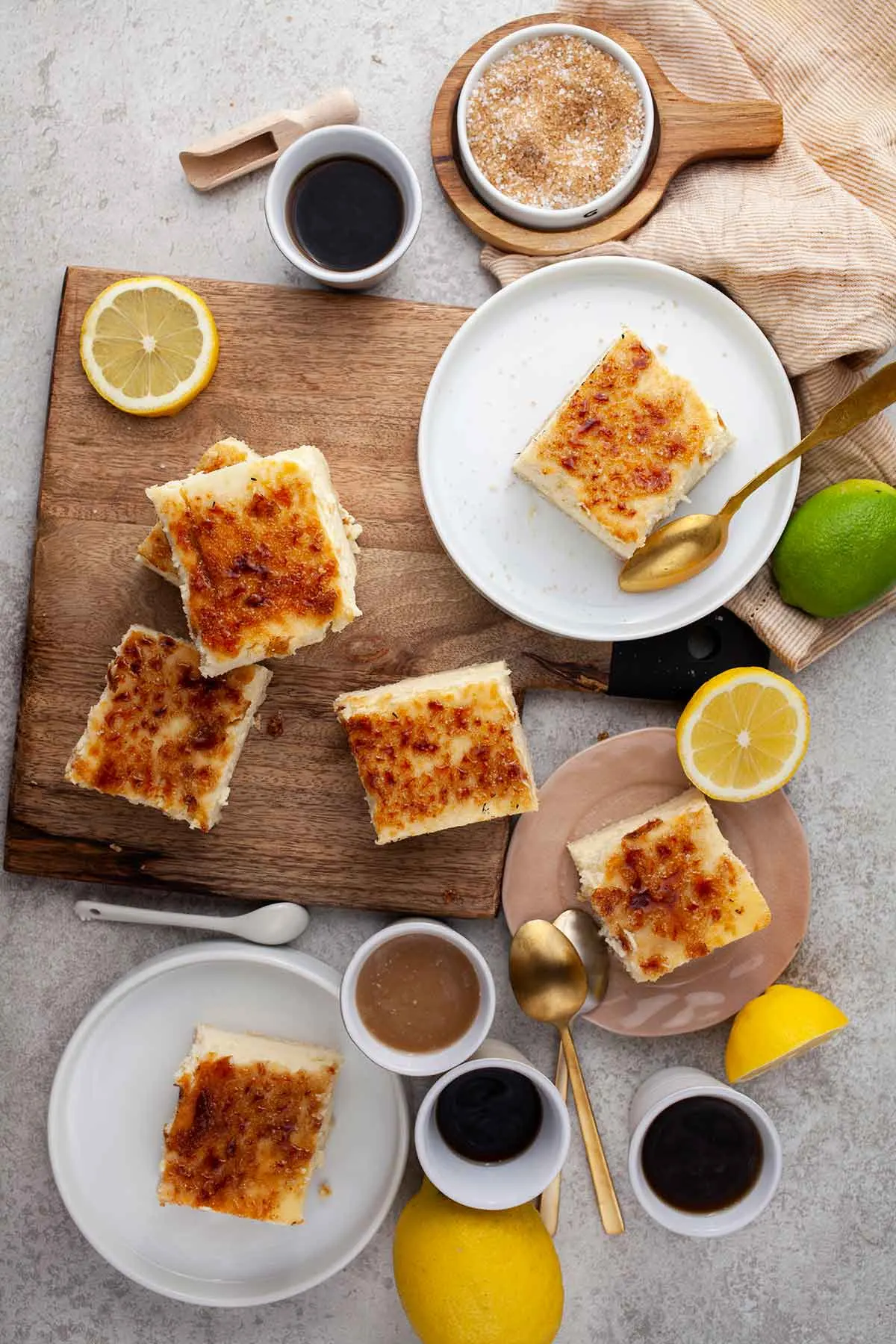 To get an authentic caramel sugar taste, it is important to caramelize the sugar at the right temperature and not burn it. It is also important to continuously stir the egg and milk mixture, to avoid the formation of lumps.
Crème brûlée is an elegant and sophisticated dessert, with a rich history and a simple and delicious recipe, which was the inspiration for today's recipe – cheesecake-type crème brûlée cake.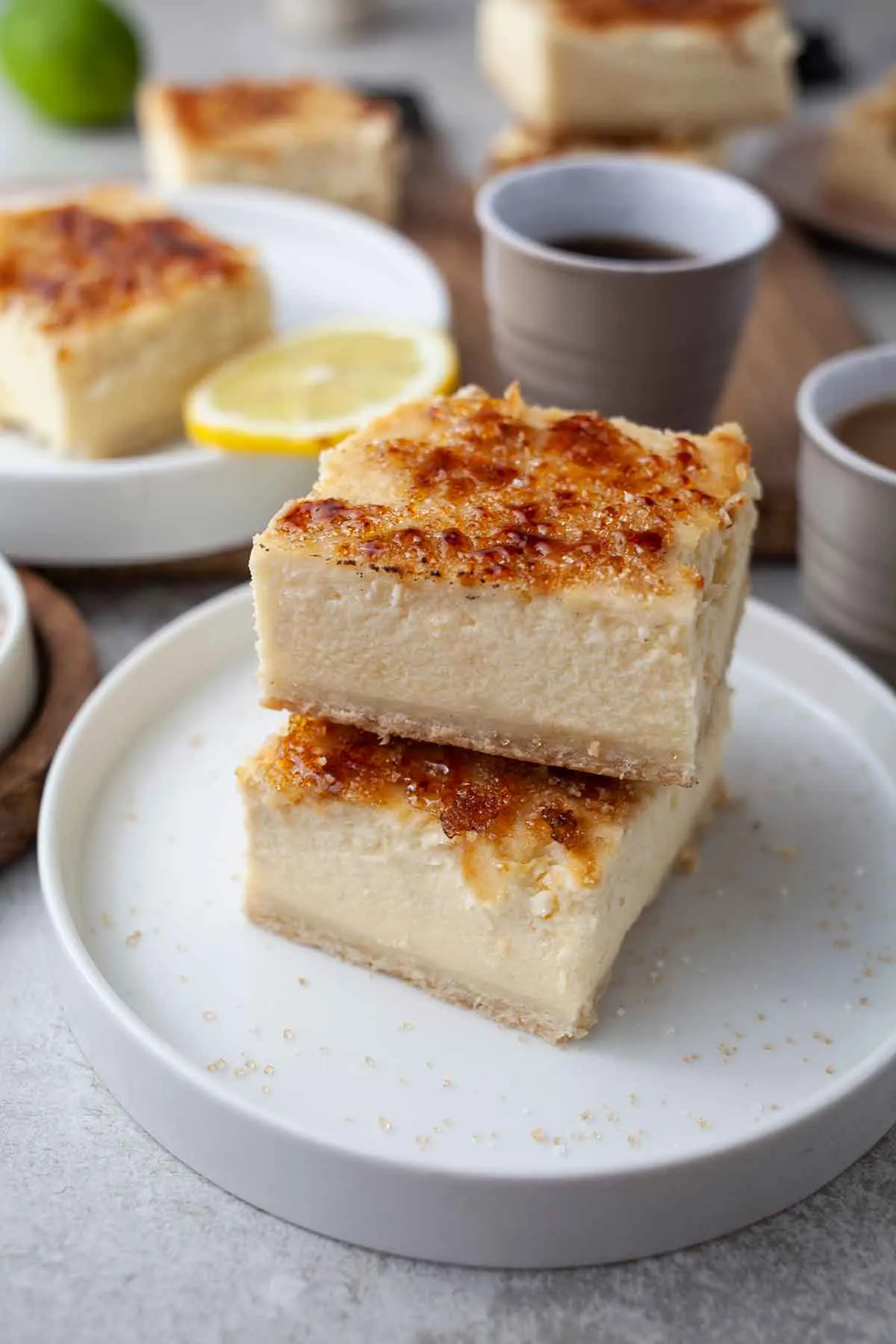 Classic cheesecakes are usually served in a round shape, but I chose to prepare the cake in a rectangular pan and cut them into small squares, finding it easier and more practical to serve this way.
Cheesecake bars are a smaller, more portable and lighter version of the classic cheesecake. These are an excellent choice for a party or a quick snack and are perfect for sharing with friends and family.
Compared to the classic cheesecake, cheesecake bars have the advantage of being easier to serve and handle, being ideal to be transported to parties or other events. Also, they are much faster and easier to make than the classic cheesecake, which can be quite laborious and requires a lot of time for preparation and baking.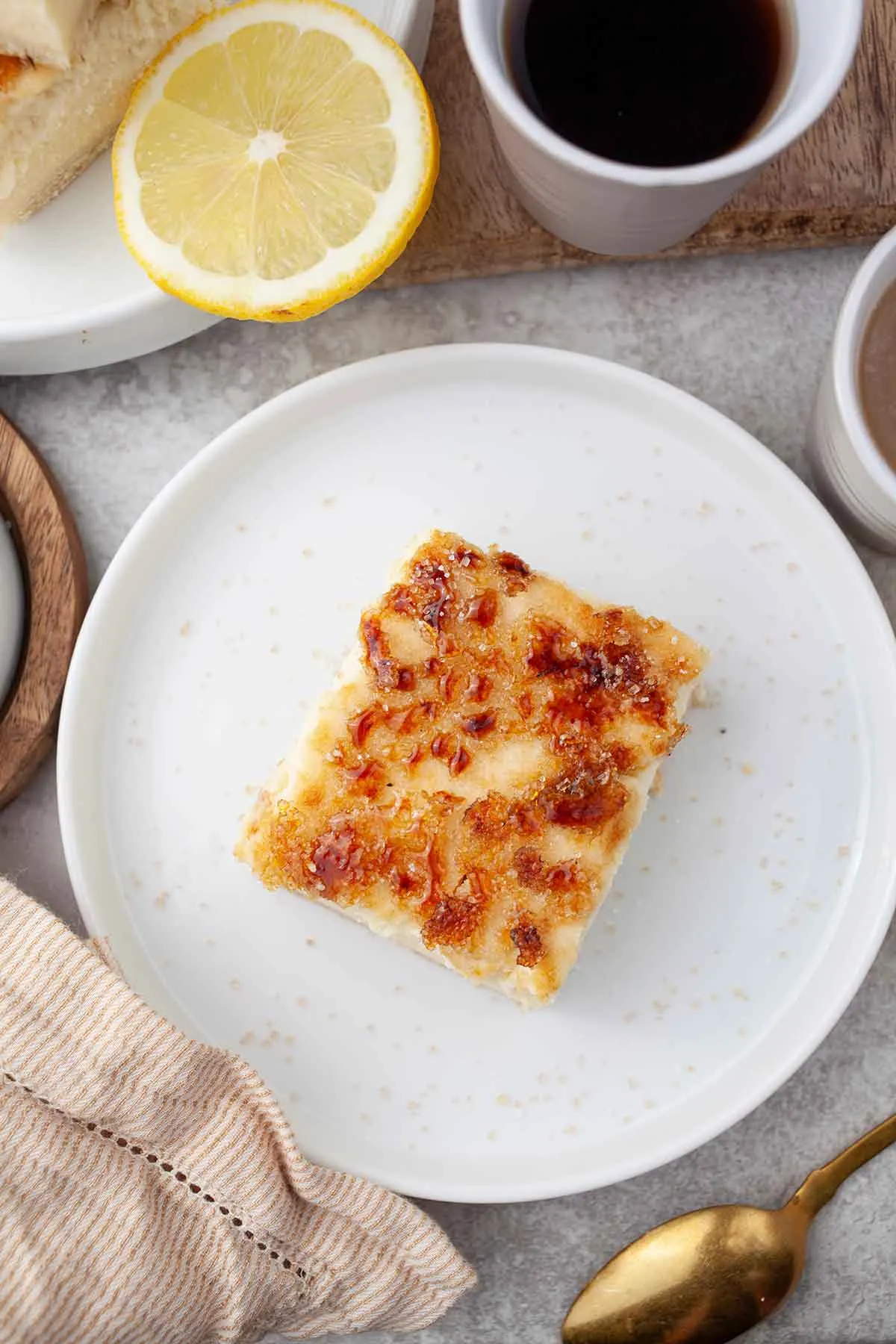 On the other hand, cheesecake bars do not offer the same rich and creamy experience as the classic cheesecake, due to their smaller thickness. Also, the curd base can be drier than the biscuit crust in the classic cheesecake, but this can be remedied by adding butter or additional moisturizing ingredients to the recipe.
Hope you'll enjoy my vegan crème brûlée cheesecake bars recipe. 🙂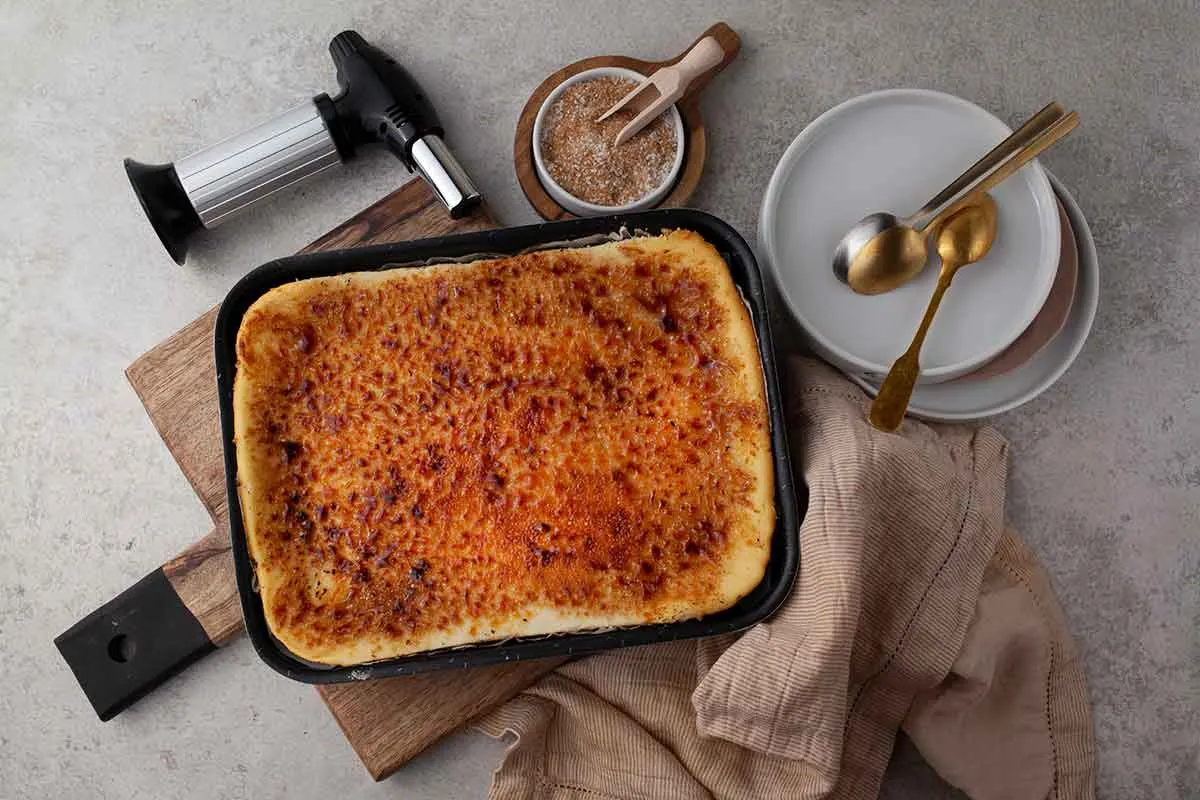 Yield: 12 cheesecake bars
Vegan Crème Brûlée Cheesecake Bars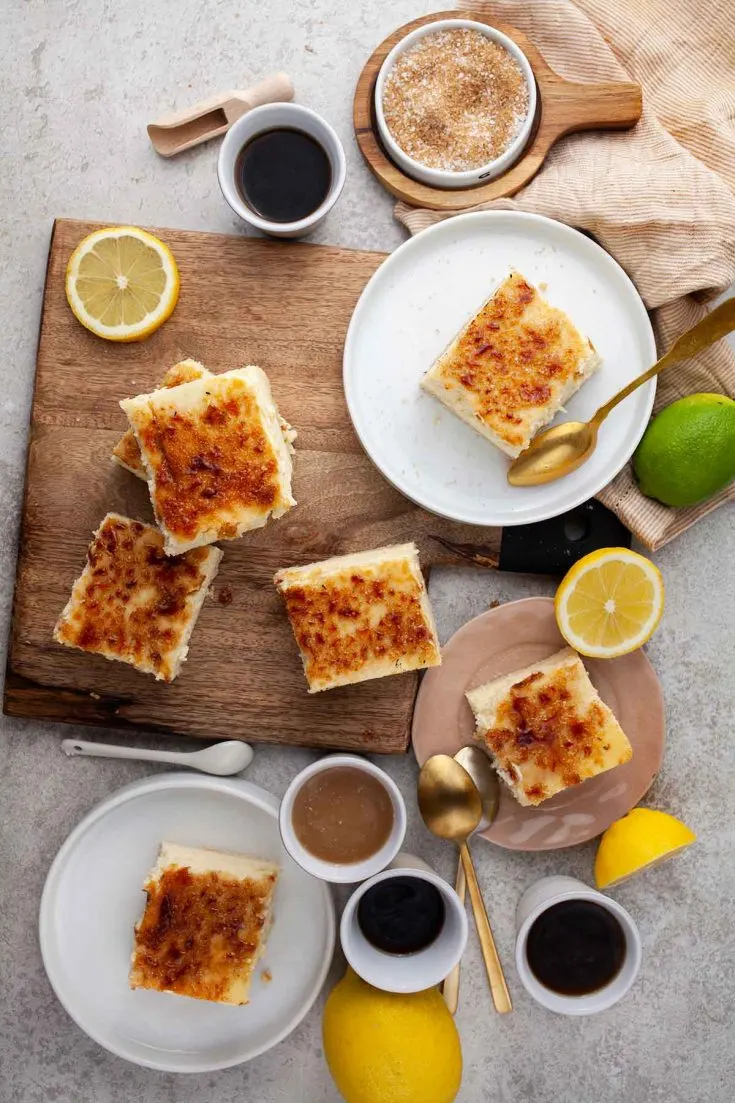 Caramelized sugar makes everything tastier, and these crème brûlée cheesecake bars are the proof! Discover this vegan cheesecake recipe with a caramelized twist that will make your taste buds dance.
Cook Time
1 hour
10 minutes
Total Time
1 hour
25 minutes
Ingredients
250g (8.8 oz) vegan biscuits
100g (3.5 oz) vegan butter, melted
Cream:
½ cup raw cashews
400g (14.1 oz) silken tofu
1 cup coconut cream
¼ lemon juice
1 teaspoon lime peel, grated
1 cup sugar
¼ cup flour
2 tablespoons of cornstarch
1 tablespoon of vanilla extract
pinch of salt
For the topping:
¼ cup brown sugar
¼ cup white sugar
Instructions
Heat the oven to 180 C (356F).
Add the biscuits and melted butter to the blender. Mix until the biscuits are completely crushed and the butter is completely incorporated.
Transfer the composition to the baking tray and press to obtain an even layer.
Bake in the oven for 10 minutes and let it cool.
Prepare the cream by firstly soaking the cashews in hot water for 30 minutes before using.
In the blender or food processor, add soaked cashews, silken tofu, coconut cream, lemon juice, lime peel, sugar, flour, starch, vanilla extract and salt. Mix until the composition becomes homogeneous and creamy.
Pour the cream over the cooked cheesecake base.
Place the cheesecake tray into another larger one and add water to the large tray.
Bake the dessert for 60 minutes, until the cream becomes firm.
After it cools down, prepare the topping.
Sprinkle brown and white sugar over the cheesecake and melt it with a kitchen torch until caramelized.
Cut the cheesecake into squares and serve.
Nutrition Information
Yield
12
Serving Size
1
Amount Per Serving
Calories

384
Total Fat

18g
Saturated Fat

7g
Trans Fat

1g
Unsaturated Fat

10g
Cholesterol

1mg
Sodium

146mg
Carbohydrates

52g
Fiber

1g
Sugar

38g
Protein

5g
I strive to keep the information as accurate as possible but make no warranties regarding its accuracy. I encourage you to make your own calculations using your preferred nutrition calculator.