Cherries and chocolate are a match made in heaven and this awesome vegan cherry chocolate cheesecake is here as proof! Give it a try and you'll be amazed by the intense, decadent flavors!
I love making desserts all year long, and I'm talking about all types of desserts. However, I prefer baking pies, biscuits and all that stuff during the colder months and making more fresh desserts during late spring and summer.
Cheesecake is one of those desserts that actually scream "summer" for me, whether we're talking about the original recipe, the one that has to be baked in an oven, or if we're talking about the no-bake type. Either way you're preparing it, one thing's for sure: cheesecake must be served cold, straight out of the fridge. And for these reasons, it's one of the most refreshing desserts out there! 🙂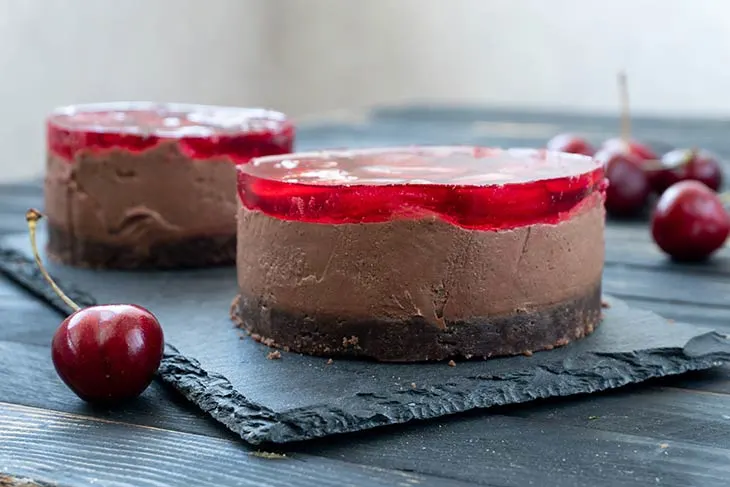 Cheesecake is undoubtedly one of the most loved desserts in the world. And it's hard to think about its history in between bites, so I figured I'd list some interesting facts before you actually managed to have the cake in front of you.
Cheesecake actually goes way back to ancient Greece, being first attested by the Greek physician Aegimus during the 5th century BCE. This guy actually wrote a book on the art of making cheesecakes, that's how much he loved this dessert.
So it seems we're not that different even though we were born centuries apart. The earliest cheesecake recipes are found in Cato the Elder's book De Agri Cultura, which includes recipes for three cakes: libum, savillum and placenta. These were actually used for religious purposes, and of these three, placenta is the most similar to modern cheesecakes, having a crust that's prepared and baked separately.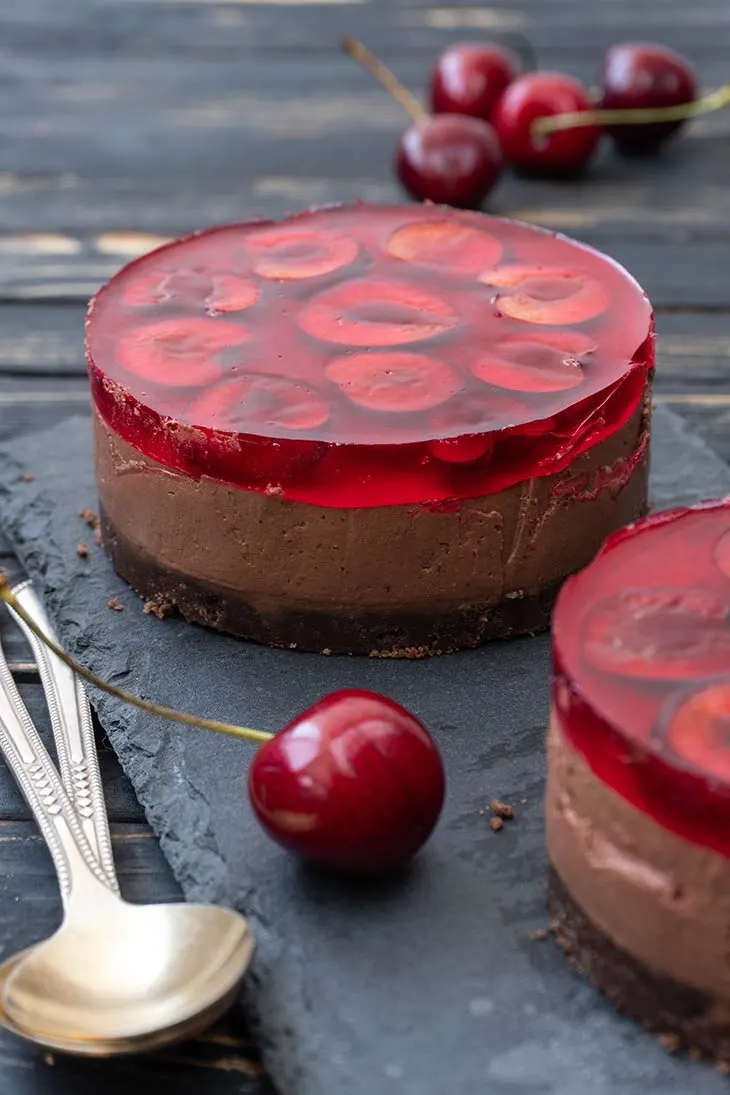 Cheesecake as we know it, however, did not evolve until the 18th century. Then came the year 1872, and a very important year it was, because that's when Americans invented modern cream cheese. Despite its name, modern cheesecake is not classified as cake.
People say that it should be classified as a tart, a flan, or even a custard pie. So there's a few debates on that.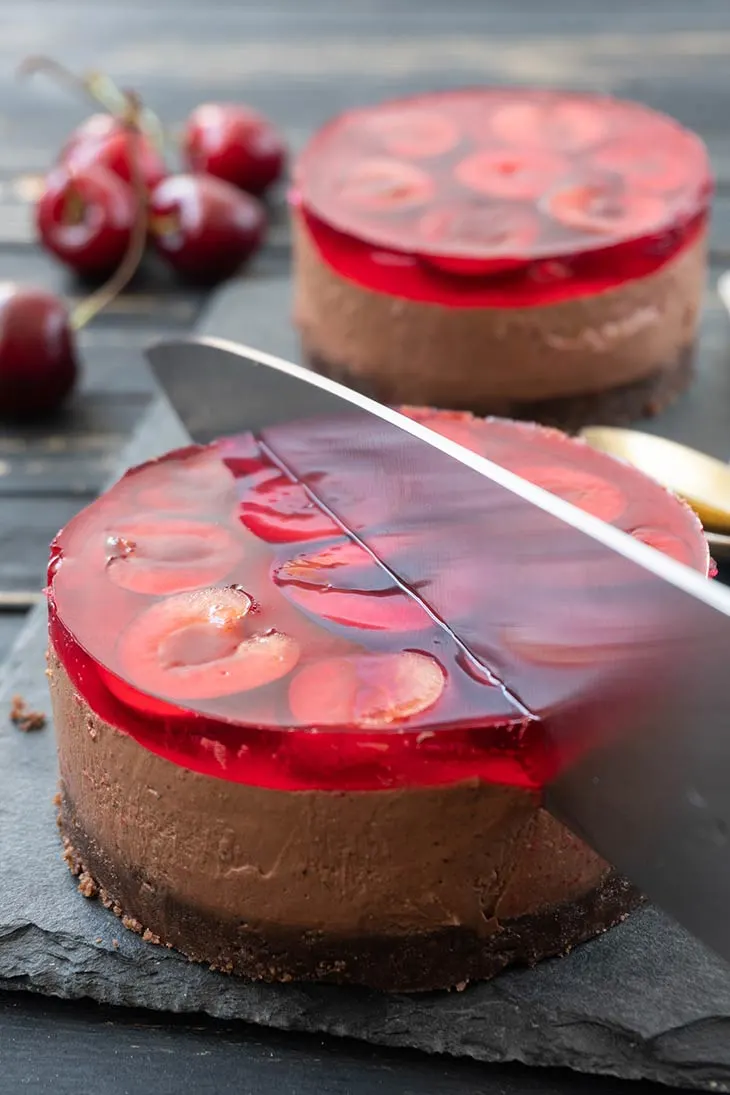 Now for the types. We all know this one, right? Cheesecakes can be broadly categorized into two basic types: baked and unbaked. Furthermore, cheesecakes vary by region all around the globe. For instance, South Africa has a lot of cheesecake varieties. One popular variant is made using whipped cream, cream cheese, gelatine for the filling, and a buttered digestive biscuit crust. This cheesecake is usually not baked.
Going to Asia you'll find that a lot of cheesecakes there include flavours such as matcha, lychee, and mango – so a bit more exotic. Asian-style cheesecake is also lighter in flavour, and fluffier and spongier in texture. Indians also have their own cheesecake version, which is called chhena poda. This one's a type of cheesecake made by baking a mixture of chhena (a type of cottage cheese), sugar and nuts.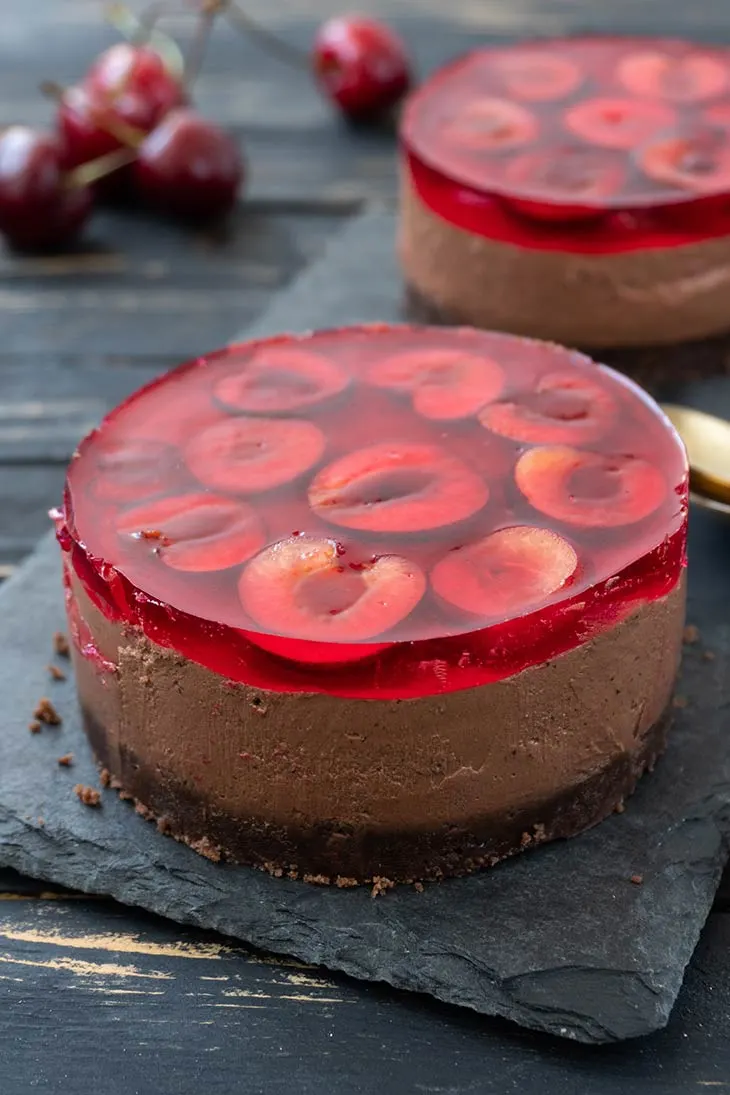 European cheesecakes are more similar to each other, but we might also find differences from country to country. For example, Germans don't like to use a biscuit base, and instead opt for a dough. In the United Kingdom and Ireland, cheesecake is usually made with a base of crushed, buttered biscuits.
The interesting thing is that it is then topped with a fruit compote, the most common varieties being black cherry, blackcurrant, strawberry, passion fruit, raspberry, and of course, lemon curd.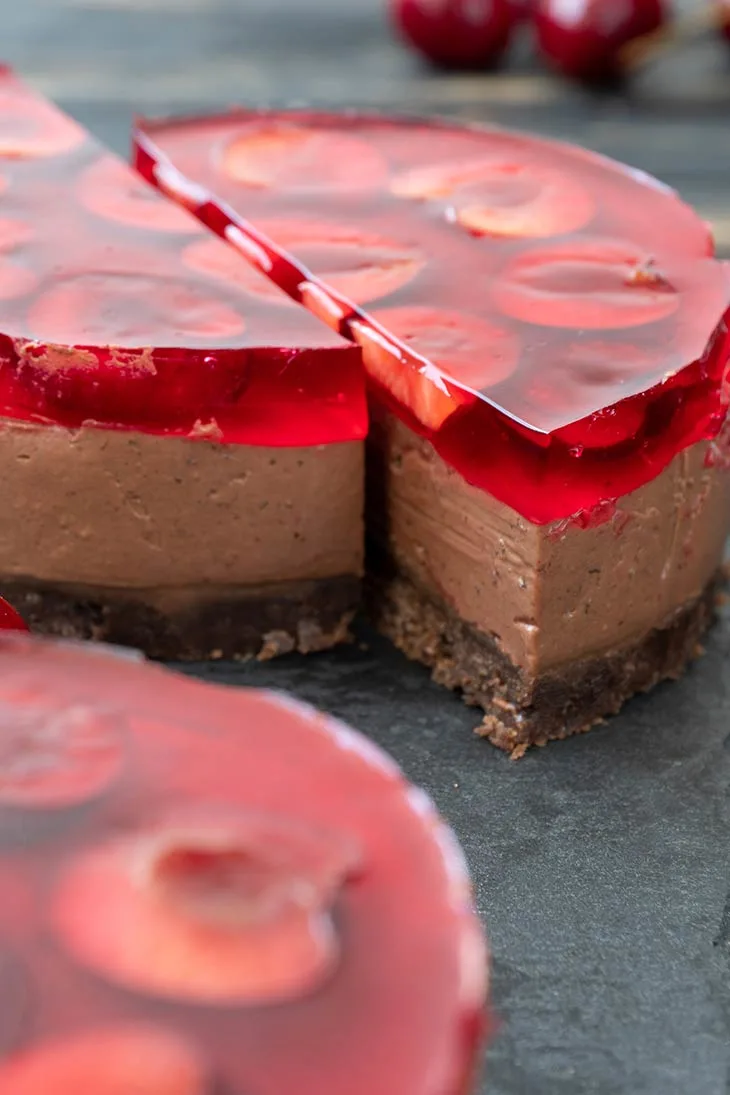 However, you can find by far the most interesting variation in Scotland – a savoury cheesecake made with salmon. Hope I didn't gross you out! 😉
Last but not least, what would an article about cheesecake be without mentioning the worldwide famous New York-style cheesecake? This one uses a cream cheese base and it also incorporates heavy or sour cream into the mixture. This cherry chocolate cheesecake is rich, dense and smooth! 🙂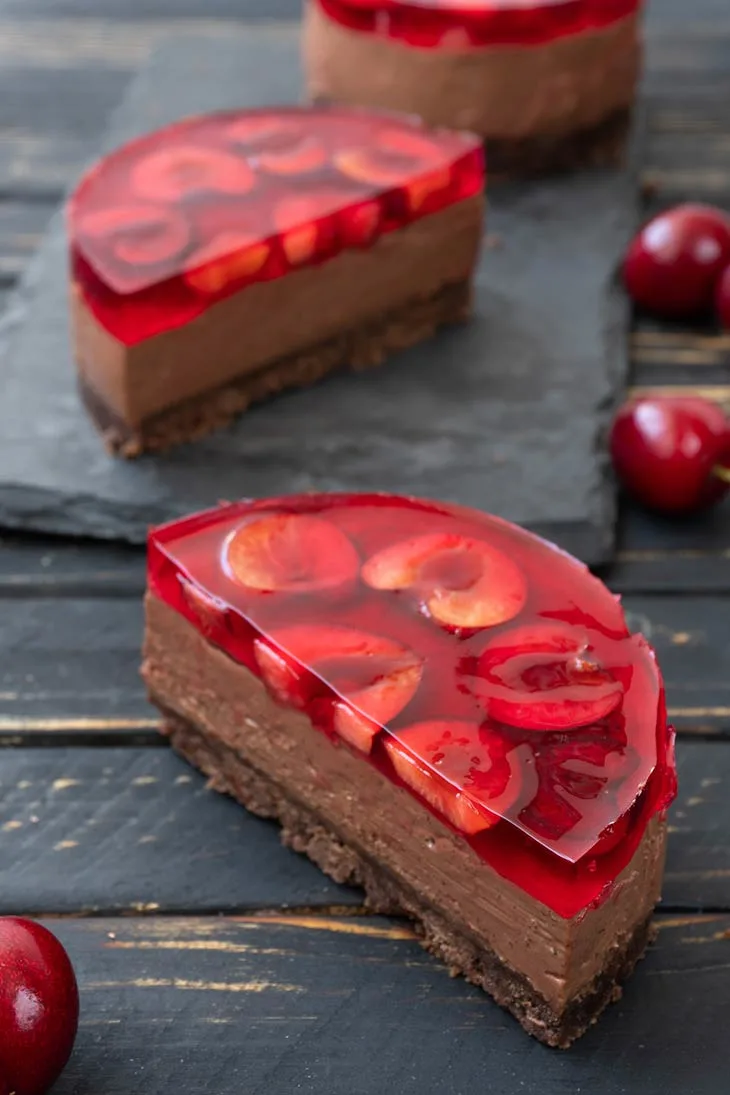 All this talk about eggs, cheese and heavy cream might make you doubt the title of this article, that's for sure. How can you replace all these animal products for plant-based ones and still have a delicious cheesecake that's comparable to the original one? Well, let me guide you!
Making a vegan cheesecake is not that hard. In fact, given that you pay close attention to the recipe and you've got all the right materials (I'm talking about a food processor), it should be a… piece of cake. Haha! 🙂
But seriously. Making a vegan cherry chocolate cheesecake has never been easier. It's also healthier if you're watching your cholesterol levels, you're dairy or lactose intolerant, or you're simply choosing to stop consuming animal products altogether, for ethical reasons. This recipe is as simple as it gets, so I'm convinced everyone can do this.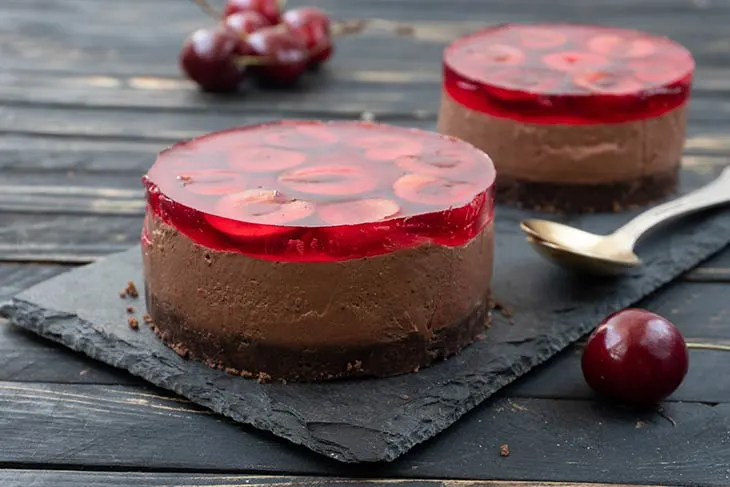 Oh, and did I mention it has cherries and chocolate inside? …Need I say more? I think not. So let's get to work!
---
Personalized meal plans and workout videos | Get your customized meal plan today! [x_button shape="square" size="mini" float="none" target="blank" href="https://shop.gourmandelle.com/?utm_source=mainsite&utm_medium=site&utm_campaign=inpost" info="none" info_place="top" info_trigger="hover"]I WANT A MEAL PLAN![/x_button]
---
Yield: 4-6
Vegan Cherry Chocolate Cheesecake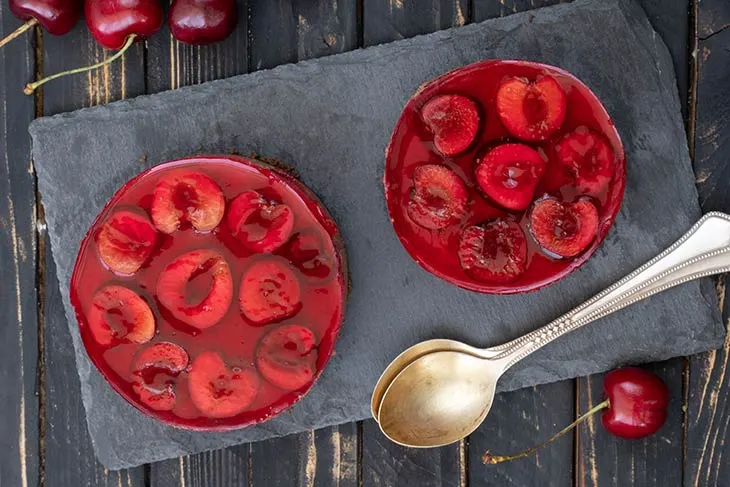 Cherries and chocolate are a match made in heaven and this awesome vegan cherry chocolate cheesecake is here as proof! Give it a try and you'll be amazed by the intense, decadent flavors!
Inactive Time
1 hour
20 minutes
Total Time
2 hours
10 minutes
Ingredients
For the crust:
100g (1 cup) crushed cocoa biscuits
14g (3 Tbsp) vegan butter, melted
For the cream:
1 can (400ml | 13.5 oz) full-fat coconut milk
2 bars (200g | 7 oz) dark chocolate
For the jelly topping:
1 tsp agar agar powder
100g (½ cup) fresh cherries, pitted and halved
3 Tbsp maple syrup
350ml (1 ½ cups) cherry juice, I used store-bought
Instructions
In a blender, crush the cocoa biscuits. Add the melted butter and combine.
Using your hands, form the crust in your mini cake tins and refrigerate for 15-20 minutes.
In a bowl, add the coconut milk and mix well with a hand mixer for 5-7 minutes.
Melt the chocolate and add it to the coconut milk. Mix to combine.
Pour the filling over the crust in each tin leaving 1,5-2 cm of space for the topping. Refrigerate for 1 hour.
Pit the cherries and slice them.
Add the cherry juice, maple syrup and agar powder in a saucepan. Boil it for 30 seconds then set it aside and let it cool for a minute.
Pour half the liquid over the cheesecake, add the pitted/halved cherries then pour the rest of it.
Refrigerate until the jelly is set.
Nutrition Information
Yield
5
Amount Per Serving
Calories

343
Total Fat

21g
Saturated Fat

14g
Trans Fat

0g
Unsaturated Fat

4g
Cholesterol

19mg
Sodium

163mg
Carbohydrates

37g
Fiber

4g
Sugar

18g
Protein

5g
I strive to keep the information as accurate as possible but make no warranties regarding its accuracy. I encourage you to make your own calculations using your preferred nutrition calculator.