In case you're looking for a quick 15-minute meal that's absolutely perfect for lunch or dinner, here's how to make the best creamy green peas with crispy fried onions. One of my favorite side dishes!
I want to start by saying this recipe is part of my series of everyday dishes that I prepare for me and my husband. This is why you won't see professional pictures below, with studio lights or a special plating. Instead, you'll see simple, clean images taken with my phone just before eating.
This is real life, after all – I make food to eat in-between work sessions and, if it's good enough, I also share the recipe with you guys here on the blog. I usually have very busy days, but I still want to share with you this dose of reality and good food!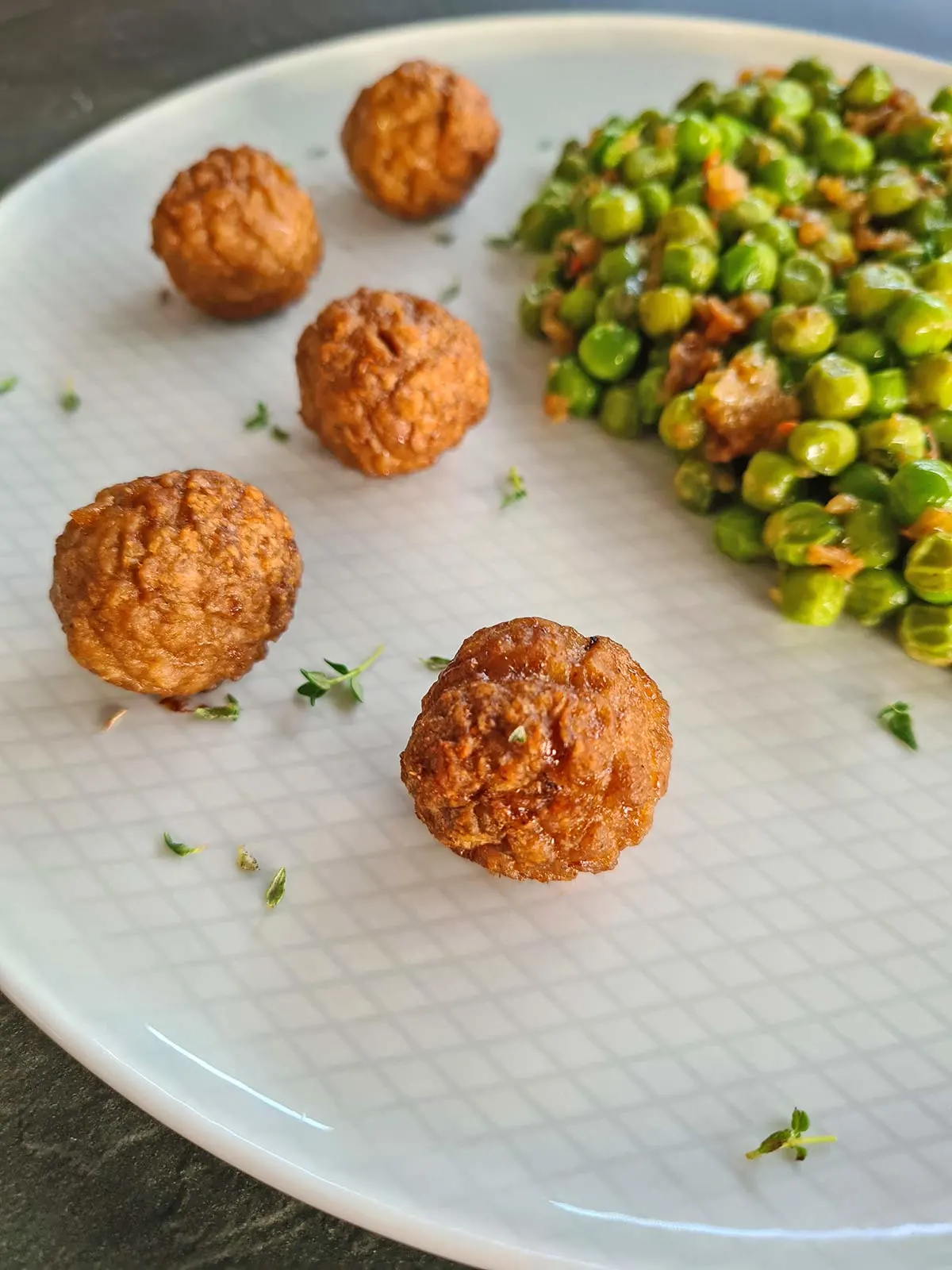 Now back to our recipe. For yesterday's lunch, I decided to make something comforting and full of protein, something fit for winter days when you need a dose of energy. The weather here is very cold, with lots of wind; I usually have things to do in the garden or yard on a daily basis, so I spend a lot of time outside in the cold. When I get back into the house for lunch, I'm almost always craving something warm, delicious, and very comforting.
This is the inspiration for this recipe as well. I was also craving some veggie balls but, because I didn't have a lot of time or energy on that day, I decided to go for some frozen veggie balls from Naturli. I've told you about this brand before – I really like Naturli because they have clean, frozen food, ready to be cooked and served in no time.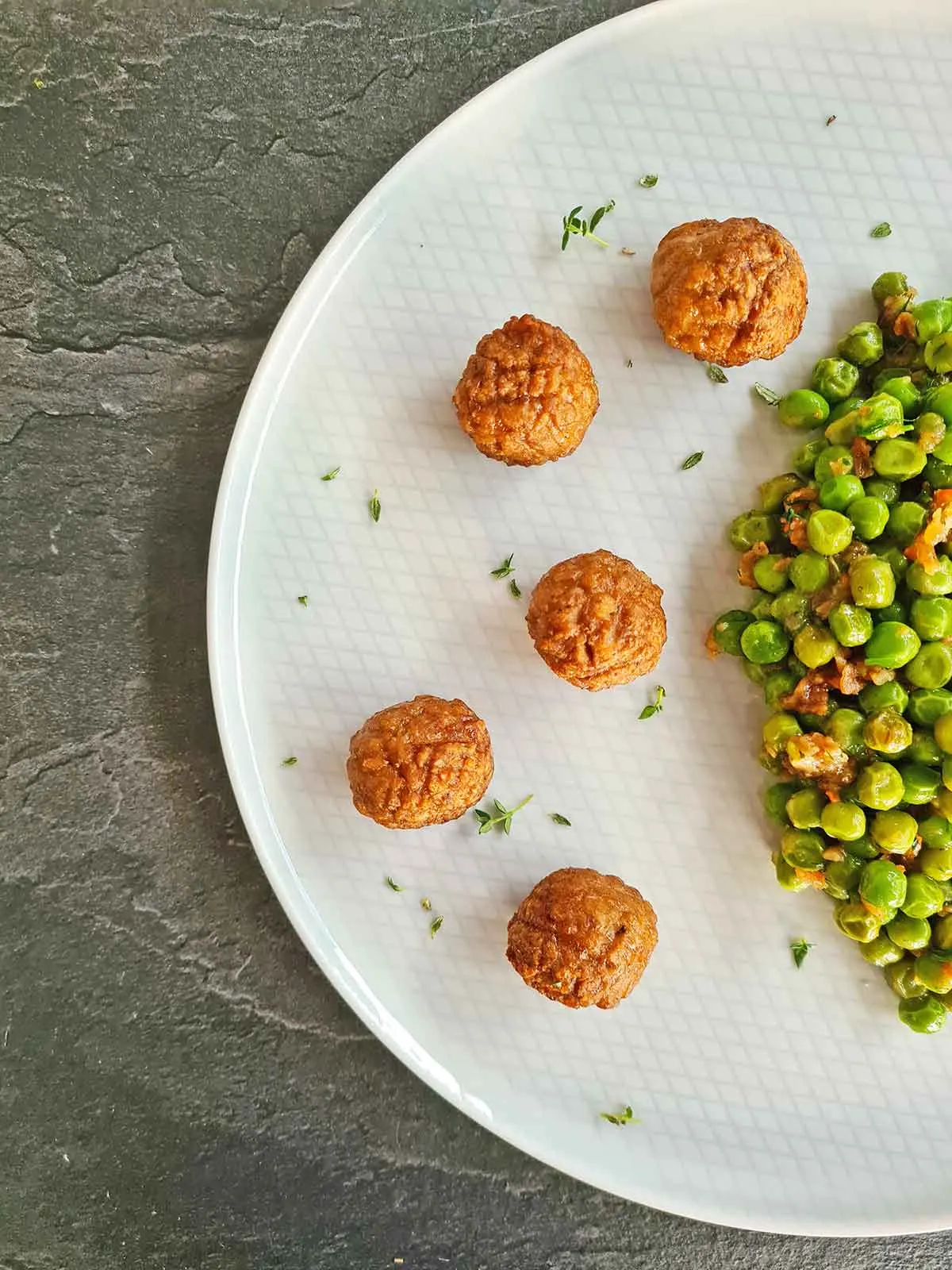 The veggie balls I chose today are also made from peas, just like my side dish: creamy green peas with crispy fried onions. This means that the end result is a very protein-rich dish, exactly what I needed! 🙂
Peas are one of my favorite ingredients because they're versatile, delicious, and protein-rich: 100g of green peas contain approximately 5 grams of protein. That's a lot! And this is good news for vegans, as I guess we all know how important proteins are in a vegan diet. Hence, green peas are an excellent choice if you want to add more protein to your everyday meals.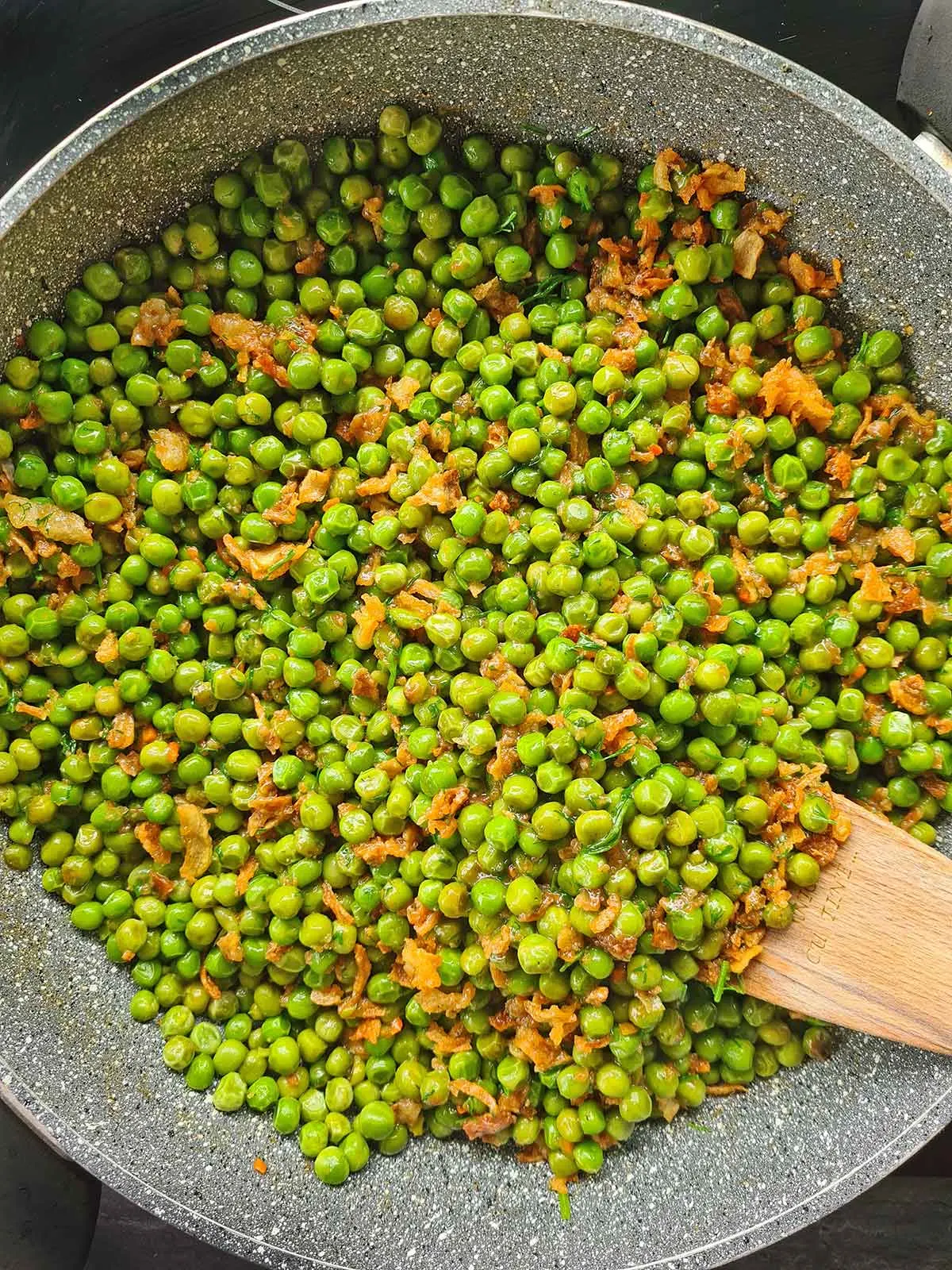 These protein-rich veggie balls from Naturli were asking for a creamy side dish. So I decided to make some creamy green peas, for which I used frozen green peas which I thawed beforehand. You can use the frozen peas directly, without thawing them first, however, this means you will have to cook it for a little bit longer. I cooked them with some sauteed mashed garlic and I also added some soy vegetable cooking cream and some herbs, of course – fresh dill, fresh thyme, as well as garlic powder and onion powder.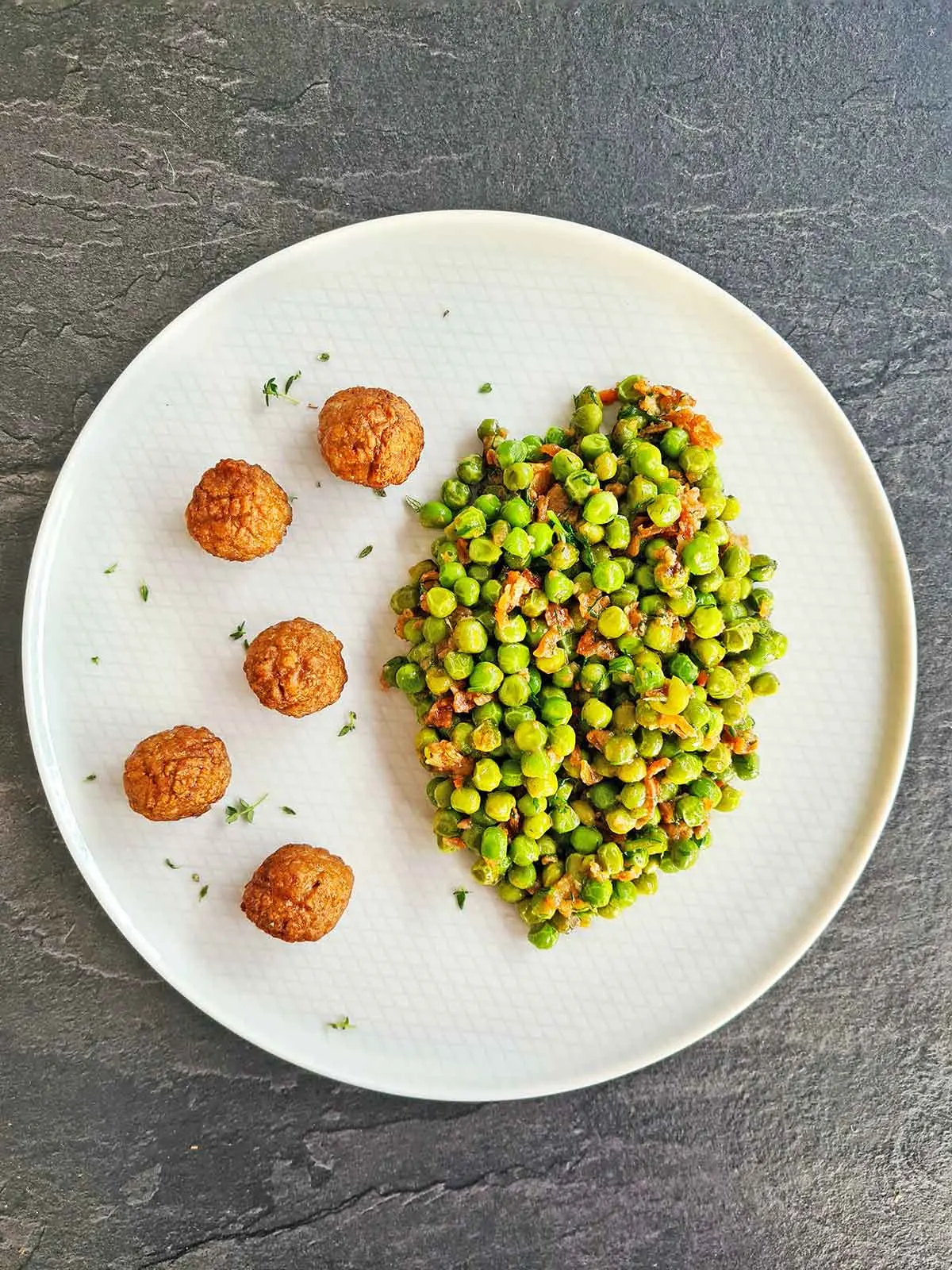 Then I thought that the creamy green peas needed a bit of texture as well. A little bit of crunch. So I added some crispy fried onions as well, and I felt that the dish was now absolutely perfect! Creamy, crunchy, sweet, and salty – every bite felt like heaven to me – and the texture of the side dish perfectly complemented the texture of the veggie balls. I declared myself satisfied!
I used store-bought crispy fried onions. Here where I live, you can find them in international food stores (also Ikea). They're very delicious and flavorful and they always add a crunchy texture to the dishes. For example, I also use them as a topping when I'm making vegan hot dogs, on top of the sauces. So good! Only one thing to note, though: crispy fried onions are kind of calorie-rich, so my recommendation is to not consume them in excess. Let's say that a little goes a long way!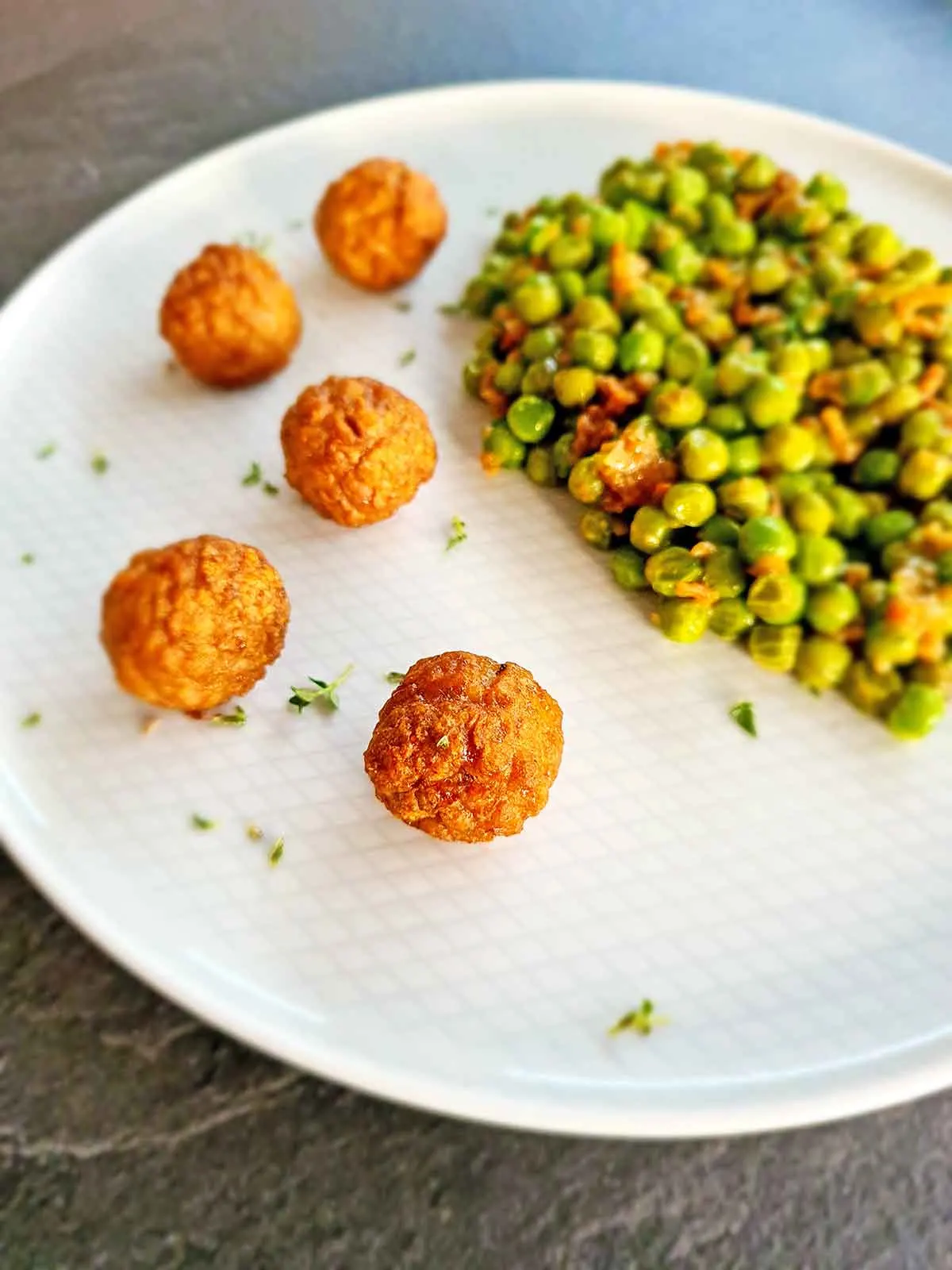 If you can't find crispy fried onions where you live, you can also make some caramelized onions in a separate pan and add them on top of the green peas at the end, but you won't get that crunchy texture and the entire recipe will end up quite differently. It's your call! You know what I always say: don't be afraid to adapt and experiment! 🙂
You can find the step-by-step recipe below. For the quantities used, I ended up with around 5 portions of creamy green peas with crispy fried onions served as a side dish. You can also eat this as a main dish, which means you'll probably end up with 2-3 portions. Feel free to adjust the quantities as needed.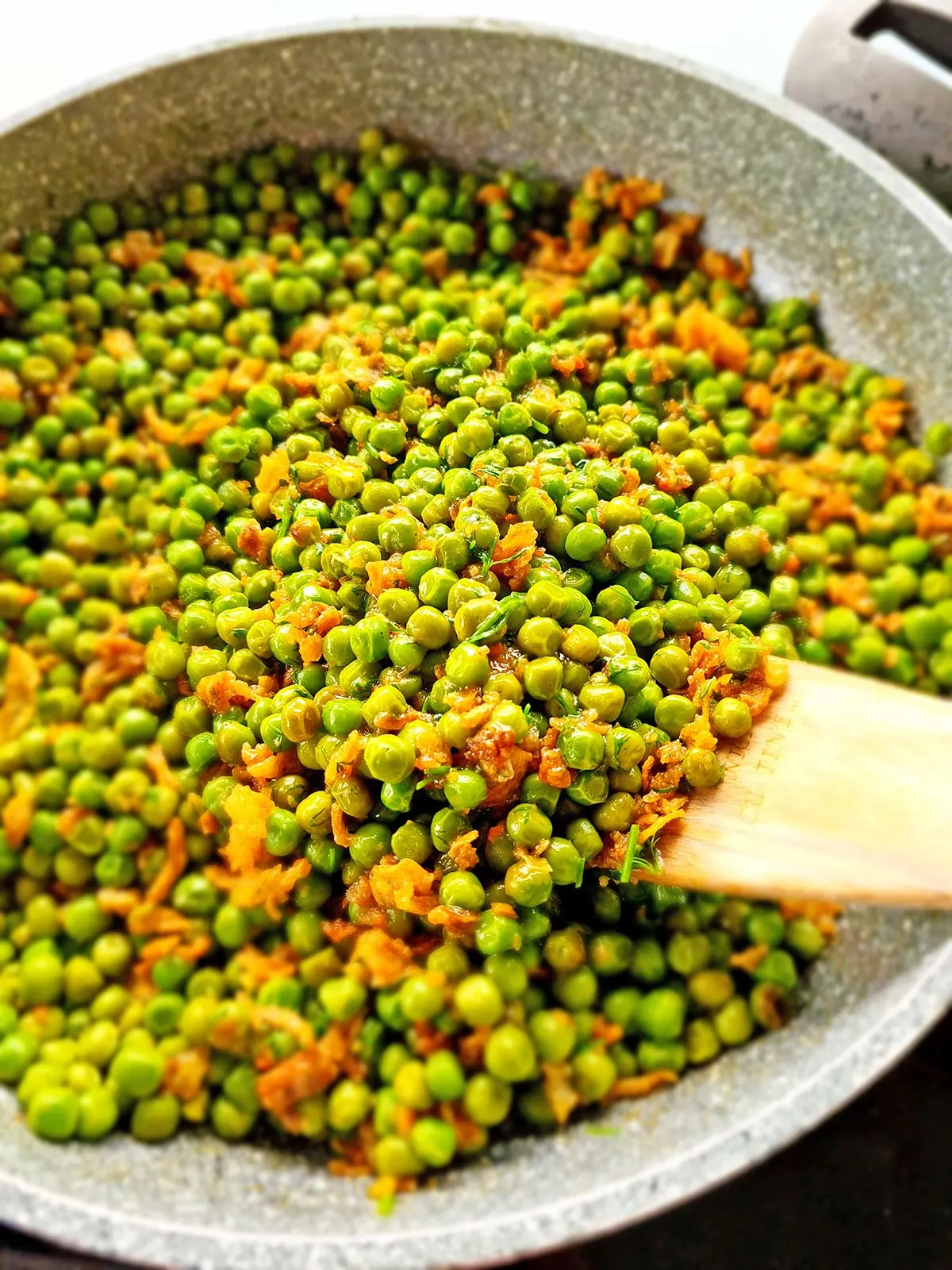 This being said, I really hope you'll try this recipe for green peas with crispy fried onions for your next lunch or dinner. And if you do, don't forget to tell me how it was by leaving a comment below!
Happy cooking!
Yield: 5
Creamy Green Peas with Crispy Fried Onions | 15-Minute Meal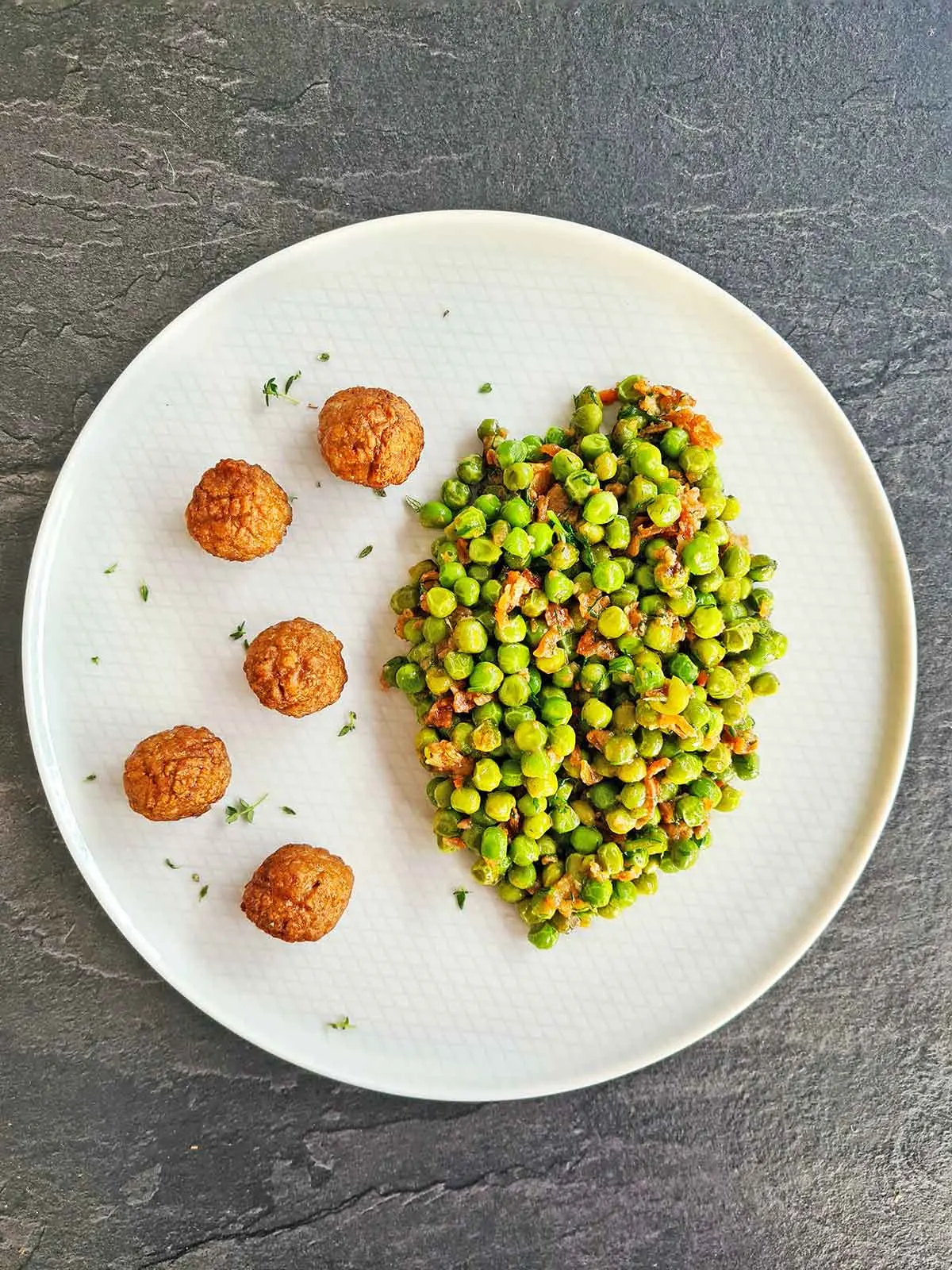 In case you're looking for a quick 15-minute meal that's absolutely perfect for lunch or dinner, here's how to make the best creamy green peas with crispy fried onions. One of my favorite side dishes!
Ingredients
1kg (35 oz) frozen green peas, thawed
4 garlic cloves, mashed
250ml (1 cup) soy vegetable cooking cream (I used Alpro Cuisine Soya)
4 Tbsps olive oil
fresh dill, chopped (add as much as you like, I tend to add a lot of fresh herbs to my meals, but this is just a personal preference)
some fresh thyme, to taste
1 tsp garlic powder
1 tsp onion powder
100g (½ cup) crispy fried onions
salt and pepper, to taste
Instructions
Heat the oil in a large pan. Add the mashed garlic and green peas. Mix well. Add 1/4 glass of water and let it cook with the lid on for 10 minutes.

Add the herbs, seasonings, and soy vegetable cooking cream. Mix well. Cook for 5 more minutes or until soft (it may take a bit longer if you don't let the frozen peas thaw beforehand; Also the brand of frozen peas I use is pre-blanched, very young, and fine peas, which means shorter cooking time, so adapt accordingly.)

Once cooked, turn off the heat. Add the crispy fried onions and mix.
Nutrition Information
Yield
5
Amount Per Serving
Calories

171
Total Fat

14g
Saturated Fat

3g
Trans Fat

0g
Unsaturated Fat

10g
Cholesterol

7mg
Sodium

87mg
Carbohydrates

10g
Fiber

3g
Sugar

3g
Protein

3g
I strive to keep the information as accurate as possible but make no warranties regarding its accuracy. I encourage you to make your own calculations using your preferred nutrition calculator.