Searching for your daily dose of vitamins? You're in the right place! Here's how to make the most delicious vitamin salad with citrus dressing. Perfect as a side salad!
Although the weather outside is really cold (with no snow, unfortunately), today I was craving a healthy salad that would help me think of sunnier days. Last week I was craving a lot of comfort meals, veggie balls, and stews, which made complete sense considering that it's still wintering outside.
But today, for a change, I was craving something light and super flavorful. Something that reminds me of Greece or summer days on the beach, when I can hardly think of anything else but complete relaxation. So I started thinking.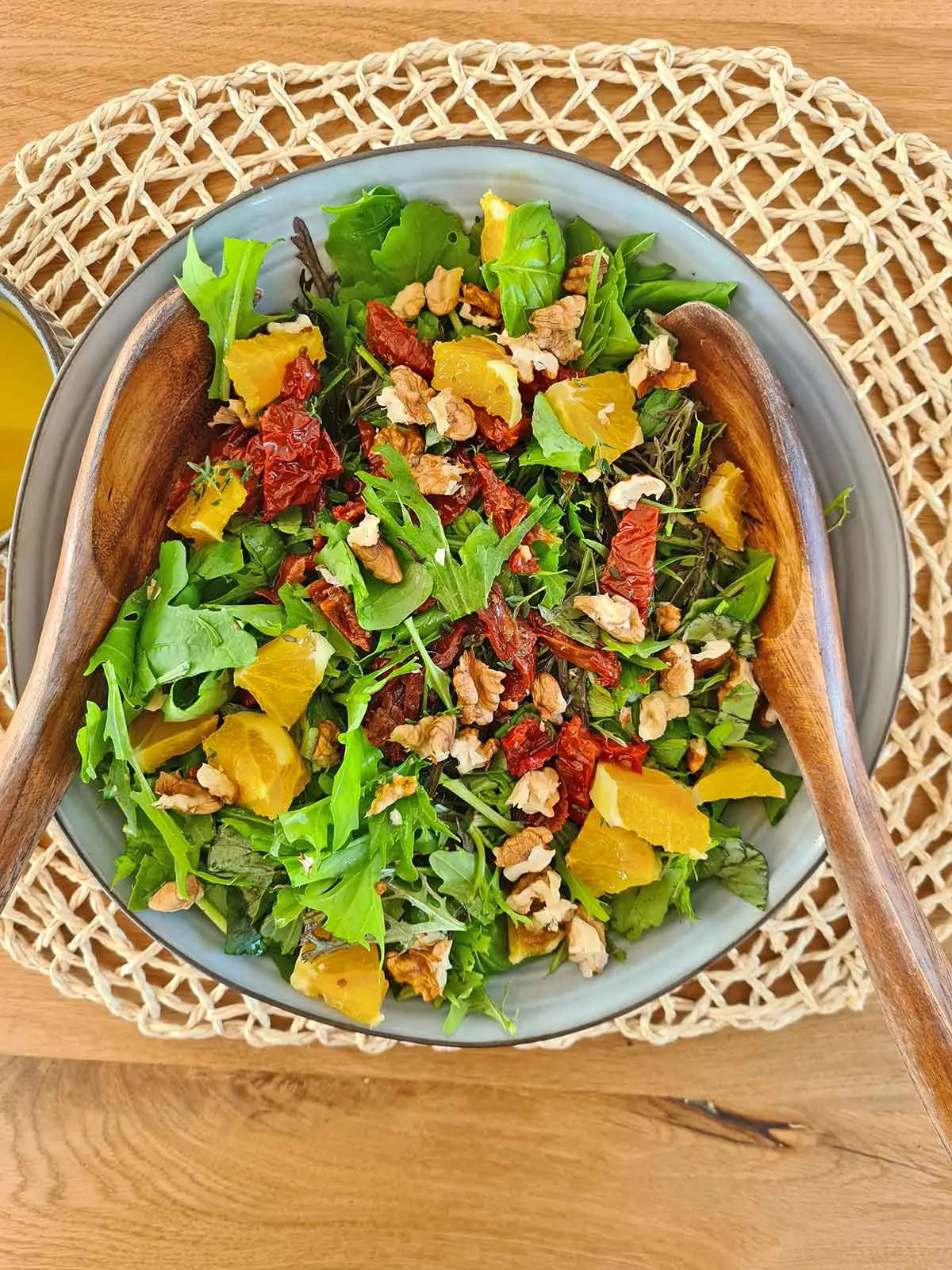 I had some fresh arugula and mizuna salad leaves from my garden. Plenty of them, which means I had to consume them fast! So that could be a great start for this meal. Let's see what else. Then I remembered I also had some walnuts in my pantry, so I toasted them in a pan with no oil, and then I roughly crushed them for a bit of texture. Great. Now we already have something to work with.
Next, I realized I was craving some dry tomatoes. Luckily, I had a jar o dry tomatoes in oil as well, waiting for me in the fridge. There was only one thing missing…
Something citrusy! So I peeled and sliced one orange for a little bit of juiciness and sweetness. And because I was craving even more citrus flavor, I decided to put together a citrus dressing – and it was one of the best ideas in the world!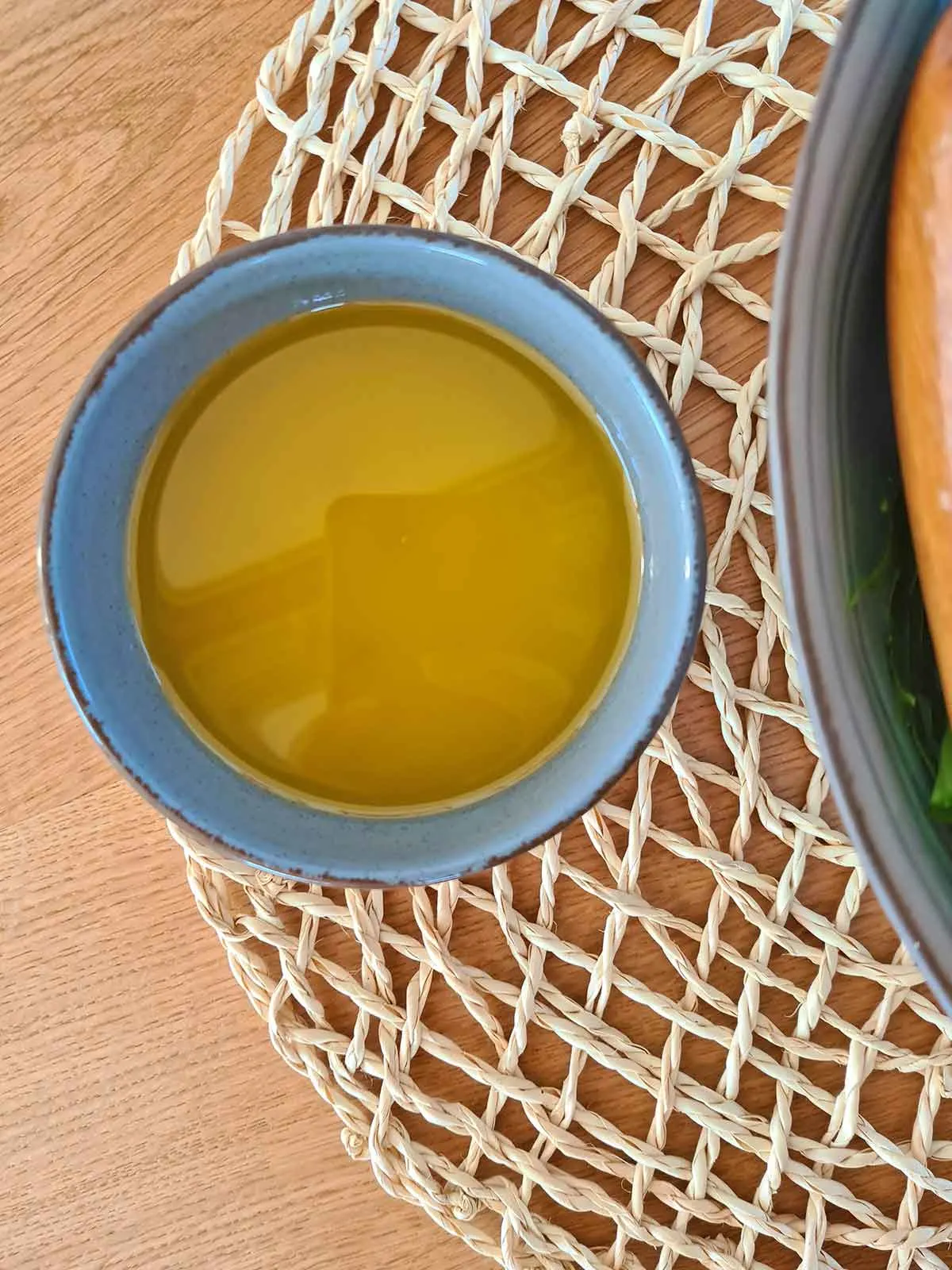 Some orange and lemon juice, some mustard, a little bit of honey, some oil from the dry tomatoes (why waste a good jar of aromatic oil?!), and the unmissable salt and pepper. The result? One of the best salad dressings I ever made! By the way, if you want to make the dressing vegan, just replace the honey with maple or agave syrup.
Of course, this is not the first, nor the last homemade dressing I make. I also have some excellent examples here – Top 3 Salad Dressing Recipes I Love! | Asian / Avocado / Mustard – but this one tops them all. At least in this combo. It was exactly what I needed!
In all honesty, this vitamin salad with citrus dressing is the perfect example of the fact that salads CAN be both delicious and exciting. No, not all salads are boring, my friends. In fact, one of the greatest things about salads is that you can mix and match the ingredients and adjust them according to your taste and cravings. In case you end up with a boring salad, this just means you need to experiment more and really think about your favorite ingredients that will bring pleasure to your meal. Chances are most of them can be included in a salad. Give it a try and you'll see! 🙂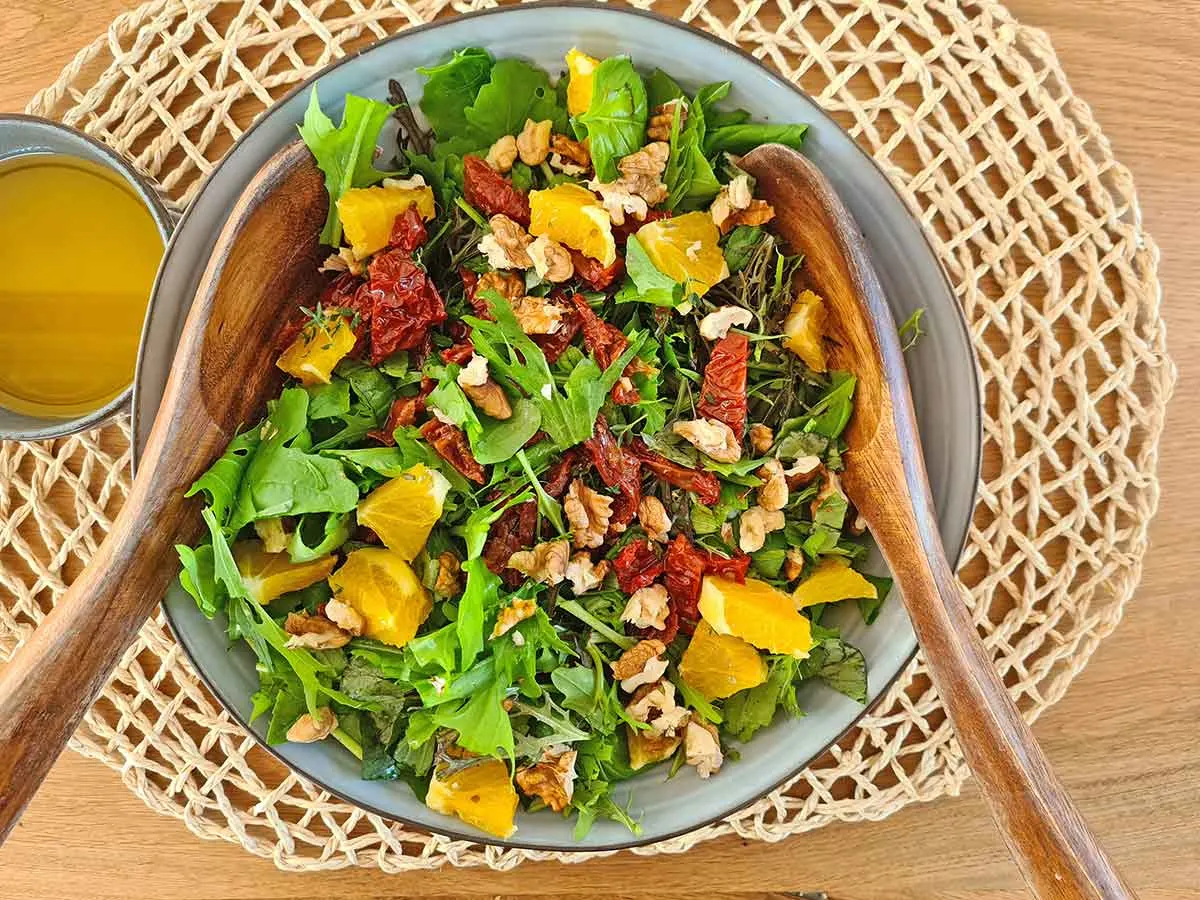 Although I've made LOTS of salads before, especially during summer when my garden is bursting with fresh green leaves, this one has quickly become one of my latest obsessions and I'm sure I'll make it again really soon. It's just too good! You can serve it as a side salad next to your main dish – or you can eat it as a main dish. It works both ways!
As I mentioned before, I used a mix of arugula and mizuna leaves from my garden, which I planted a while ago. Unfortunately, mizuna can't be found in stores that often (at least where I live), but you can find an interesting Misticanza mix which will be a good fit for this salad. Just add a few arugula leaves as well and you're good to go!
If you're the type of person that doesn't eat fruit that often (which is such a shame, as fruit are the best snack in my opinion), this vitamin salad might be the perfect solution for you. This salad brings you all the vitamins you need for the day, all wrapped up in a delicious salad. Sounds absolutely wonderful, right?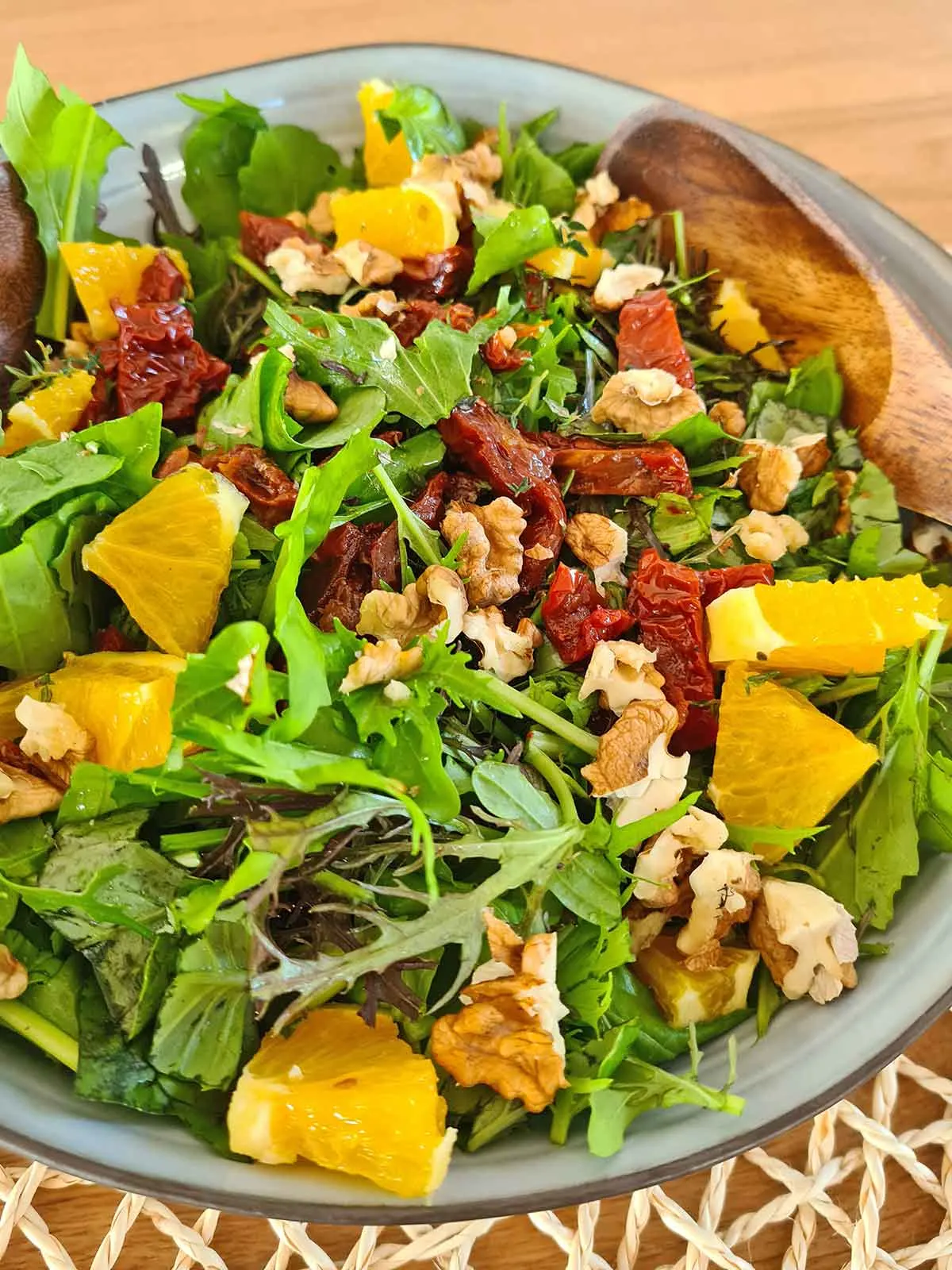 By the way, in case you don't already know, I'm a big fan of salads. So if you're looking for more salad recipes that are anything but boring, check out these ones:
Or just take a peek at this article that reunites 10+ High-Protein Salad Recipes That Excel at Both Taste and Texture for even more inspiration.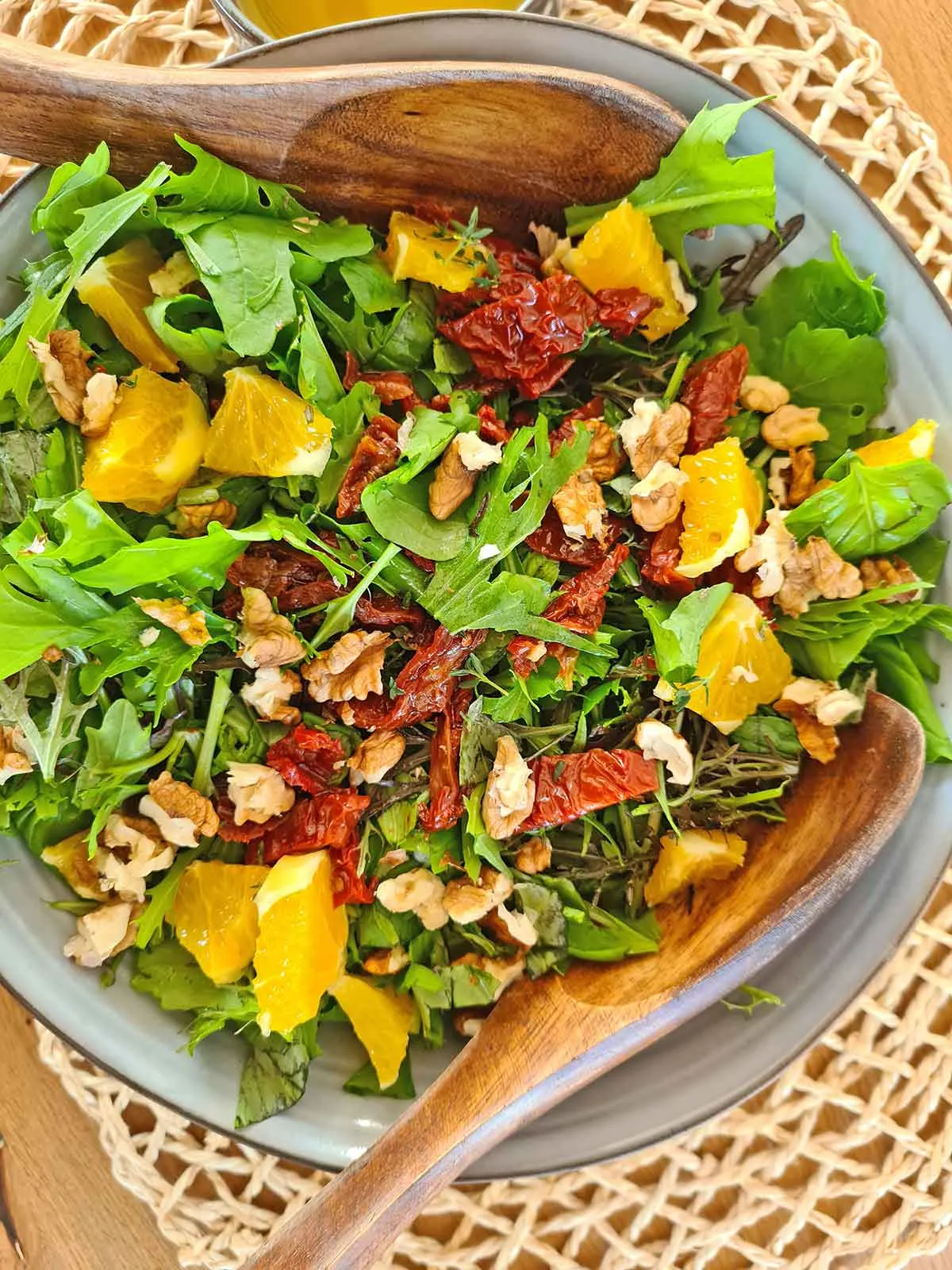 This being said, I really hope you'll try this vitamin salad with citrus dressing soon. It's so easy and delicious, it would be a shame not to! And in case you do, I'm really curious what you think about this citrus dressing recipe. So let me know in the comments below, I always love reading your opinions!
Yield: 2-4 servings as a side to other meals
Vitamin Salad with Citrus Dressing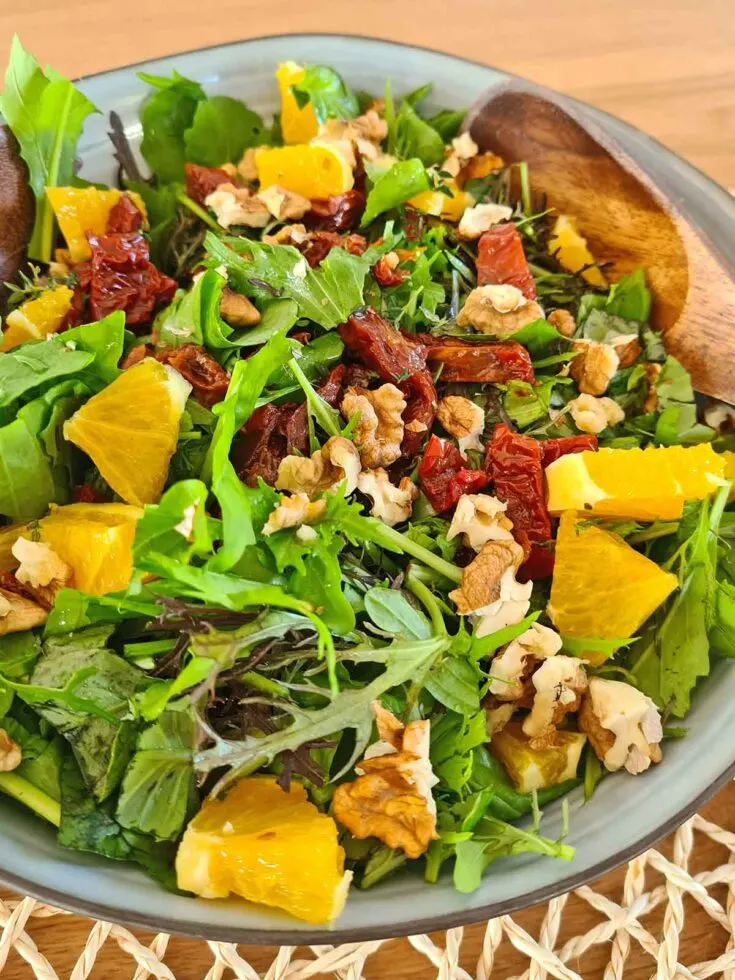 Searching for your daily dose of vitamins? You're in the right place! Here's how to make the most delicious vitamin salad with citrus dressing. Perfect as a side salad!
Ingredients
a generous mix of arugula and mizuna leaves, you can also use baby spinach in this mix
a handful of lightly toasted walnuts, roughly crushed
10 dry tomatoes in oil, chopped
1 orange, peeled and sliced
Dressing:
the juice of one orange
the juice of ½ lemon
½ Tbsp Dijon mustard
½ tsp honey
3 Tbsps oil from the canned, dry tomatoes in oil
¼ tsp salt and ¼ tsp ground white pepper
Instructions
Put the washed mix of leaves in a large bowl. Add the toasted walnuts on top, chopped dry tomatoes, and orange slices.

Mix all the dressing ingredients very well.

Pour the dressing on the salad and toss, just right before serving.
Nutrition Information
Yield
4
Amount Per Serving
Calories

414
Total Fat

28g
Saturated Fat

2g
Trans Fat

0g
Unsaturated Fat

24g
Cholesterol

0mg
Sodium

296mg
Carbohydrates

40g
Fiber

8g
Sugar

28g
Protein

7g
I strive to keep the information as accurate as possible but make no warranties regarding its accuracy. I encourage you to make your own calculations using your preferred nutrition calculator.