You must try this delicious orange phyllo cake – Portokalopita – a popular Greek recipe! It has the most amazing texture and an exotic taste which will instantly make you feel better!
Portokalopita, also known as Greek orange phyllo cake is a traditional Greek pie (or cake) made by soaking shredded, crispy phyllo sheets into a sweet orange syrup with a refreshing and exotic taste.
Portokalopita is a soft, golden-colored dessert that you will encounter all around Greece. The authentic portokalopita recipe is made with yogurt, eggs, phyllo dough and a fragrant syrup with orange zest and cinnamon, resulting in a very sweet and flavorful orange pie.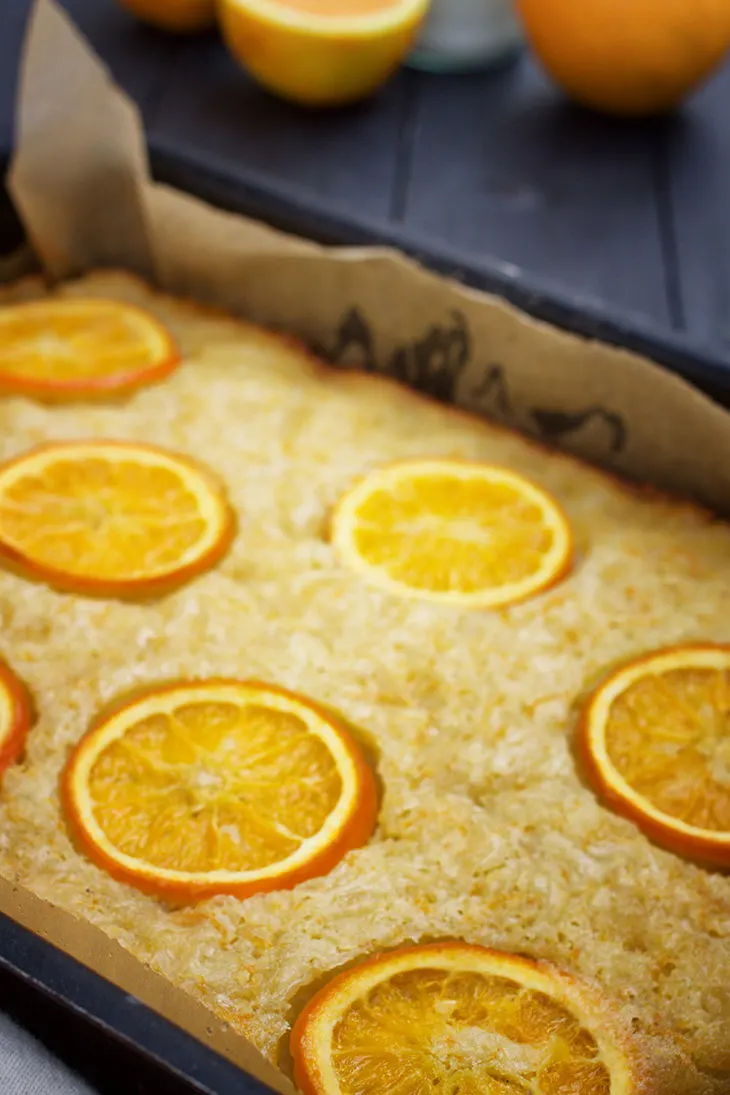 Greek people sometimes serve this type of pie for breakfast for an energized start of the day, but you can eat it as a simple dessert that will remind you of the exotic Mediterranean flavors. Greeks are so fond of this orange dessert because it's filled with unique, aromatic flavors but it still has a refreshing taste.
In order to bake the perfect portokalopita every time, it's essential that you distribute the orange and cinnamon syrup evenly around the pie so that every bite has the ideal taste and texture. Also, take your time when shredding the crispy phyllo sheets and do it by hand.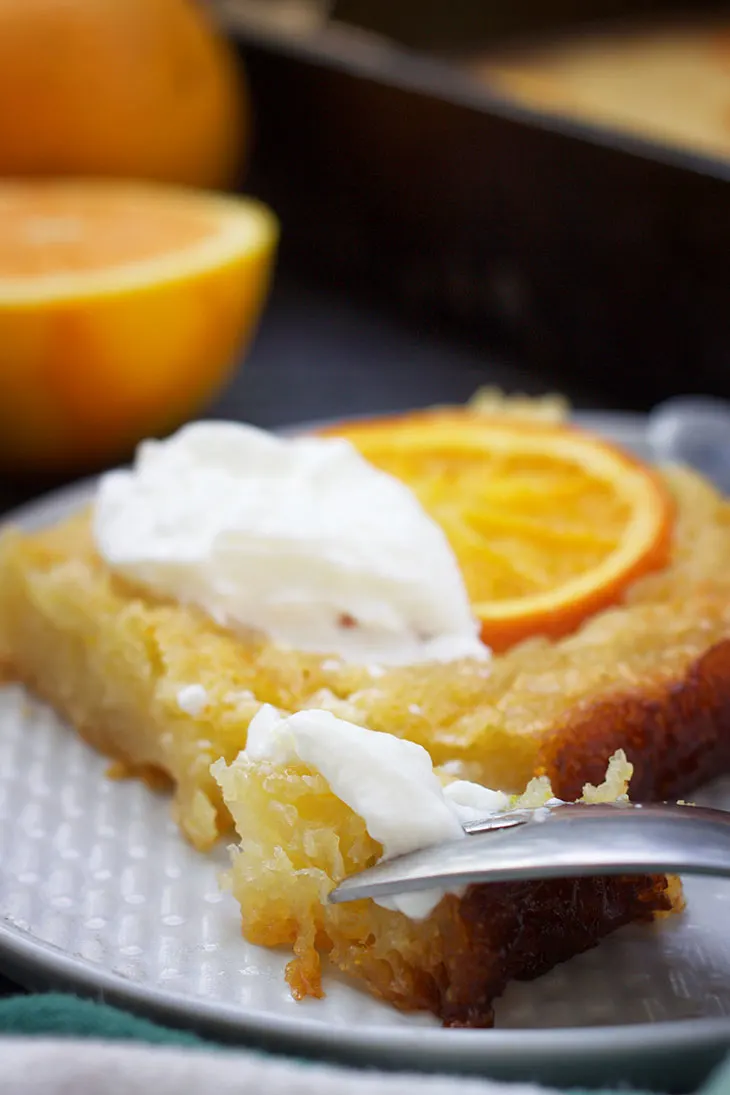 Oranges are some of my favorite fruits because of their sweet but refreshing taste. If you're looking for other desserts with oranges, ones that don't require any baking, check out my no-bake citrus cake with berries and this raw citrus carob pudding recipes!
Oranges are healthy, so eat them as often as you can. Often consumption of citrus fruits will help you in many ways such as: boosting your immunity, protecting your vision, slowing the aging process of our skin, preventing heart diseases and some types of cancer and many more! It's well-known that oranges are rich in vitamin C which makes them perfect if you have a cold or if you just want to boost your immune system, though, make sure you eat them raw!
This recipe calls for orange zest and orange slices with their peels on, so it's very IMPORTANT to wash them thoroughly and maybe even leave them in a water solution with vinegar or baking soda. This will get rid of the chemicals on the peels which are toxic to humans. All store-bought citrus fruits have toxic pesticides and antifungal substances on the peels, so keep this in mind, unless you buy certified BIO citrus fruits.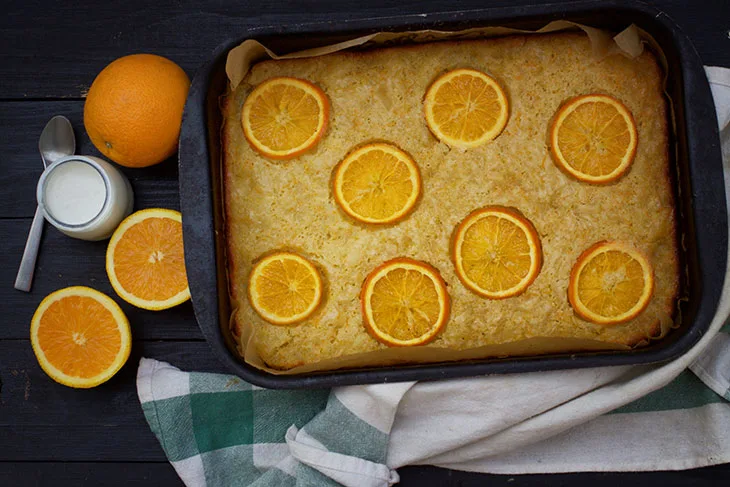 Even though I'm not a big fan of baked desserts, as I prefer fresh fruits instead, this Portokalopita has become one of my favorite desserts I have ever made! It has a mild sweetness accompanied by a fresh taste I love. It's energizing and looks pretty amazing without any effort or special decorating skills. 🙂
This recipe will teach you how to create the vegan version of this famous Greek orange phyllo cake. I replaced the eggs and used vegan yogurt instead. The preparation is so simple that anyone can make it if they follow the instructions accordingly.
Serve portokalopita with a scoop of vanilla ice cream on top or drizzle some chocolate sauce all over it if you want to take your Greek culinary experience to the next level. Enjoy!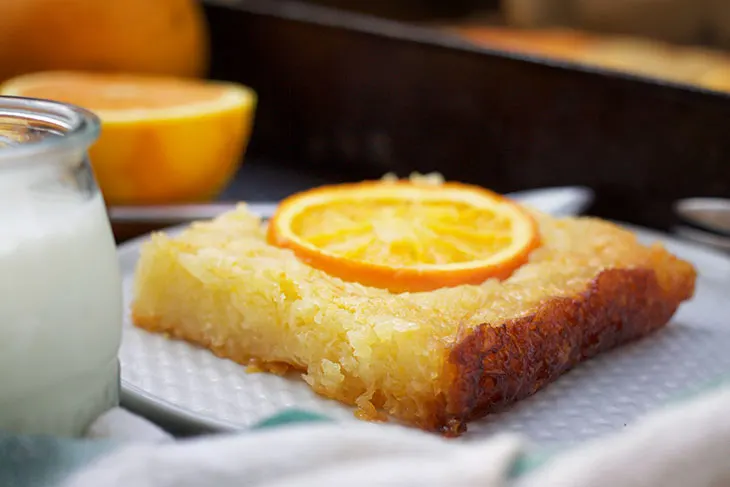 Yield: 12
Portokalopita - Greek Orange Phyllo Cake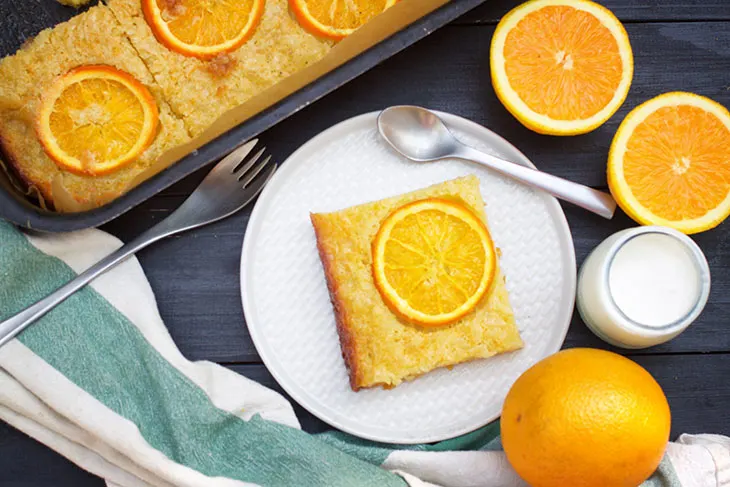 You must try this delicious orange phyllo cake – Portokalopita – a popular Greek recipe! It has the most amazing texture and an exotic taste which will instantly make you feel better!
Ingredients
250g (1 cup) yogurt, vegan (I used an unsweetened soy yogurt)
300ml (1 ¼ cup) sunflower oil
250g (1 ¼ cup) sugar
300ml (1 ¼ cup) orange juice
2 tsp baking powder
1 Tbsp tapioca starch
zest of 1 ½ orange, make sure you wash it thoroughly or use BIO oranges
1 tsp vanilla extract
450g (16 oz) phyllo dough
1 orange, sliced
For the syrup:
400ml (1 ⅔ cup) water
200g (1 cup) sugar
zest of 1 orange
1 cinnamon stick
2 anise stars
Instructions
Unwrap the filo dough from the plastic packaging and place the sheets on a large surface. Leave them at room temperature for 40 minutes to dry and become crispy.
Meanwhile, prepare the orange syrup.
Pour the water into a medium pot. Add the sugar, orange zest, star anise and cinnamon. Bring to the boil.
Simmer for 10 minutes, until the sugar is dissolved and the syrup has thickened. Leave aside to cool.
To make the cake, preheat the oven to 180C. Combine the oil with sugar in a large bowl and whisk until incorporated.
Add yogurt, orange juice, the orange zest, tapioca starch and the vanilla extract. Whisk well to combine until smooth. Add the baking powder, and lightly whisk to incorporate.
Tear the sheets of the phyllo dough into small pieces, using your hands.
Oil a baking dish.
Spread the crumbled phyllo on the bottom of the greased baking dish. Pour the yogurt mixture over it and top with orange slices.
Bake for 40 minutes until golden.
Pour the syrup over the hot cake distributing it evenly on the whole surface.
Let it cool and serve with some vegan vanilla ice cream or coconut cream on top.
Nutrition Information
Yield
12
Amount Per Serving
Calories

390
Total Fat

19.4g
Carbohydrates

50g
Protein

4g