This recipe is for all chocolate lovers out there! Get ready to be amazed by this extremely easy to make vegan chocolate pie. It's healthy, too, and your kids will love it!
If chocolate is your favorite meal and dessert, then this is the perfect recipe for you! 🙂 With the creamy chocolate and the crunchy pie texture, this dessert can be the perfect choice for a Sunday gathering or an excellent way to treat yourself after a long week!
I want to make it clear right from the start that this pie is super easy to make, so no need to stress out about how long it is going to take and if it's going to be a fail or not. It's going to be a success – and a super delicious one, I might add! 🙂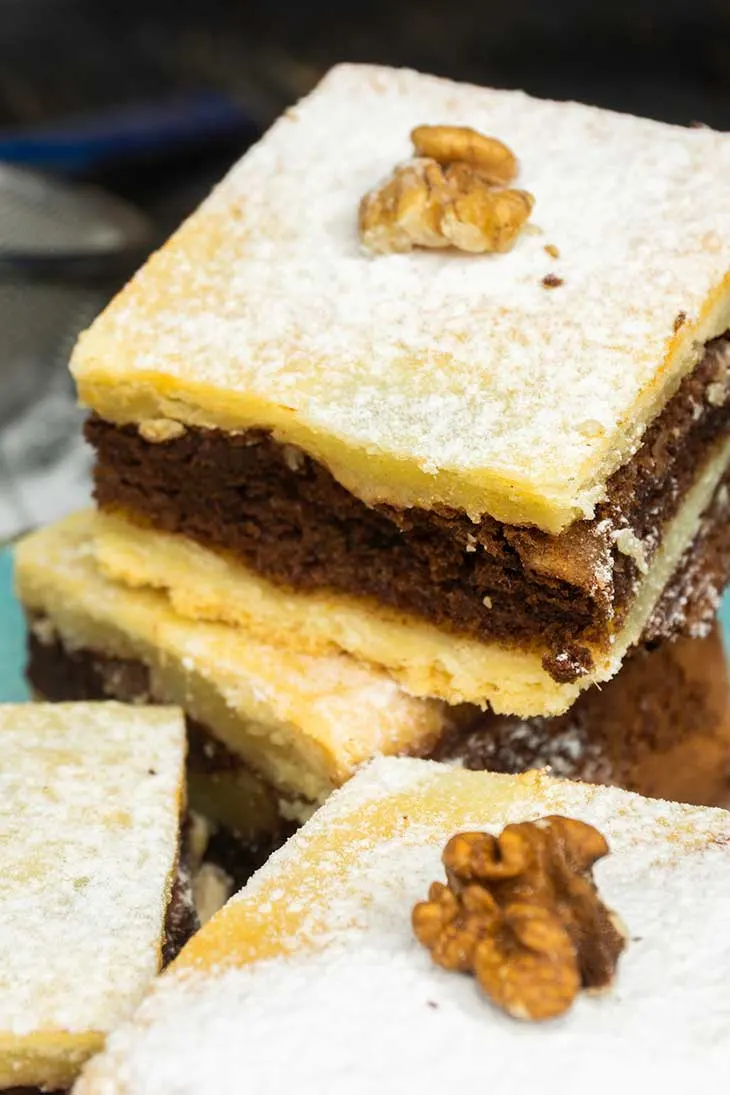 The origins of pie go back for as long as cooks had the dough to bake with and a filling to stuff it with. The bakers to the pharaoh Ramses II, a king who believes he is god, were the first to incorporated nuts, honey, and fruits in bread dough. Drawings who prove the story were found on the tomb walls of Ramses II (who ruled from 1304 to 1237 B.C.), located in the Valley of the Kings.
The beginnings of the pie were carried on by the Greeks who used to make a flour and water paste wrapped around meat. This served to cook the meat and seal in the juices. During the Medieval times of England, instead of being a sweet dessert, they were mostly filled with beef, lamb, wild duck, magpie pigeon completed with spices such as pepper, currants or dates.
The Romans, on the other hand like their pies sweet. Meat pies were also part of Roman dessert courses but had a sweet version called secundae mensea. A cookbook from 1796 may list just a couple of sweet pie recipes while a cookbook written in the late 1800s may feature many recipes of the sweet pie. By 1947 a Modern Encyclopedia of Cooking listed over 60 varieties of sweet pies.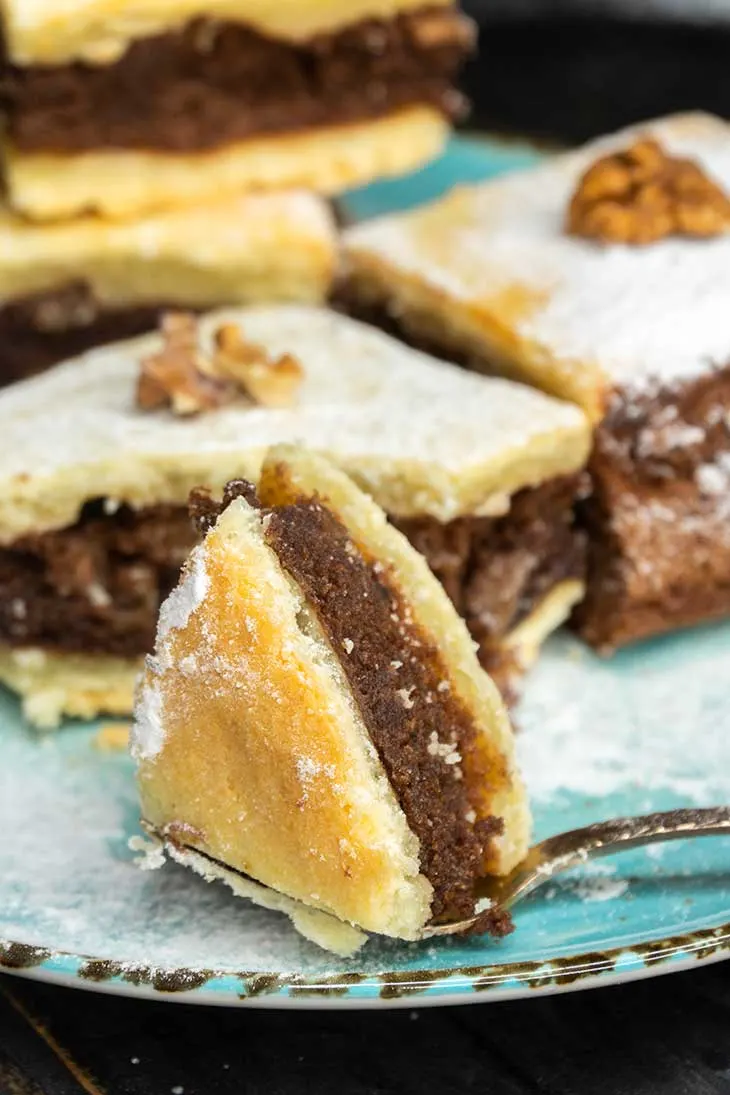 Now, are you ready for this amazing vegan chocolate pie? Please know that I adapted this delicious treat and now it's completely vegan, ready for you to enjoy! 🙂 The out-of-this-world delicious vegan chocolate pie consists of combining aquafaba (the liquid left in chickpea cans), vanilla extract, cream tartar, vegan dark chocolate and some other yummy ingredients which I'll tell you all about in the recipe below.
If you are skeptical about aquafaba in a dessert, trust me, the result will taste like the ultimate chocolate mousse and truffle tart combined. One slice of this will simply not be enough! 🙂
Here's a pro tip: You can also replace the liquid with silken tofu if you want a healthy dose of protein in your vegan chocolate pie. Tofu is a protein source rich in copper and iron, which are essential for the body! But for now, I recommend following the recipe below, as it guarantees delicious results each and every time!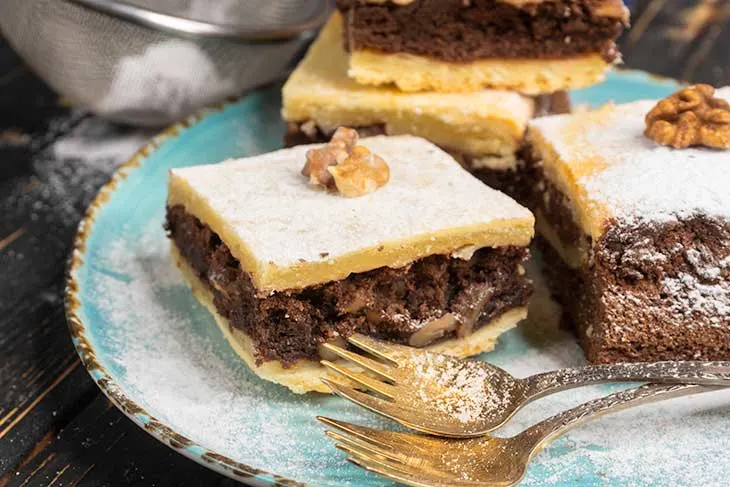 Now that we agreed, let's get this party started!
We will make the crust first, which is going to end up being fluffy and super flavorful, just perfect combined with the intense chocolate filling! I will explain the detailed recipe below, but get ready to be amazed by one of the best chocolate pies I ever made! I usually make this type of layered pies with apples or apricots, but ever since I discovered how well they go with chocolate, I cannot stop making them! 🙂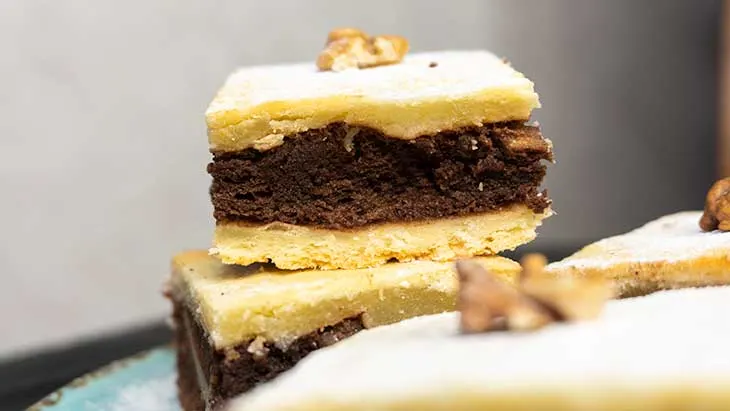 I hope you will enjoy this incredibly tasty vegan chocolate pie as much as I do. Let me know what you think of it in the comments below! Happy cooking!
---
Personalized meal plans and workout videos | Get your customized meal plan today! [x_button shape="square" size="mini" float="none" target="blank" href="https://shop.gourmandelle.com/?utm_source=mainsite&utm_medium=site&utm_campaign=inpost" info="none" info_place="top" info_trigger="hover"]I WANT A MEAL PLAN![/x_button]
---
Yield: 9
Vegan Chocolate Pie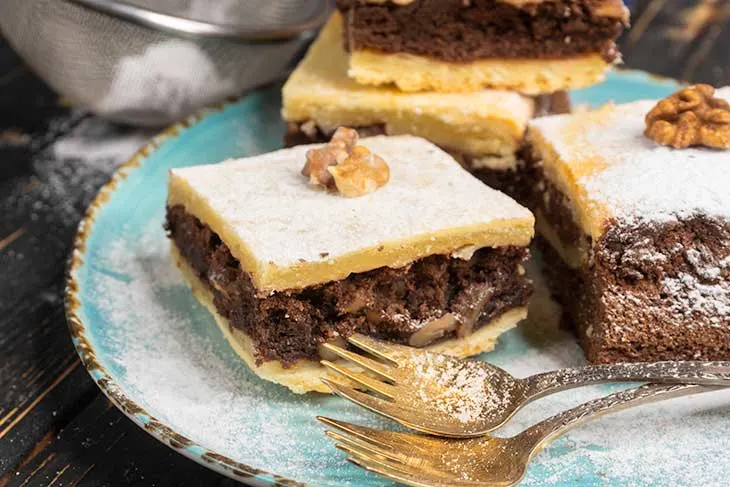 This recipe is for all chocolate lovers out there! Get ready to be amazed by this extremely easy to make vegan chocolate pie. It's healthy, too, and your kids will love it!
Ingredients
For the dough:
250g (2 cups) flour
230g (1 cup) room-temp butter, for the vegan version I use the Creamy spread from Violife
4 Tbsp ice cold water
pinch of salt
For the filling:
8 Tbsp aquafaba, the liquid from a can of chickpeas
200g (1 cup) sugar
150g (5 oz) dark chocolate
75g (½ cup) crushed walnuts
1 tsp vanilla extract
¼ tsp cream of tartar
zest of 1 medium orange
Instructions
Incorporate the margarine into the flour (you can do this by hand, in a bowl or a food processor), add a pinch of salt, and 4 Tbsp of ice-cold water (one at a time).
Mix well until the dough is formed. Let it rest in the fridge for 1 hour.
Melt the chocolate over a steamer or in the microwave and let it come to room temperature.
Put the chickpea liquid into a separate bowl, add the cream of tartar and beat with a hand mixer.
When it foams up, add the sugar a little at a time. Beat until stiff peaks.
Add the vanilla and orange zest.
Fold in the melted chocolate and crushed walnuts.
Grease and line your baking tray.
Split the dough into two equal parts.
Roll the dough in the shape of your tray.
Place one layer of dough on the bottom of your pan, top with your chocolate-walnut mixture, and cover with the second layer of dough.
Bake at 180 degrees C for 40 minutes or until a toothpick comes out clean.
Nutrition Information
Yield
9
Amount Per Serving
Calories

370
Total Fat

13.7g
Carbohydrates

55.6g
Protein

6g
I strive to keep the information as accurate as possible but make no warranties regarding its accuracy. I encourage you to make your own calculations using your preferred nutrition calculator.