Craving something delicious, quick and comforting? This vegan mushroom tart is your answer! Learn how to make it in no time and enjoy the perfect meal!
Aren't savory tarts just lovely? To think that something that's considered a dessert can constitute the main meal or a snack is simply amazing!
Tarts themselves, in general, have a history of being more than dessert, having being served as main dishes in the old kitchens of England. Tarts and pies started out as nothing more but a dough casserole for heavy meat-based fillings, which were usually made with cheap ingredients. People had very little money and many mouths to feed, so baking huge pies out of thin air must have made sense back then.
The tradition of savory pies went on, and it's very good that it did! There's room out there in the word for all kinds and sorts of pies, with meat, fruits or without, fluffy or heavy, it's your call!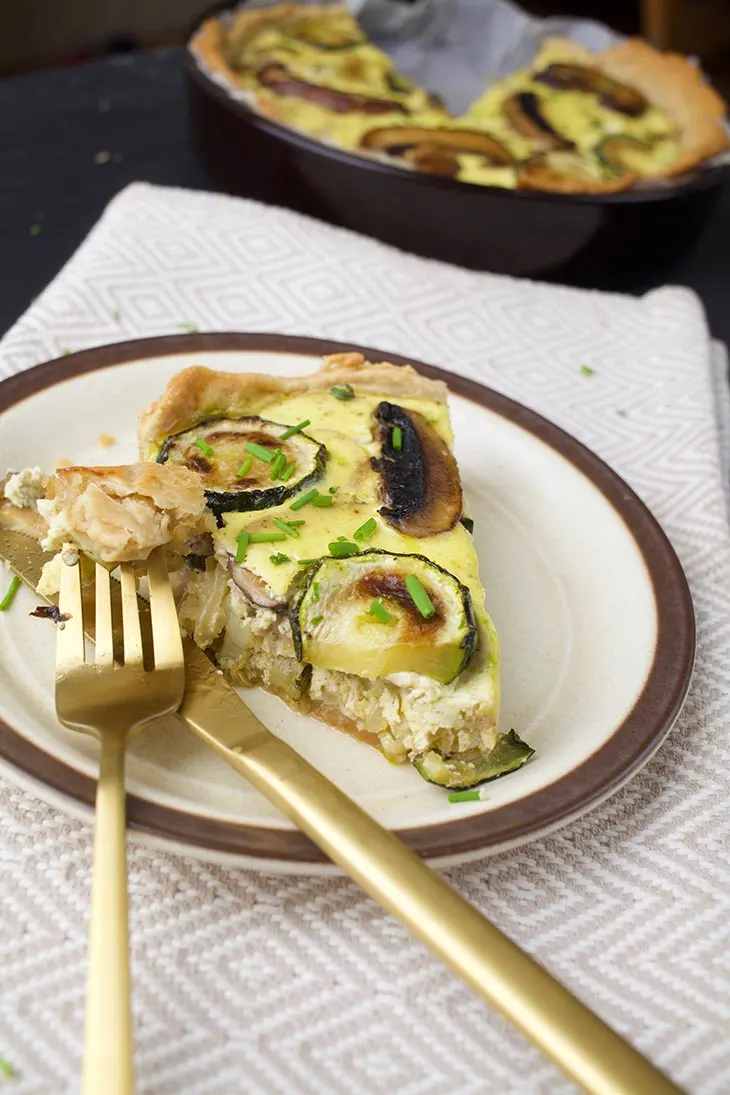 But today I'm not going to show you how to make a heavy tart. Today we are going to be making a delicious vegan mushroom tart, that will be light, fluffy and absolutely tasty! I say vegan because we aren't going to be using animal products, but to be fair, you'll be able to serve it to your non-vegan friends and family and they won't even notice or care that it doesn't have milk, eggs, and meat! 🙂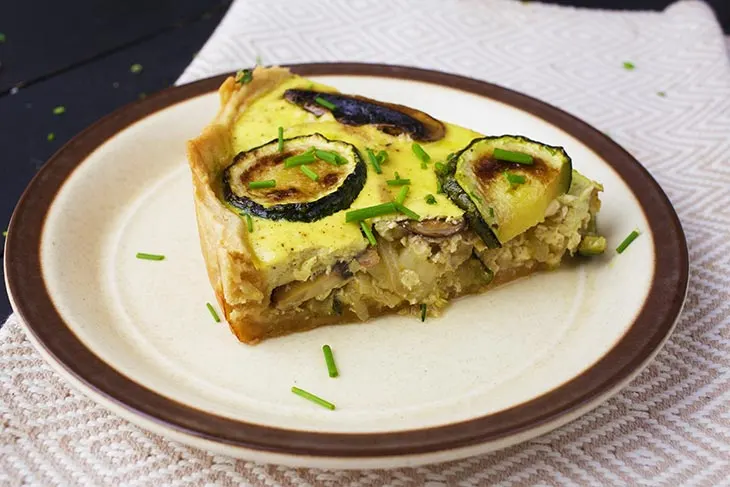 Mushrooms are a great source of protein and they are used very often in vegan recipes to replace different types of meat. I don't think we're exactly trying to replace anything today, because mushrooms are absolutely delicious on their own and deserve some credit.
Now you might be wondering what kind of mushrooms you should use in this recipe. Well, I believe this tart is at its best when made with a mix of different sorts of mushrooms. For example, I believe cremini, shiitake and oyster mushrooms go along very well together. Still, this shouldn't stop you from using the sorts that you like the best! Just make sure to wash and chop finely before use.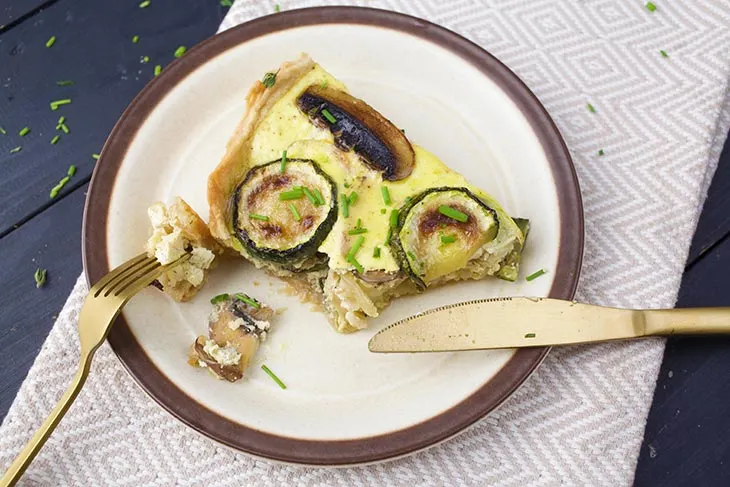 The process of making the filling for this tart is pretty standard. If you are using onions, go ahead and throw them in a hot pan before you saute the mushrooms together with them. We will spice up the mushroom filling using all sorts of herbs and spices, each with their own purpose and place in the recipe. Leave the fire running until they're nice and ready, time in which you'll be able to make your crust.
You can use store-bought puff pastry for your crust if you'd like to get a head start, or if you don't have much time for cooking. However, keep in mind that making your own dough is a valuable skill in the kitchen that will serve well in many other applications. Press the dough on the sides of the tart pan that you'll be using.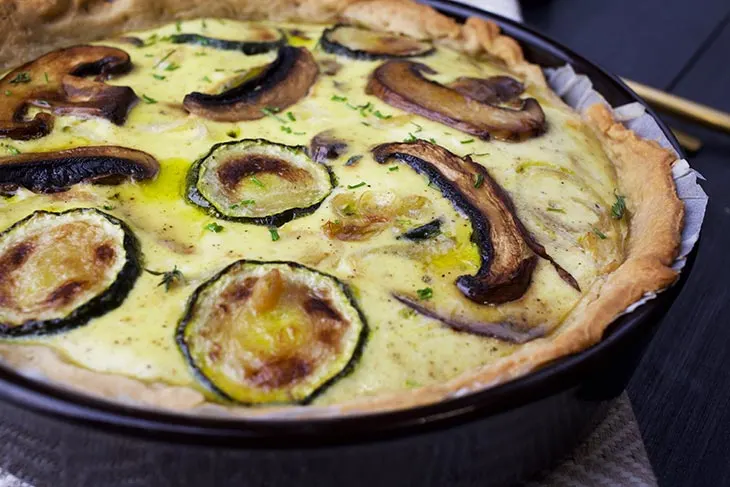 The mushroom tart is completed by baking in the oven covered with a foil. If a simple mushroom tart sounds too bland, you can use a couple of additional ingredients to make your vegan mushroom tart even more delicious! 🙂
Cashew cheese, made with tasty herbs of your choice, layered over the pastry crust before putting it in the oven will give your tart crust a delicious flavor. If cashews are not your cup of tea, you can try using tofu ricotta. Again, it goes best with spices and herbs.
But most importantly, add roasted garlic and caramelized onions! Or maybe zucchini, as I did in this recipe! These will "fill in the blanks" in the filling of this dish, making it feel right. Onions and mushrooms go together like best friends in many of my favorite recipes, but who can blame simple kitchen chemistry?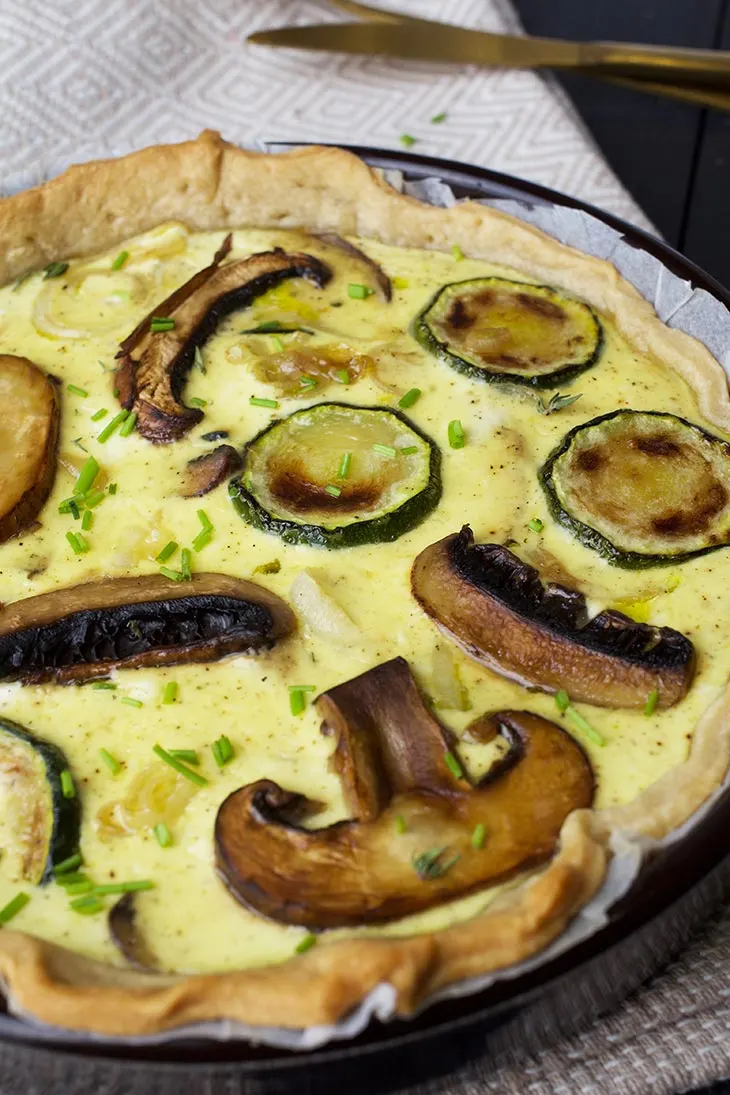 You can serve this vegan mushroom tart at any holiday occasion with the family and turn that into a special occasion. Everybody enjoys a good festive tart, and if you want to make your vegan mushroom tart look the part, you can decorate it with cherry tomatoes and thyme leaves. Even your meat-loving uncle will enjoy this tart!
Being all vegan and made with natural ingredients, you can give a slice of this tart to your kid as well, of course! It's actually pretty healthy and low in fat, just make sure the little one doesn't ask for ten extra slices! If you keep the tart in the fridge for a day, the filling will coagulate because the ingredients will have more time to get to know each other. Once that happens, you can serve your tart as a cross-section, and add sauce or whatever you like.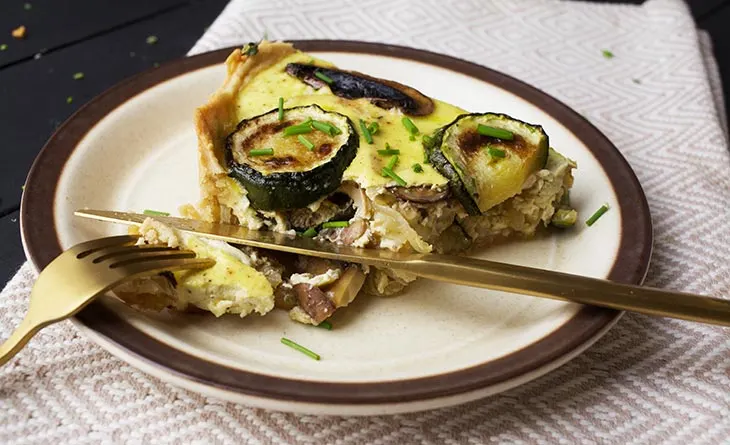 I hope you'll enjoy making this vegan mushroom tart as much as I enjoyed telling you how to make it! Make sure to tell me how everyone liked it!
Yield: 6
Vegan Mushroom Tart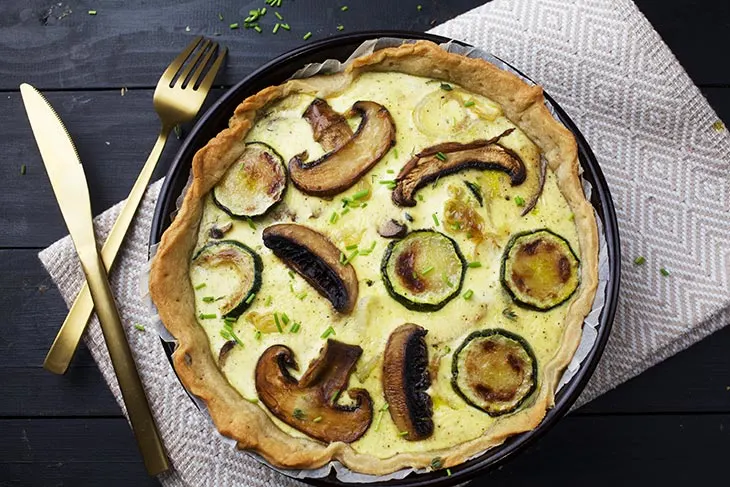 Craving something delicious, quick and comforting? This vegan mushroom tart is your answer! Learn how to make it in no time and enjoy the perfect meal!
Total Time
1 hour
10 minutes
Ingredients
1 sheet vegan pie crust
For the filling:
250g (1 cup) silken tofu
100g (¾ cup) raw cashews, soaked overnight
180ml (¾ cup) soy milk
2 garlic cloves
2 Tbsp nutritional yeast
3 Tbsp cornstarch
1 tsp fresh thyme
½ tsp freshly ground black pepper
½ tsp salt
1 red onion, sliced
200g (2 cups) sliced mushrooms
1 zucchini, sliced
2 Tbsp olive oil
1 Tbsp chopped chives
Instructions
Preheat the oven to 200 C.
Press the crust into the pie pan. Prick it thoroughly with a fork. Pre-bake the crust at 200 C.
Heat a large skillet with 1 Tbsp olive oil on medium heat.
Add the zucchini in a single layer to the skillet. Fry for about 4 minutes per side or until lightly golden on the edges. Remove the cooked zucchini from the pan, set aside.
Add a little oil to the same skillet, add the sliced mushrooms and cook for about 6 minutes or until lightly golden on both sides. Remove the mushrooms from the skillet and set aside.
Add the sliced onions to the same skillet and fry until wilted, for about 5 minutes. Set aside.
Add the silken tofu, cashews, milk, garlic, nutritional yeast, cornstarch, thyme, salt and pepper to a food processor.
Blend until smooth.
Pour the mixture into the pre-baked pie crust. Add the onion, zucchini, and mushrooms and bake for about 35 minutes until lightly golden.
Let cool and serve with some chives on top!
Nutrition Information
Yield
6
Amount Per Serving
Calories

463
Total Fat

31.6g
Carbohydrates

30.6g
Protein

14g