Change language:

Română
 This Chanterelle mushroom pasta tart is a quick and easy recipe with a rustic look and meaty, spicy taste! It also has a "secret" ingredient which I'm sure you'll love! 
Chanterelles… I've heard about these mushrooms before but this year was the first time I cooked with them. I must say I completely fell in love with their taste! They're the perfect mushrooms to cook with! Chanterelle mushrooms are so versatile and have a subtle earthy flavor I love. Too bad they are only available in late summer and beginning of autumn… I could eat them all year long!
Because I loved the Baked Pasta Tart with Smoked Tofu and Mushrooms so much, I decided to try a similar version but using Chanterelle mushrooms instead. Oh my, oh my, I am so glad I did! This Chanterelle mushroom pasta tart turned out perfectly! I also added some white wine for extra-flavor, as I love how well wine goes with mushrooms, and it turned this simple pasta casserole into a delicious treat!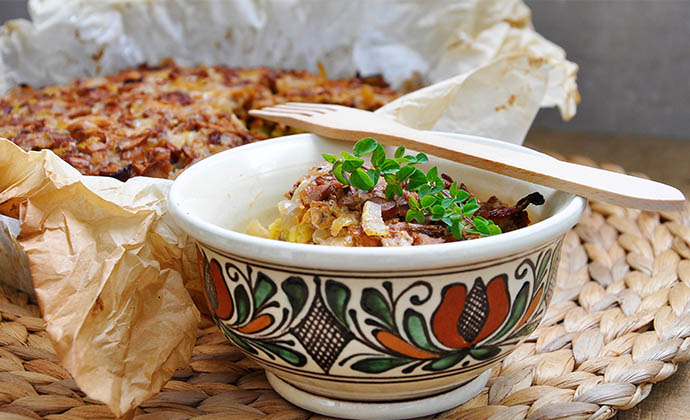 I love rustic tarts with their earthy colors, homemade appearance, and lovely imperfections. This is the effect I wanted to achieve with this Chanterelle mushroom pasta tart too. Hope you like how it looks too! 😀
The recipe is gluten-free, but not vegan. I used eggs in the composition, but no dairy!  Hope you'll give it a try, you'll love it I'm sure! 😀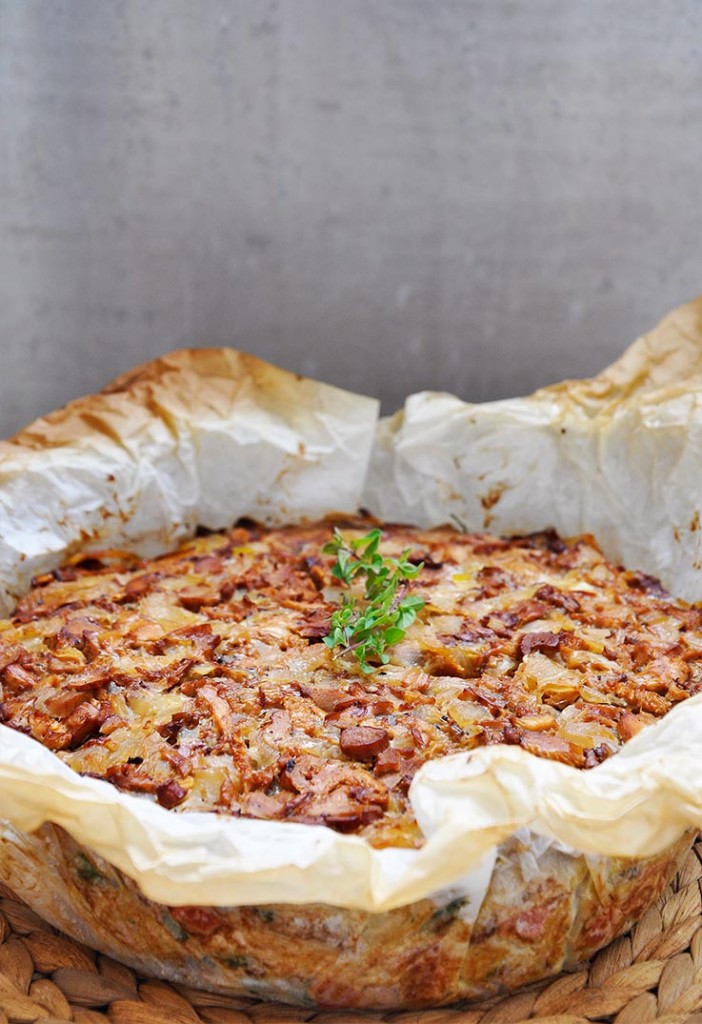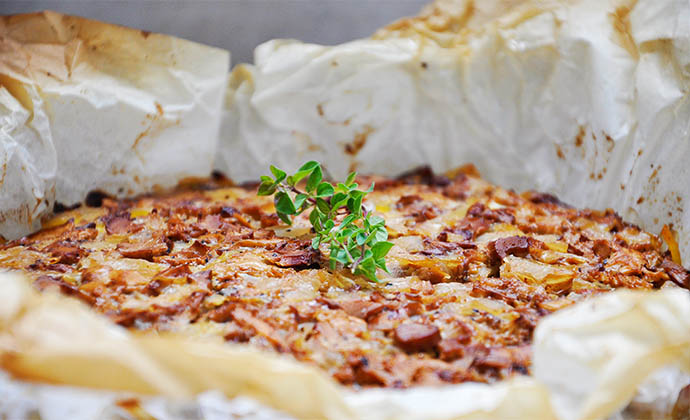 Chanterelle Mushroom Pasta Tart | Gluten-Free!
This Chanterelle mushroom pasta tart is a quick and easy recipe with a rustic look and meaty, spicy taste!
Ingredients
250

g

gluten-free spaghetti

I used Schar spaghetti, but you can use any other kind of brand, even not gluten-free ones

4

cups

Chanterelle mushrooms

chopped

1/2

cup

white wine

1

onion

chopped

2

eggs

beaten

3

tsps

dry thyme

1

tsp

oregano

1/2

cup

fresh dill

chopped

sea salt and ground pepper

to taste

some olive oil
Instructions
Add water in a large pot. Add 1/2 Tbsp salt.

Add pasta and 2 cups chopped Chanterelle mushrooms. Boil for 10 minutes.

Drain pasta and mushrooms and move them into a large bowl.

Add spices and beaten eggs. Mix well.

Heat some olive oil in a large pan. Add chopped onion and saute for 2 minutes. Add the rest of the mushrooms (2 cups), salt, ground pepper and wine. Saute for 5-6 minutes.

Use a cake tin with detachable walls/round yena bowl or simply just a pot. Cover it with parchment paper and grease it.

Add the composition from the bowl and spread it evenly.

Add the sauteed mushrooms from the pan as a top layer. Spread evenly.

Bake at 200C/392F for 30 minutes.