Did anyone say comfort food? Here's one of the best dishes I tried lately: healthy, delicious sweet potato shepherd's pie. Perfect for meal prep! >>>
In case you were looking for some inspiration for your next meal prep session – no worries, I got you! First of all, let me tell you that I love shepherd's pie in general. I loved the original when I used to eat meat, I love the veggie version, I love the mashed potatoes on top. But this version with sweet potatoes… I simply cannot describe how good it is!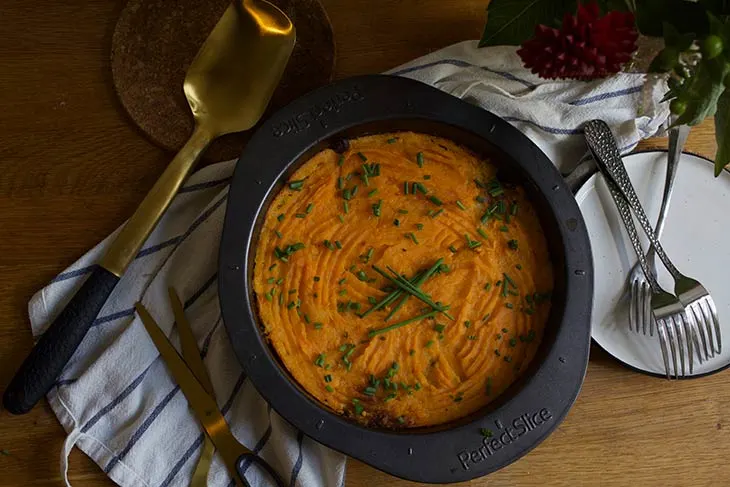 The original version of the shepherd's pie is made with ground lamb if you like to keep it traditional. But we're not doing that here! Other traditional ingredients include tomato sauce, veggies (peas, carrots), and a top layer of mashed potatoes. Some other versions are made with ground turkey, ground beef, or whatever other meat you prefer.
As you might've guessed, we're making this shepherd's pie with lots of veggies. I'll tell you all about the ingredients in a bit, but one thing's for sure for now: the top layer will be made of sweet potatoes, which changes everything! Get ready to be amazed! 🙂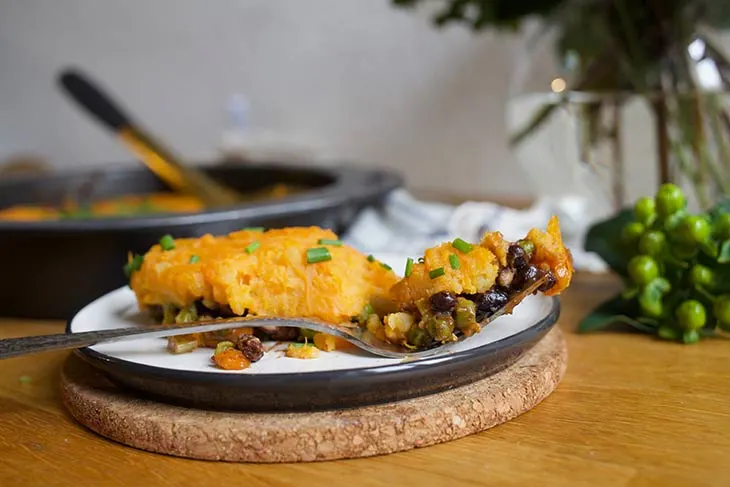 But first, let me tell you some facts about the traditional recipe for Shepherd's Pie. In case you were wondering, this is an original Irish recipe (or British, the birthplace isn't yet decided), usually made on St. Patrick's Day but not only. And it probably developed in the 19th century, inspired by the classic cottage pie. By the way, the shepherd's pie is super similar to a cottage pie (if you make it with ground beef) and it's basically the definition of comfort food!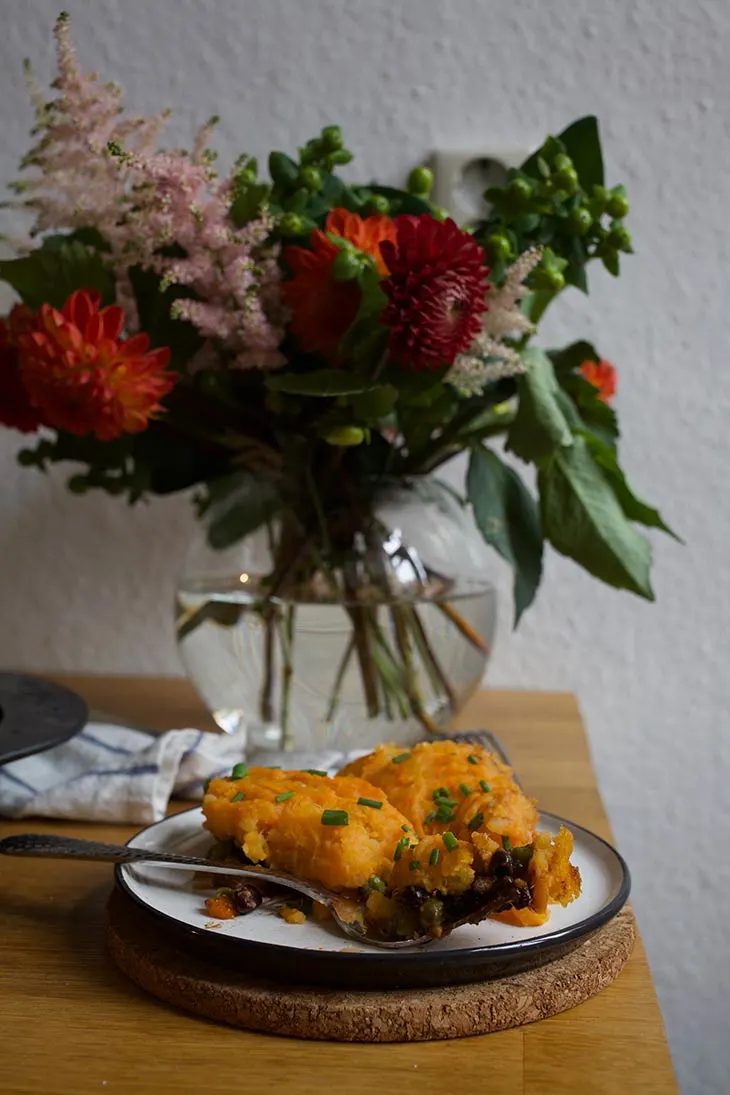 This recipe is perfect for meal prep and will be loved by the entire family, I promise you! Even kids will ask for a second serving because the sweet potatoes offer a delicious, tasty flavor. Just perfect for fall!
It's also one of my favorite fall recipes in the world. It's comforting, which is basically everything I'm craving once the temperature starts to drop. It's yummy and it can be made with fresh seasonal ingredients, starting with the sweet potato.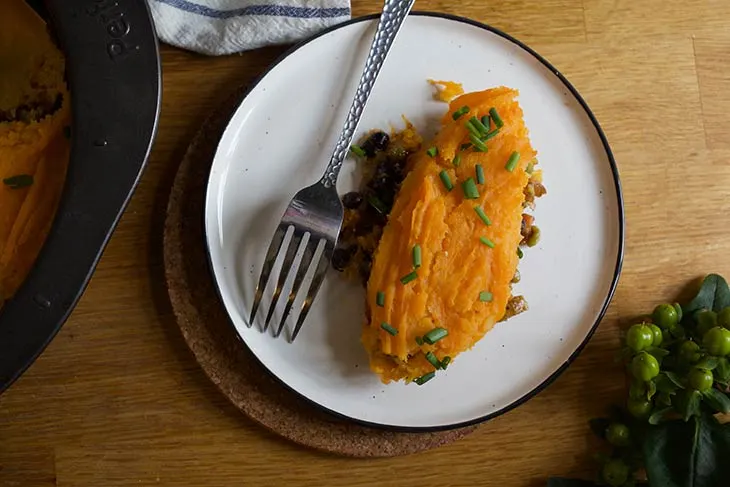 As with other recipes on the blog, this sweet potato shepherd's pie is super versatile as well. If you don't fancy red kidney beans or green peas, just replace them with lentils or chickpeas or anything else you prefer. If you want to keep it classy, you can replace the sweet potatoes with normal mashed potatoes, but where's the fun in that? Or, if you want to make a low-carb version, you can use mashed cauliflower on top. It won't have the same flavor, of course, but you do you! Just mix and match any veggie leftovers you have in the fridge or use your favorites from the pantry!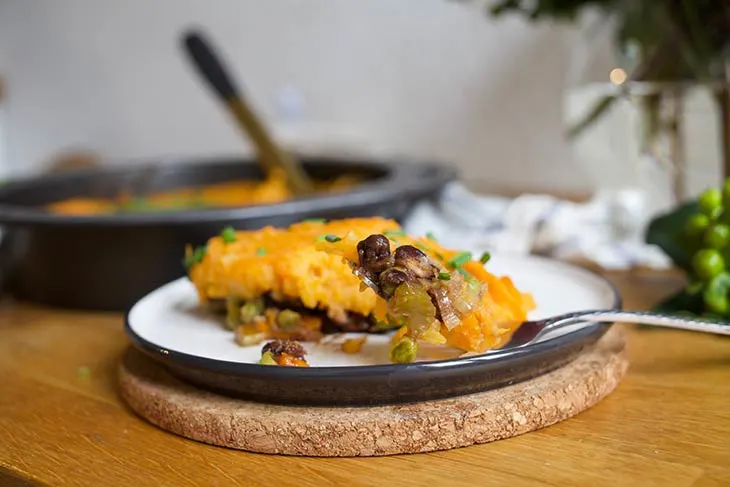 Besides, sweet potatoes come with tons of nutritional benefits as well! They have an amazing taste and they're rich in antioxidants, vitamin D, vitamin C, B6, and more. They're also rich in beta carotene, which gives the gorgeous orange color; it's also good for immunity and it will keep your eyes healthy.
As for the process, it's super simple. We're talking about layering here! Just fill an oven-friendly tray with your veggie mixture (you can find the detailed ingredient list in the recipe below) and add a top layer made of mashed sweet potatoes. Then put everything in the oven for a bit and you're good to go!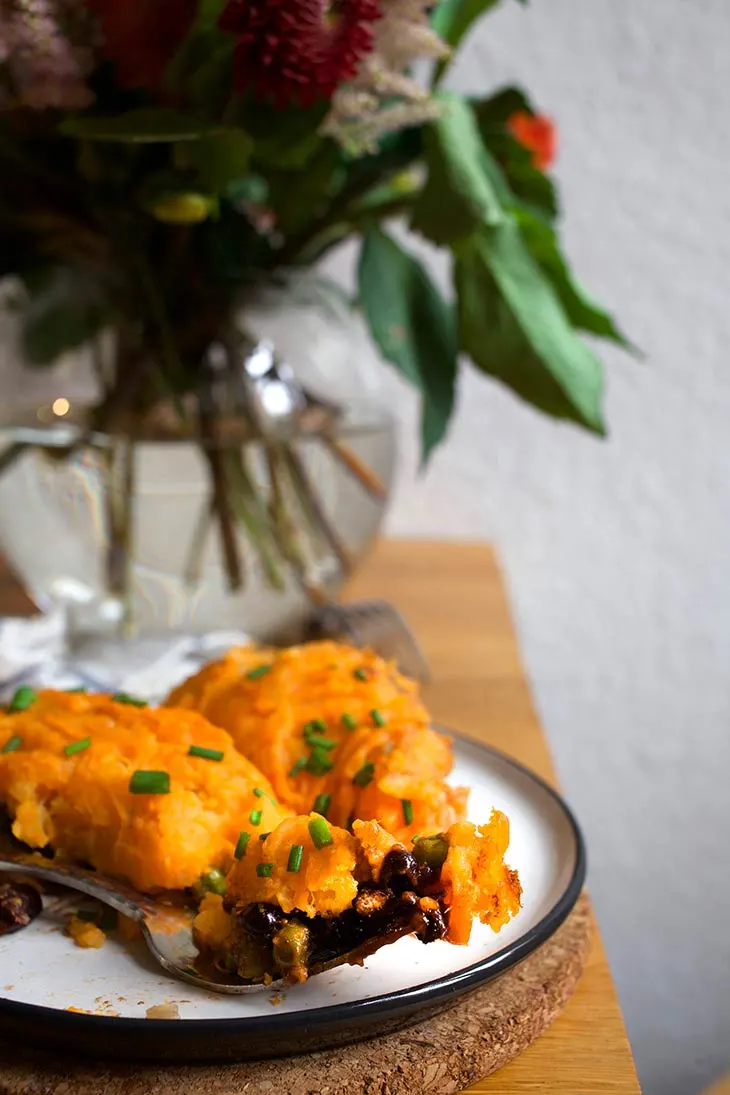 Another amazing thing about this sweet potato shepherd's pie is that it's freezer-friendly. In case you made too much or if you want to prepare some meals in advance, just freeze any leftovers and they'll keep well for a long, long time.
So next time you're craving some hearty and delicious for your family meal, make sure you gather all the ingredients and prepare this amazing shepherd's pie! It works for celebrations and holidays as well. Or you can make it for no special occasion, why not? It's perfect at any time of the year! Plus, you can serve it to non-vegans or non-vegetarians as well. I'm sure they won't miss the meat at all, as my mix of ingredients ensures that this shepherd's pie will be super yummy and filling.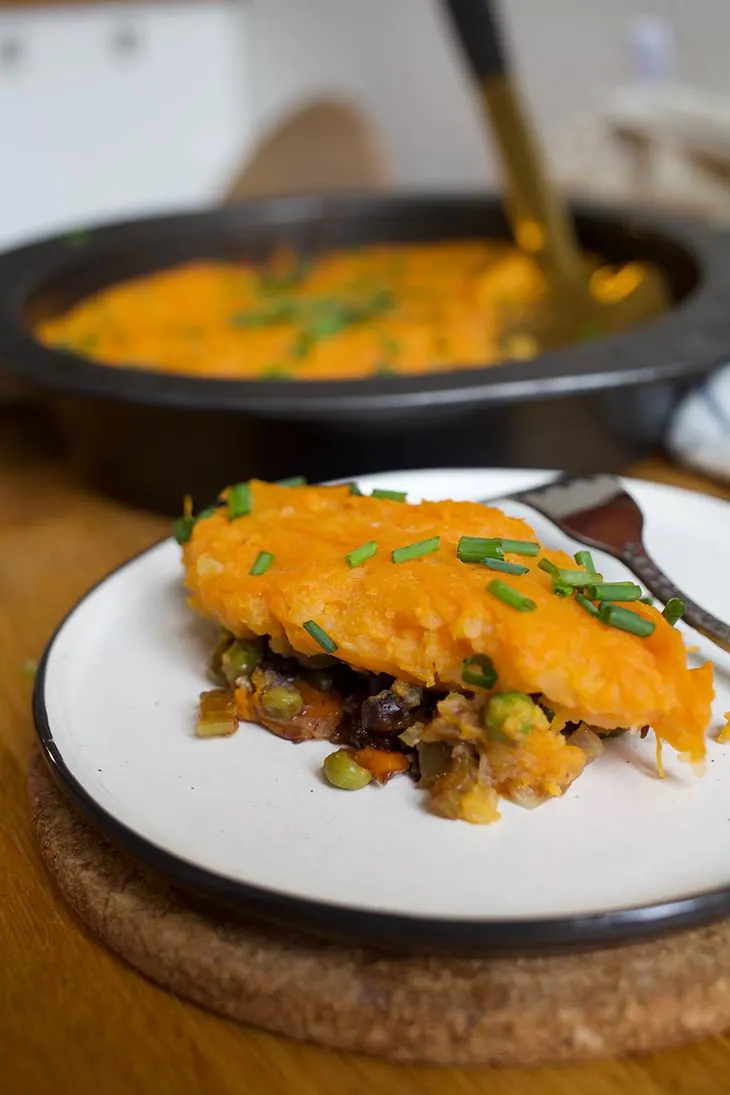 What are you waiting for? Let's get cooking! In case you decide to make this amazing dish, don't forget to let me know how it went in the comment sections below. I love hearing from you!
Bon appetite!
Yield: 8
Sweet Potato Shepherd's Pie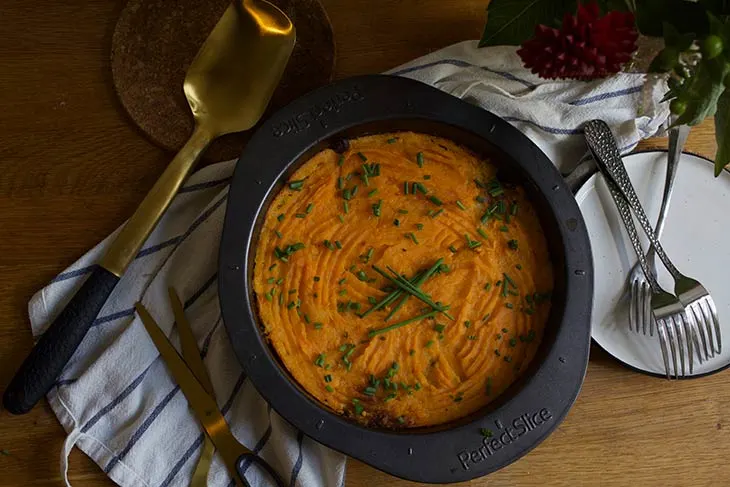 Did anyone say comfort food? Here's one of the best dishes I tried lately: healthy, delicious sweet potato shepherd's pie. Perfect for meal prep! >>>
Total Time
1 hour
5 minutes
Ingredients
2 large sweet potatoes, peeled and cubed
1 tsp coconut oil
1 can (400g | 14 oz) red kidney beans
1 Tbsp olive oil
2 shallots, finely chopped
6 garlic cloves, minced
1 medium carrot, cubed
2 stalks celery, chopped
140g (1 cup) green peas, frozen or fresh
1 tsp smoked paprika
1 tsp chilli powder
1 can (400g | 14 oz) crushed tomatoes
2 tbsp chives for garnish
Salt and pepper to taste
Instructions
Preheat the oven to 200C.
Place the sweet potatoes in a pan. Cover with water, add salt, bring to a boil.
Cook until the potatoes are soft and ready to mash.
Meanwhile, heat a skillet on medium heat with olive oil.
Add shallots, garlic and cook about a minute until fragrant.
Add the carrots, celery and continue cooking about 3 more minutes.
Add the smoked paprika, salt and pepper, chilli powder.
Add crushed tomatoes and cook the mixture for about 5 minutes, stirring, until the liquids reduce.
Add the beans and stir to combine.
Add peas and cook about 2 more minutes. Cover and set aside.
Mash the sweet potatoes with a tsp of coconut oil, salt, and pepper to taste.
In a baking dish, add the beans mixture in a single layer.
Cover with a layer of sweet potato mash bake about 25 minutes until start to get golden.
Nutrition Information
Yield
8
Amount Per Serving
Calories

160
Total Fat

3g
Saturated Fat

1g
Trans Fat

0g
Unsaturated Fat

2g
Cholesterol

0mg
Sodium

78mg
Carbohydrates

28g
Fiber

7g
Sugar

6g
Protein

7g
I strive to keep the information as accurate as possible but make no warranties regarding its accuracy. I encourage you to make your own calculations using your preferred nutrition calculator.