Are you looking for a fun and extremely healthy alternative to the classic rice? I'm here to help! here's how to make cauliflower rice, perfect if you're on a keto or low carb diet!
Rice is a very good choice for a meal, especially with the right side ingredients, but maybe you want to try something different. Today we are going to prepare a super good substitute for rice and we are going to use cauliflower! Are you ready? 🙂
I really like to experiment with cauliflower as I found out that it's super versatile and can fit in so many recipes. Cauliflower rice is something super easy to make and much more nutritious than actual rice.
Here's what you'll need to do in order to make the best cauliflower rice. First, thoroughly wash the cauliflower. Remove the stems and the leaves and make sure to dry it as much as possible. Then, using the grater cut the cauliflower into rice. Use the medium size of the grater, the one you use for cheese. At this point, I suggest you use some clean paper towels and completely dry the cauliflower.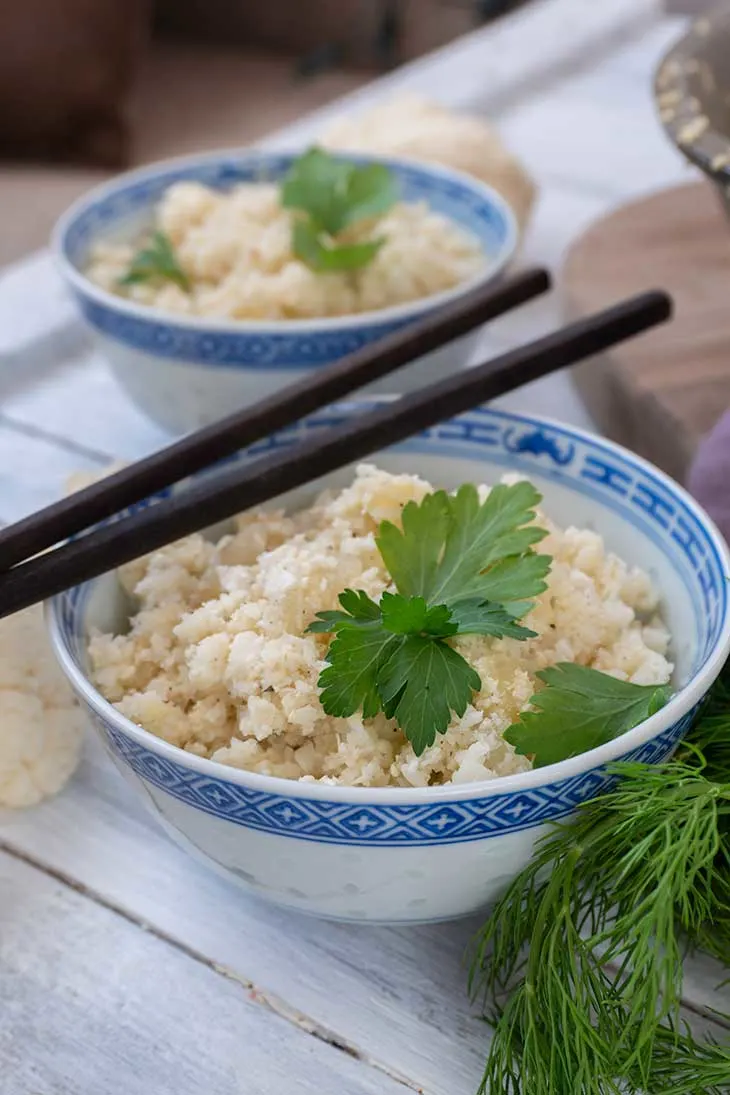 And basically that's it – now you have your cauliflower rice. You can even eat it as it is! Healthy, nutritious and fresh!
Other ways to prepare the cauliflower rice is by boiling it or saute it with a little bit of olive oil. You can then proceed to use the cauliflower rice the same way you would use regular rice.
Cauliflower is a great alternative for regular rice as it is much more nutritious and a great addition to your meal plans! Here are the health and nutrition facts for cauliflower (for about 100 grams):
27 calories
2 grams of protein
3 grams of fat
5 g of carbohydrate, including 2.1 g of fiber and 2 g of sugar
24 milligrams of calcium
16 mg of magnesium
47 mg of phosphorus
320 mg of potassium
6 mg of vitamin C
6 micrograms of vitamin K
197 mcg of vitamin B6
61 mcg of folate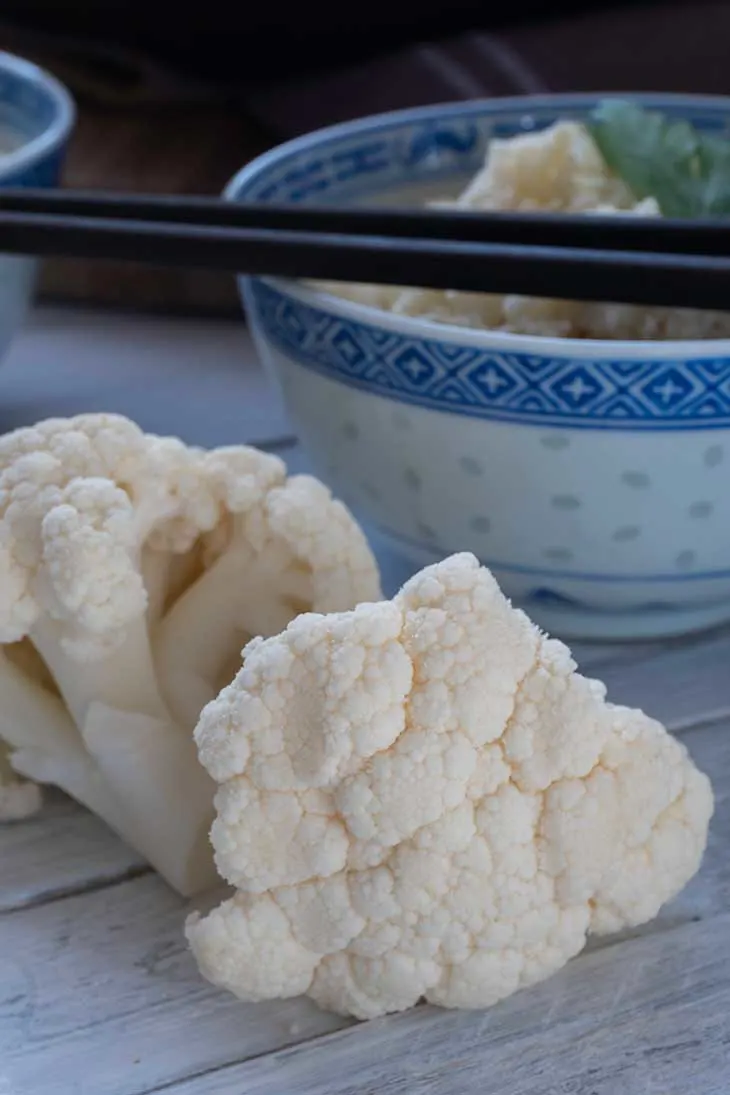 That's actually quite impressive. In other words, 100 grams of cauliflower will provide you with:
77 percent of daily vitamin C needs
20 percent of daily vitamin K needs
10 percent or more of daily needs for vitamin B 6 and folate
As you can see, the benefits of this vegetable are quite high. During the last few years, cauliflower has seen massive growth in popularity and the reasons for this are obvious! I am super glad that more and more people are starting to experiment with cauliflower and create new and wonderful recipes.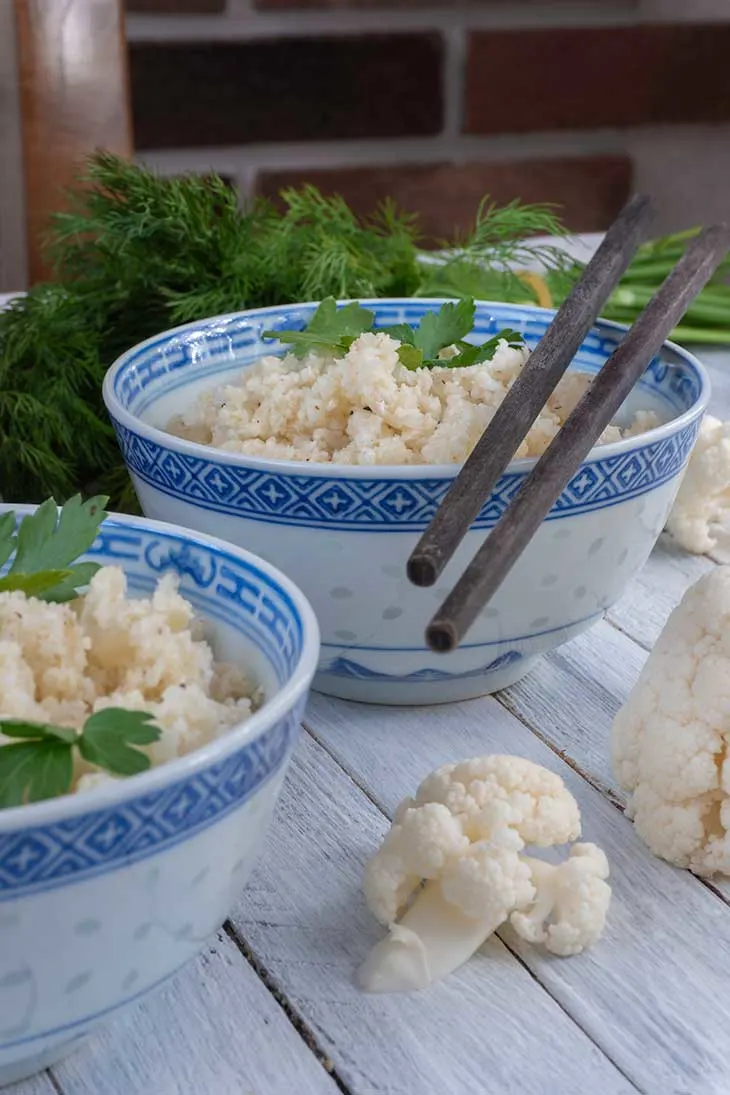 If prepared right, cauliflower is super tasty and can be successfully incorporated into any meal. Don't get fooled by the misconception that cauliflower is not that tasty! Maybe our parents used to threaten us with vegetables when we were little, but with the right cooking skills and a little bit of seasoning, cauliflower is actually great!
Speaking of which, cauliflower rice is actually a great way to tricking children into eating their vegetables. They won't even notice that something is off if you don't tell them that they are actually eating super healthy and nutritious stuff.
Now let's talk about storing this cauliflower rice. The raw cauliflower rice won't last in the fridge, so you better prepare and cook it right away. But if you want to prep ahead, you can successfully store it in the freezer for about a month – but no longer than that! Cooked cauliflower rice, on the other hand, can last in the fridge for a few days!
So cauliflower rice can be your made-ahead lunch for the whole week. You can boil the cauliflower rice and then season it differently for the next few days! It's like a gift that keeps on giving!
Now, enough with the talking! This recipe is so simple and straightforward that it doesn't need much introduction. Just gather everything you need and let's head to the kitchen. The whole process is super simple and so are the ingredients.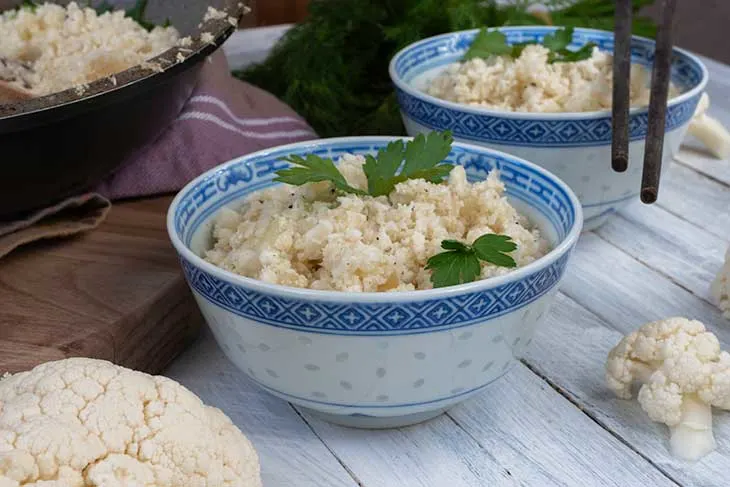 The chances that this recipe will go wrong are so low, that even the most inexperienced cook will be able to get this right! So no matter where you are on the path of becoming an experienced chef, you can totally give this a try. When you're done preparing, don't forget to leave a comment and tell me how it all worked out for you!
---
Personalized meal plans and workout videos | Get your customized meal plan today! [x_button shape="square" size="mini" float="none" target="blank" href="https://shop.gourmandelle.com/?utm_source=mainsite&utm_medium=site&utm_campaign=inpost" info="none" info_place="top" info_trigger="hover"]I WANT A MEAL PLAN![/x_button]
---
Yield: 2
Cauliflower Rice | Low Carb / Keto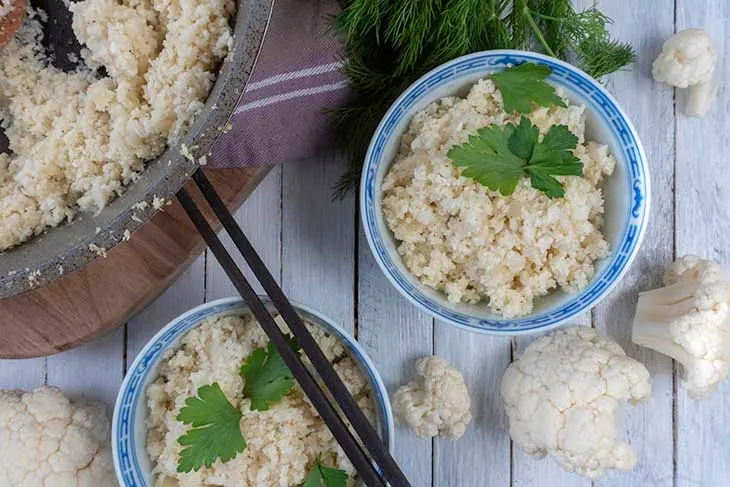 Are you looking for a fun and extremely healthy alternative to the classic rice? I'm here to help! here's how to make cauliflower rice, perfect if you're on a keto or low carb diet!
Ingredients
1 cauliflower
1 medium onion, diced
granulated garlic
1 Tbsp olive oil
salt & pepper
Instructions
Break the cauliflower into pieces.
Transfer into a food processor and pulse it until the texture resembles rice.
In a pan, heat up 1 Tbsp of olive oil over medium heat, add the onion and saute until translucent.
Add the cauliflower and granulated garlic, season with salt and pepper.
Cook for 5 minutes.
Enjoy!
Nutrition Information
Yield
2
Amount Per Serving
Calories

225
Total Fat

7.6g
Carbohydrates

30g
Protein

9.2g