If you're in the mood to try a new, healthy and super nourishing recipe, here's how to make an amazing vegan African peanut stew! Give it a try!
Cold months call for hot, hearty meals. No question about it. Nothing compares to the feeling of arriving home from the cold, cold outside and finding a hot bowl of stew awaiting for you. And it's precisely that feeling that we are going to cherish today, by preparing the most delicious and nourishing vegan African peanut stew ever! 🙂
Have you heard of vegan African peanut stew? It's one of the most popular African dishes, insanely delicious and packed with an impressive amount of nutrients. African peanut stew (under its original name – maafe) is a dish based on the peanut-tomato sauce.
It's incredibly tasty, with a complex flavor that brings together spiciness and nutty tones. It an absolutely perfect choice for the cold seasons, as it's guaranteed to warm you up while providing all the nutrients that your body needs.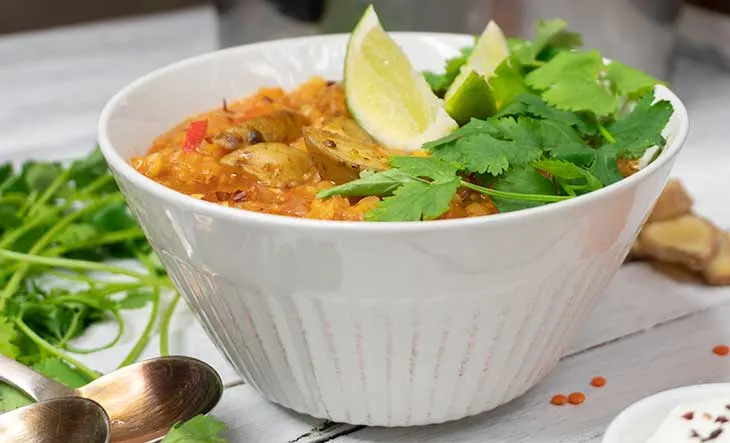 There are many versions of the peanut stew that you can encounter along with the Western African and Central African nations. But no matter the region, you will likely encounter tomatoes, onions, garlic, cabbage, and root vegetables, all surrounded by a delicious peanut sauce.
Now, depending on the recipe, many stews also include spices and veggies like corn, carrots, cinnamon, hot peppers, paprika, black pepper, turmeric, cumin, etc. It sounds delightful, right? Just imagine all these tastes and flavors merging together in a hot steaming bowl of soup! 🙂
I hope I caught your attention by now and you're ready to give this recipe a try! You are not going to be disappointed – I sure wasn't! And on top of everything, this recipe is super simple to make! It's a one-pot dish that will be ready in no time and won't make a complete mess out of your kitchen!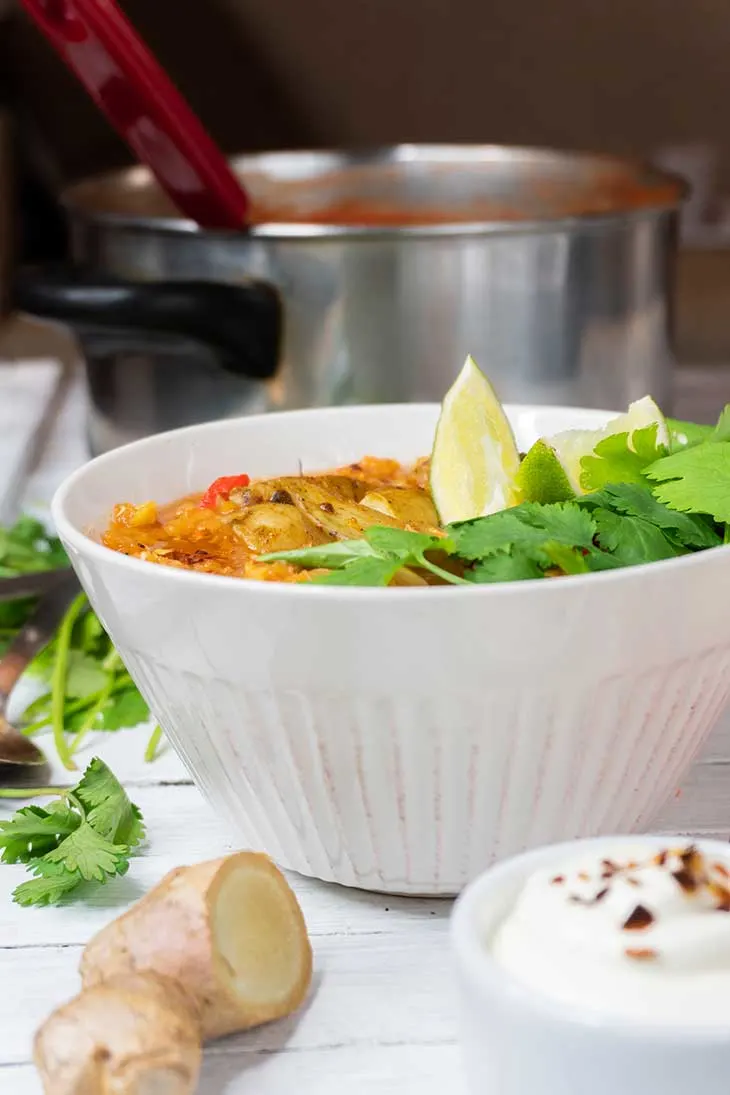 It will take you around 30 minutes to put everything together, so this recipe is perfect for your weekday dinner. It will also last for a few days in the fridge, so all you need to invest in 30 minutes and you're set for the next few days!
Now regarding the ingredients, I chose to keep this as basic and close to the original as possible. I figured since most of you probably haven't tried this recipe before, it's best to keep it as simple as possible.
Once you get a taste of it and make an idea about what this dish should taste like, you can always experiment and add more ingredients and spices from the above-mentioned list!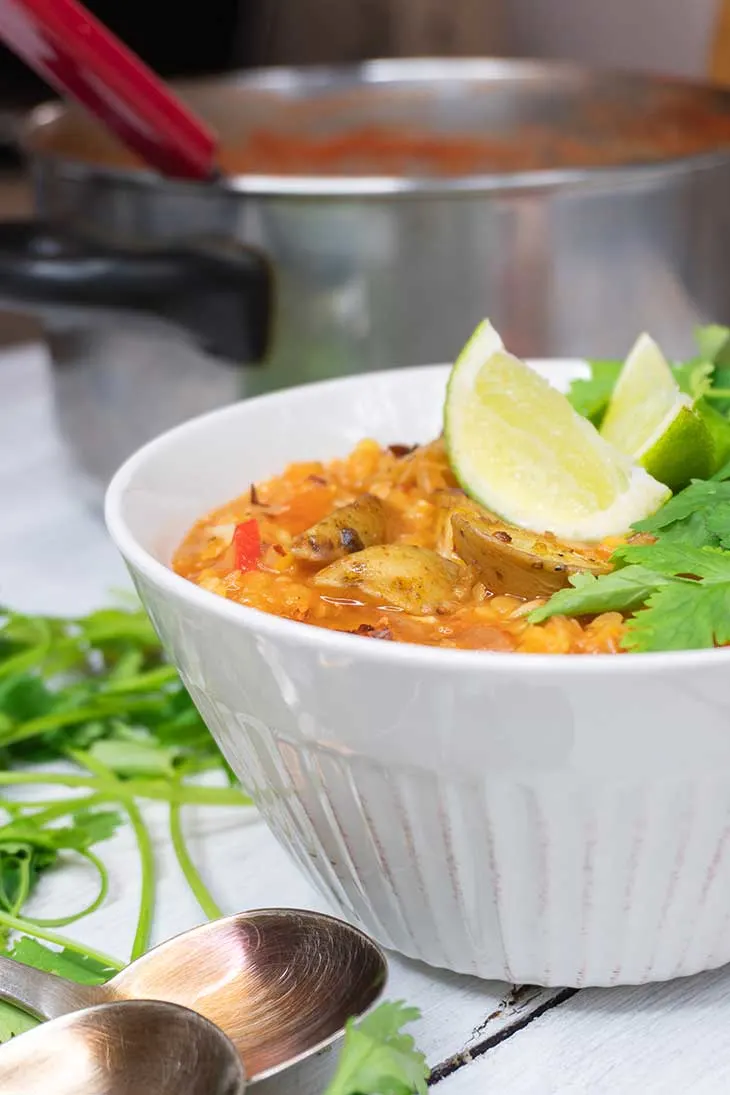 As I said, making this dish couldn't be easier! The first step is choosing your pot – be sure it's big enough to fit all the ingredients. First, we'll need to saute some of the ingredients – such as garlic, onions, chili (the list here depends on what you choose to add to your stew). Then, we are going to add the rest of the vegetables, the spices, and the liquids and bring to boil. Then simmer until everything is tender.
When everything is cooked, turn off the heat and add the heat and stir in the peanut butter, followed by the greens. And that's all really – it's ready to be enjoyed by your hungry self! If you'd like, you can also make some rice as a side dish to make everything even more filling.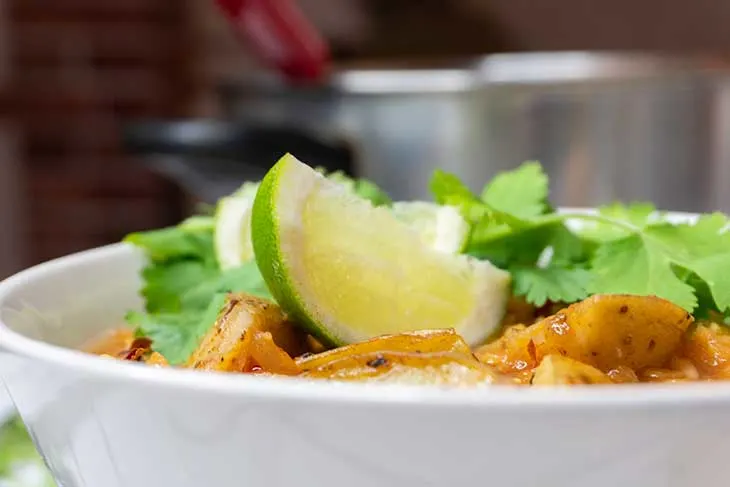 Here are some things that are nice to know about this recipe:
The leftovers will keep in the fridge for up to 6 days! So if you want to make a bigger pot, you're actually set for the week!
You can even freeze the stew for up to 2 months!
In case you're allergic to peanuts, you don't need to skip this recipe. You can sub peanut butter for almond butter, cashew butter or sun butter!
Nice ideas for side dishes: lime rice, some naan bread or quinoa! All of them nice, healthy and tasty options.
I think we are now ready to head to the kitchen and start cooking! Happily, gathering the ingredients won't take long, as it's mostly things that lie around our kitchens anyway. And in case you don't already have everything, a quick run to the nearest market will get you fixed.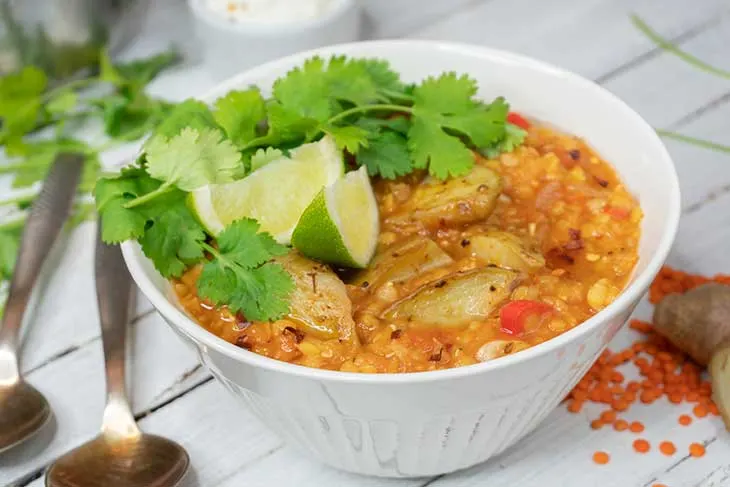 Once you have everything, all you need to do is follow the detailed instructions below and you will obtain the most delicious and nutritious vegan African stew. When you're done with everything, I will greatly appreciate leaving a comment to tell me how everything went, what ingredients you decided to use and what you think of the results!
---
Personalized meal plans and workout videos | Get your customized meal plan today! [x_button shape="square" size="mini" float="none" target="blank" href="https://shop.gourmandelle.com/?utm_source=mainsite&utm_medium=site&utm_campaign=inpost" info="none" info_place="top" info_trigger="hover"]I WANT A MEAL PLAN![/x_button]
---
Yield: 3
Vegan African Peanut Stew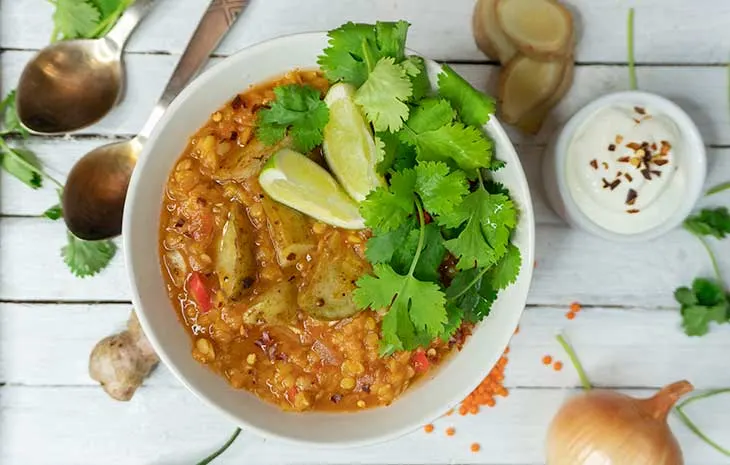 If you're in the mood to try a new, healthy and super nourishing recipe, here's how to make an amazing vegan African peanut stew! Give it a try!
Ingredients
3 garlic cloves
1 Tbsp fresh ginger, minced
1 large potato, cut into slices
1 medium onion, chopped
210g (1 cup) lentils
140g (½ cup) peanut butter
1 tsp cumin powder
¼ tsp hot pepper flakes
2 Tbsp tomato paste
1L (4 cups) veggie broth
3 collard green leaves
fresh cilantro, chopped
lime
olive oil
salt & pepper
Instructions
In a pot, heat up 2-3 Tbsp of olive oil and sautee the onion, garlic and ginger.
Add the sliced potato, season with cumin, hot pepper flakes, salt and pepper.
Cook for 2-3 minutes before adding the tomato paste, peanut butter, lentils and veggie broth.
Simmer on low heat for 15-20 minutes.
Add the chopped collard greens and cook for another 5 minutes.
Serve with freshly squeezed lime juice and cilantro.
Nutrition Information
Yield
3
Amount Per Serving
Calories

533
Total Fat

30.8g
Carbohydrates

44g
Protein

19.7g