Enjoy the authentic flavors of Italy with the delicious Italian stuffed peppers recipe. This dish will bring the Mediterranean flavor to your plate, offering a mouth-watering combination of ingredients and flavors that will teleport you directly to the heart of Italian cuisine.
This is one of my favorite ways of cooking peppers – stuffing them with delicious ingredients and enjoying them baked in the oven with a side of creamy, flavorful sauce. Today I decided to combine my love for the popular Caprese salad with the passion for stuffed red peppers – the result? An amazing, cheesy peppers recipe I'm sure you'll love!
If you are looking for other stuffed pepper recipes, I also recommend the following recipes: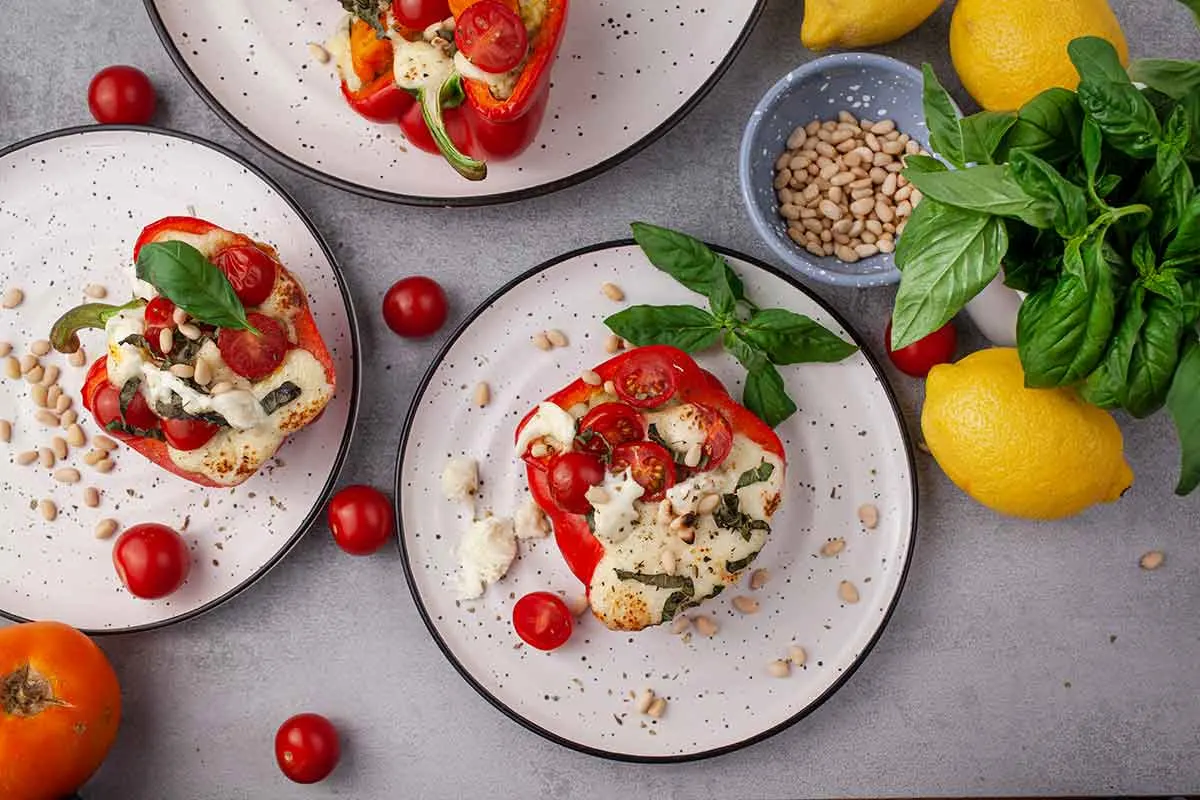 The History and Origin of Stuffed Peppers in Italian Cuisine
Stuffed peppers are a real treasure in the world of Italian cuisine, being a kind of food that combines culinary mastery with the cultural history of Italy. Their origin stretches back in time, having deep roots in the culinary traditions of this Mediterranean land.
Over the centuries, the recipe has evolved and embraced regional influences, giving rise to unique varieties. From the small family in the village on the Mediterranean coast to the royal tables in the palaces of the big cities, stuffed peppers crossed all layers of Italian society. Each region has brought its own twist, using local ingredients to give a distinctive character to the recipe.
Today, stuffed peppers are more than a simple culinary dish. They are a link to Italy's rich past and its diverse culture. Each spoon of this food keeps a piece of the story of a country passionate about gastronomy.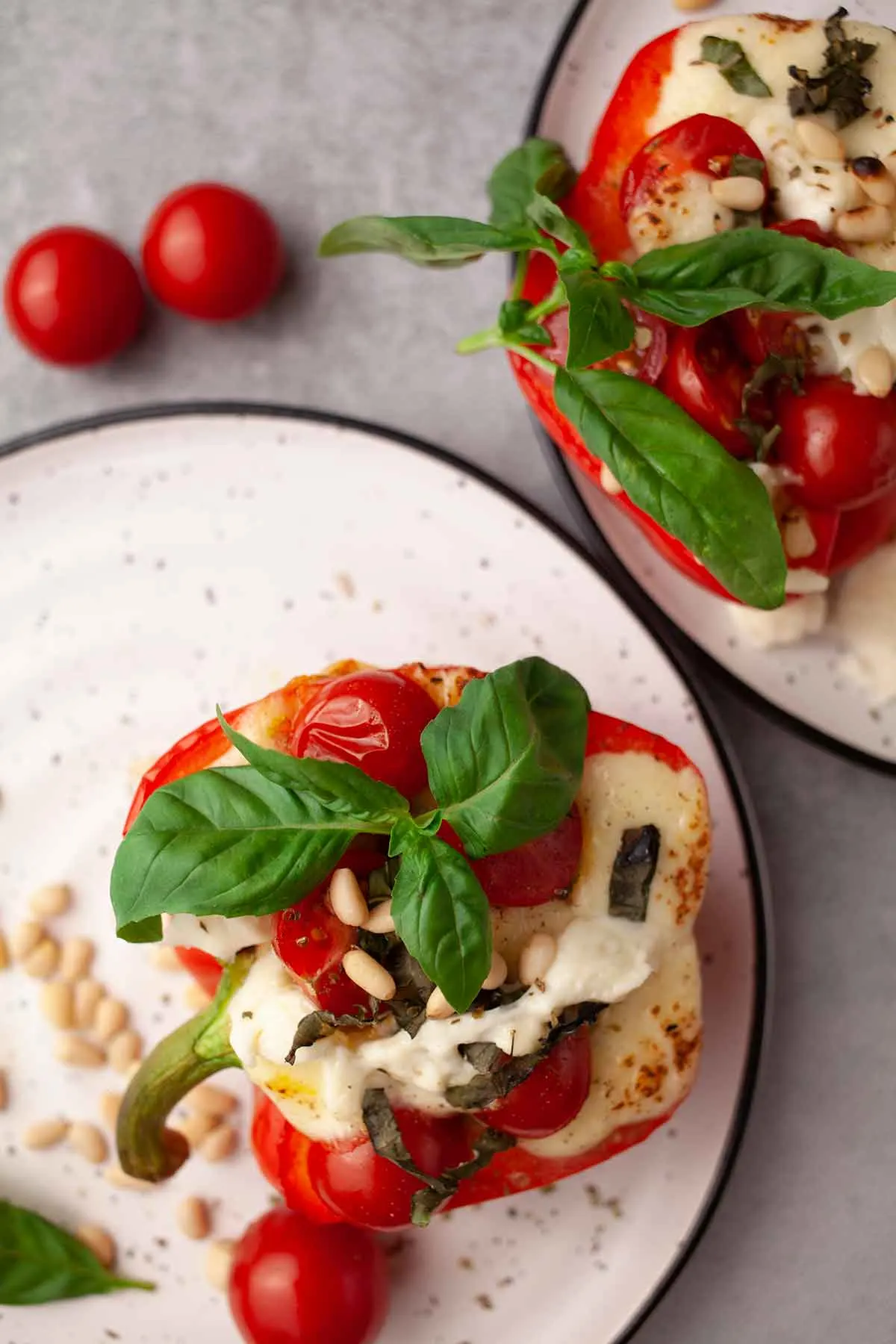 Regional Variations of Italian Stuffed Peppers
In southern Italy, the Campania region, for example, makes its mark with a refined filling based on ingredients such as ricotta cheese, spinach and prosciutto. This mixture of rich flavors and balanced textures creates a perfect culinary experience.
In the north, the Lombardy region adds a crispy touch by wrapping the peppers in thin slices of ham. This approach adds flavor and a pleasant texture, offering a unique experience.
In the Sicily region, stuffed peppers get a Mediterranean touch with the addition of dried tomatoes, olives, capers and pecorino cheese. This explosive combination of flavors adds more intensity and depth to the taste.
Each regional variation brings its own story, traditions and cultural influences to the classic stuffed pepper recipe. This diversity underlines the richness of Italian cuisine and offers the opportunity to explore new and surprising flavors in every corner of the country.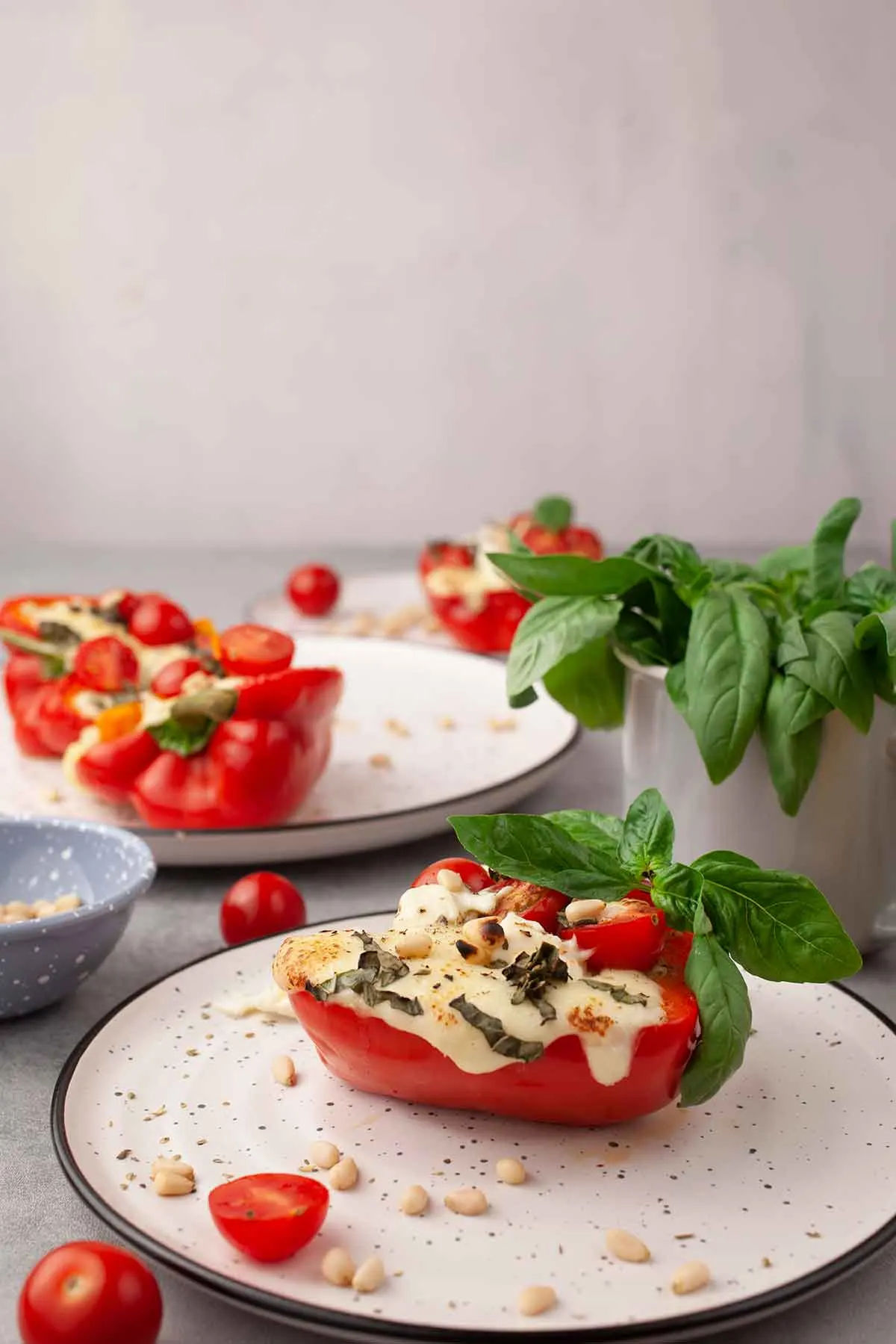 Classic Caprese-Inspired Stuffing
The traditional filling used in Italian stuffed peppers is a perfect harmony of flavors and textures that capture the essence of authentic Italian cuisine. This is an ingenious combination of ingredients that complement each other to create a memorable culinary experience.
Arborio rice, known for its creamy texture and ability to absorb flavors, is the basis of this filling. Often, it is pre-cooked with a little soup or white wine to obtain a delicate and tasty consistency.
Pesto, a refined combination of fresh basil, olive oil, garlic, parmesan and almonds, adds a wave of freshness and flavor to the filling. This is a key element that gives the filling a distinctive touch of Italian taste.
Mozzarella, known for its ripe texture and slightly salty taste, melts inside the peppers, adding a delicious creaminess to the filling.
The addition of fresh and aromatic cherry tomatoes gives the filling a touch of sweetness and an appetizing visual contrast.
The pine nuts, lightly fried to add a touch of crunch and a nutty aroma, complete the texture of the filling and bring a sophisticated note of flavor.
Fresh basil is a true gem of Italian cuisine and adds an aromatic and fresh note to the filling, emphasizing the authentic taste of these stuffed peppers.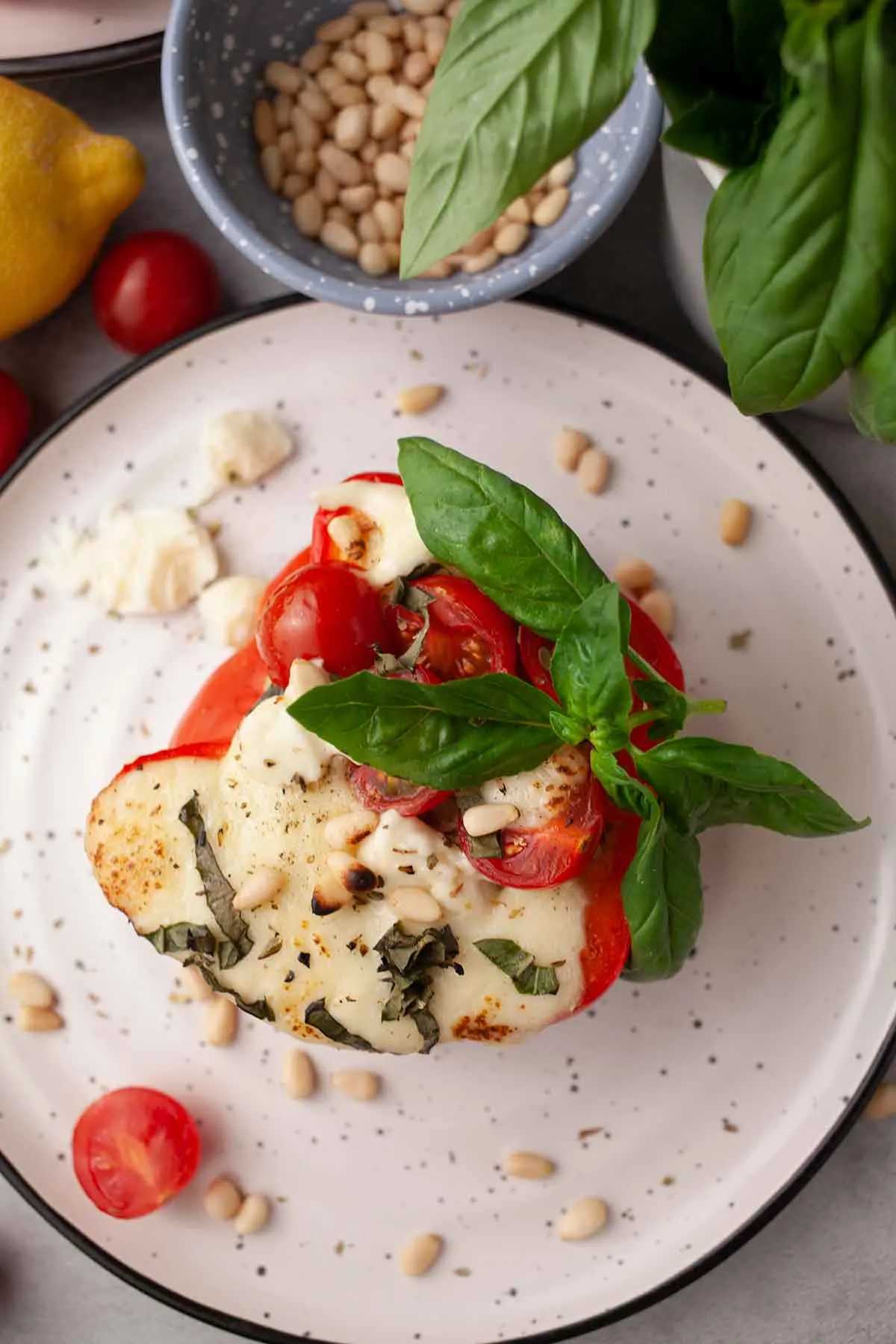 Sauces and Garnishes
When it comes to Italian stuffed peppers, the choice of sauce and garnish can add a distinctive and authentic touch to the taste of these delicacies. In Italian cuisine, there are some classic options that go perfectly with the aromatic filling of peppers.
Tomato sauce is one of the most traditional choices. A combination of ripe tomatoes, garlic, olive oil and a selection of aromatic herbs add a touch of sweetness and flavor to the filling. This rich and flavorful sauce embraces the peppers, giving them a layer of delicious flavor.
Pesto is another popular option. This vibrant blend of fresh basil, olive oil, walnuts and garlic adds an intensely aromatic note and a distinctive taste to the filling. This sauce goes perfectly with the rice and mozzarella filling.
Garnishes can complete the taste experience in an easy and elegant way. A fresh basil leaf or a little Parmesan cheese grated over the stuffed peppers adds an attractive visual note and emphasizes the authentic flavors of the filling. These sauces and side dishes not only perfectly complement the Italian stuffed peppers, but also reflect the essence of Italian cuisine, with flavors and aromas that combine culinary mastery with the pleasure of savoring every bite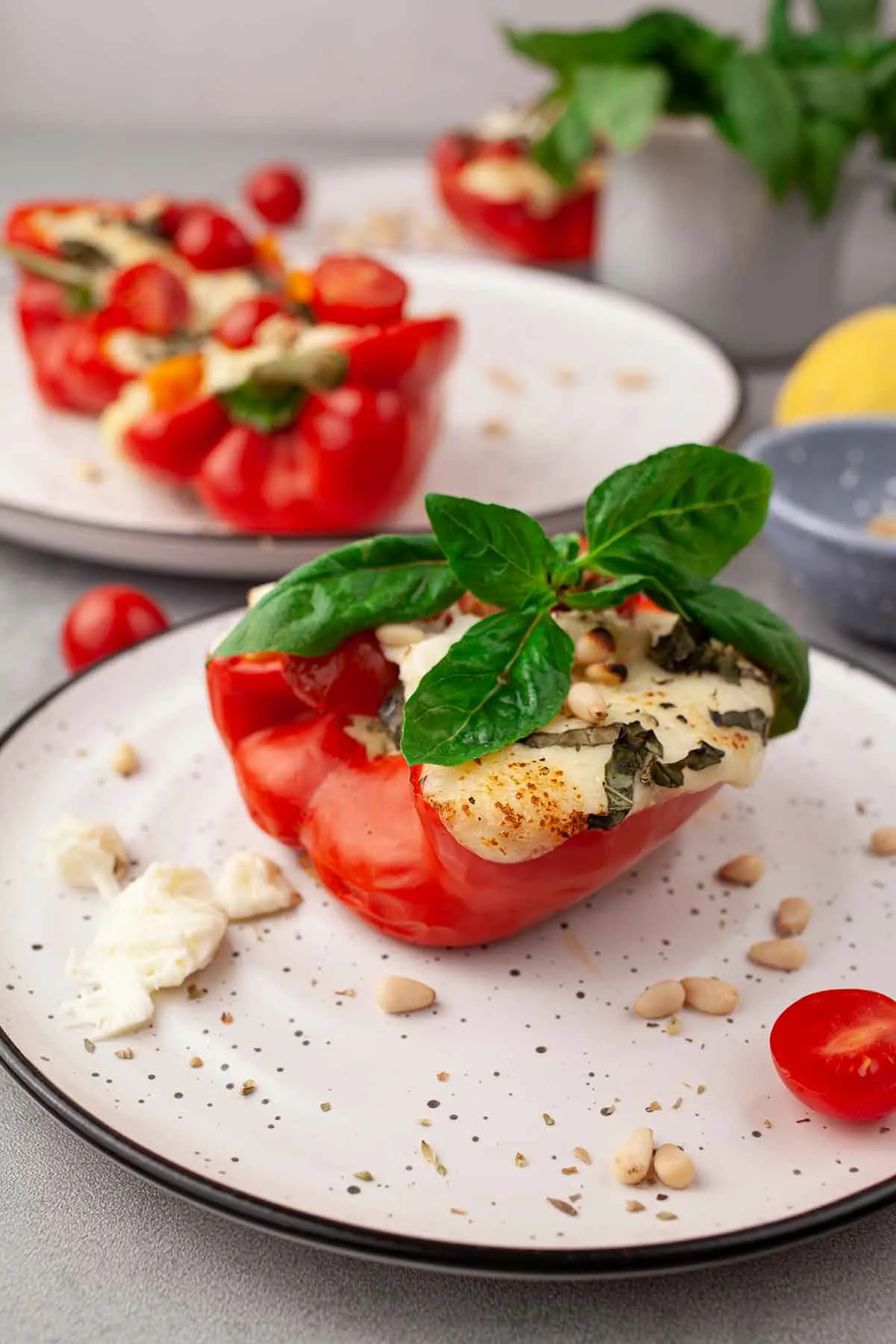 How to make Italian stuffed peppers
Yield: 3 servings
Italian Stuffed Peppers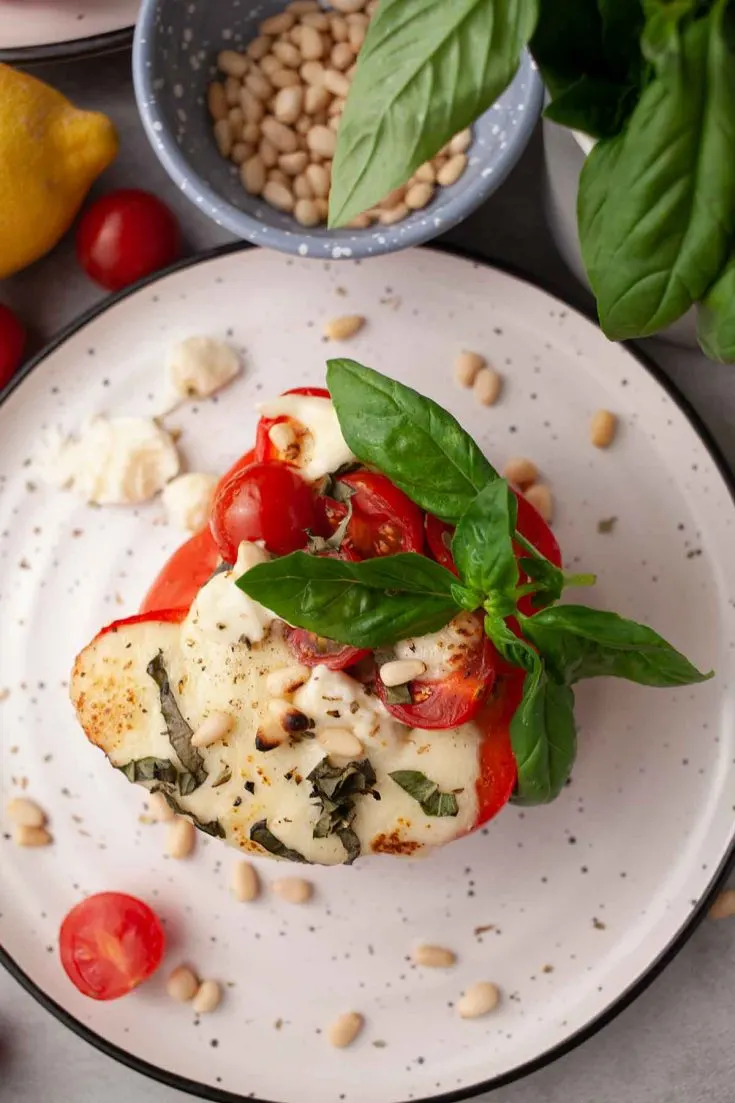 Enjoy the authentic flavors of Italy with the delicious Italian stuffed peppers recipe. This dish will bring the Mediterranean flavor to your plate, offering a mouth-watering combination of ingredients and flavors that will teleport you directly to the heart of Italian cuisine.
Ingredients
3 red bell peppers, cleaned of seeds and cut in half lengthwise
Rice filing:
2 tablespoons olive oil
½ cup Arborio rice
½ white onion, chopped
2 cloves of garlic, chopped
1 cup fresh baby spinach
½ teaspoon of salt
½ teaspoon pepper
½ cup pesto
½ teaspoon grated lemon peel
For the topping:
1 cup cherry tomatoes, cut in half
1 cup fresh mozzarella
10 fresh basil leaves, chopped
¼ cup pine nuts
Instructions
In a large pan, over medium heat, add oil. When the oil is hot, add the rice and saute for 30 seconds, add the onion and garlic and saute together with the rice for 1-2 minutes, then add 1 cup of hot water, salt and pepper and continue to cook, stirring from time to time.
When the rice is al dente, turn off the heat.
Add the fresh spinach, mix and cover the pan with a lid. Let the spinach soften in steam for about five minutes.
Remove the lid and add pesto and grated lemon peel. Stir well.
Heat the oven to 200C (390F).
Fill the pepper halves with the rice mixture, cover each pepper with a layer of cherry tomatoes, mozzarella and basil and place on an oven tray. Bake in the oven.
Cook for 20-30 minutes or until the cheese is lightly browned. Sprinkle the peppers with pine buds and fresh basil.
Nutrition Information
Yield
3
Serving Size
1
Amount Per Serving
Calories

652
Total Fat

52g
Saturated Fat

14g
Trans Fat

0g
Unsaturated Fat

34g
Cholesterol

58mg
Sodium

966mg
Carbohydrates

28g
Fiber

4g
Sugar

9g
Protein

23g
I strive to keep the information as accurate as possible but make no warranties regarding its accuracy. I encourage you to make your own calculations using your preferred nutrition calculator.