This is the only stuffed peppers recipe you will ever need! It's extremely easy to make, healthy and most of all…delicious!
This is a recipe both vegetarians and omnis will love! It is incredibly easy to make, has a great stuffing and also the lovely flavor of charred bell peppers! You should know that this isn't a quick recipe, it will take you about an hour to make, but the actual prep part takes no longer than half an hour, so it's more than ok in my opinion.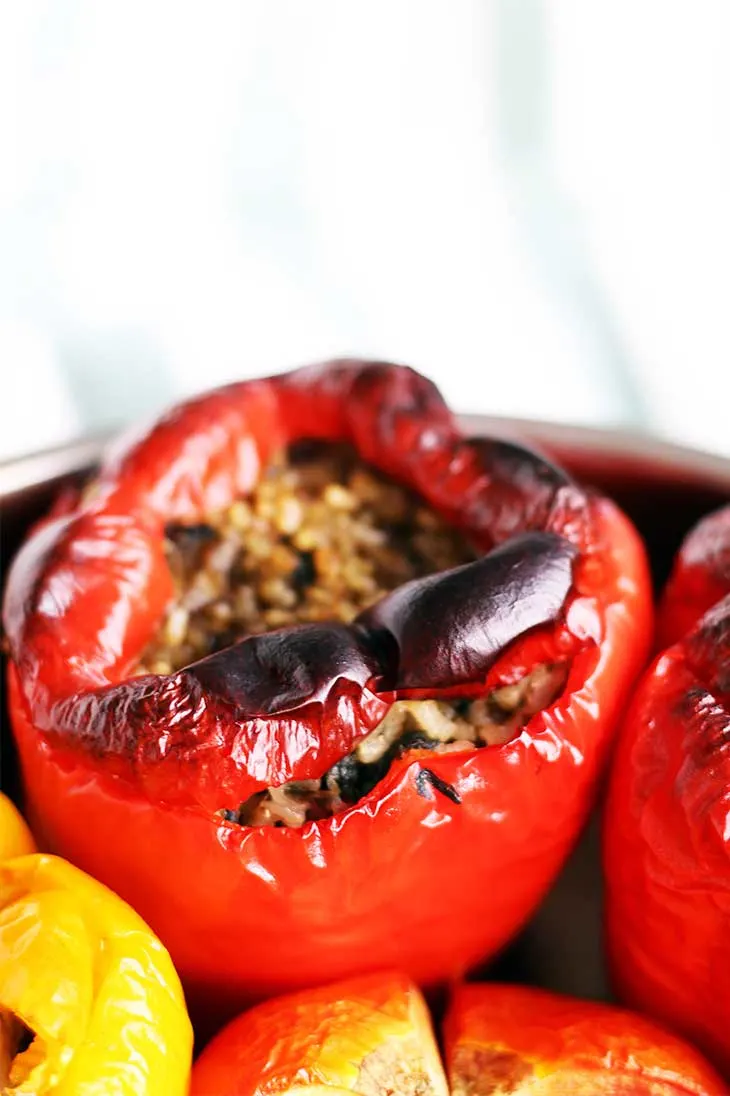 Tip! Use red or orange bell peppers for this vegan recipe. The green ones are quite bland. Also, use white, round-shaped rice. I tried a similar stuffed bell peppers recipe with brown rice too, and even though it is good, I like the texture of white rice better. It's a lot fluffier. 🙂
You can add various toppings to this recipe, to make it even better. You can opt for dairy-based toppings, such as crumbled feta cheese or sour cream, or choose the vegan alternatives – crumbled tofu or tomato paste.
Let me know how this recipe turned out for you! You can share your photos on Instagram and tag me at @gourmandelleblog or use the hashtag #gourmandelle. 🙂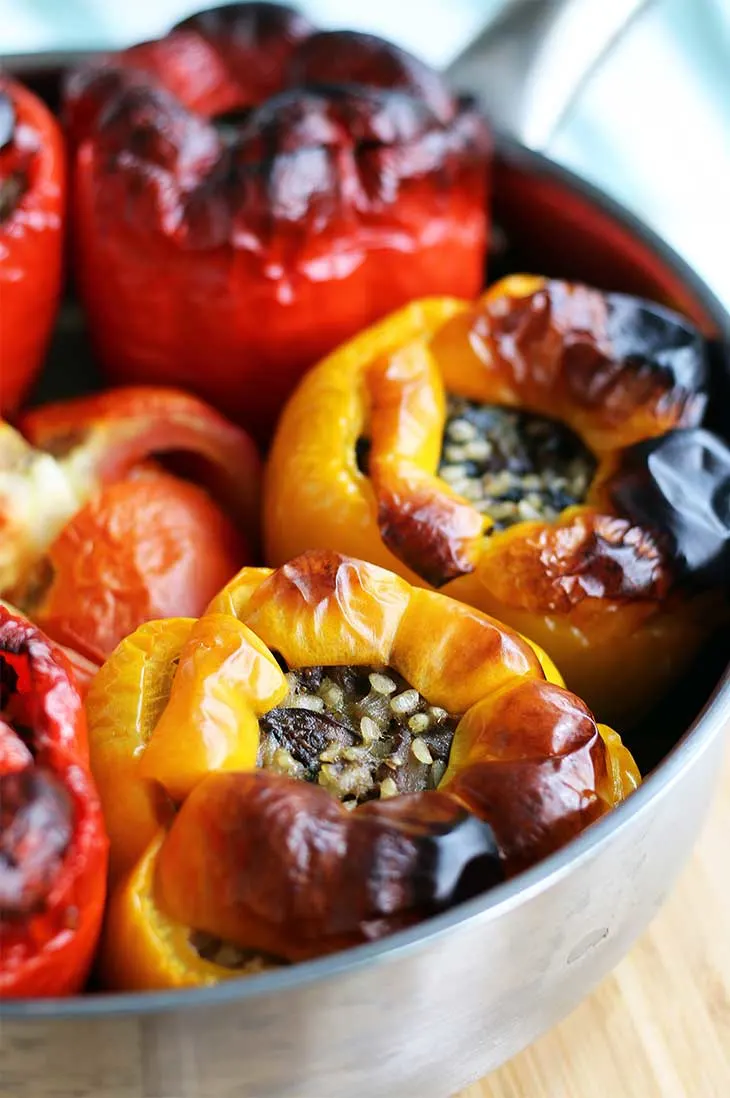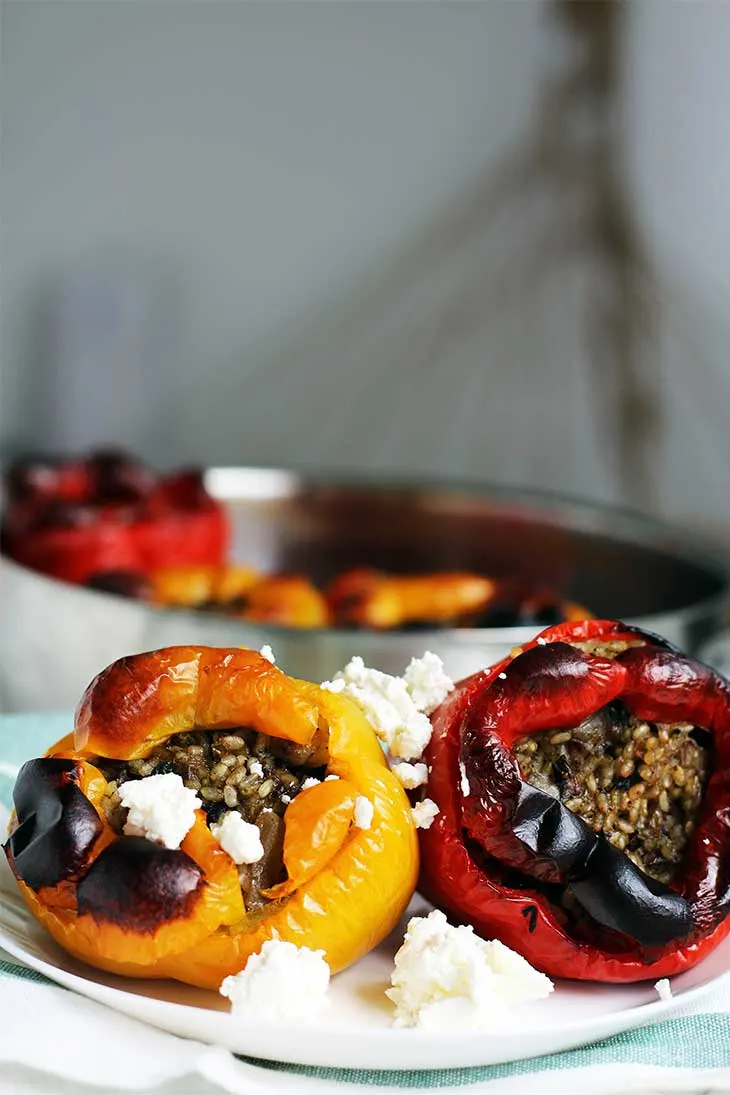 Yield: 6
Stuffed Peppers | The Only Stuffed Peppers Recipe You Will Ever Need!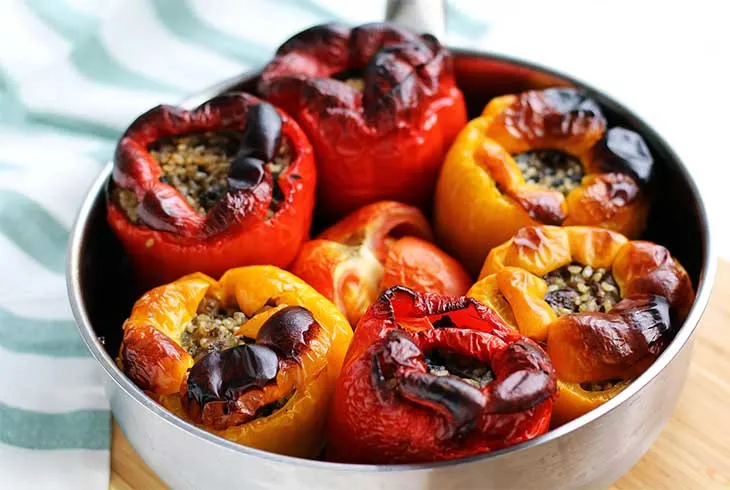 This is the only stuffed peppers recipe you will ever need! It's extremely easy to make, healthy and most of all...delicious!
Total Time
1 hour
5 minutes
Ingredients
6 bell peppers
200g (1 cup) rice - I used round white rice
500g (2 cups) button mushrooms, chopped
300g (10 cups) spinach, chopped
1 large onion, diced
½ tsp thyme
1 tsp oregano
1 tsp ground coriander seeds
1 tsp sweet paprika
salt and pepper, to taste
15g (½ cup) parsley, chopped
2 Tbsps oil
water
optional toppings of choice - crumbled tofu, crumbled feta cheese, sour cream, tomato paste.
Instructions
Cut the tops of each bell pepper. Remove the seeds and place them in a standing position, inside a round pan. See photos.
Heat oil in a large saucepan.
Add chopped mushrooms, rice, diced onion, 1 1/2 cups of water, salt and spices. Saute for 10 minutes.
Add spinach and chopped parsley. Cover with a lid.
Let it cook for 10 minutes, then remove from heat.
Don't worry if the rice is not fully cooked. It doesn't have to be. It will cook in the oven.
Fill the peppers with the composition.
Attach cut tops to the peppers, using some toothpicks.
Add water in the pan in which you placed the peppers, just enough to cover 2/3 of their height.
Place the pan in the oven and let them cook for 20 minutes, at 375F.
Before taking them out of the oven, turn on the grill function and let them char for 10 minutes.
Serve them with toppings of choice.
Nutrition Information
Yield
6
Amount Per Serving
Calories

240
Total Fat

5.5g
Carbohydrates

41g
Protein

6.5g