If you're a fan of Asian cuisine, then you'll surely love this vegan udon soup recipe! It's simple, nourishing and extremely healthy!
There's absolutely no question about it: soup can cure anything! Soup can make your day better when you've had a rough one. Soup can warm you up in a matter of seconds during the cold, cold, long winter evenings. Soup can make you feel so much better when you have a cold or some bad flu. Soup is nourishing, hydrating, tasty. It's the BEST! 🙂
So, are you in the mood for some soup today? The soup comes in so many shapes and sizes that I'm sure the answer to the previous answer is always a hard yes. You can't get tired of soup. Interesting fact: a bowl of hot soup is actually a super good idea during hot summer days!

I know it's quite counter-intuitive, but hot foods actually help to cool us down! How does it work? Hot stuff entering our stomachs send signals to our brain – and in response, it triggers the sweating process! And sweating is, as we know, our bodies' natural way of cooling us down. So no matter what time of the year you're visiting this food blog, you're absolutely in the right place!
Wandering through the realm of the soup, today's stop takes us to Asia. We are going to make vegan udon soup. Brace yourselves, because this recipe is something truly worth experiencing! It's absolutely delicious, packed with nutrients and 100% vegan. It's a delight to behold and, of course, to taste and, for me, it's one of the best soups!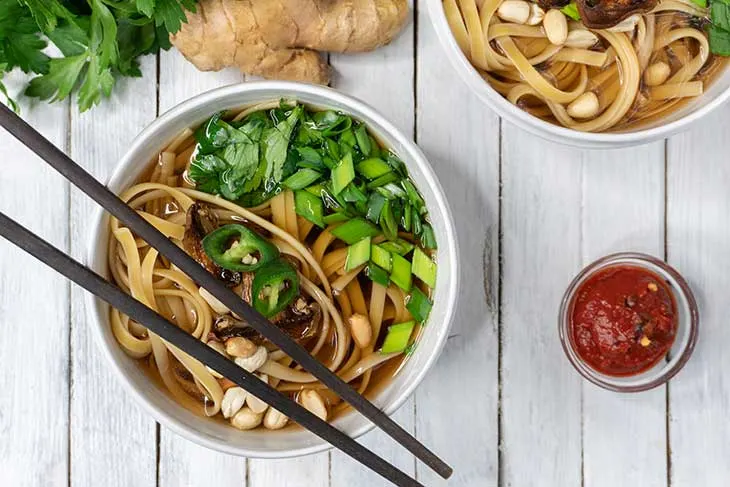 So what's the thing with udon soup? As Asian restaurants are becoming more and more widespread, so is udon soup! The origins of this soup are disputed among China and Japan, but the dish is well known all over Asia. The base of the soup is represented by udon – a type of noodles. Udon are a type of thick, wheat-flour noodles, and they can be served in many ways, the most popular being the soup.
There are many varieties of the udon soup around Asia, but there are of course some key features. For example, here are some things that you will find in most udon soups: soy sauce, scallions, tofu, and tempura. But the possibilities and the varieties are literally endless!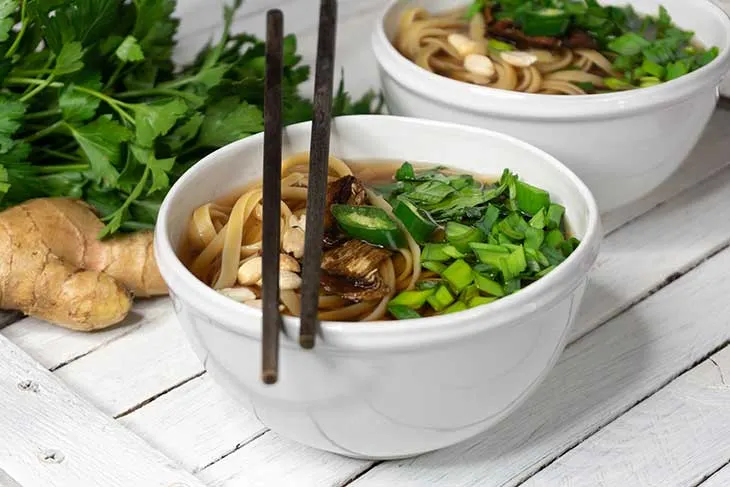 For today's recipe, I tried to stay as close to the classic as possible. I wanted to get the original taste! Maybe you've tried udon soup before and you know how crazy delicious it will be if prepared in the right way.
I just ask you one thing: stay away from the instant packed stuff. Like reaaaally away. It's super unhealthy, and the taste is so far away from what it should be! You don't really want to miss the depth and flavor of this dish, so make sure you always eat the quality stuff!
Another great part is how easy is to make this recipe turn into reality. It can be done in under 30 minutes! So no worries about losing a whole day in the kitchen. 😉 This recipe is absolutely not about that. You can prepare it when you come home from work for dinner and still have plenty of time for enjoying some other activities.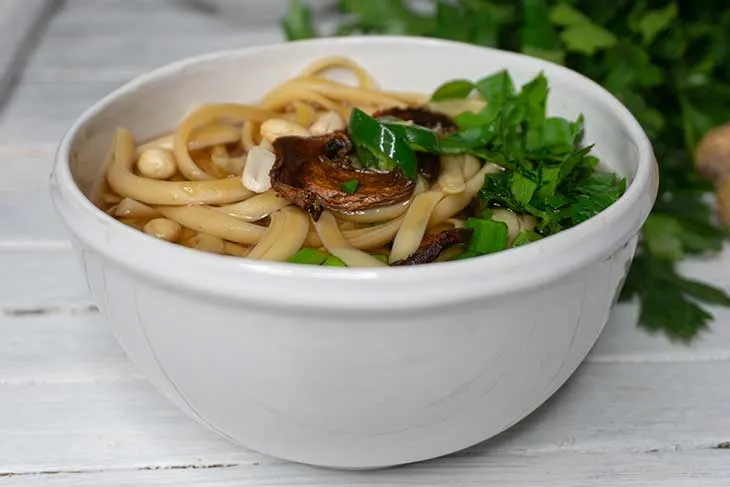 Now there are some specific ingredients that you will need in order to get this udon soup right. It's not anything too exquisite or expensive, but it's specific Asian stuff that you won't find at any supermarket. Or you will, but probably some western rip-off.
For the best results, I strongly recommend you to use real Asian ingredients. You know the golden rule: quality ingredients for quality results.
Another thing that I enjoy about this recipe and about udon soup, in general, is the fact that it's super customizable. As I said earlier in this introduction, there are dozens of varieties for the udon soup.
You can totally get creative yourself while making this recipe. You can use mine as a base recipe and then adapt it to your taste! If it's the first time making udon soup though I suggest you stick with what I've prepared here – to get a sense of what it should look and taste like. But then, the sky's the limit! 🙂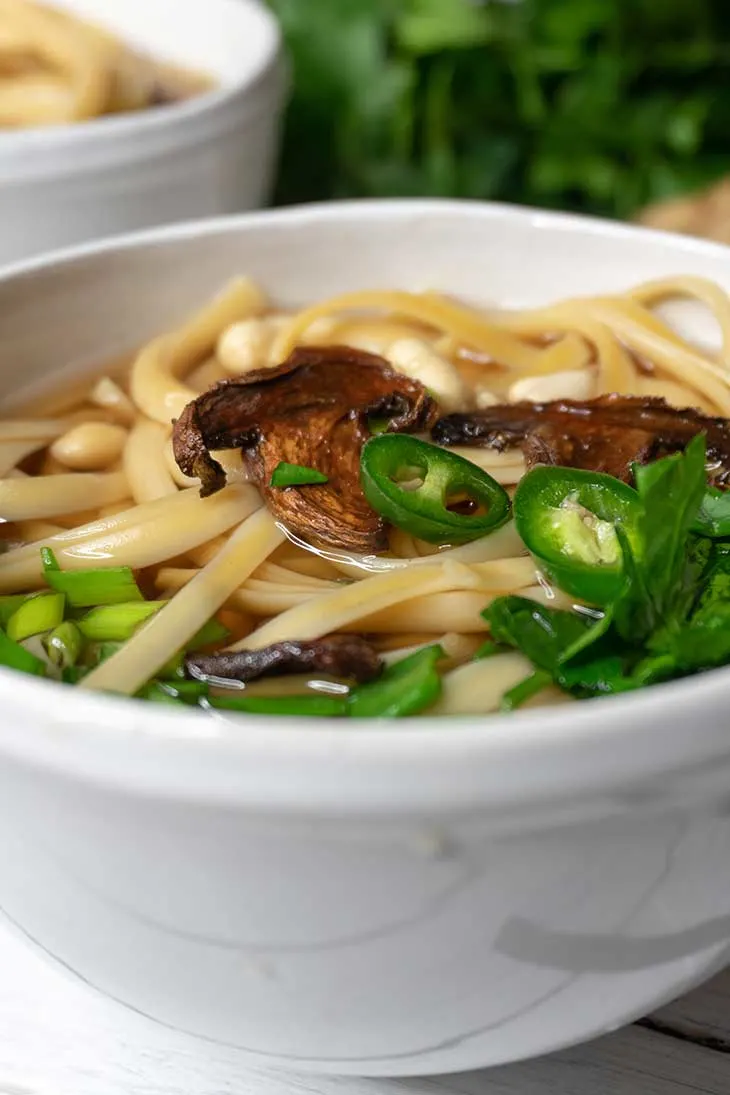 This being said, I am ready to head to the kitchen and start cooking. Don't worry, the process is super easy and there's little that can go wrong.
I often see people getting quite reluctant when it comes to preparing international cuisine stuff. But most of the time, there's nothing to fear. This recipe too is super friendly. So gather everything and let's start!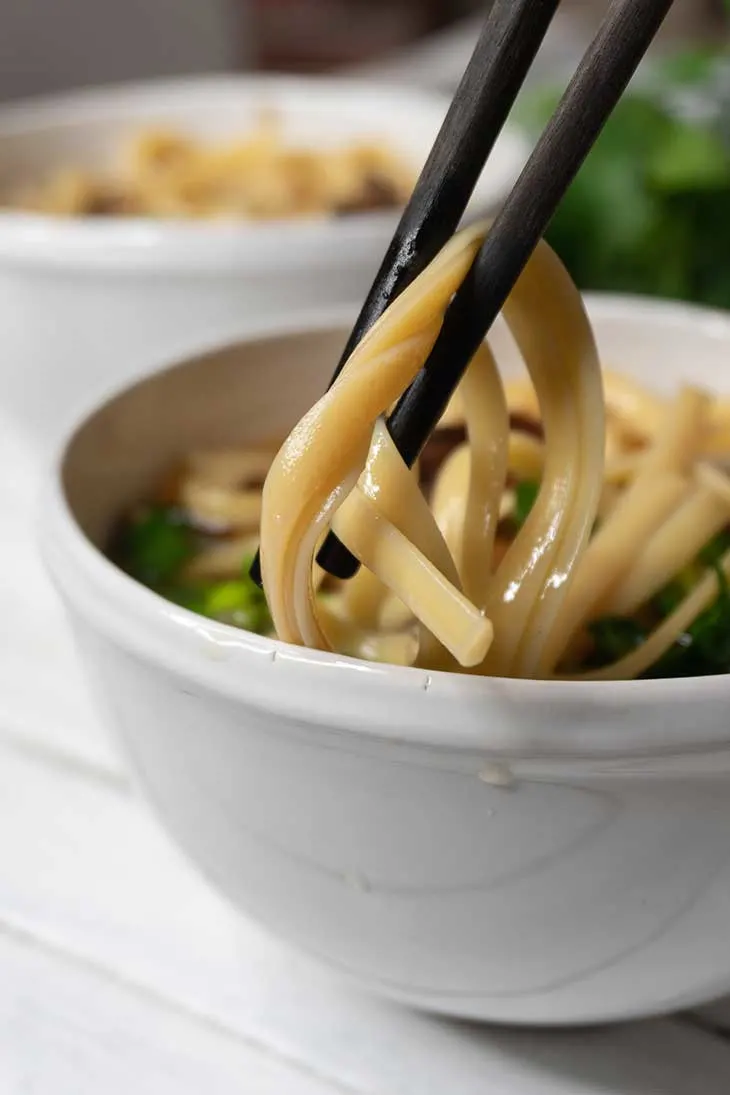 When you're done, don't forget to tell me your impressions in the comment section! I will carefully read them while sipping a bowl of amazing soup!
---
Personalized meal plans and workout videos | Get your customized meal plan today! [x_button shape="square" size="mini" float="none" target="blank" href="https://shop.gourmandelle.com/?utm_source=mainsite&utm_medium=site&utm_campaign=inpost" info="none" info_place="top" info_trigger="hover"]I WANT A MEAL PLAN![/x_button]
---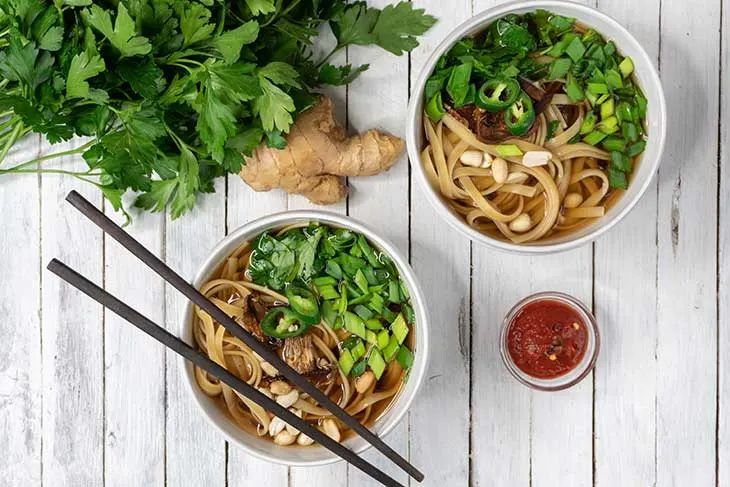 If you're a fan of Asian cuisine, then you'll surely love this vegan udon soup recipe! It's simple, nourishing and extremely healthy!
Ingredients
udon noodles
1 large dried mushroom, sliced
fresh ginger, peeled
2 Tbsp rice vinegar
2 Tbsp soy sauce
½ tsp chili paste
2 garlic cloves
1 Tbsp sesame oil
3-4 green onions, sliced
parsley, chopped
40g (¼ cup) peanuts
salt
4-5 peppercorns
Instructions
Pour 5 cups of water in a pot.
Add 2 pieces of fresh ginger (about 4-5 cm each), rice vinegar, chili paste, whole garlic cloves, peppercorns and bring to a boil.
Let simmer on low for 15 minutes. Take our the ginger and garlic.
Add the soy sauce and noodles. Cook until the noodles are done (follow the instructions on the package). Salt at the end.
Serve topped with sliced green onion, chopped parsley, peanuts, sliced dried mushrooms and a few drops of sesame oil.
Nutrition Information
Yield
2
Amount Per Serving
Calories

377
Total Fat

16.9g
Carbohydrates

43g
Protein

13g