Let's turn one of the most basic ingredients into the most delicious meal with this super easy recipe for sticky Asian garlic tofu! It's quick, it's yummy, it's healthy as well!
Turning vegan is not an easy thing to do for most people. It takes a lot of commitment to fully remove three whole food groups from your diet, and I know because I did it myself at some point. You might get cravings, you might get hungry and you might relapse thinking that, well, what's a little meat going to do, every once in a while? 🙂
And I can't judge anyone for doing that, but I think that the best way to embrace a fully vegan lifestyle is to get rid of the major misconceptions about veganism.
First of all, the biggest misconception that I've heard is that a vegan meal cannot be tasty and exciting and that most vegan food is, well… plain boring. Wrong! If you've been following my blog you will have seen a multitude of tasty, savory and scrumptious vegan dishes that I urge you to try.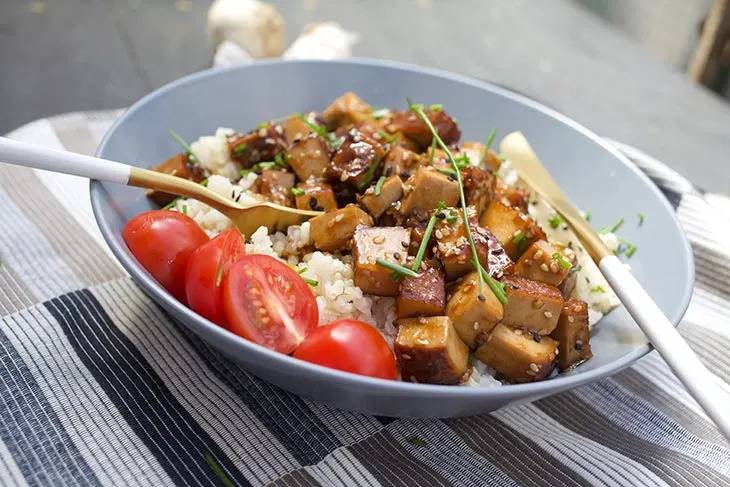 The second biggest misconception is that vegan cooking is difficult/takes too much time and a general lack of information about what ingredients are considered to be vegan.
I've heard way too many people who believe that you're just supposed to eat salad leaves all the time. Now we may be "herbivores", but we're not sheep! That being said, I have a profound love for the most basic ingredients that go into vegan and vegetarian recipes, seeing how they are also the most versatile.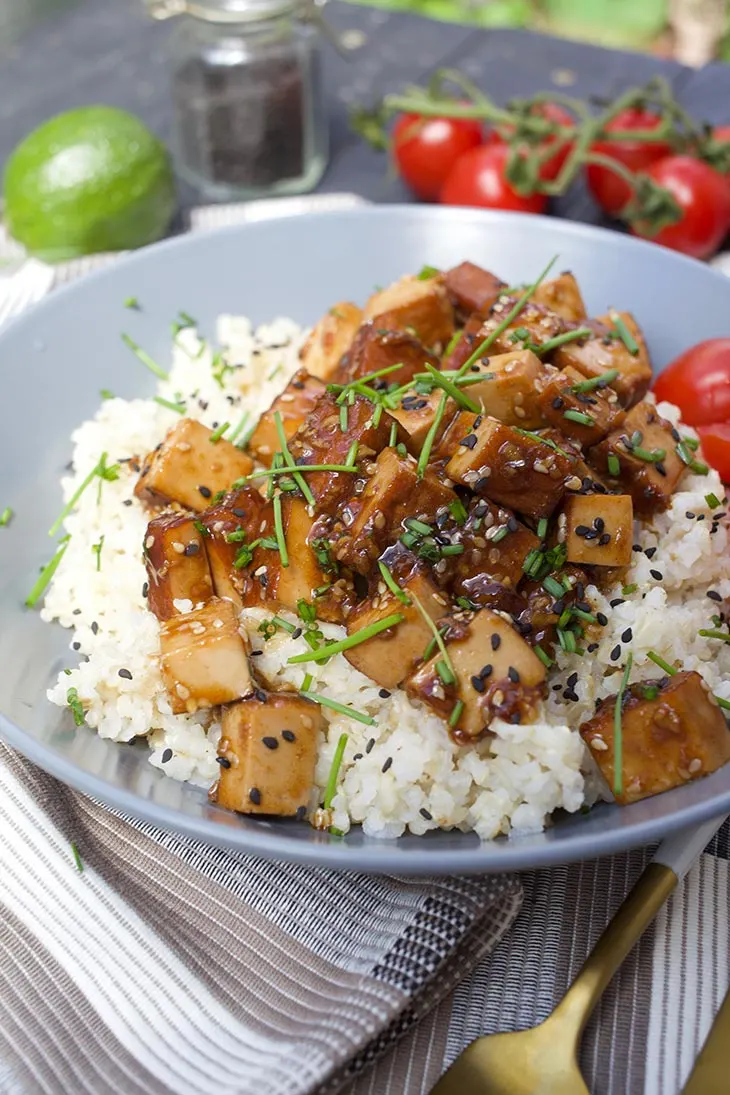 Tofu is one of my favorite things about being a vegan. It's such a delicious little thing! Tofu is made by pressing soy milk, and it's been a key ingredient in Chinese cuisine and culture and Eastern countries in general.
In the Western part of the world, tofu is seen more as a replacement for cheese. Indeed, people have been using it as a substitute for their favorite cheeses. And while tofu usually works alongside other ingredients, in the form of salads, vegan pasta, and so on, today I would like to present to you an idea for a recipe in which tofu is the main character!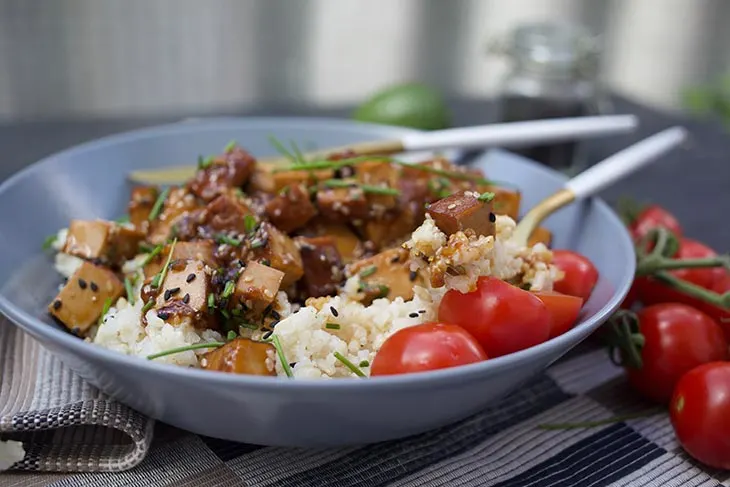 Sticky Asian garlic tofu is a recipe that I've been doing ever since I discovered how convenient is cutting tofu into small cubes. This recipe is extremely easy to do, requires a small number of different ingredients, and ends up being extremely tasty and flavourful.
Of course, you should also be a pretty avid fan of garlic, because let me tell you, this recipe pulls no punches – it is full-on garlicky goodness! 🙂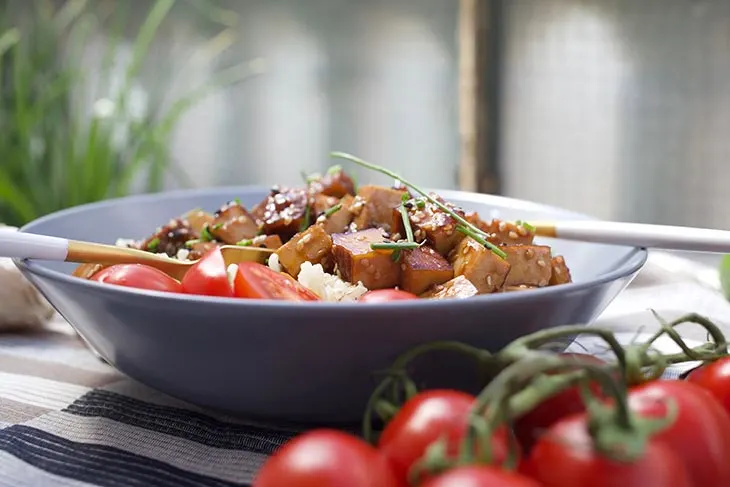 You can supplement this recipe with other vegetables, like broccoli, used as a side. Also, being an Asian dish, it goes great with rice or quinoa, if you desire. But the baked tofu is the main ingredient.
You will know you got this recipe right the moment when your tofu becomes semi-crunchy on the outside and softer on the inside, as you're supposed to cook the tofu until you brown it. Garlic tofu is a great recipe to cook in your spare time, in the weekends, or on a holiday – it's sooo easy! 🙂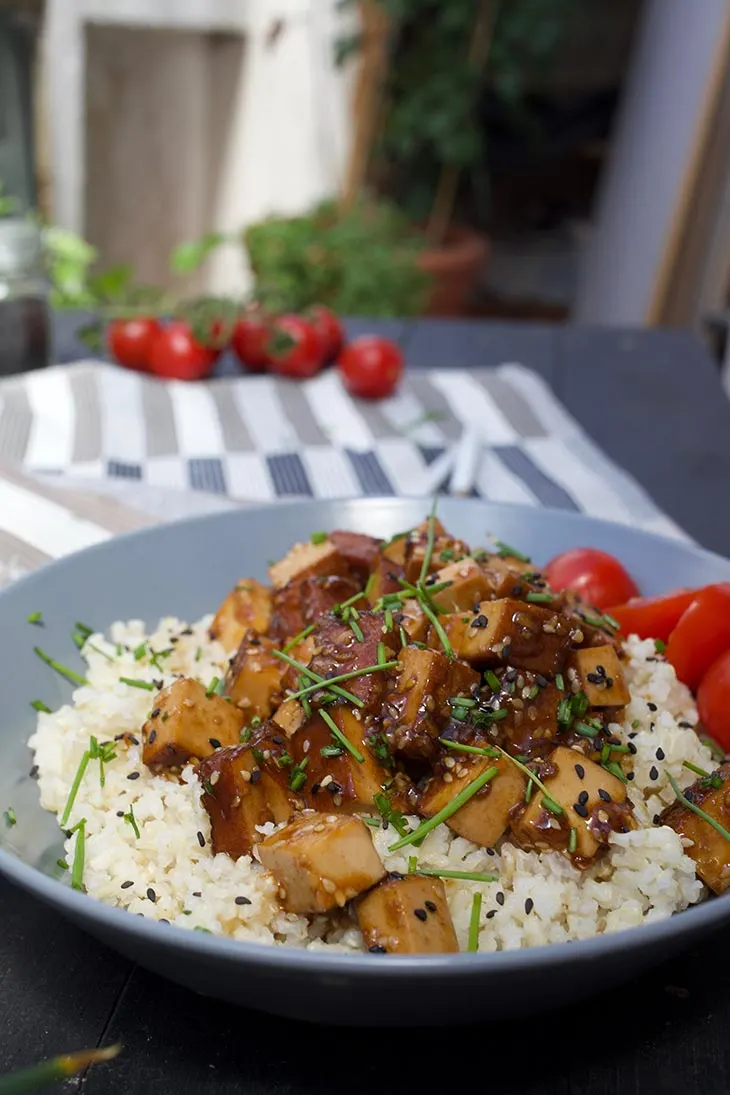 I would suggest, if you have the time and resources, to make tofu dishes like this in a larger amount. They go very well in the middle of a vegan feast which you can put on for your friends at a house party! Tasty vegan tofu goes great during a BBQ event, too!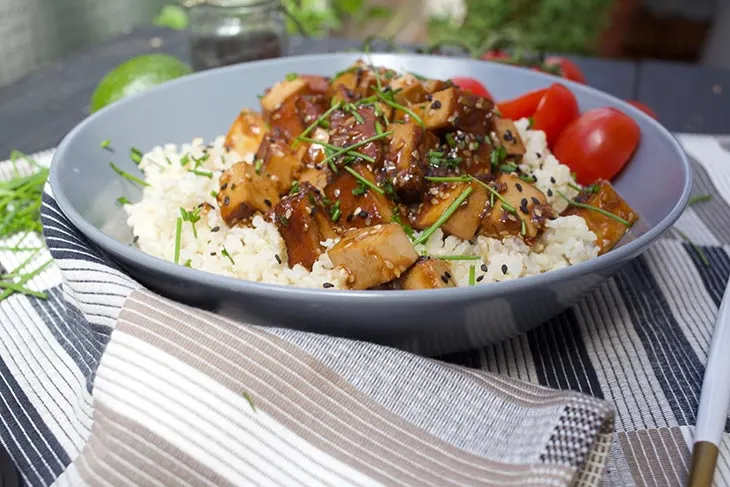 I've cooked Asian garlic tofu for my friends once, and since then, they've been asking me to either give them the recipe or cook it for them again. Well, you know what they say, you give a man a fish…erm, tofu, he eats for a day. Teach a man to cook vegan, he'll be cruelty-free forever!
If you are already well-versed in vegan cooking, you can try adding this recipe to your favorite salad, stew, or Buddha bowl. The possibilities are endless, as there are vegan ingredients in the world. I encourage you all to experiment at home with your favorite ingredients!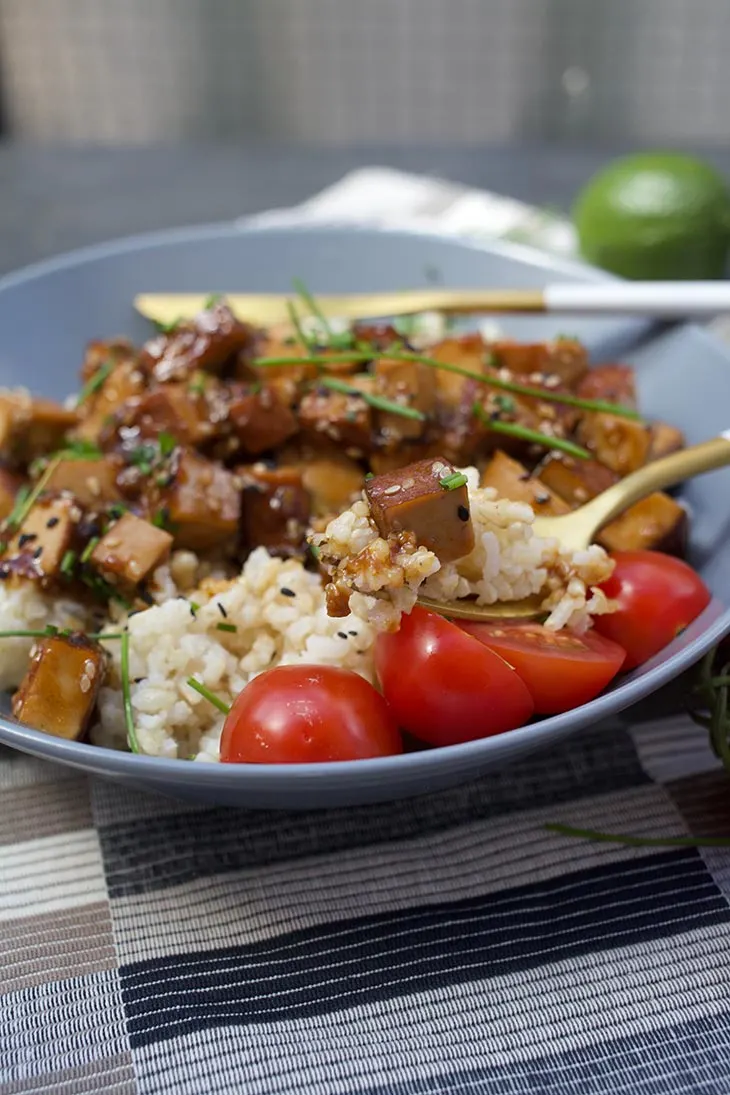 I hope you'll have a terrific time with this Asian garlic tofu recipe! If you liked it, don't forget to share this post with your friends! Also, don't hesitate to throw me some opinions and questions! I always enjoy hearing your thoughts!
Yield: 2
Sticky Asian Garlic Tofu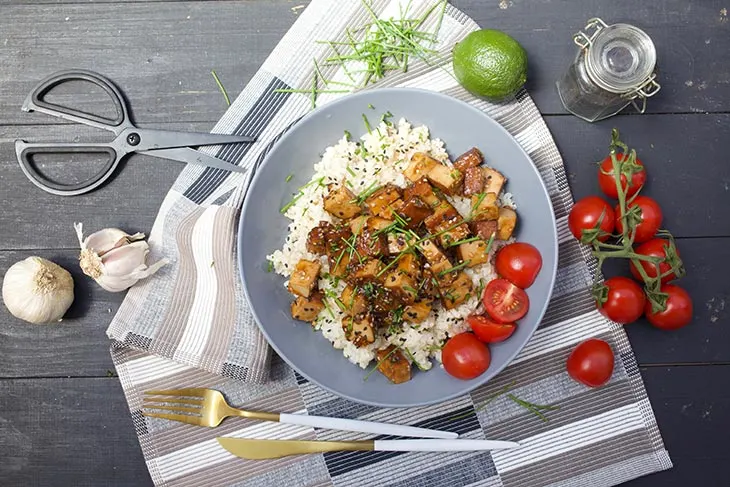 Let's turn one of the most basic ingredients into the most delicious meal with this super easy recipe for sticky Asian garlic tofu! It's quick, it's yummy, it's healthy as well!
Ingredients
250g (1 cup) extra firm tofu, cubed
200g (1 cup) brown rice
2 Tbsp chives
1-2 Tbsp sesame oil
½ Tbsp coconut sugar
2 tsp vegan butter
60g (¼ cup) hoisin sauce
2 Tbsp tamari, for GF version or soy sauce
2-3 cloves garlic, minced
1 tsp white sesame seeds
1 tsp black sesame seeds
fresh cherry tomatoes for serving, optional
Instructions
In a bowl add the minced garlic, tamari and hoisin sauces and mix to combine.
Add tofu and toss to combine. Cover and refrigerate to marinate for about 30 minutes or overnight.
Cook the rice according to package directions.
Add the vegan butter and sesame oil to the skillet on medium heat.
When melted, add the marinated tofu and spread out in a single layer.
Sprinkle with coconut sugar and white sesame seeds.
Cook for about 5 minutes per side or until browned.
Serve tofu over a hot bed of rice, garnished with black sesame seeds, fresh tomatoes, and chives.
Nutrition Information
Yield
2
Amount Per Serving
Calories

360
Total Fat

19g
Carbohydrates

38g
Fiber

1g
Sugar

20g