This wild garlic hummus recipe is inspired by the basic Lebanese hummus recipe. This is a spring hummus recipe, with a fresh, wild garlic flavor and ready in 5 minutes!
I love wild garlic! That's one of the reasons why spring is my favorite season. Farmers' markets are filled with healthy greens and there are so many fresh veggies you can eat! Wild garlic, watercress and baby spinach are just some of my favorite greens.
Today, I decided to combine my favorite recipe with one of my favorite spring leafy greens, and so I created this beautiful wild garlic hummus recipe. I planned on making this recipe for a very long time, but a few days ago I saw it on Brindusa's blog and finally decided to give it a try. I'm so glad I did!
It turned ot great! You'll absolutely love this wild garlic hummus recipe! Plus, it's ready in just 5 minutes! What more can you wish for?! This wild garlic hummus has a lovely, subtle garlic flavor and a fresh, green color. It's super-creamy too! I sprinkled some black sesame seeds and sweet paprika on top.
By the way, this can also be used to make healthy sandwiches for kids! Whole grain bread + hummus + tomatoes and cucumber slices + salad leaves = awesome sandwich for school! 🙂
P.S. I LOVE Lebanese cuisine. If you love it too, check out Ottolenghi: The Cookbook. His recipes are truly inspiring!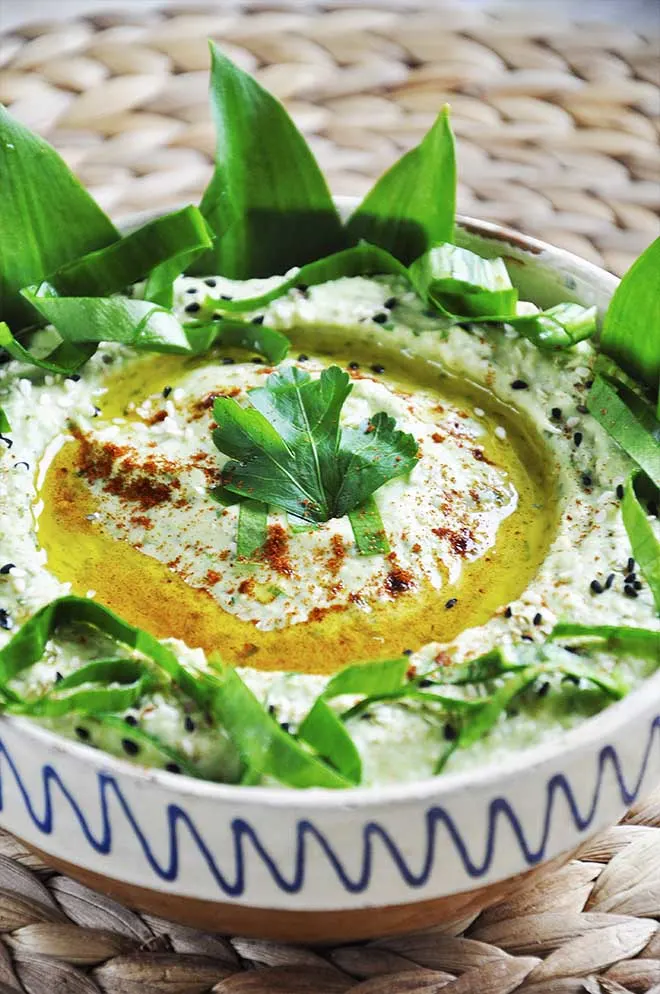 Yield: 6 servings
Wild Garlic Hummus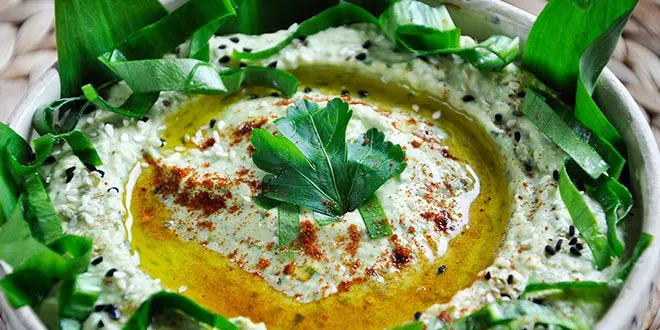 This spring, wild garlic hummus recipe has a fresh, wild garlic flavor and it's ready in 5 minutes!
Ingredients
1 can (800g | 28oz) chickpeas/garbanzo beans, rinsed and drained
130g (1 cup) wild garlic/ramps, chopped
half a lemon's juice
1 Tbsp tahini paste
2-3 tbsp extra virgin olive oil
sea salt, to taste
optional: sesame seeds, sweet paprika, chopped parsley, 1-2 Tbsps diced red onion etc.
Instructions
Put all ingredients in your food processor.
Process on high speed for 5 minutes until hummus is extra-smooth.
Add a little bit of ice-cold water in order to make it as smooth as you want.
Sprinkle some sesame seeds on top and garnish as you please.
Notes
Best served with warm pita bread cut into wedges.
Nutrition Information
Yield
6
Amount Per Serving
Calories

100
Total Fat

6g
Carbohydrates

9.3g
Protein

2.2g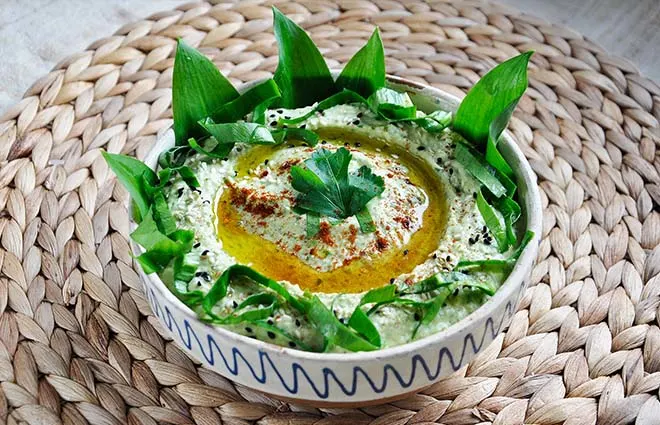 Want more hummus recipes? Try these Light & Fresh Lemony Hummus and Best 5-Minute Hummus recipes!