Looking for a refreshing, yet filling dish? Here's how to make the ultimate collard greens stew that will surely blow your mind!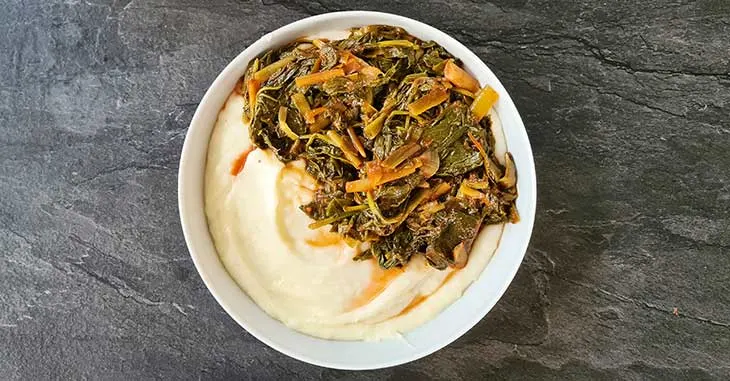 Confession time! I decided to change things on the blog a little – I decided to start posting ALL those excellent recipes I'm making every day for lunch or dinner. These are yummy, easy recipes for everyday cooking that I made and loved, but for which I didn't have any time to take "professional" pictures with my camera because I was just TOO hungry. I have so many recipes like this that I didn't share with you guys because I felt the visuals are "not worthy". I had no props, no proper light, and no fancy plating. But I won't let that stop me ever again!
So for this recipe, I only have a couple of photos taken with my phone, but what's important here is the taste and the actual recipe. No perfect pictures ahead, just my real, non-polished food that I eat in my real life. 🙂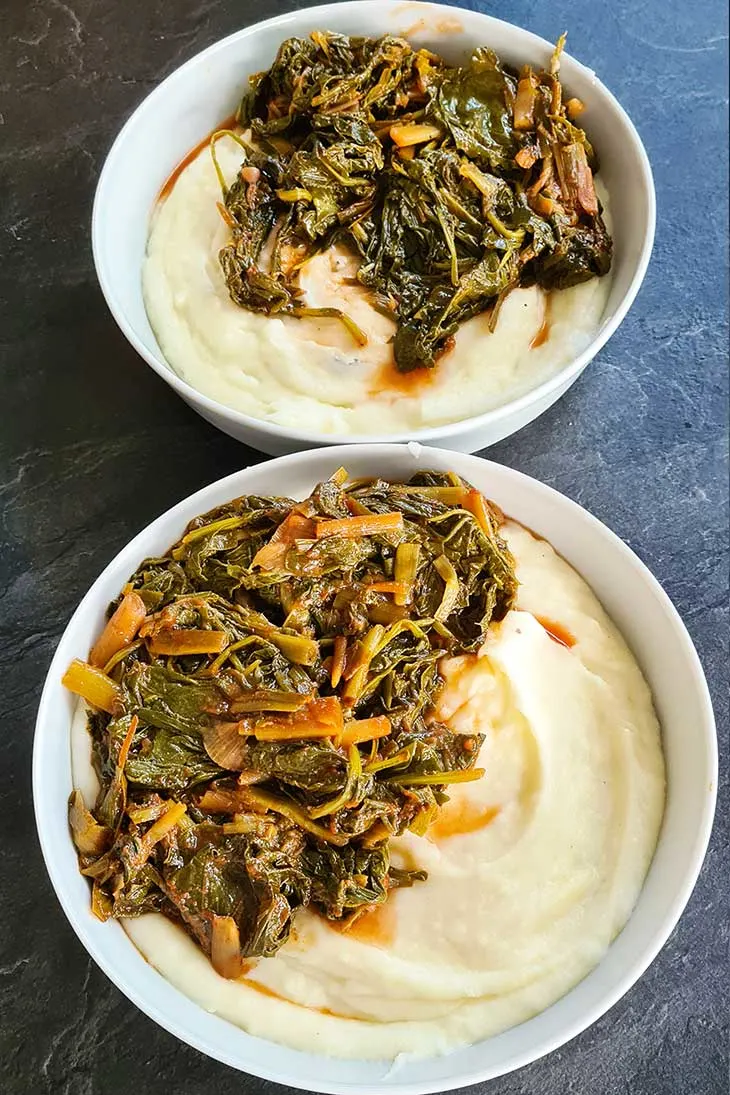 This year I started… gardening! 🙂
I just felt that having 50+ plants in my home (plant mom here!) just wasn't enough, so I added a few hundred more in my garden as well. I planted a lot during April and May. Around 70 lavender plants, 20 sweet mock orange (English dogwood), around 60 plants of ground thyme and lemon thyme, 20 multicolored sage plants, sweet roses, aromatic herbs… and I'm not even done yet!
I also planted some vegetable seedlings with the help of my parents-in-law: tomatoes, zucchini, watermelons, cauliflower, peppers, kale, beetroot, and a full box of salad greens! 🙂
It's a lot of work but I really love it. I find it therapeutical to take care of your own garden and to grow your food… sometimes I even feel like the taste is different!
A few weeks ago I prepared something with homegrown vegetables for the very first time – this collard greens stew! I had some collard greens in my box of salad greens and I planted them without knowing that you cannot really eat them in their raw form. They're "related" to cabbage so you have to cook them, as their leaves are a bit hard. My collard greens were getting huge and dropping big shadows on my salad, so I picked them out completely (roots too) and I prepared a delicious, generous stew with them.
What you see in the photo below is my collard greens harvest! I filled an entire sink with them! 🙂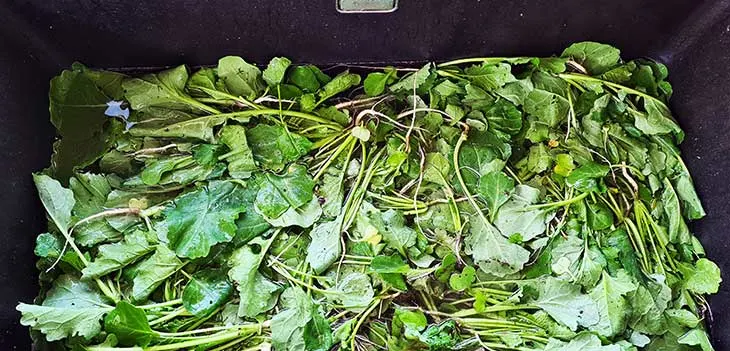 Truth be told, washing them required quite a bit of work. I only selected the leaves without the stems, so that my stew would be tastier. Because I had "young" plants, I didn't have to cut their central stem too, like you would do for sorrel, for example. If you use "mature" plants, then you might need to cut the central stem of the leaves, so keep that in mind when picking your greens.
Besides the collard greens, I also added some green onion and green garlic in my collard greens stew, both freshly picked from my garden. These didn't need any washing or cutting – lucky me! – because I picked them from the ground some weeks ago and I put them in the freezer, in ziplock bags. So they were already washed and cut, ready to be used.
There was a lot of work for those too, I remember I had to wash them 5-6 times, carefully clean the leaves, etc. What can I say, it's not as easy as buying them from the supermarket, already cut and prepared! 🙂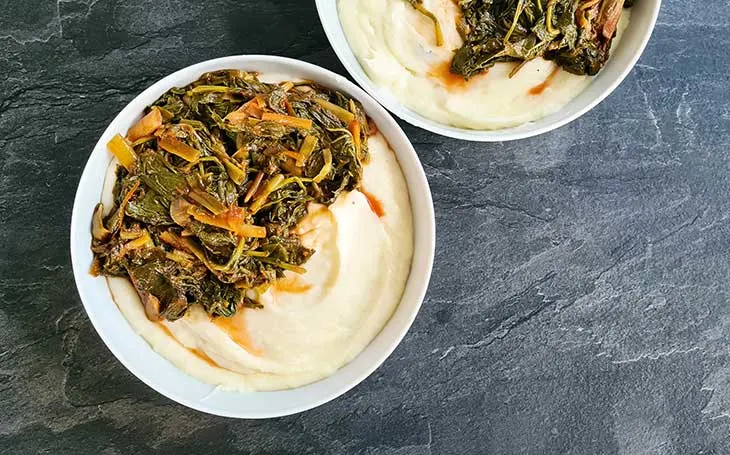 This collard greens stew is very similar to a leek/onion stew or to a sorrel stew. I really love this type of "leafy" food, as it reminds me of my childhood. If you're from Eastern Europe, you might know what I mean.
And, of course, I can't eat a proper stew without some mashed potatoes, am I right? So I got to work and made some creamy mashed potatoes and I served my collard greens stew on top of it.
Mashed potatoes made with lots of butter are my weakness! It reminds me of childhood as well and I can say that it's one of my favorite foods in the world. By far! If I want it to be a portion of super comfort food, I also add some slices of raclette or moldy cheese such as gorgonzola. I add these while the mashed potatoes are on the plate, still hot. I know, this is a calories bomb so I try not to eat it as often as I could, but each and every time I do I'm just too happy!
This type of food is not vegan, as I used dairy butter and the cheese I was talking about for the mashed potatoes, but you can totally transform it into a vegan version (or you can serve the stew with a different side dish). You just need to use some vegan butter and vegan cheese and you're good to go! If you don't have enough time or patience to make my homemade vegan butter, I heard that the butter from Naturli is really good, although I didn't get to test it yet. And I can confirm that Verdino's vegan gouda is 100% delicious even when melted!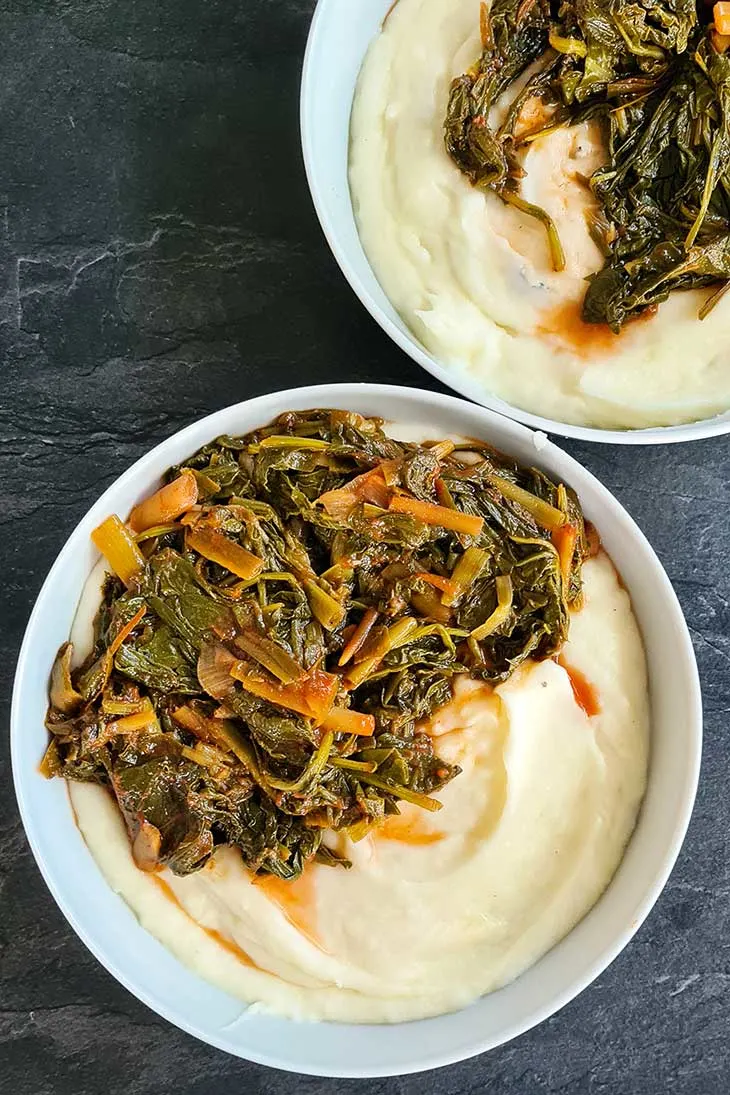 By the way, the step-by-step recipe below doesn't explain how to make the mashed potatoes too, just the collard greens stew. But I can tell you that I make my mashed potatoes quickly and painlessly. I cut my potatoes into tiny cubes so they'll boil faster in some water with a bit of salt. Once they're soft, I discard most of the water, leaving a bit on the bottom of the pot. Then I add the butter (I don't measure it, I just add however much I feel like taking into consideration the number of potatoes I have) and I mash them with a hand mixer.
TIP: Make sure you cover the pan with a kitchen towel in the first 20 seconds of mixing if you don't want mashed potatoes splashing all over your kitchen walls. You can take the towel off after 20 seconds.
Continue to mix well and add a bit more water if needed. That's it! This is how I make the best, creamiest mashed potatoes in the world! I don't even add any extra salt because I already added it in the boiling water and it's just enough most of the time. But you can add more salt and pepper to taste if you feel like it.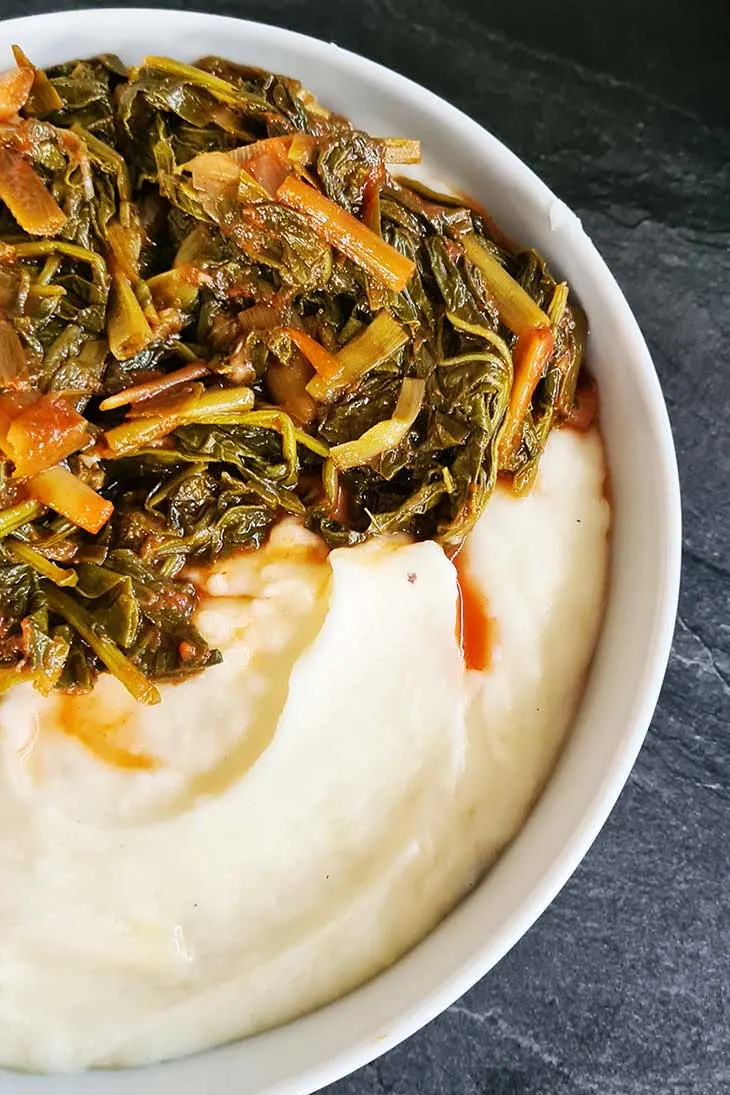 Well… what else can I say? That's all!
I really hope you'll love this collard greens stew recipe as much as I do. You can try it with different types of green leaves such as spinach or sorrel. And if you decide to give it a try, don't forget to let me know how it went, I'm so curious about your opinions!
Until then… happy cooking! 🙂
Yield: 4 portions
Collard Greens Stew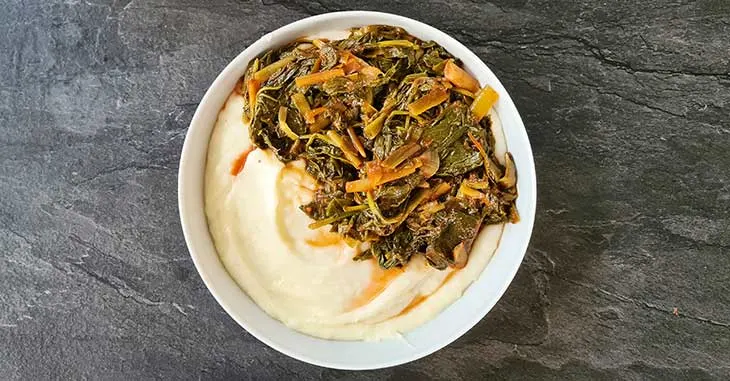 Looking for a refreshing, yet filling dish? Here's how to make the ultimate collard greens stew that will surely blow your mind!
Ingredients
1kg (2.2 pounds) collard greens or other leafy greens - spinach, sorrel - I know it sounds a lot, but after you cook the greens they'll shrink considerably
10 large bunches of green garlic
10 large bunches of green onion
1 white onion, thinly chopped
500ml (2 cups) tomato juice
4 Tbsp sunflower oil
salt and pepper, to taste
Instructions
Add the oil in a pan and wait for it to heat.

Add the thinly chopped white onion and cook it.

Then add the collard leaves, roughly chopped. Add the green onion and garlic.

Add 200ml of water and cover with a lid. Leave the pan on medium heat for 20 minutes.

Add the tomato juice and leave it to cook for 5 more minutes.
Nutrition Information
Yield
4
Amount Per Serving
Calories

300
Total Fat

16g
Saturated Fat

2g
Trans Fat

0g
Unsaturated Fat

13g
Cholesterol

0mg
Sodium

199mg
Carbohydrates

34g
Fiber

16g
Sugar

11g
Protein

11g
I strive to keep the information as accurate as possible but make no warranties regarding its accuracy. I encourage you to make your own calculations using your preferred nutrition calculator.