This filo pie with cheese and dill is the perfect choice whenever you want something quick, delicious, and economical. Give it a try, everyone will love it!
When the temperature drops, it's time to cozy up with a pie. Pies are the perfect food for cold weather because they're easy to make and full of flavor. They're also a great way to use up any leftover meat or vegetables that you might have in your fridge.
But what if you want something different? What if you're tired of apple pies and pumpkin pies? In that case, why not try making a savory filo pie with cheese and dill? I'll tell you everything about it down below! 🙂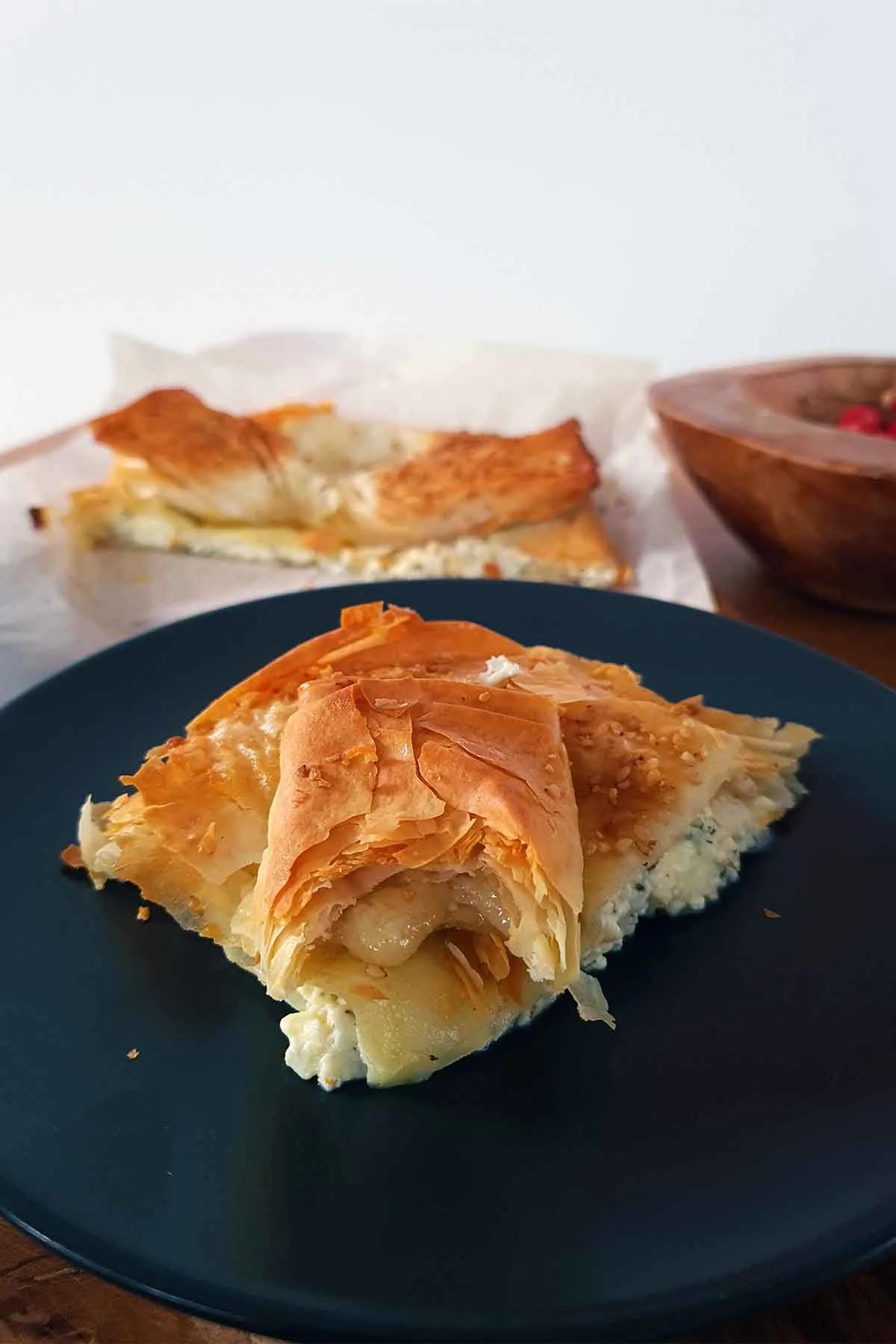 A filo pie is a great party item (and an excellent main dish in general) because it can be made in advance and frozen. It's also very easy to make and it's incredibly delicious. Everyone loves a slice of hot pie!
Savory pies are easy to make and fun to eat. With a few ingredients, you can get creative with your pie filling and create something unique. Savory pies also travel well, making them great for picnics or potlucks. Finally, they're easy to eat without utensils.
Moreover, savory pies are a great way to use up all of your leftovers or even frozen vegetables, making them an excellent idea for cold weather. If you have leftover veggies, don't be afraid to put them in the pie! Frozen vegetables can be nutritious and delicious, but they often go unused before their expiration date because it takes so long to defrost them completely. This makes pie-making the perfect opportunity to get creative with leftovers from your freezer or fridge — it'll feel like you're eating something new, even though it was frozen months ago!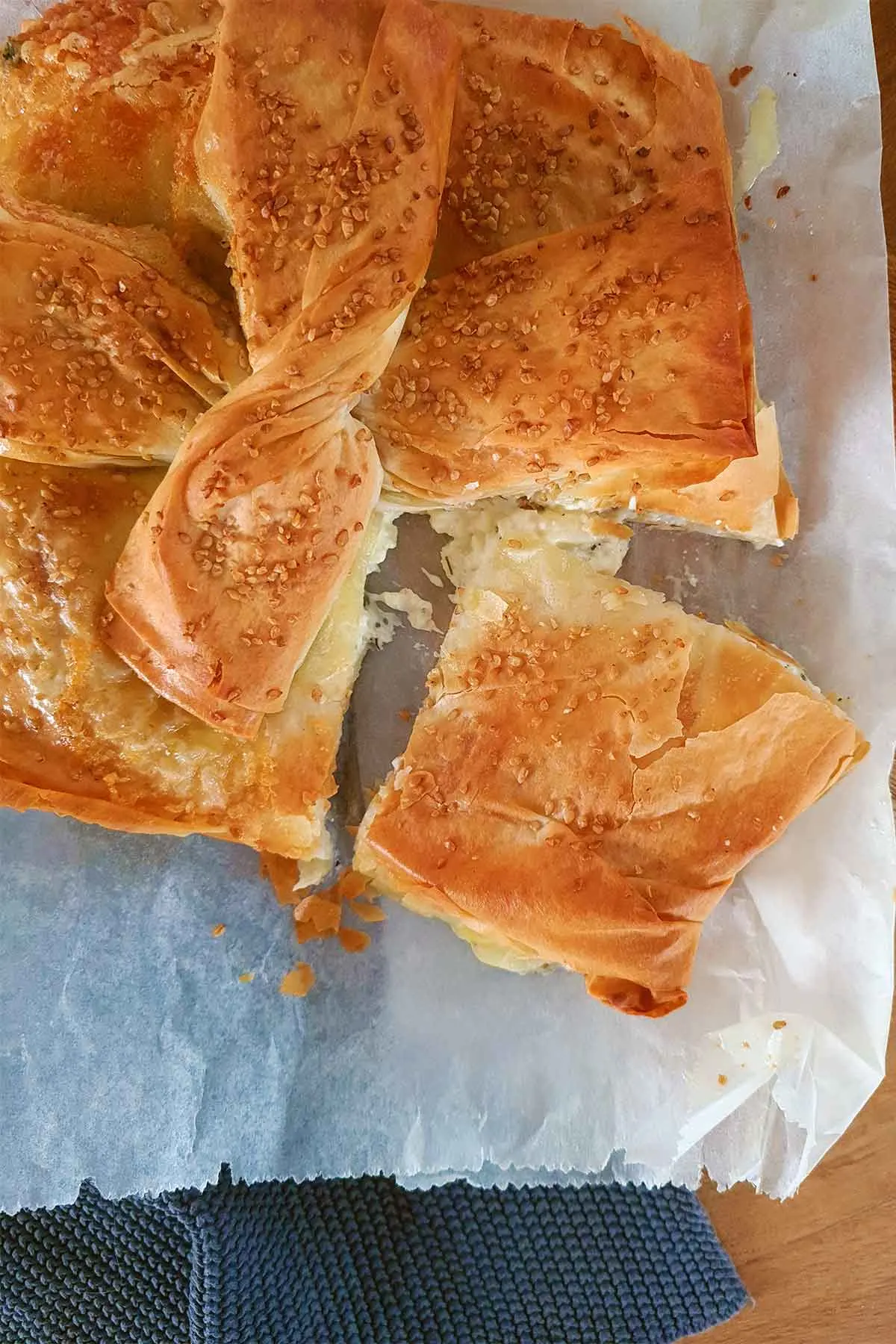 Savory pies are also an easy way to sneak some veggies into your diet! But if you're not feeling necessarily inspired by making a veggie pie, you can make this cheese-and-dill combo instead.
Here's when you can make this delicious filo pie with cheese and dill:
When you have guests or family over.
When you're organizing a party or a picnic.
When you want to eat a meal that is light and easy to make.
When you want to make something that is tasty but not too heavy.
When you want to make something that is quick and easy to make!
The combination of cheese and dill is a classic one, used throughout the world in many different ways. Dill is a herb that can be used in soups, salads, and sauces to add flavor. It's also popularly used to make pickles! And, in my opinion, dill goes perfectly with cheese, making a simple yet decadent filling for any savory pie out there.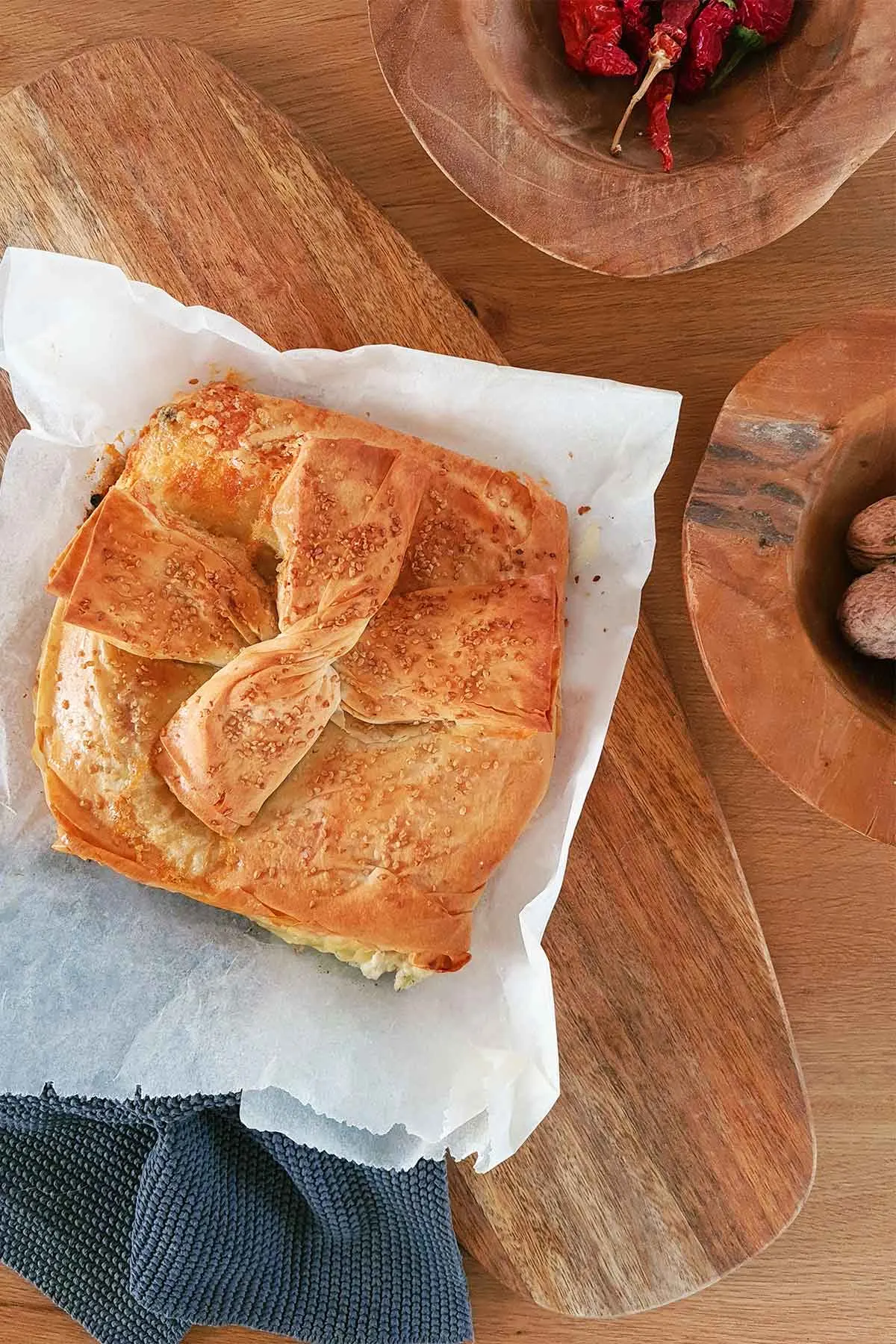 If you're looking to make a pie, filo pastry is your best choice. It's a light and delicate dough that can be rolled out and cut into shapes, making it an ideal medium for a fruit tart or an appetizer shell. It can be frozen after it's been shaped and then baked later, making it ideal for those with busy schedules who want to bake ahead of time without having to spend hours in the kitchen – and the same applies to this cheese and dill pie!
Filo dough is most commonly made from flour and water, which means it's naturally vegan. This type of dough is available pre-made at grocery stores or can be purchased online; this makes things easier for busy people!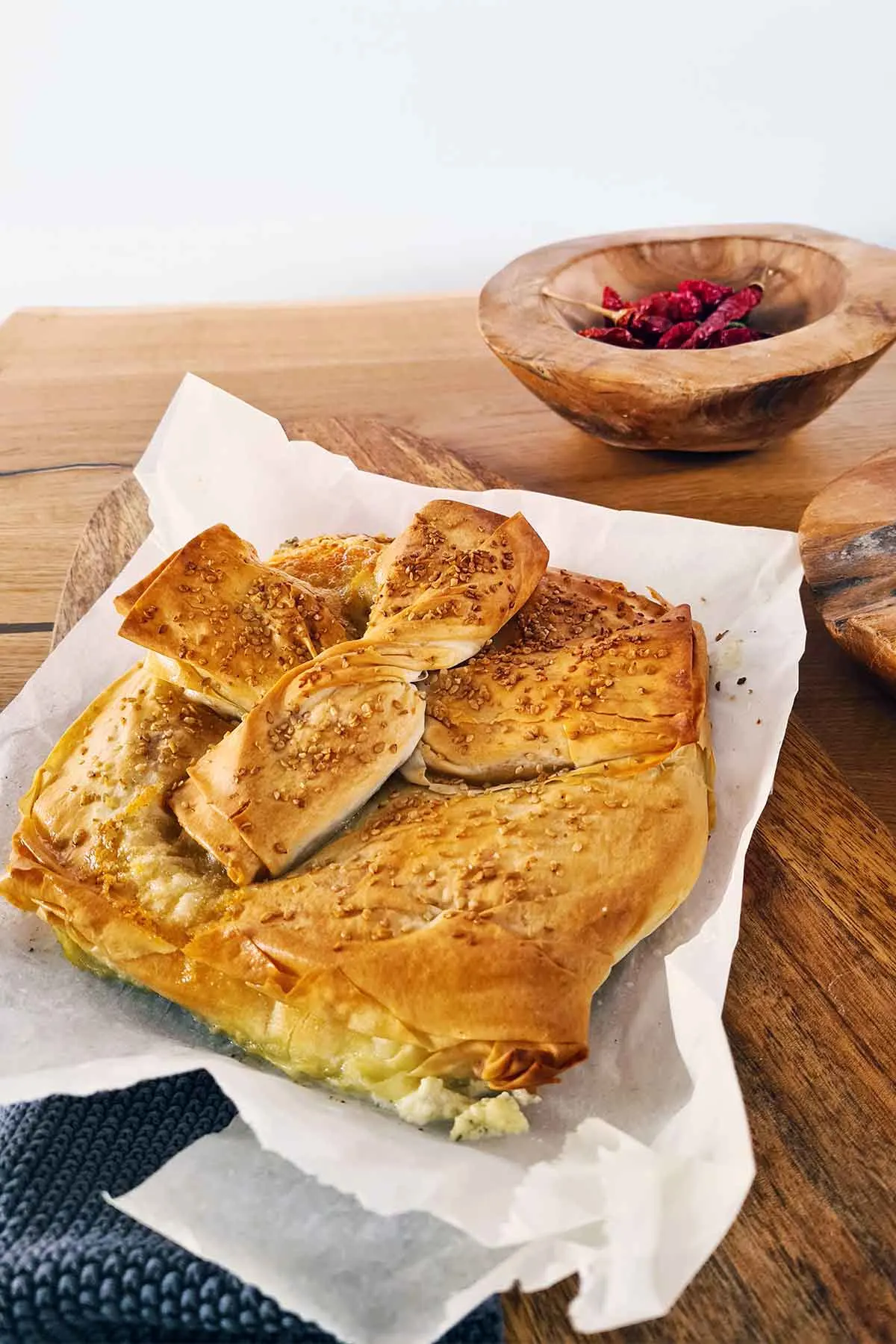 I hope that you're now inspired to make your own filo pie. I will show you how to make the best filo pie with cheese and dill below, with an ingredient list and step-by-step instructions. And if you decide to give it a try, don't forget to let me know how it went.
Happy cooking! 🙂
Yield: 6+
Filo Pie with Cheese and Dill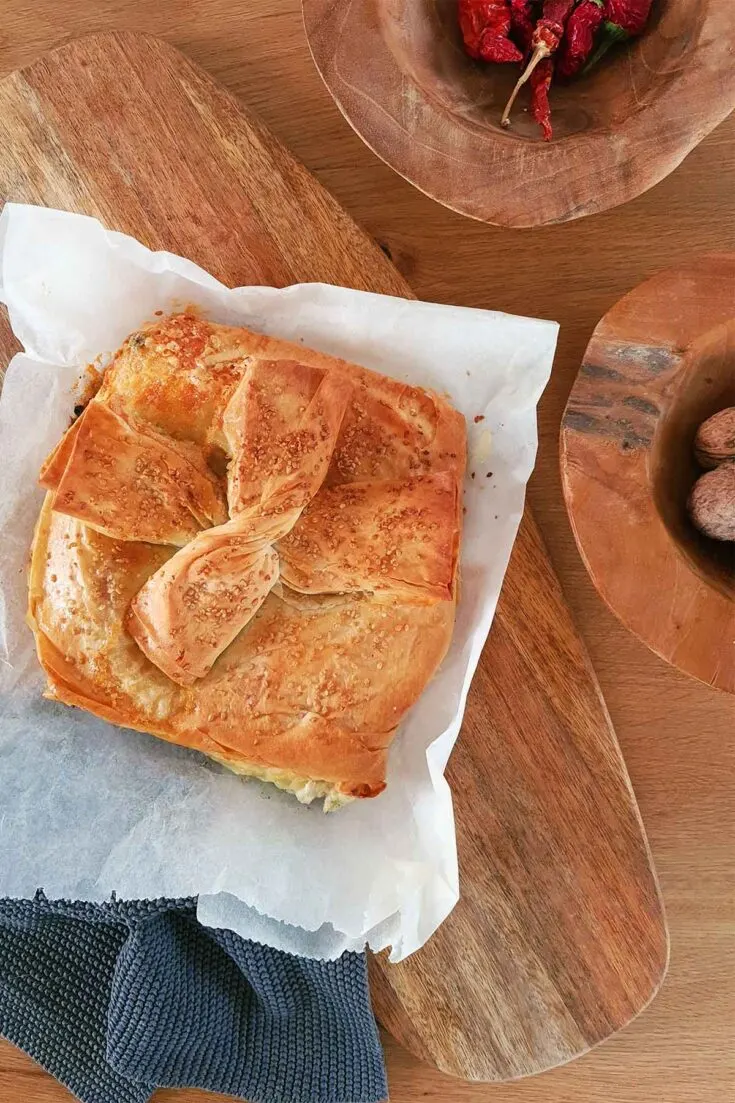 This filo pie with cheese and dill is the perfect choice whenever you want something quick, delicious, and economical. Give it a try, everyone will love it!
Ingredients
approx. 10-12 filo sheets
250g (3 cups) salty cow cheese (I used a creamier cheese)
5 Tbsp yogurt
fresh or dry dill, to taste
20g (1 ½ Tbsp) butter or olive oil
sesame seeds
Instructions
Mash the cow cheese with a fork. Add the yogurt and mix. Add the fresh or dried dill.
Preheat the oven to 180C.
Add baking paper to a small ceramic tray (30x30cm). Grease the baking paper with a bit of oil, using a brush.
Place 3 sheets of filo pastry on the bottom, one on top of the other.
Add the cheese and dill mixture and spread it well.
Take the outer edges of the pie sheets and bring them over the composition, as if forming a packet.
Add another layer of 2-3 filo sheets. Seal the edges so as to cover the cheese composition in the pan on all sides.
On top of this, add a few thin slices of butter, or grease the sheets with olive oil.
Add another layer of 2-3 filo sheets and proceed as above, making a packet.
Using a silicone brush, brush the pie with a bit of olive oil or melted butter. Sprinkle sesame seeds on top.
I also made a bow from a few remaining filo sheets, which I filled with blue cheese.
Bake the pie in the oven for approx. 30 minutes, or until it turns golden, at 180C.
Nutrition Information
Yield
6
Amount Per Serving
Calories

246
Total Fat

21g
Saturated Fat

10g
Trans Fat

0g
Unsaturated Fat

9g
Cholesterol

49mg
Sodium

302mg
Carbohydrates

3g
Fiber

1g
Sugar

1g
Protein

11g
I strive to keep the information as accurate as possible but make no warranties regarding its accuracy. I encourage you to make your own calculations using your preferred nutrition calculator.