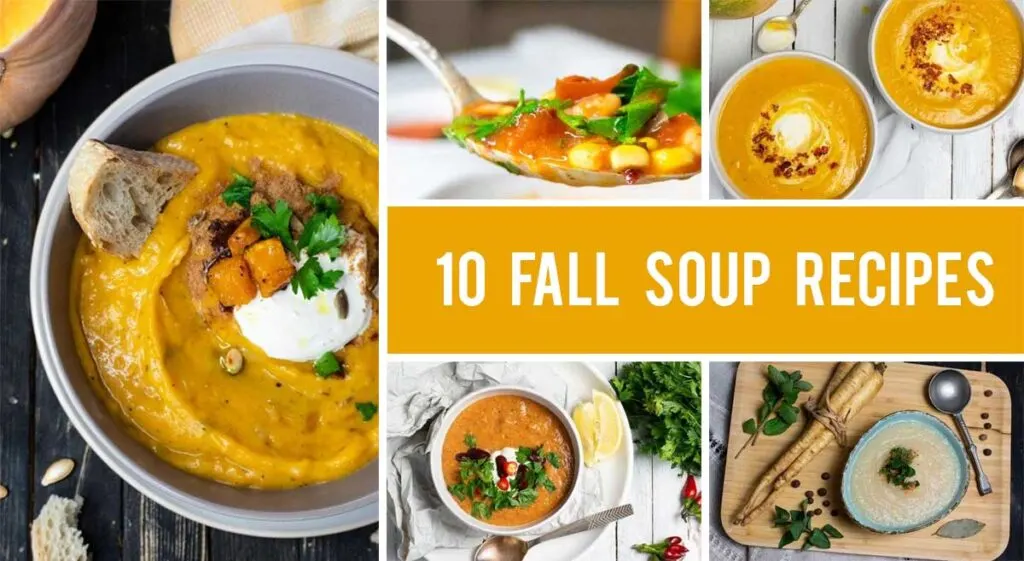 Autumn is here – and what better way to celebrate than soup? Here are the best fall soups for cozy and nourishing dishes!
It's fall here, which means it can get chilly outside. Soup makes a cozy and nourishing lunch that's perfect for this time of year. As the leaves begin to change and the cool breeze sets in, there's nothing quite as comforting as a steaming bowl of the best fall soups. Embrace the flavors of the season with our handpicked collection of hearty and healthy fall soup recipes that are bound to warm your soul.
From the moment you take that first spoonful of these carefully crafted fall soup ideas, you'll be transported to a world of cozy comfort. These easy fall soup recipes bring together the finest autumnal ingredients in a symphony of flavors that celebrate the harvest season. Whether you're a fan of the robust flavors of root vegetables or the delicate sweetness of squash, this collection of fall vegetable soup recipes has you covered.
Indulge in the wholesome goodness of these healthy fall soups that are as nutritious as they are delicious. Packed with vitamins and nutrients, these soups are the perfect way to nourish your body as the days get shorter and colder. From vegan fall soups that cater to a plant-based lifestyle to hearty fall soups that will leave you feeling satisfied, our selection offers a diverse range of options for every palate.
Looking to simplify your cooking routine? Turn to the fall Crockpot soups for a hands-off approach that fills your home with enticing aromas. The fall harvest soup, a true embodiment of the season's bounty, brings together an assortment of vibrant vegetables in a symphony of flavors. With these best fall soup recipes, you'll discover the art of transforming simple ingredients into culinary masterpieces that exude warmth and comfort. So, embrace the autumnal spirit and embark on a culinary adventure with our collection of the best fall soups that promise to be the highlight of your seasonal dining experience.
Best Fall Soups Recipes
Spicy Pumpkin Soup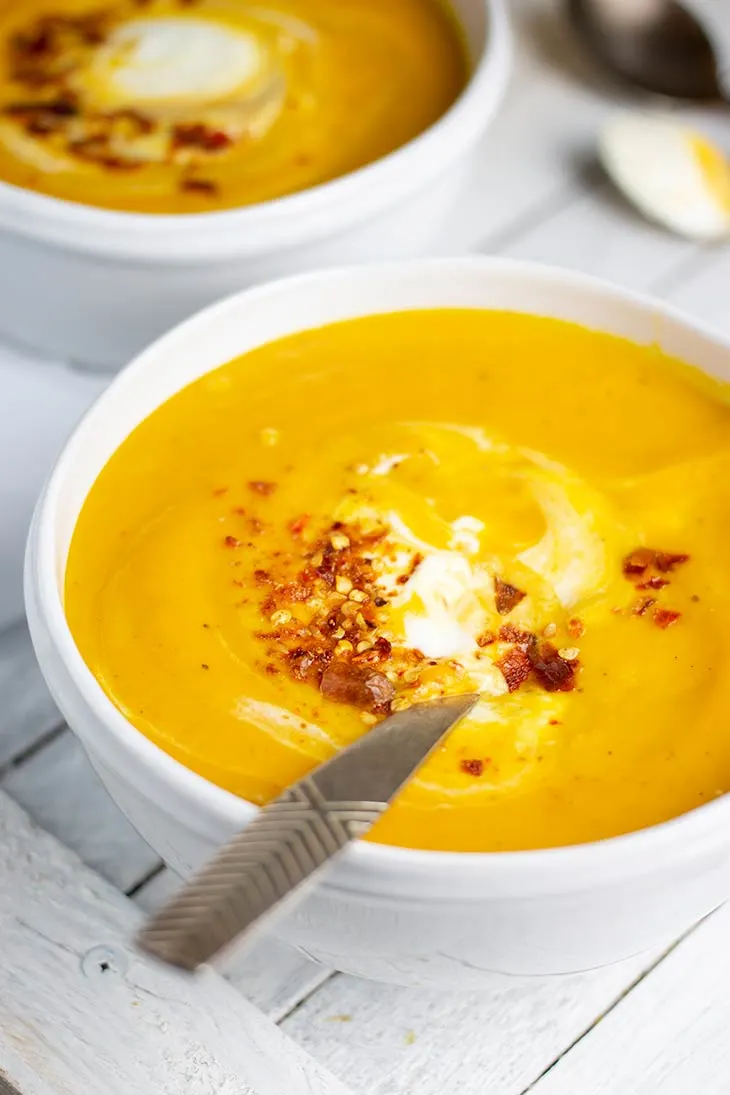 In case you love everything spicy and you're in the mood for an autumnal dish, here's how to make the best spicy pumpkin soup. Super flavorful and healthy!
Butternut Squash Soup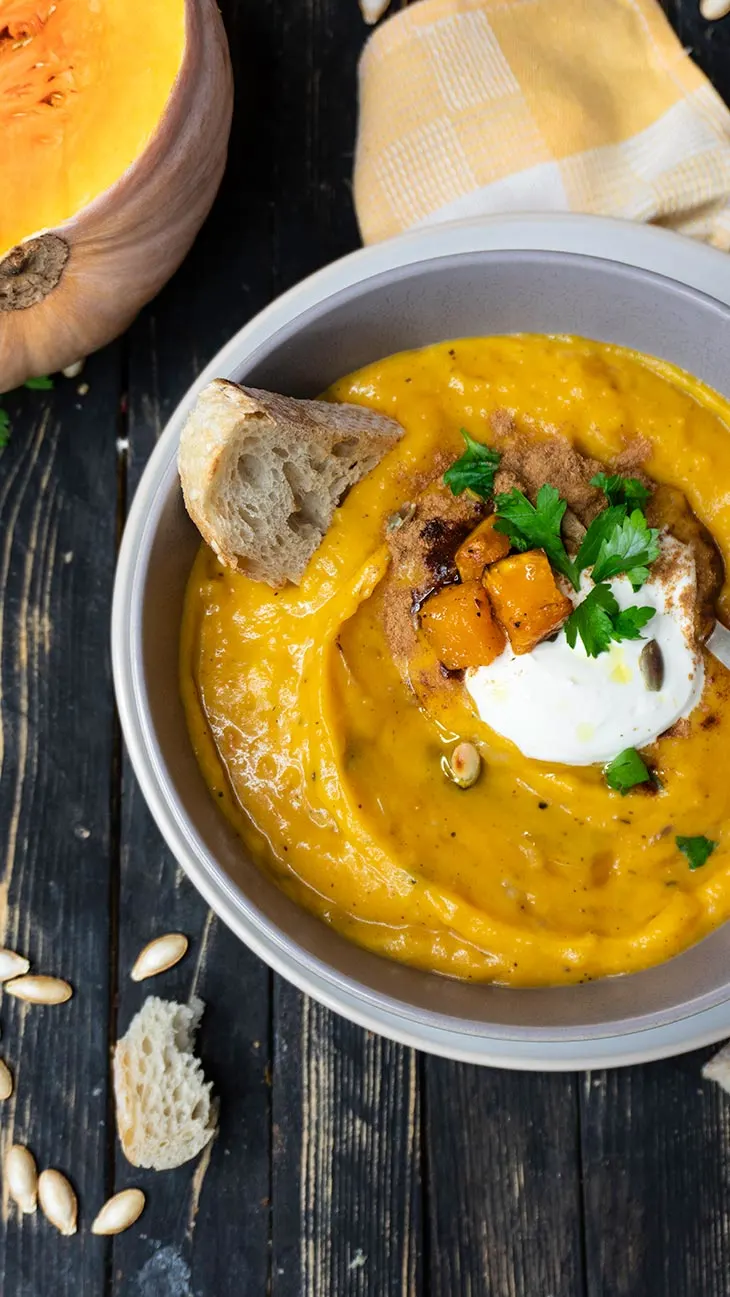 Creamy, comforting and super healthy – these are just some of the qualities of this AMAZING butternut squash soup! Give it a try!
Kidney Bean Soup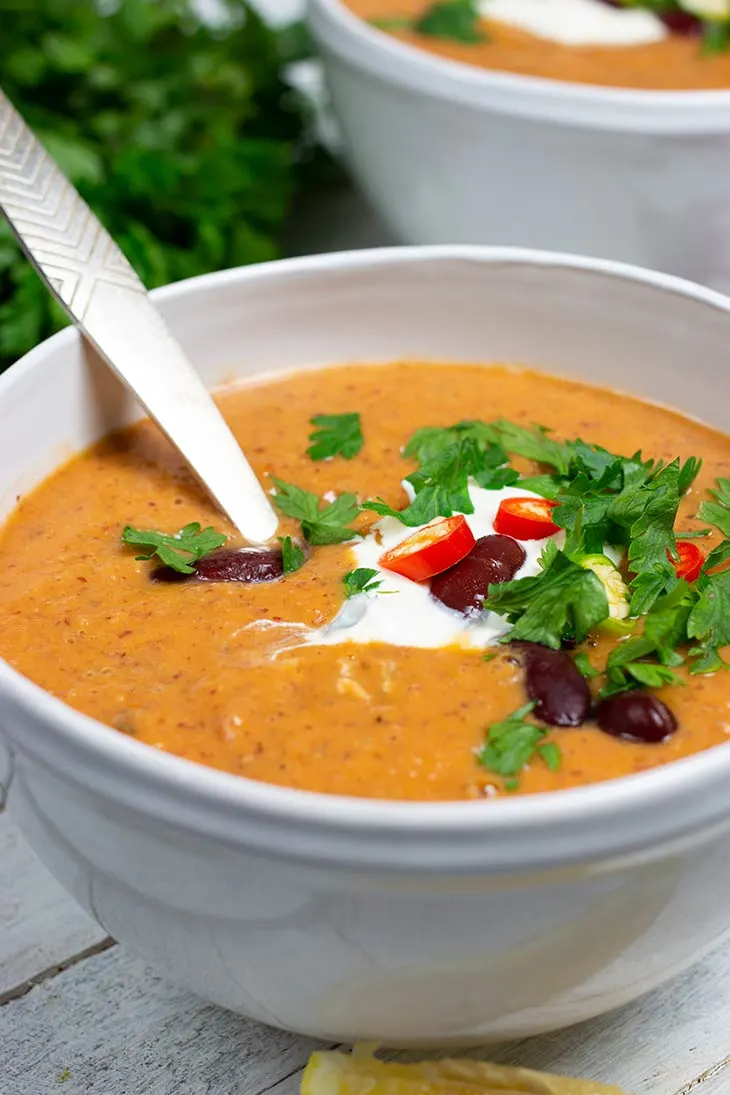 If you're a fan of cream soups, then you'll surely fall in love with this recipe. Here's how to make vegan kidney bean soup – healthy and bursting with amazing flavors!
Hearty Beans Soup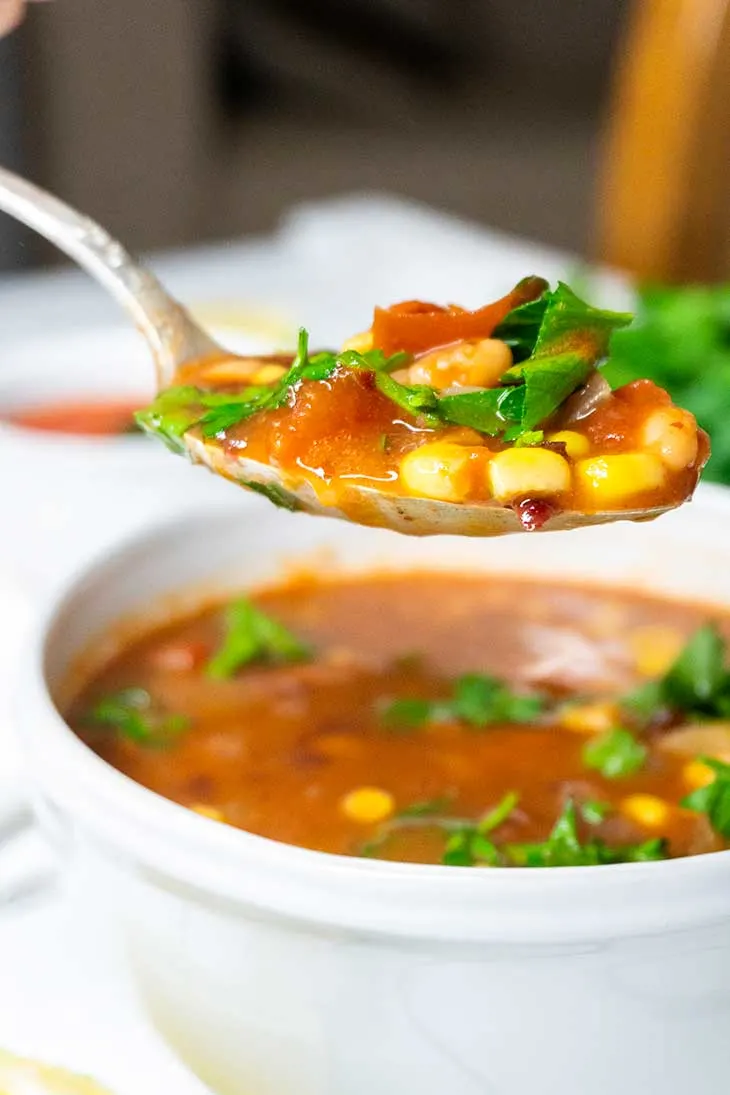 If you're dreaming of a hearty, healthy and super delicious soup, I'm here to help! Here's how to prepare the ultimate vegan hearty beans soup!
Cream of Parsnip Soup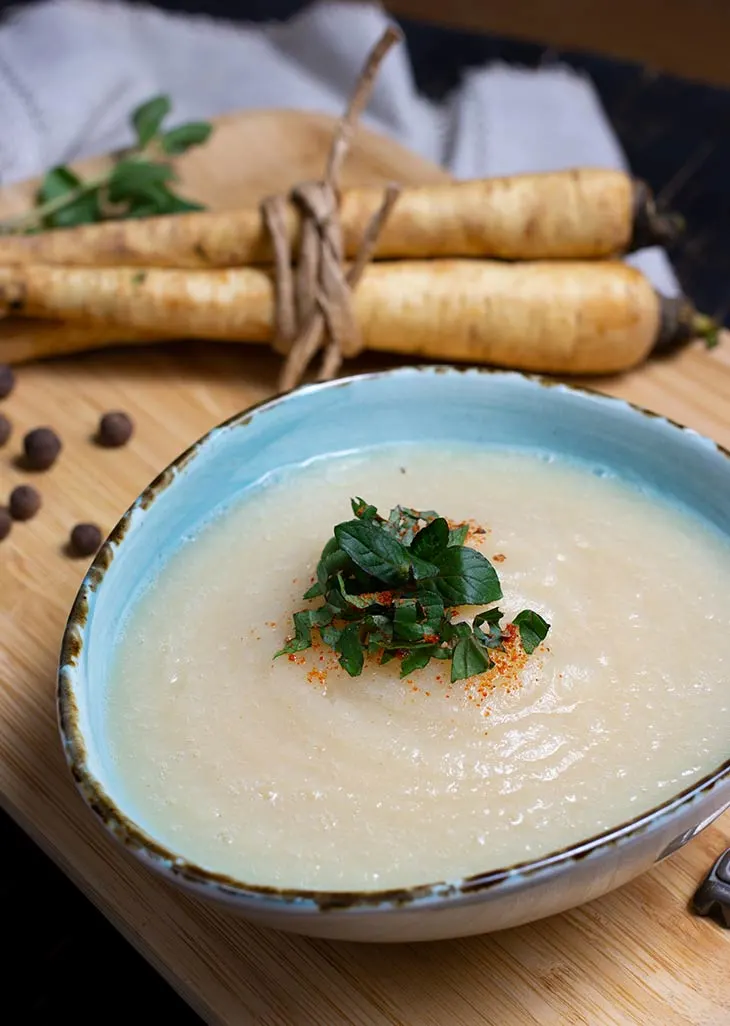 In the mood for a comforting cream soup? Here's how to make the best vegan cream of parsnip soup – uniquely delicious, healthy, and quick!
Sauerkraut Soup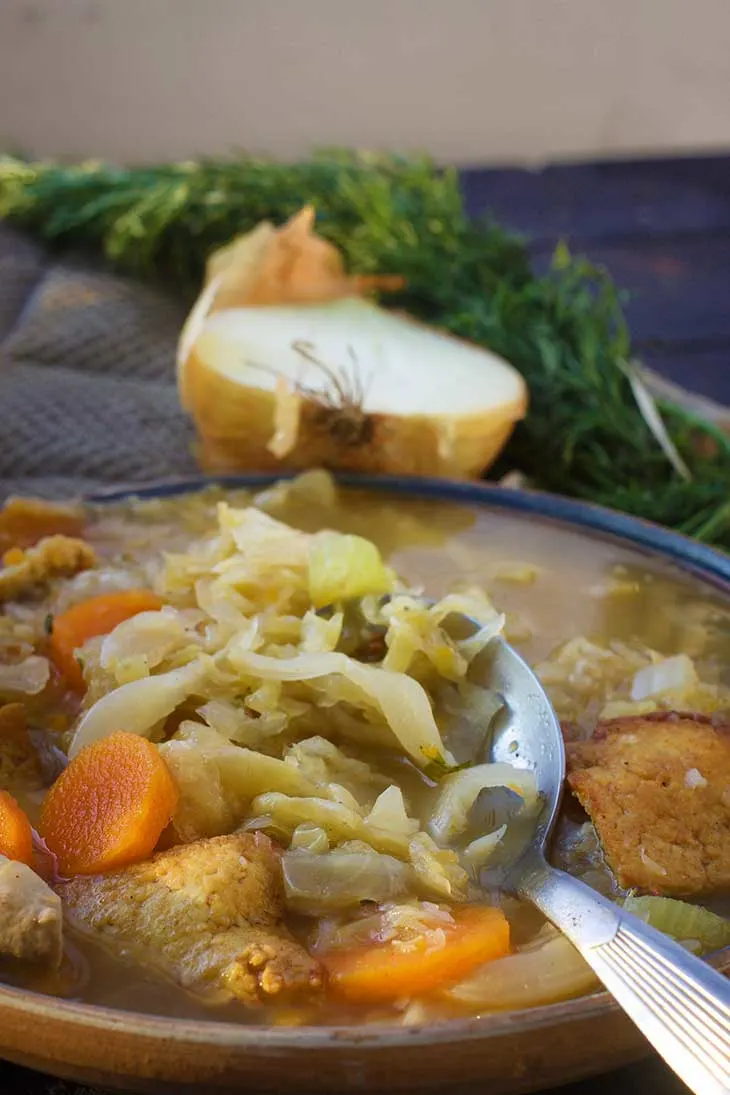 Sauerkraut soup is staple soup recipe in the German cuisine, but it also also loved worldwide. Here's how to make a delicious and healthy sauerkraut soup.
Vegan Goulash Soup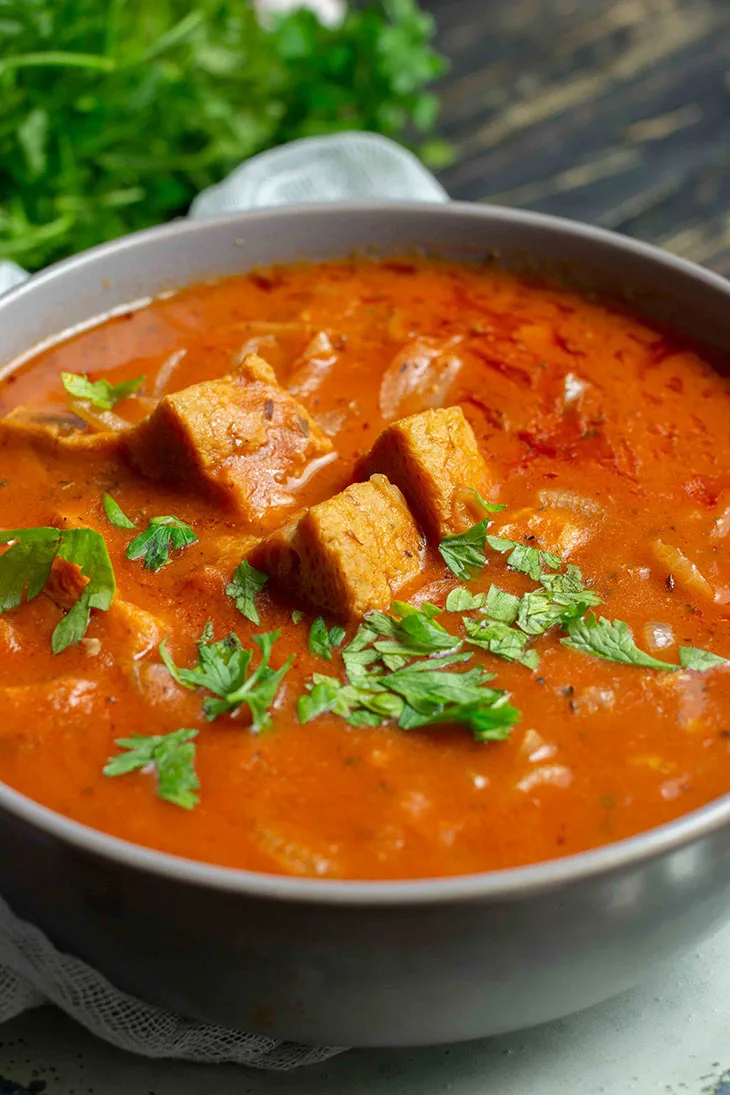 Craving some delicious comfort food? Here's how to make the BEST vegan Goulash soup, a traditional Hungarian recipe with a healthy twist. It's very healthy and delicious!
Potato Cabbage Soup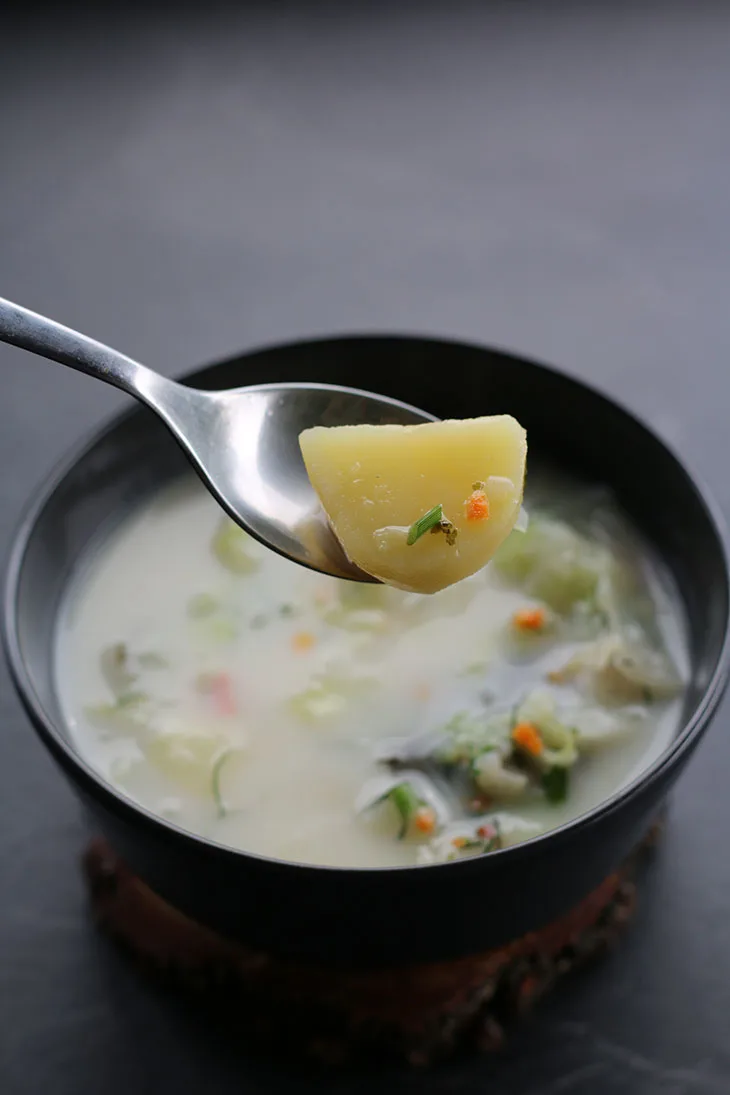 Craving something comforting and delicious? Here's how to make the best potato cabbage soup. Cheap, delicious and super easy to make!
Cream of vegetables soup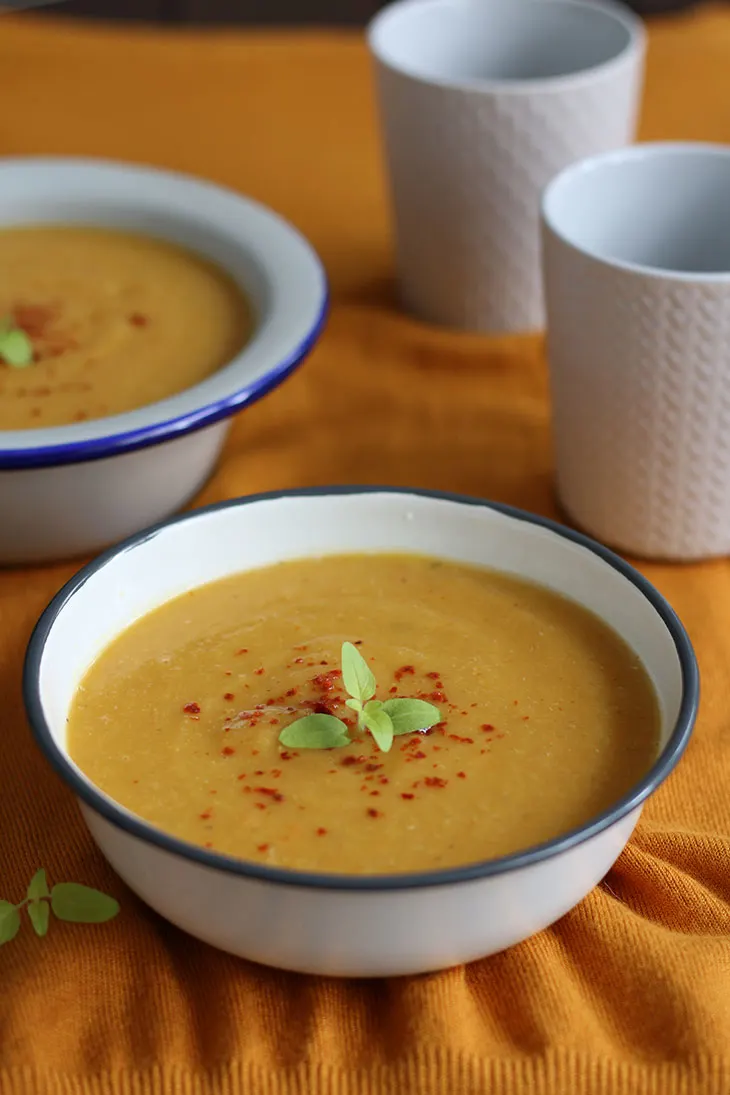 Cream of vegetables soup – a tasty and comforting treat ready in 30 minutes. If you love hearty veggies, this is today's recipe for you!
Vegan Beetroot Borscht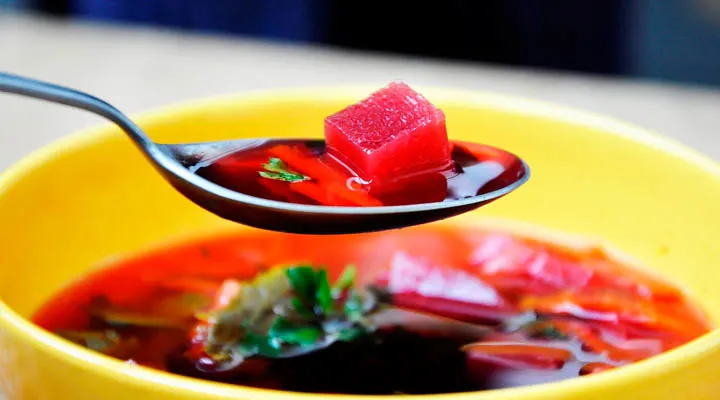 This beetroot borscht is a healthy vegan soup recipe inspired by the traditional Ukranian borscht soup and it is perfect for any season!
Reasons to cook more soups this Fall
Soups are cheap – This is especially true if you use seasonal vegetables that are plentiful right now but pricey when they're out of season (like sweet potatoes). Plus, most people prefer making big batches of soups at home instead of ordering in a restaurant, making it easier than ever before to enjoy an affordable homemade meal without spending too much time or money!
Easy to make – soups are quick to make, so you can have one ready in less than an hour!
Easy to eat and transport – what could be more comforting than something that's easy to heat, eat and take with you to work in a Tupperware container or in a plain jar?
Can be frozen or refrigerated (or both) – you can freeze soup into small portions so that you'll always have some ready whenever hunger strikes again later in the day — without having to spend any extra time preparing meals when all you want is something quick and easy!
High in vitamins and nutrients – soups are a great way to get extra vitamins and minerals into your diet, especially if you're not eating as many fruits or vegetables as usual during the colder months of the year.
Easy to make vegan or vegetarian – if you're vegan or vegetarian, soups are an easy go-to meal because they can be made with either meat or no meat at all!
Soups are comforting because they're warm, nourishing, and easy to make. There's something about the idea of coming home after a long day and having a hot bowl of soup waiting for you that makes everything feel better.
And if you're trying to lose weight by eating fewer calories but don't want to give up all the goodness of a hearty meal? Soups are an ideal option! They're packed with nutrients such as protein from legumes and veggies — and can be made even healthier by adding more greens like kale or zucchini noodles (zoodles).
And one of the things I love most about this type of meal: soups also offer tons of opportunities for creativity! You can switch up flavors by adding different spices and herbs or add some heavy cream for an extra creamy texture. Or try using leftover roasted veggies from last night's dinner; just add some veggie broth and let them simmer away until tender!
Fall harvest soup vegetables
Now, fall offers PLENTY of opportunities and fresh produce. Here are some of the most popular fall veggies you should consider for your soups:
Onions and leeks add a good flavor to soups when you simmer them for a bit before adding liquids. Garlic is another great way to flavor your soup base (it's also great in pasta sauces).
You can also try Brussels sprouts or parsnips if you're looking for something new to try in this seasonally-inspired dish!
A delicious fall soup can be the perfect way to warm up on a cold day. It's also an easy way to get your daily servings of vegetables without having to eat them raw. There are endless combinations of vegetables that you can use in soups, so I recommend you experiment with different combinations until you find one that works for you!
And if you need some inspiration for actual recipes you can make, check out my curated list of the best fall soup recipes below. I'm sure you'll find something to love there! Happy cooking! 🙂
Fall Soup Recipes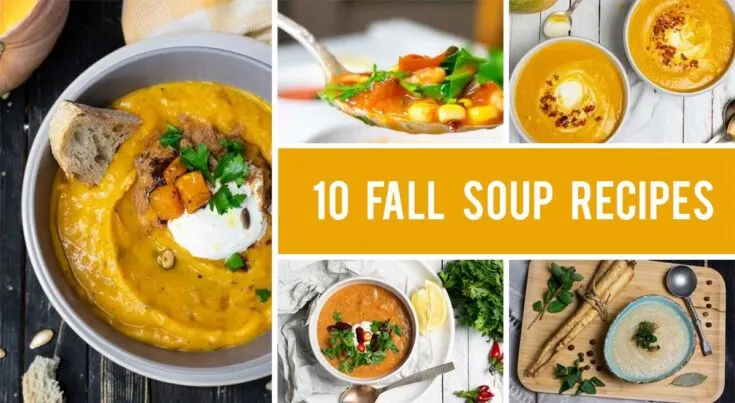 Autumn is here – and what better way to celebrate than soup? Here are 10 fall soup recipes for cozy and nourishing dishes!
Ingredients
Instructions
Choose your favorite Autumn soup recipe.
Organize all the ingredients.
Prep a simple soup in less than 30 minutes!