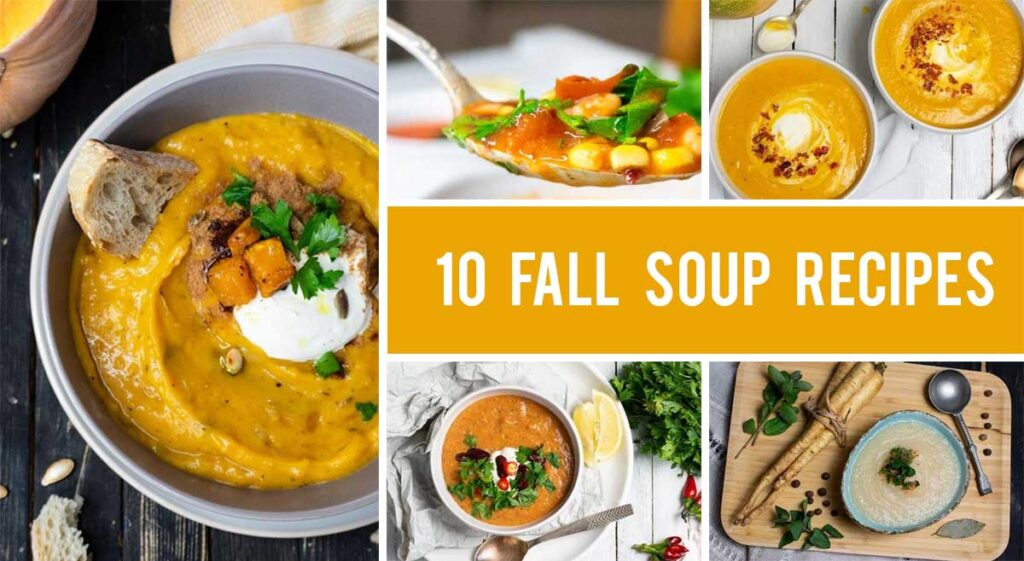 Autumn is here – and what better way to celebrate than soup? Here are 10 fall soup recipes for cozy and nourishing dishes!
It's fall here, which means it can get chilly outside. Soup makes a cozy and nourishing lunch that's perfect for this time of year.
Here are some reasons why soups are good for autumn:

Soups are cheap – This is especially true if you use seasonal vegetables that are plentiful right now but pricey when they're out of season (like sweet potatoes). Plus, most people prefer making big batches of soups at home instead of ordering in a restaurant, making it easier than ever before to enjoy an affordable homemade meal without spending too much time or money!
Easy to make – soups are quick to make, so you can have one ready in less than an hour!
Easy to eat and transport – what could be more comforting than something that's easy to heat, eat and take with you to work in a Tupperware container or in a plain jar?
Can be frozen or refrigerated (or both) – you can freeze soup into small portions so that you'll always have some ready whenever hunger strikes again later in the day — without having to spend any extra time preparing meals when all you want is something quick and easy!
High in vitamins and nutrients – soups are a great way to get extra vitamins and minerals into your diet, especially if you're not eating as many fruits or vegetables as usual during the colder months of the year.
Easy to make vegan or vegetarian – if you're vegan or vegetarian, soups are an easy go-to meal because they can be made with either meat or no meat at all!
Soups are comforting because they're warm, nourishing, and easy to make. There's something about the idea of coming home after a long day and having a hot bowl of soup waiting for you that makes everything feel better.
And if you're trying to lose weight by eating fewer calories but don't want to give up all the goodness of a hearty meal? Soups are an ideal option! They're packed with nutrients such as protein from legumes and veggies — and can be made even healthier by adding more greens like kale or zucchini noodles (zoodles).
And one of the things I love most about this type of meal: soups also offer tons of opportunities for creativity! You can switch up flavors by adding different spices and herbs or add some heavy cream for an extra creamy texture. Or try using leftover roasted veggies from last night's dinner; just add some veggie broth and let them simmer away until tender!
Now, fall offers PLENTY of opportunities and fresh produce. Here are some of the most popular fall veggies you should consider for your soups:
Onions and leeks add a good flavor to soups when you simmer them for a bit before adding liquids. Garlic is another great way to flavor your soup base (it's also great in pasta sauces).
You can also try Brussels sprouts or parsnips if you're looking for something new to try in this seasonally-inspired dish!
A delicious fall soup can be the perfect way to warm up on a cold day. It's also an easy way to get your daily servings of vegetables without having to eat them raw. There are endless combinations of vegetables that you can use in soups, so I recommend you experiment with different combinations until you find one that works for you!
And if you need some inspiration for actual recipes you can make, check out my curated list of 10 fall soup recipes below. I'm sure you'll find something to love there!
Happy cooking! 🙂
10 Fall Soup Recipes for Cozy and Nourishing Lunches
Autumn is here - and what better way to celebrate than soup? Here are 10 fall soup recipes for cozy and nourishing dishes!