Creamy, comforting and super healthy – these are just some of the qualities of this AMAZING butternut squash soup! Give it a try!
When I think about autumn, I think about fallen leaves. And soups! These are probably my favorite things about autumn and some of the reasons why I can't wait for this season to arrive each year. And because I'm not sure I can include all three into an edible dish, I settled for soup and butternut squash. Its vibrant orange color somewhat reminds me of the autumn leaves colors though, so maybe it's a total win! 🙂
You probably guessed it already – today we are going to make a delicious butternut squash soup! It's a perfect recipe for autumn, so you can invite your friends over and immerse yourself into the fall atmosphere. Are you ready to find out more?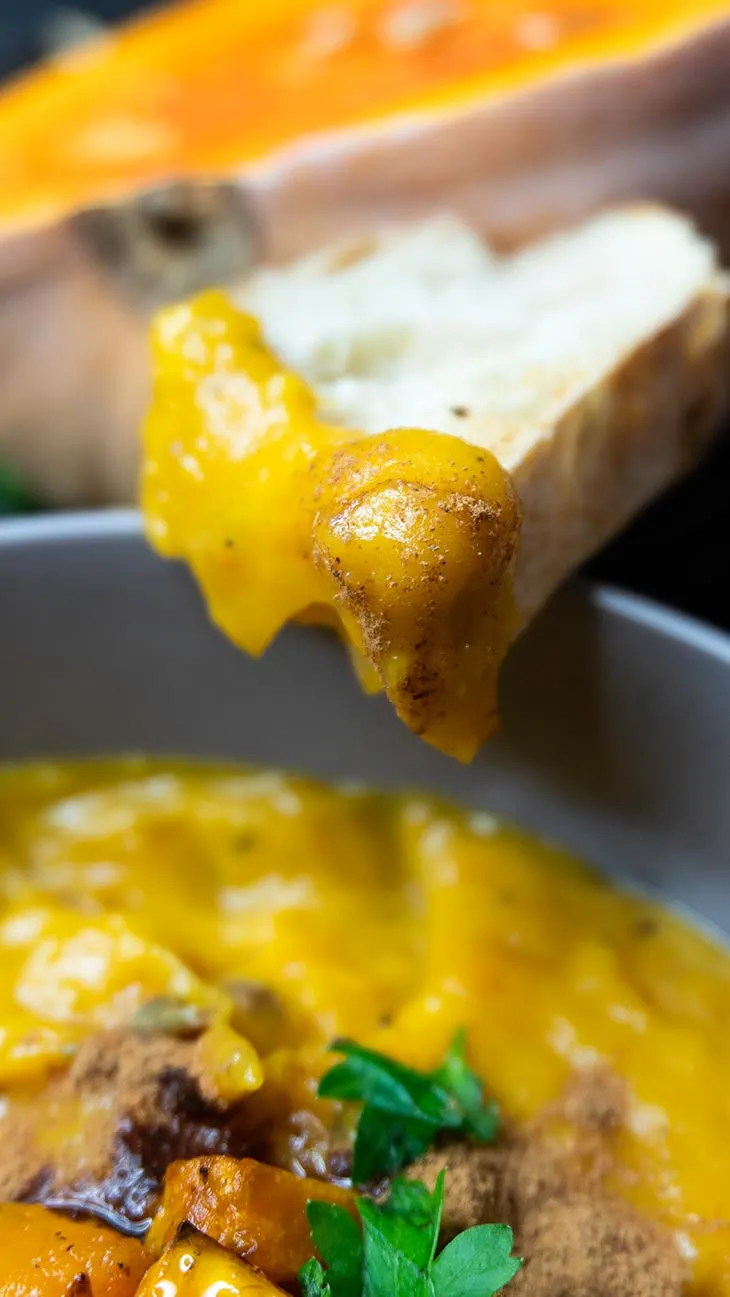 This butternut squash soup will really make you happy. It's creamy, tasty, rich and incredibly satisfying. Not to mention the fact that it is incredibly easy to put together – it's a perfect choice for a weekday dish.
Of course, everything is super healthy and 100% vegan. It was an easy task for me because the original recipe is almost vegan anyway. I just exchanged the cream with my recipe for vegan sour cream (yum!).
That ensures the creaminess of the soup. If you don't want to make this effort and if you really can't find a good vegan sour cream to buy, you can also use coconut cream. Or, heck, even coconut oil – the results will be incredible anyway!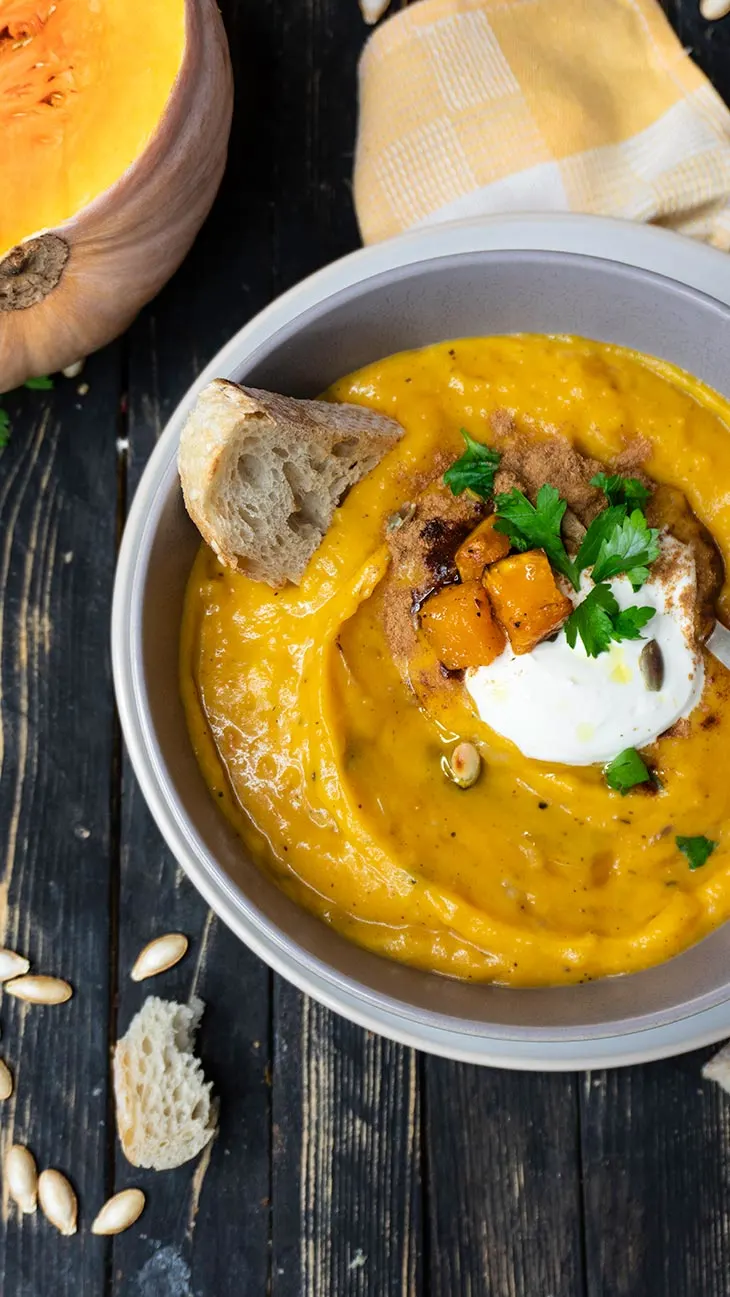 The butternut squash is also a really healthy choice. No matter how you decide to prepare it, it's a great source of nutrients, antioxidants, and vitamins. It does wonders for your well-being while remaining super tasty at the same time.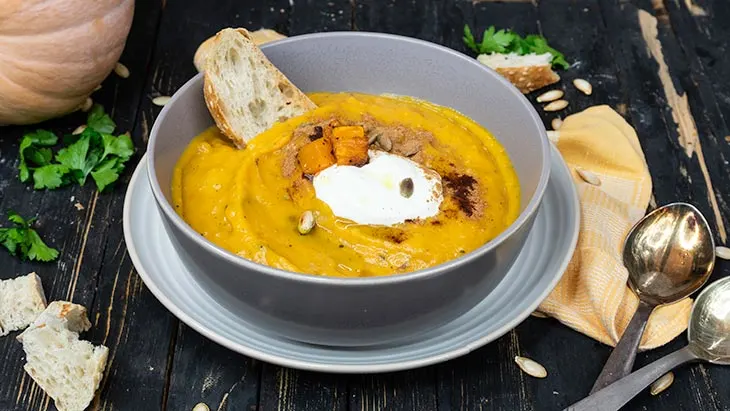 I always loved butternut squash, but since I started paying attention to the nutritional values of the food I make, I appreciate it even more! 🙂 Not only it is super healthy, but its creamy and buttery texture fits so well in all kinds of recipes and it's totally mouthwatering!
I really enjoy cooking with butternut squash because its special and unique flavor gives me access to really delicious combinations. The tricky part when bringing a butternut squash into your kitchen is chopping it.
Of course, you can take the lazy (or let's say comfortable) road and buy it already peeled and chopped. This will save you quite some work, but you know what? Making the job yourself can turn out really satisfying.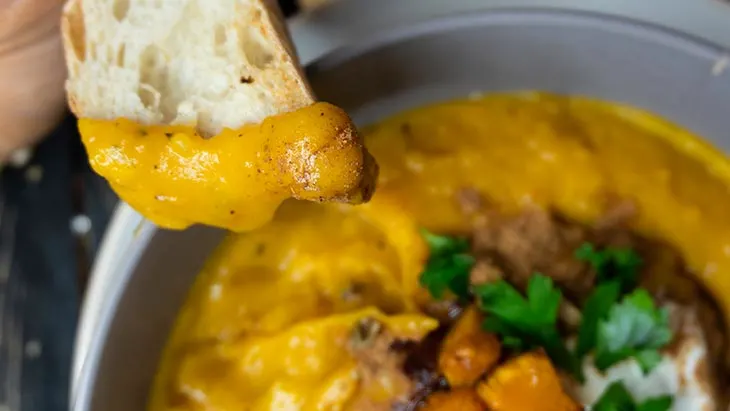 If you decide to do the cutting part yourself, here is my method:
Place the tip of the knife in the center of the butternut squash and hold the handle with the back of your hand. This will help the blade into the butternut squash and it will start to split by itself.
Cut the butternut squash in quarters.
Remove all the seeds with a spoon.
Remove the tail and the top.
Cut the butternut squash into strips of 2 cm.
Cut it into cubes of your desired size.
Cut the skin off.
I promise that it's actually not that hard!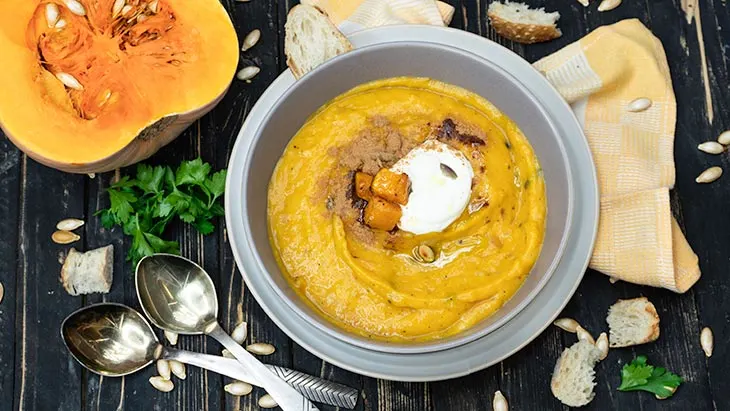 As for the cooking part – it's a breeze! 🙂 Once you have your butternut squash cubes, the soup will be ready in less than 30 minutes, I promise! Once you cook the butternut squash (by the way, it will take you less than 10 minutes to soften it) and the other ingredients, all you need is a hand blender and voila – dinner is served!
I couldn't think of anything easier than that to recommend. And the taste is just amazing! It's warming and perfectly spiced. You can serve it with some bread, croutons – or if you want to keep everything gluten-free, try serving it with some salad leaves.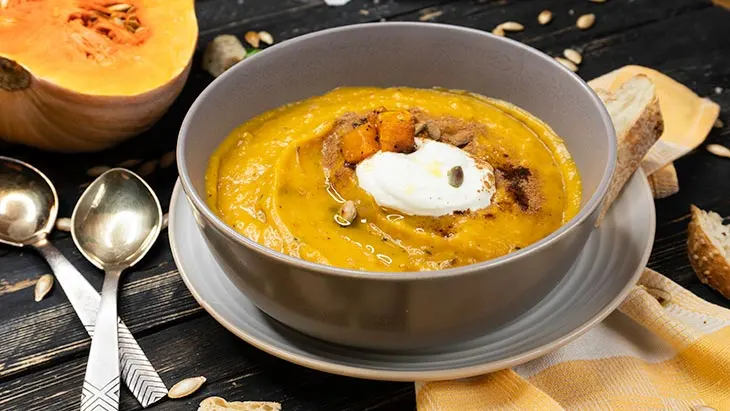 I think all this introduction should have convinced you! Now it's time to gather all the ingredients and start preparing this delicious meal! 🙂
Yield: 4
Butternut Squash Soup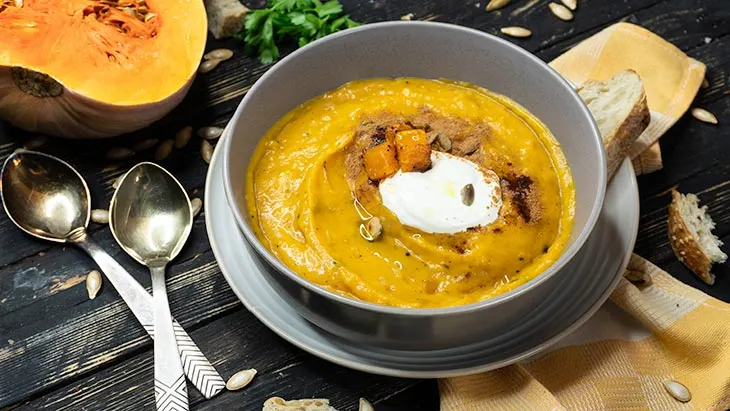 Creamy, comforting and super healthy - these are just some of the qualities of this AMAZING butternut squash soup! Give it a try!
Ingredients
1 small butternut squash, cut into large chunks
1 yellow onion
1 carrot, chopped
¼ of a medium celery root
3 garlic cloves
300ml (1 ¼ cup) veggie stock
vegan sour cream
2 Tbsp olive oil
pumpkin seeds, roasted
cinnamon
smoked paprika
chili powder
salt and black pepper
Instructions
Peel and cut the butternut squash into large chunks. Chop the carrot, onion and celery root.
Move them to a baking tray with the garlic. Season with salt and pepper, a pinch of chili powder and sprinkle 1 Tbsp of smoked paprika.
Add 1-2 tbs of olive oil and combine until the veggies are coated in spices and oil.
Bake at 200 C until all the vegetables are fully cooked through (about 15-20 min).
Roast the pumpkin seeds in a dry, hot pan.
Take the veggies out of the oven and move them to a blender.
Add about 1 ¼ cup of veggie stock and blend until smooth.
Add more stock until the desired consistency is achieved (the soup thickens as it cools).
Serve with vegan sour cream and top with the seed and cinnamon.
Nutrition Information
Yield
4
Amount Per Serving
Calories

270
Total Fat

9g
Carbohydrates

49g
Fiber

8g
Sugar

19g