Are you craving a delicious autumn lunch recipe? Here's how to make the best pumpkin pot pie – vegan, quick and super yummy!
I'm all about seasonal food. I think the best way to cherish and really enjoy each particular season is by using as many ingredients that grow naturally during that time of the year as much as possible.
It's also much healthier, as you will enjoy fresh fruit and vegetables as much as possible. Another advantage is that you will also support the local economy: small farmers and local agriculture all benefit if you choose local markets with fresh products instead of supermarkets!
That's what I always try to do, whenever possible – go to the farmer's market and stock on fresh produce so I can try new recipes for the blog!
And now that autumn is here (well, technically speaking, it's been autumn for quite some weeks now), it's time to head to the closest market and fill your shopping bags with pumpkins! And I' here to help as well, as I'll show you good use of that giant yummy pumpkin.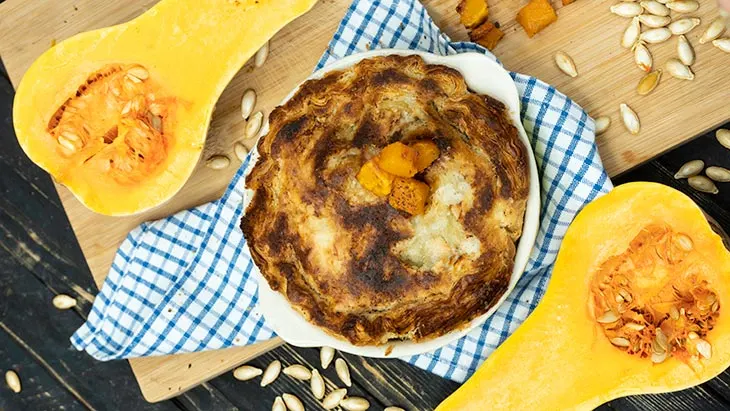 Today I am going to show you the most delicious recipe for pumpkin hot pie. Savory and bursting with flavor, they are the perfect choice for a chilly afternoon or better yet – for a dinner with your friends and family. Or a filling lunch as well, why not?
Instead of making a big pie, I decided to opt for separate baked mini pies. This way, you can eat just the right amount, and everybody will have their own delicious baked goodie. Plus, they're super fun to make!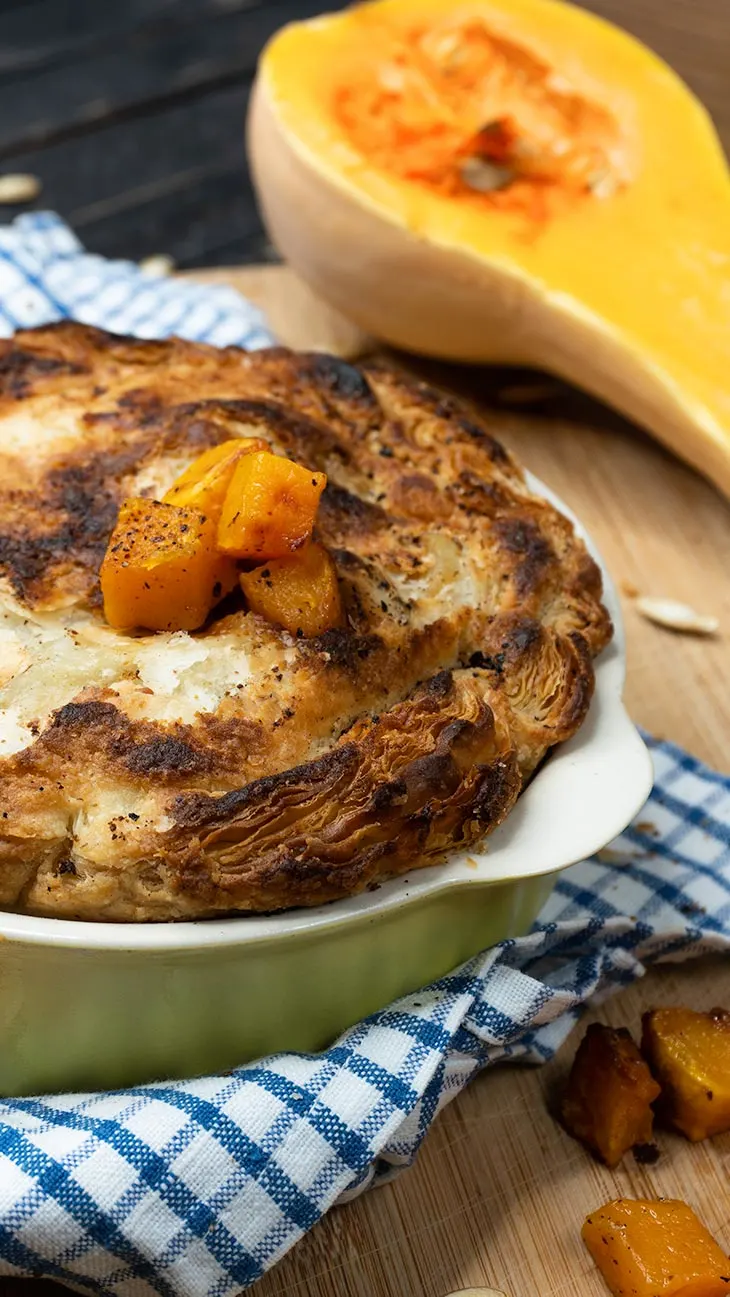 Next to the orange fallen leaves, pumpkins are probably the most popular symbol of autumn. That's why I feel like this is exactly the right moment to share this recipe with you.
And it's no wonder people looove pumpkins so much – there's so much you can do with them, the possibilities are basically endless! Their color is super cheerful and blends perfectly with the chromatics of the season and they are so pretty we could use them as decorations as well.
As for the eating and cooking part – where do I even start? Sweet pies, savory pies, cookies, cakes, the famous PSL (pumpkin spice latte). All these are just perfect for autumn.
And there's more: pumpkin consumption is really good for your body as well (and not just for your mood)!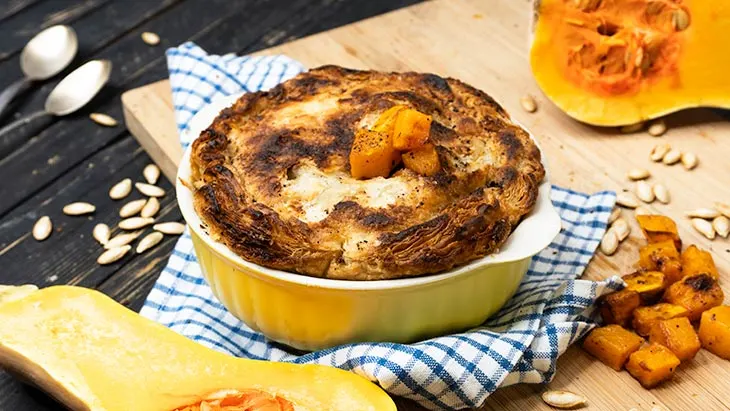 Many people consider it to be a vegetable, but did you know that pumpkin is actually a fruit? But when we look at its nutritional value, pumpkin is actually more similar to a vegetable. Here's the impressive nutrient profile of the pumpkin for a 250 g portion:
Calories: 49
Fat: 0.2 grams
Protein: 2 grams
Carbs: 12 grams
Fiber: 3 grams
Vitamin A: 245% of the Reference Daily Intake (RDI)
Vitamin C: 19% of the RDI
Potassium: 16% of the RDI
Copper: 11% of the RDI
Manganese: 11% of the RDI
Vitamin B2: 11% of the RDI
Vitamin E: 10% of the RDI
Iron: 8% of the RDI
Small amounts of magnesium, phosphorus, zinc, folate and several B vitamins.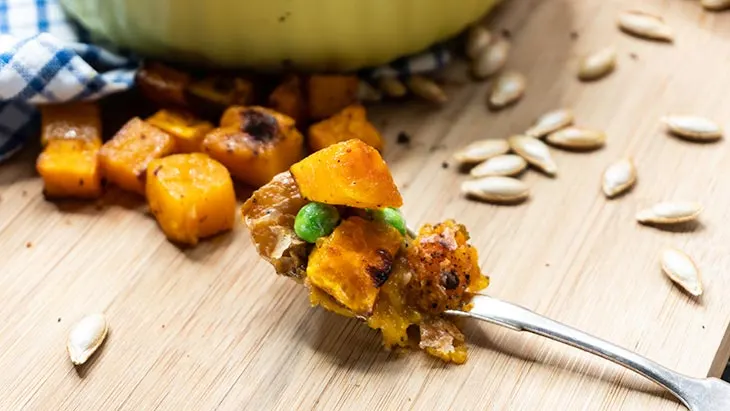 Just look at all that vitamin A, it's really impressive! Pumpkin is also a great source of antioxidants, which in the long term might reduce your risk for chronic diseases. Pumpkin consumption has also been linked with increased immunity. All in all, there is no reason not to use it as often as possible!
Of course, my yummy pies will have more than just pumpkins. I put together a mix of veggies that will make the pies as healthy and delicious as possible.
If you decide to give it a try, I'm sure you will love the blend of tastes and spices because I really feel that I found the quantity proportions that really let each ingredient shine!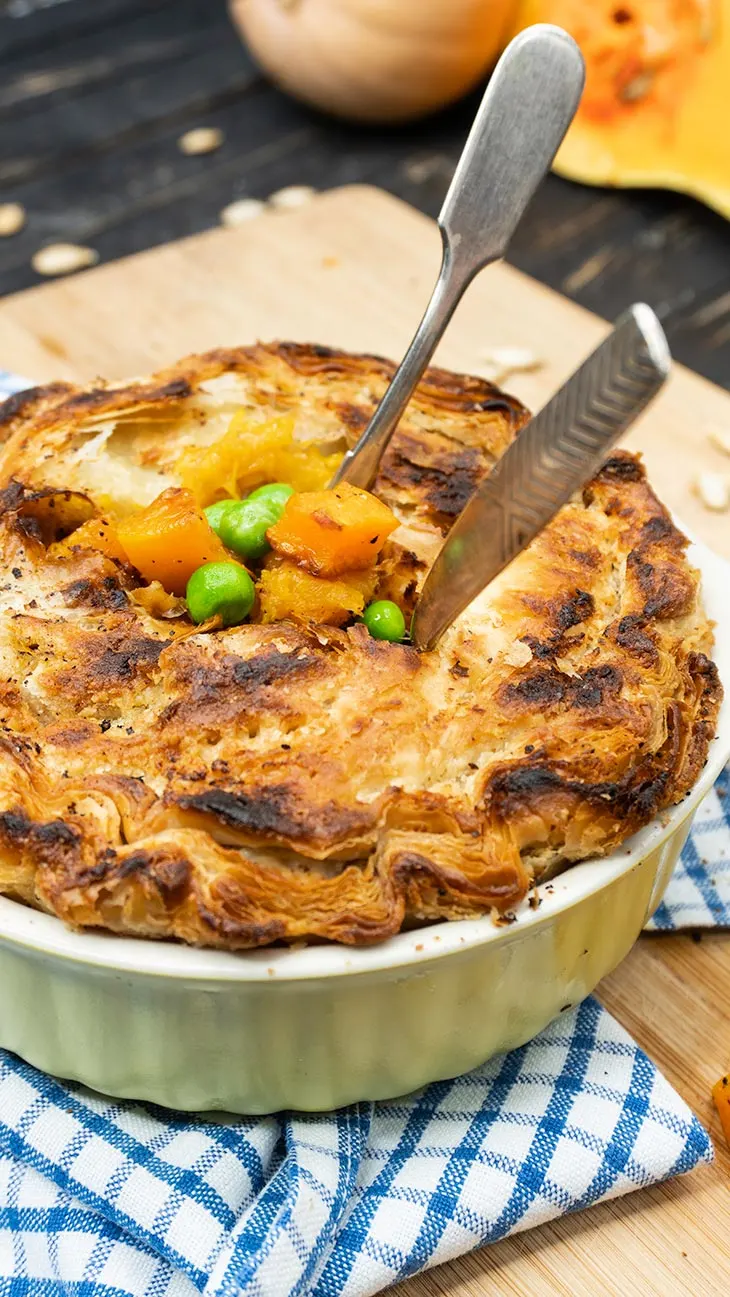 Should I go on? I think that these pies really check all the boxes. And here's what I mean by that: I put together a list of features of the perfect pie.
Soft bottom and crispy crust;
Different textures should combine together nicely: flaky to touch, soft filling, crispy on edges;
The top of the pie should have a nice shiny glaze and be super appealing;
A good amount of filling;
Juicy filling with well-balanced flavors;
No pie should be on your table unless it meets all the criteria! But don't worry, it's not that hard to achieve the perfect taste. Just follow my detailed steps and I promise you will end up with the most delicious little pumpkin pot pie ever!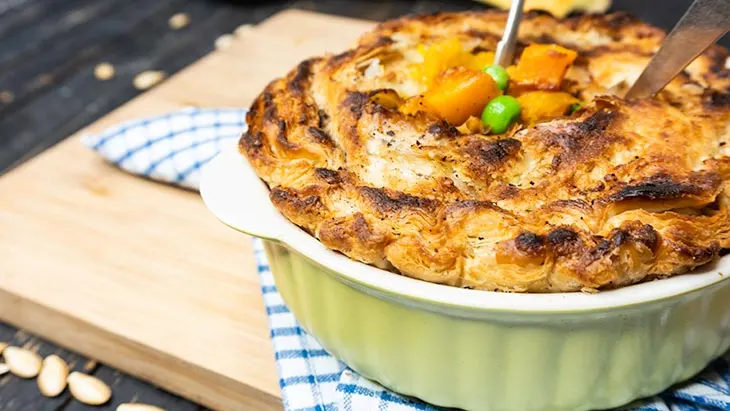 Enough talking already! Gather all you need and meet me in the kitchen – the preparation shouldn't last too long and it's actually quite fun!
Oh, and don't worry if you can't eat them all at once – they keep well in the fridge the flavors will actually more time to blend together. It's a win-win recipe! Don't forget to let me know in the comments section how it worked out for you!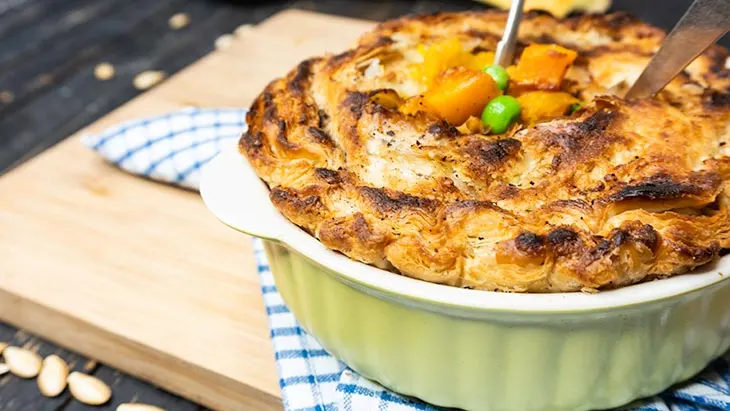 Are you craving a delicious autumn lunch recipe? Here's how to make the best pumpkin pot pie – vegan, quick and super yummy!
Ingredients
60g (½ cup) pumpkin, chopped into small cubes
1 small carrot, chopped
½ small yellow onion
1 clove of garlic
35g (¼ cup) frozen or fresh peas
a handful of spinach
2 Tbsp all-purpose flour
120ml (½ cup) veggie stock
1 vegan pie crust, I bought it frozen
2 Tbsp olive oil
paprika
thyme
salt and pepper
Instructions
Chop the onion and mince the garlic. Fry them in a hot pan with olive oil until translucent.
Add the chopped pumpkin and carrot. Fry for 5 minutes or until they develop some color.
Sprinkle with flour and fry for about 30 seconds before adding the stock.
Stir and cook for about 10 minutes over low heat. Add the spinach and peas.
Mix well and remove from heat.
Lay down the pie crust into the baking dish. Fill with the pumpkin mixture.
Cover the with another piece of the dough and pinch the dough shut.
Make a few holes in the top of the pie using a toothpick or fork and brush with water, olive oil or vegan butter.
Bake at 180 degrees Celsius for about 15-20 minutes or until the top of the pie gets to the desired color.
Enjoy!
Nutrition Information
Yield
4
Serving Size
1 grams
Amount Per Serving
Calories

207
Total Fat

9g
Unsaturated Fat

0g
Carbohydrates

30g
Fiber

3g
Sugar

2g