Burritos are a classic in the authentic Mexican cuisine. Try these delicious vegan burritos that are not only super easy to make but also very flavorful, healthy and versatile!
Burritos are an extremely popular, delicious, authentic Mexican dish consisting of a flour tortilla wrapped into a closed-ended cylinder similar in shape to a shawarma, filled with a variety of toppings depending on region and personal preferences.
The tortilla is sometimes warmed up to become softer and more pliable when wrapped. In the original Mexican dish, a burrito is only filled with meat and fried beans, but the adapted American variations include lots of combinations based on rice, cooked or fried beans, lettuce, meats, salsas, guacamole, cheese, sour cream, and veggies. While they are adored by northern Mexicans and people all around the world, burritos aren't very common in other parts of Mexico.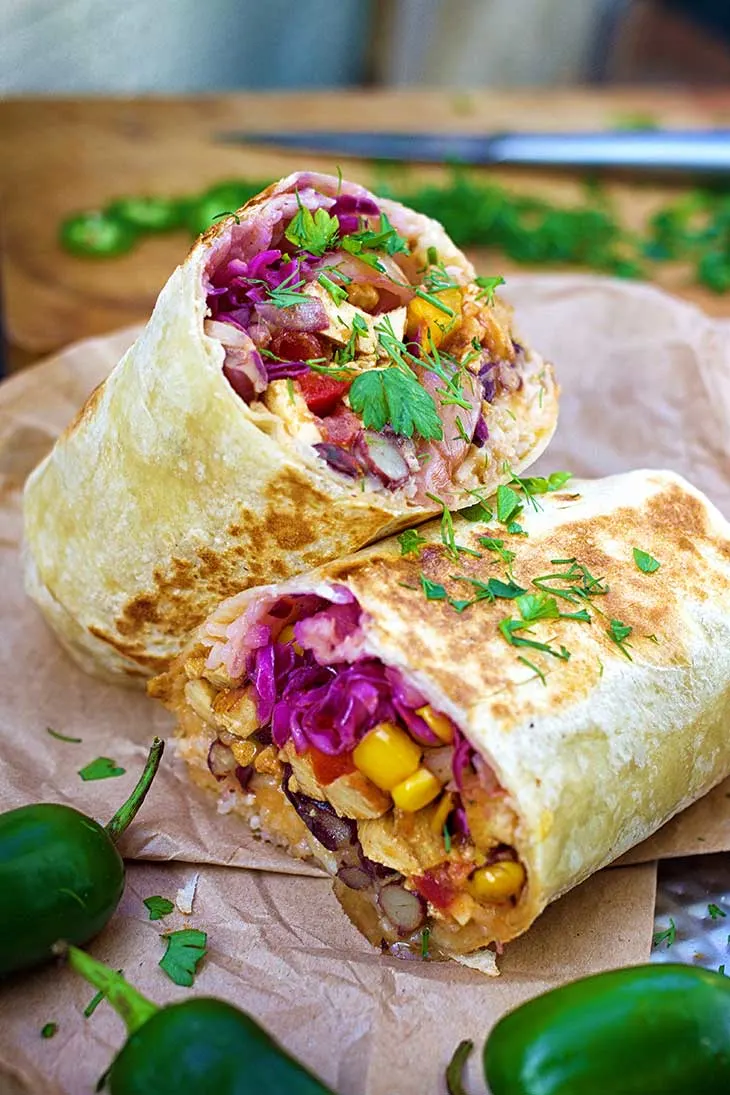 Fun fact: the name burrito means "little donkey" in Spanish, and there are many folk stories that offer potential explanations of how this delicious dish got its name. One of them speaks of a street vendor using his donkey to transport and sell his food during the Mexican Revolution period, and as his tortilla-wrapped meals grew more popular, from the "food of the little donkey" (food of the burrito), they simply became "burritos".
The origin of the modern burrito isn't certain, but the Mesoamerican people of Mexico often ate corn tortillas wrapped with various fillings. However, this could be considered closer to the origin of an early taco rather than a burrito. Some argue burritos have originated with the vaqueros – cowboys of northern Mexico in the 19th century.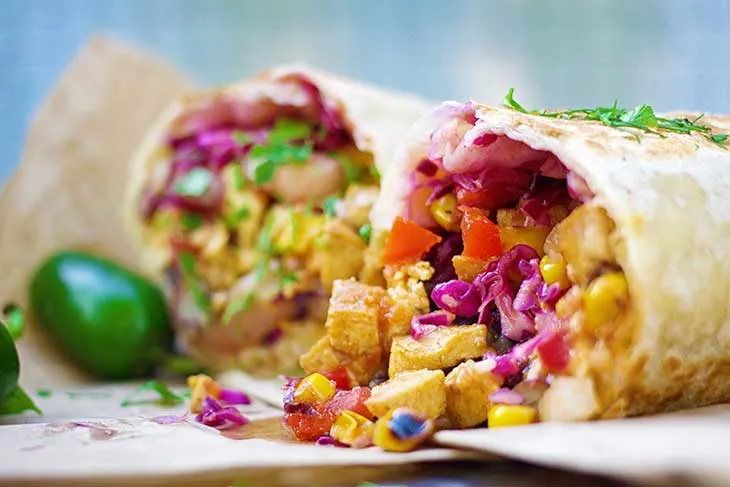 As with any other amazing dish, regional varieties developed in Mexico and once their popularity grew and they reached America and the rest of the world, other versions appeared suitable for local demand, available ingredients, and taste preferences.
Burritos are a typical dish of Ciudad Juárez, a city in Chihuahua, Northern Mexico, on the border with El Paso, Texas, where they're available everywhere, from restaurants to roadside stands.
Authentic Mexican burritos are usually small and thin (sometimes also called "flautas"), with flour tortillas containing only one or two of several ingredients: either some form of meat or fish, rice, beans, cheese or chilis.
Other ingredients could be mole (a classic sauce made of chili peppers), barbacoa or deshebrada (shredded slow-cooked steak). The deshebrada burrito has both a medium hot version, as well as a very hot salsa verde version.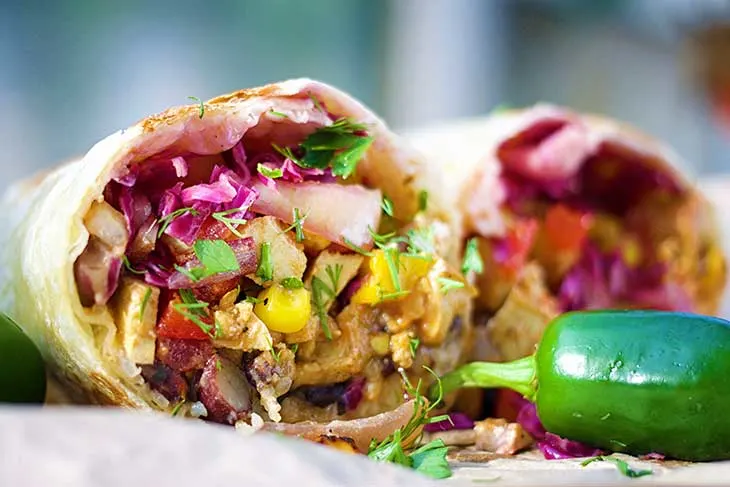 Breakfast burritos are an American take on the original dish, where breakfast food like scrambled eggs or omelet, sausages or bacon, vegetables or even hashbrowns are wrapped in a warm tortilla. It's considered a New Mexican or Tex-Mex cuisine typical dish, but you can also find it in restaurants in California or Southwest US.
Wet burritos are a must to eat with cutlery, as they are topped with a red chili sauce similar to enchiladas, and melted shredded cheese. This variation is sometimes called "mojado" (Spanish for "wet"), "enchilada-style", "smothered" or "suizo" ("Swiss" – referring to dishes topped with cheese or cream).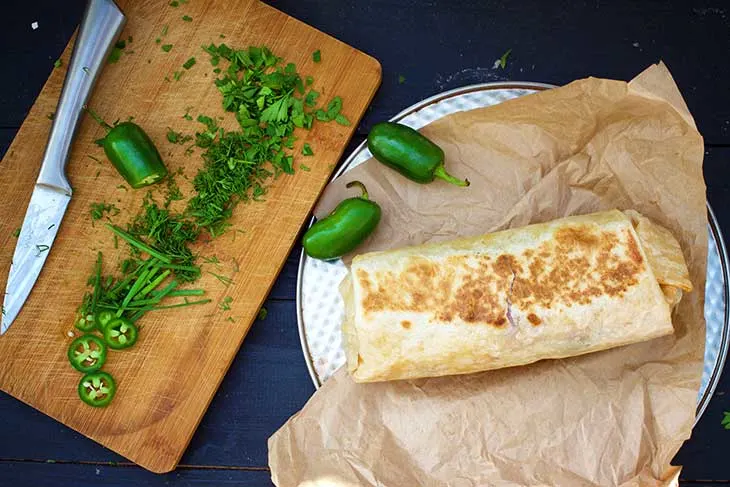 Now that I convinced you how amazing burritos are, let's see how we can prepare the most delicious vegan burritos at home, with accessible ingredients and still achieve a very authentic, Mexican flavor and texture.
For this recipe, I used smoked tofu to replace the meat, cooked rice, tomatoes, sweet corn, jalapeno slices and other Mexican ingredients. I then wrapped everything in a burrito-shaped flour tortilla and pan-fried everything in order to create a warm, delicious meal. Enjoy!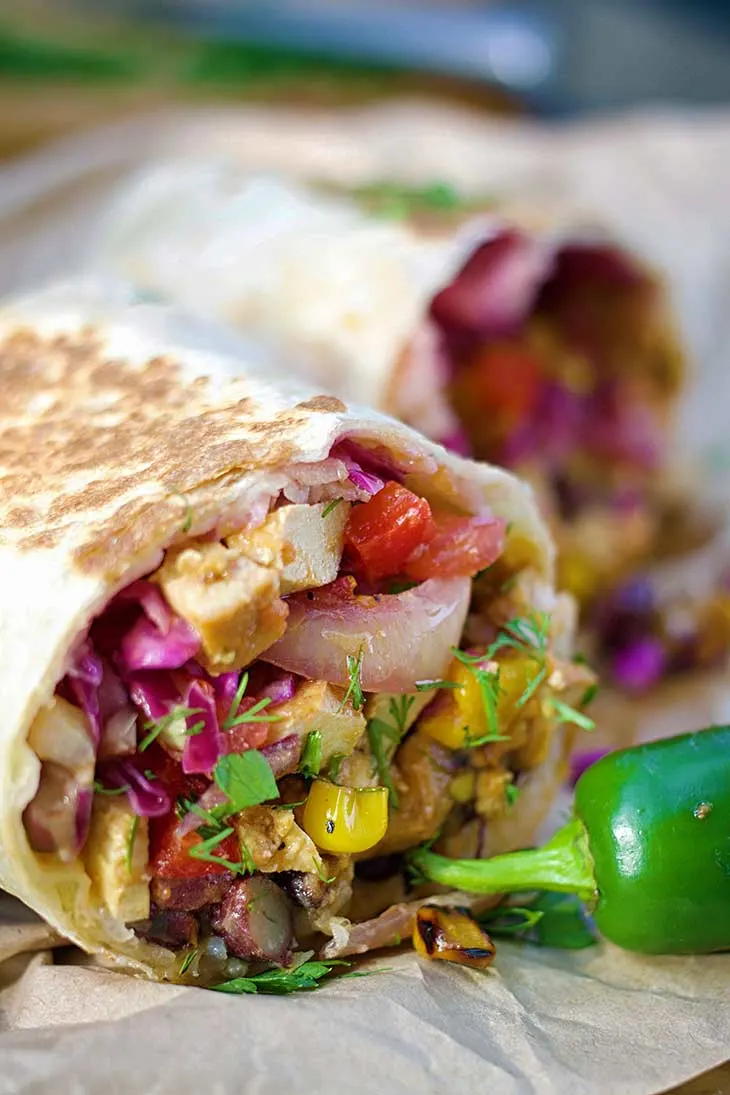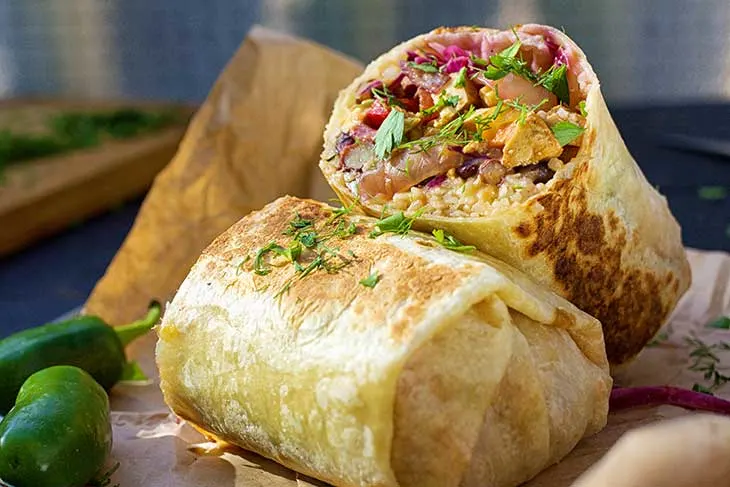 Burritos are a classic in the authentic Mexican cuisine. Try these delicious vegan burritos that are not only super easy to make but also very flavorful, healthy and versatile!
Ingredients
2 large tortillas
150g (¾ cup) cooked rice
1 tomato, diced
125g (½ cup) smoked tofu, diced
120g (¼ cup) black beans, cooked
40g (¼ cup) sweet corn, grilled
2 Tbsp yellow bell pepper, diced
2 Tbsp pickled red onion slice
2 Tbsp pickled red cabbage
1 Tbsp jalapeno slices
65g (¼ cup) salsa rosa
chopped greens to serve
Instructions
Fill each tortilla with half of the cooked rice, smoked tofu, salsa, beans, pickled onion and cabbage, corn, tomato, jalapeno slices, and bell pepper.
Heat a pan over medium heat.
Make the burrito by folding in the ends of the tortilla and roll into tight burritos closed on all sides.
Place them side down into a frying pan fry over medium heat for around 3-5 minutes until brown and crispy. Flip around and fry for another 3 minutes.
Enjoy with some more salsa and chopped greens.
Nutrition Information
Yield
2
Amount Per Serving
Calories

577
Total Fat

11.7g
Carbohydrates

92.6g
Protein

25.3g